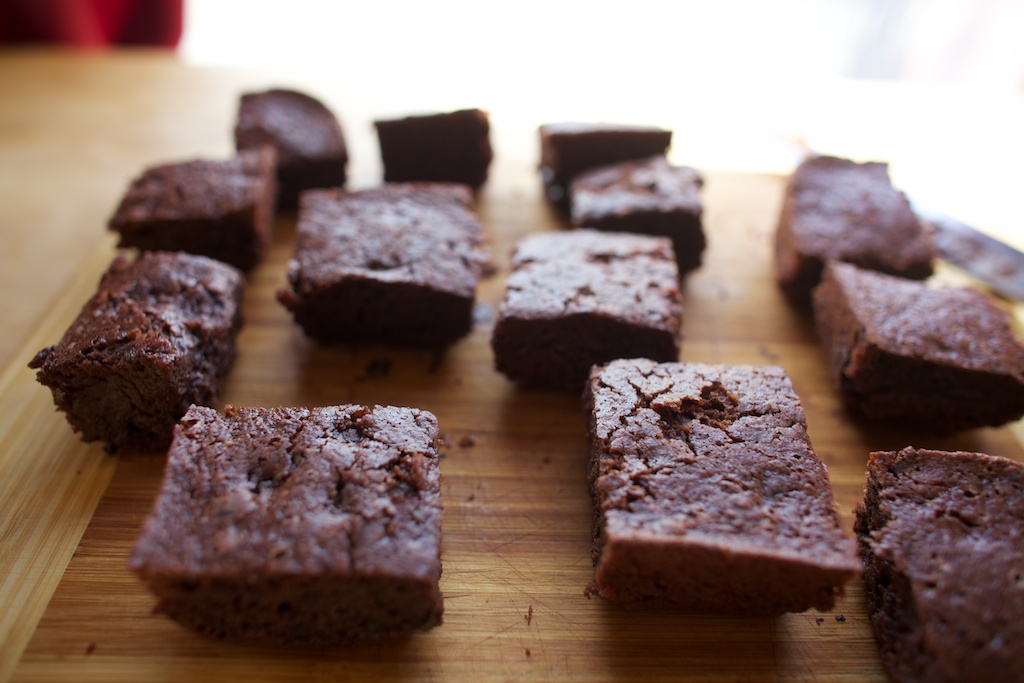 It all started when Tara inquired with a few vegan ladies about the best way to make vegan brownies. We planned to get together and try out some possibilities. I had all my ingredients packed up and recipes to try.
Then disaster struck. Well, not really disaster. More like a wedding with a vengeance. Ok, not that either. Really just normal wedding stuff. Normal "we haven't gotten everything sorted and our wedding is in a month from today" craziness. Which turned into me spending the day planning and strategizing (which is pretty much what I do everyday now). Which meant, no brownies for me. Sad face.
Then, the same night of my brownie flakiness (not the delicious flakiness either) I received an email from my mom's friend in desperate need of vegan brownie help. She had tried to make some herself and despite her best efforts, they had come out oily and burnt. You know you must help someone when they exclaim in an email,
"I'm a bloody vegan brownie killer!!!"
So, since I'm no brownie pro myself, I figured I'd better test the recipe I had before I sent it along. And with no time to be experimental, I turned to The Joy of Vegan Baking
. The brownie recipe in this cookbook appealed to me as it included both applesauce and flax, which seems to me the perfect combo for a moist, but not oily brownie.
I have to admit, these brownies were pretty darn good. They definitely leaned towards the gooey fudge side of brownies, which I rather like. I undercooked them a bit, on purpose to make sure they would be soft, and without eggs to worry about it's not really a big deal. They didn't quite amount to the perfect brownie though. My biggest complaint being that they weren't chocolatey enough. I also wished they were a bit more flakey on top while retaining their fudginess.
I think I will be back to the drawing boards with this brownie experiment.
Oh and another thing, in case you hadn't been poking around here recently…I'm getting married in a month (exactly from today)! So yeah, there might just be a bit more wedding talk than usual. Just thought you guys deserved fair warning!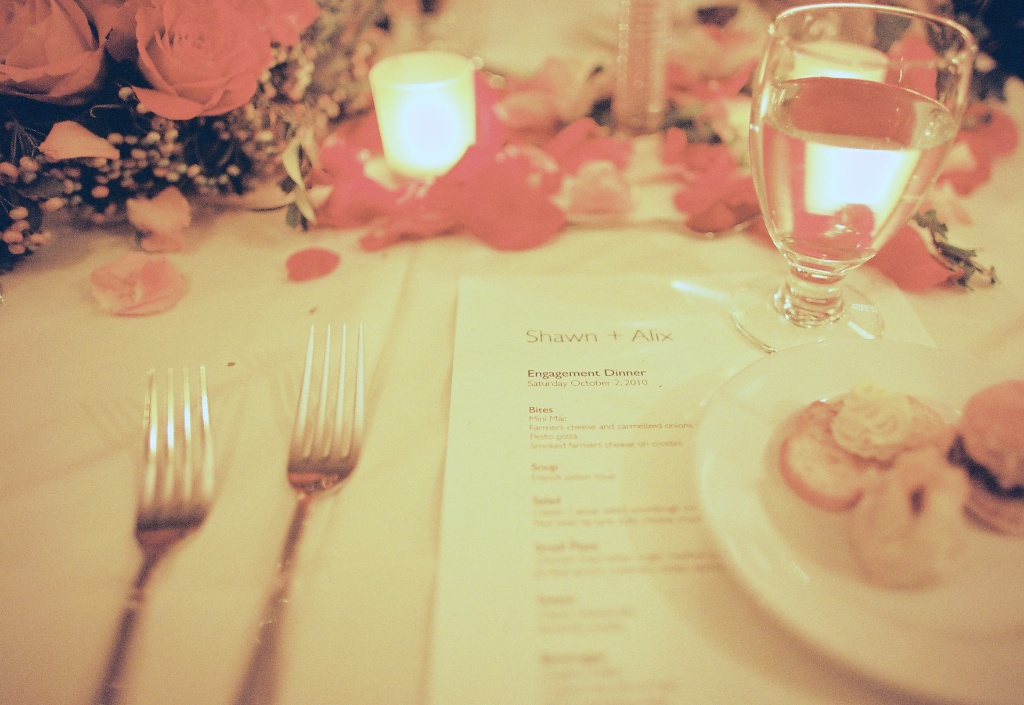 It's been a crazy weekend. The Brainwashed Love screening was Friday. It was such an amazing experience. The theater was packed and we got such good responses from everyone. So exciting! More about that later though…
Since most of Shawn's family lives out of state, we thought we'd make the weekend a double feature and have our engagement party on Saturday night. Oh the joy of throwing a bunch of people who don't know each other together in a room over food. Not to mention, hoping that the vegan meal you serve a bunch of non-vegans will convince them that the wedding food is going to be awesome as well.
Luckily, we had a secret weapon…Madeleine Bistro. We chose the most gourmet of vegan restaurants in Los Angeles as the venue for our dinner. It was outstanding and everyone was more than impressed.
We started with a selection of appetizers. I tried them all. They all were awesome. They included the mini mac, farmers cheese and caramelized onions in filo, pesto pizza and smoked farmers cheese on crostini. Oh man.
I just realized how hard to write this post is going to be. This food was so good. I'm salivating.
Each was a perfect little burst of flavor and taste of what was to come. I was particularly impressed with the farmers cheese, which was smoky, rich and left me wanting more and more.
I think the big hit of the bunch was the mini mac. A cute, bite sized burger with all the flavors of the full size version.
The next course was a french onion soup. One of my favorite soups that it so hard to find vegan. I loved the thick bread soaked in the savory soup.
We were lucky to have gorgeous flower arrangements made by Shawn's uncle, Gordon. He showed up to the restaurant and surprised us by decorating the tables with these lovely flowers and candle before we arrived. It looked amazing and really made the dinner just that much more special.
On to the next course. We had a choice of either the red beet tartare or a ceasar salad for our guests. Both Shawn and I had the red beet tartare. I can't believe I haven't ordered this off the menu before. It was SO good. The beets were sweet,  magically creamy and perfectly matched with the crispy croquette. Even the oil and vinegar drizzle on the plate was superb.
But wait…there's more! For the next course, we again had a choice of two items. Shawn ordered the chicken fried seitan with rustic mashed potatoes, pan gravy and vegetable medley. I'm pretty sure Madeleine bistro makes the best seitan ever. Especially the chicken fried seitan. It's simultaneously crunchy and moist. It's like the perfect southern meal, made vegan.
I went for something new to me, the grilled lemon rosemary seitan with a savory crepe and black kale. Again, the seitan was fantastic. It had a light sauce and was so juicy. The crepe was mind blowing. I'm not even kidding. Filled with asparagus and a sort of cheesy filling, it was unlike anything I've tried anywhere else.
Finally on to dessert. I was so full at this point (but pleasantly full, mind you). Shawn had the cheesecake.
I went for the brownie sundae. It was everything I could have dreamed for in a dessert. Chewy, chocolately brownie with sweet ice cream and a decadent fudge sauce and a touch of fruit sauce. Loved it. So much.
We made it! Stuffed and happy and families introduced! Success!
It was really a special night for us and I'm so glad that we were able to impress our guests with such wonderful food. A few family members admitted that they had backup plans if they didn't like the ominous vegan food, but in the same breath told us they loved everything they had. I love being able to show people that vegan food can really be wonderful and delicious and break through any misgivings they might have.
For dessert we walked down to Atlas Cafe for some more Vegan Treats. Shawn got a slice of peanut butter cheesecake and I had a brownie with cookies and cream frosting. I can't express how much I really love Vegan Treats and wish that it was also on the West coast. Everything was so good. We saved a bit of our treats and ordered sandwiches which we saved for the plane the next day.
At some point we also made a quick stop at Moo Shoes and Babycakes. I'm sure a lot of people will disagree with me, but after some more sampling, I'm really not a fan of Babycakes. Their desserts just don't quite fulfill my sweet tooth. I can't really pinpoint what it is about them that I don't care for. The best way I can describe it is that I always feel a level of excitement when I enjoy a really good vegan dessert. Babycakes just doesn't give me that thrill. I also am not a fan of their prices at all. Some cupcakes cost nearly $5 and that seems outrageous to me.
So that's about it for 2008. Many exciting things to come in the future. I hope everyone had lovely holidays and Happy New Year!