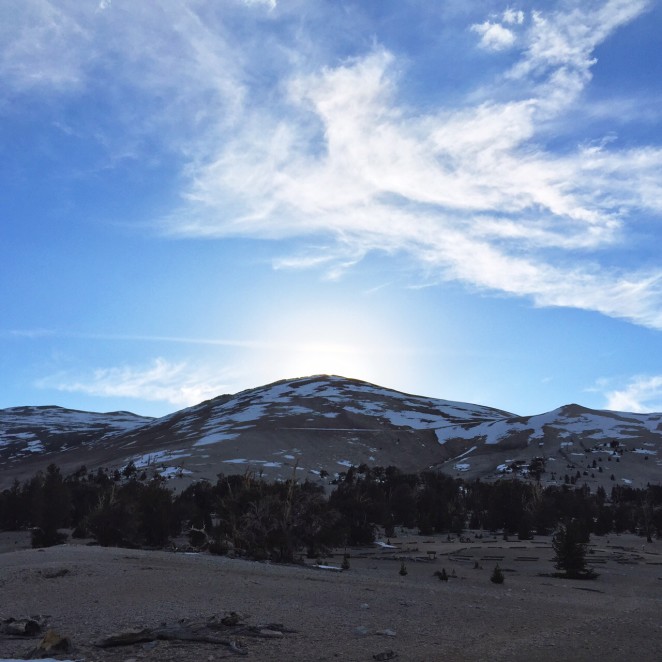 I've had a couple of requests for a post on the gear I use so here it is! I'm still figuring out what I like and making adjustments but some of this stuff I love already.
Backpack – Osprey Talon 44 & 33
When I first decided I wanted to go backpacking I spent a long time researching backpacks and then even longer trying them on in the store. I initially went with the Gregory Deva 60, because in the store it was the most comfortable when loaded with lots of weight. I wasn't excited that it had super thick padding or that the backpack itself weighed in at over 5 pounds but after much debate I got it anyway. I took it out on our first trips and it was okay but I certainly didn't love it. There were too many pockets that made the whole thing lumpy and weird. Even though the pack was huge, it didn't fit my 3L water reservoir. Overall I had lots of complaints.
I later picked up the Osprey Talon 33 as a large day pack. I opted for a larger size to try for low key overnight trips. I ended up using it for backpacking in the Hoh Rainforest as well as at Point Reyes. I loved how light it was and it had all the features I wanted. It is simple, light and comfortable, though a touch small for some occasions. When I came across a coupon, I bought the 44L version and returned the massive Gregory pack.
Things I love about this pack: It's light. There aren't a lot of frilly features but it still has some bonuses that I like such as a large reservoir and decent sized hip belt pockets. The mesh pocket on the back is great.
I could see myself being happy with an actual ultralight backpack someday, but without the opportunity to ever try one on I'm hesitant to buy one. Right now I'm very happy with the Ospreys, even if they have a little bit of extra weight.
Sleeping Bag – North Face Cat's Meow Women's 20
I love this sleeping bag. Mine is over 4 years old (though there are newer versions) and it's still warm and cozy. It's synthetic so it doesn't pack down super small and it's not exceptionally light either, but it's one of the lightest synthetics I've seen for the temperature rating. I sleep cold so I'd rather deal with the bulk in exchange for the extra warmth. I've used this bag in freezing temperatures (along with extra layers) and have been warm. It's a bonus that Shawn has the Men's version so we can zip our sleeping bags together to make one big bag for both of us.
Sleeping Pad – Thermarest NeoAir Xtherm
This sleeping pad is so comfortable it's hard to believe. I've gotten better nights sleep on this pad than at home in my bed. It's really small and light and the insulating layer reflects your body heat back for cold nights. It's not as crinkly as the other neoairs so it doesn't feel like you're sleeping on a bag of chips. I previously had a self inflating thermarest, which certainly did its job for the past few years, but was not always super comfortable for a side sleeper like myself. I would often wake up with my hip bones numb or an arm asleep. I'll be the first to admit that this pad is pretty pricy (get it on sale!) but pretty worth it if you ask me.
Backpacking Tent – Big Agnes Fly Creek UL3
I can't take credit for picking this tent, Shawn chose it after a lot of research and testing out some other tents. We went with the UL3 for a few reasons. It's definitely lightweight (though not the lightest) but still has some bonus features. For one, it is fully freestanding, so you don't have to worry about staking it down just to hold it up. There's also enough room for us and our gear. We tried a smaller, similar tent but there wasn't enough headroom for a tall guy (I didn't really notice). We've weathered a few storms in it and haven't had any problems yet. It doesn't have the best ventilation when it's warm, but it's nice and cozy when it's cold.
Car Camping Tent – North Face Double Headed Toad (discontinued)
I mention this other tent, just in case you see it in some photos. It's a luxurious four person tent. After spending so many nights in our compact backpacking tent, this tent feels enormous. It's great for longer stays and more extreme weather. It's held up really well over the past four years and still feels new.
Stove – Snow Peak Litemax
A great little stove. Lighter and more compact than the gigapower. Holds up to wind fairly well. I like hot meals and this makes it easy for me to cook something fast for myself or in tandem with Shawn.
Cookware – Snow Peak Trek 900mL titanium with Four Dog Stove lid
Love this pot! Great for one person. You could probably go a little smaller, but a full size fuel canister fits perfectly in this one. Also the frypan lid is the perfect size for grilling veggie burgers. I added on the Four Dog Stove lid for when I'm not planning on frying anything. It's slightly more compact and easier to manage and great for straining noodles.
Utensils – Snow Peak Titanium long tined spork & Sea to Summit Long Spoon
I don't love sporks but Shawn found me this special long tined spork that is great for ramen. Most everything else I use my long spoon which is great for stirring your pot and eating out of those instant meal bags. I love that it has flat sides which are useful for scraping every last morsel of food out of your pot.
Water Filter – Saywer Squeeze
This filter is very easy to use and super lightweight/compact. The squeeze bag that comes with it isn't super big and doesn't fill very easily unless you have fairly swiftly running water. I'll probably add another platypus as a dirty bag for longer trips.
Water Reservoir – Platypus 3L
Having a reservoir is great. It makes a major difference in how often I drink water and therefore how hydrated I stay. The 3L is also great when you know you need to carry a lot of water. This reservoir doesn't have a strong flavor with is great and I haven't had any problems with leaking. I have had a lot of issues with the bite valve. Nothing catastrophic but sometimes I find I'm getting a lot of bubbles with my water (annoying!). It also tends to drip a little from the valve. I've only used it for water but did find some questionable build up in the hose which I was able to remove after some disinfecting. I should probably just replace the hose and valve altogether. I also have a bonus 2L Platupus water bag that's really great as an add on.
Trekking Poles – Black Diamond Ergo Cork Poles
I just got these recently so I'll probably have to update this when I've used them more. I'm still getting used to them really. I like that they are fairly light weight and can pack up small. They were definitely a big help when climing some steep hills with a heavy backpack. I think they do increase my pace a little. I do like having something to do with my arms. Good for balance during river crossings. I don't see myself using these too much on regular hikes but they're great when you've got a heavy backpack. I got these with a dividend so they were basically free, otherwise I don't know if I would have spent the money.
Shoes – Brooks Cascadias
I feel like these are the hipster shoes of the hiker world but I love these damn shoes. While some will opt for more heavy duty hiking boots, I'm much more sensitive to my feet overheating than anything else. These shoes breath really well, have great traction and dry quickly. I pair them with some Dirty Girl Gaiters to keep sticks and stones out since they are lower than traditional boots. I've noticed there some sections of wear around the top that are probably more from design flaws than actual use, so I'm guessing these aren't meant to last forever. For now they're super comfortable and have served me well.
Jacket – Arc'teryx Atom LT Hoodie
I had been searching for a packable insulated jacket for months when I was pressured into buying this one. I thought it was too expensive, but a big sale came up and I had to jump on it. I've never regretted it. It's the most comfortable and warm jacket. I want to live in it. It feels like you're wearing a cozy sleeping bag. Though I was skeptical about the stretchy side panels, they do make the whole thing more versatile for activities. Definitely requires another base layer for extra cold weather. I've slept with it on in my sleeping bag on exceptionally cold nights. I think the stretchy wrist sections are maybe a little too tight, but they definitely keep the cold air out and don't really bother me.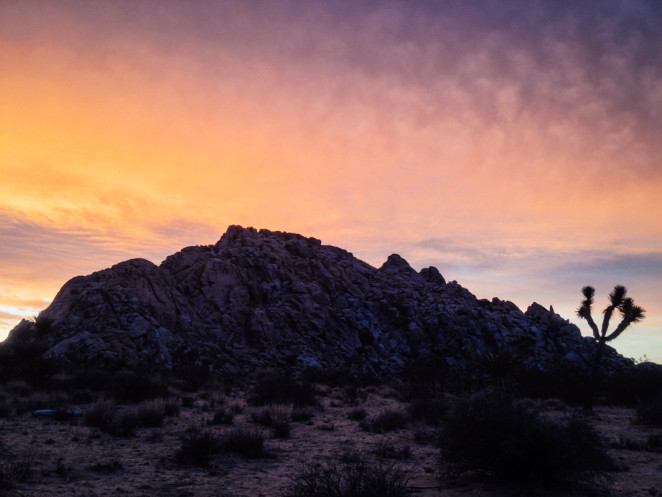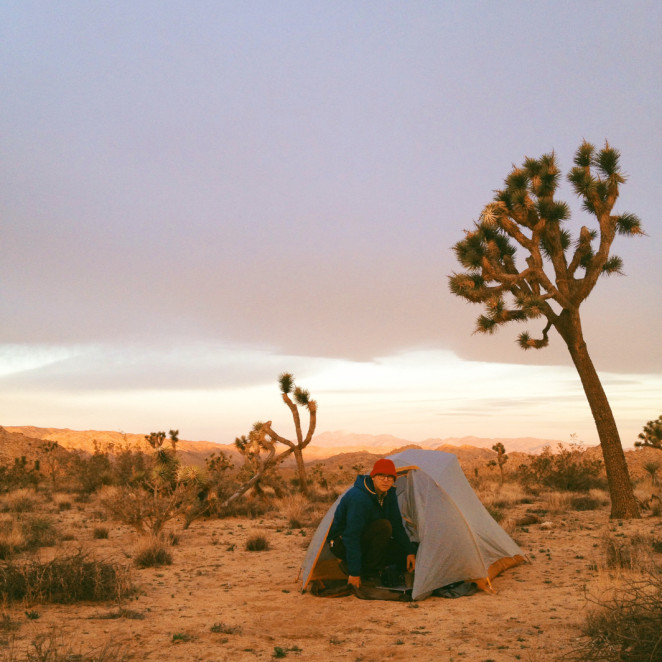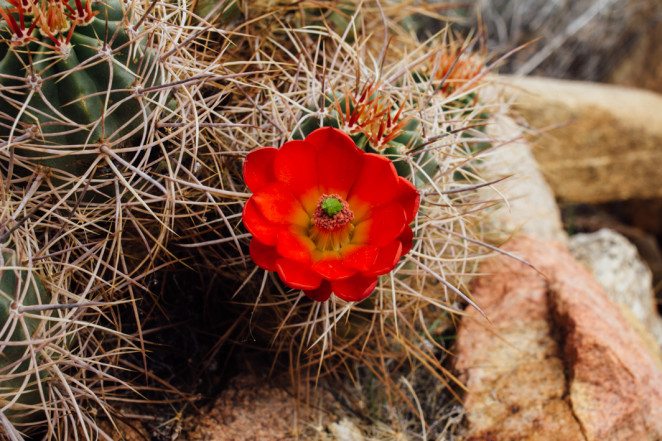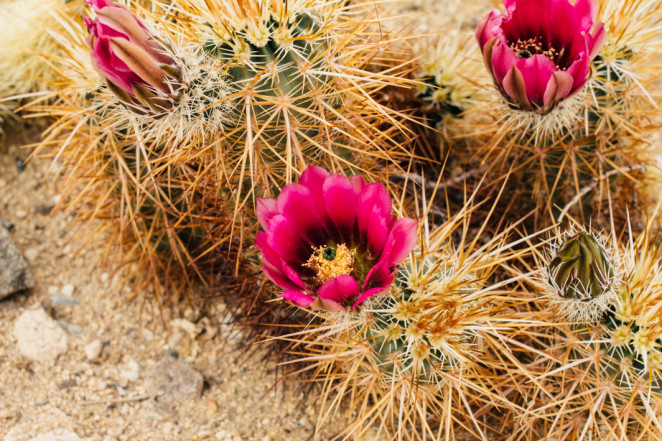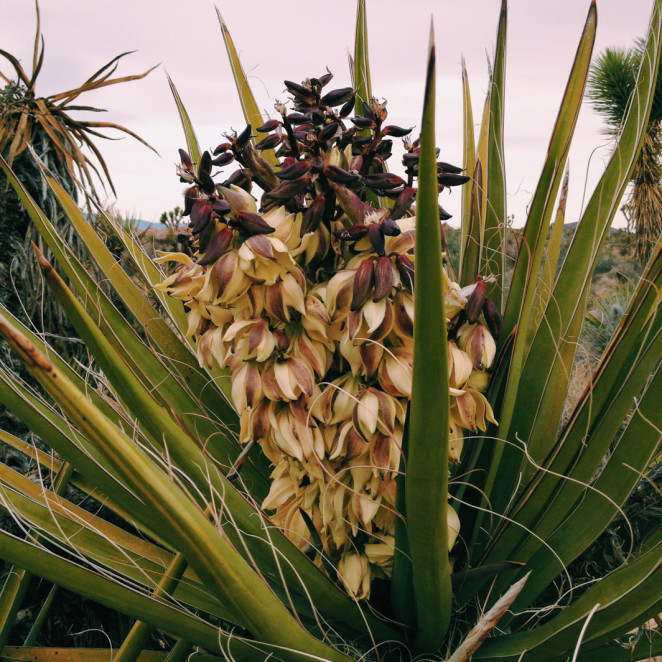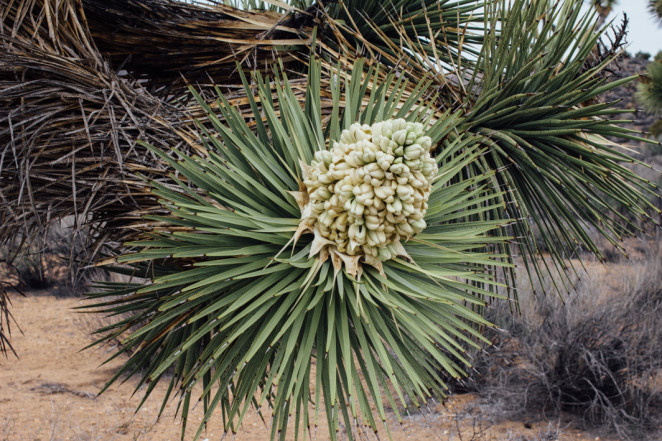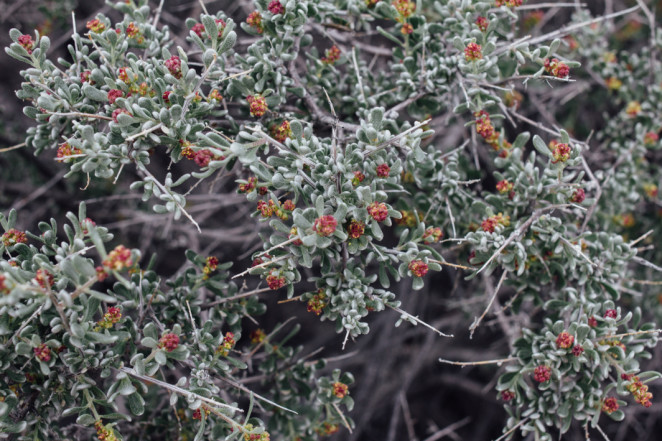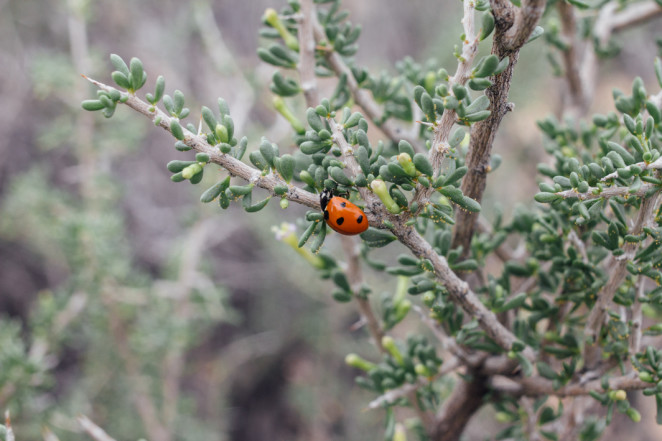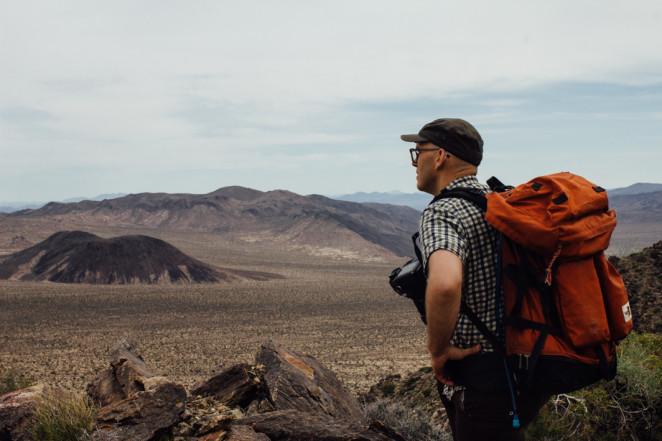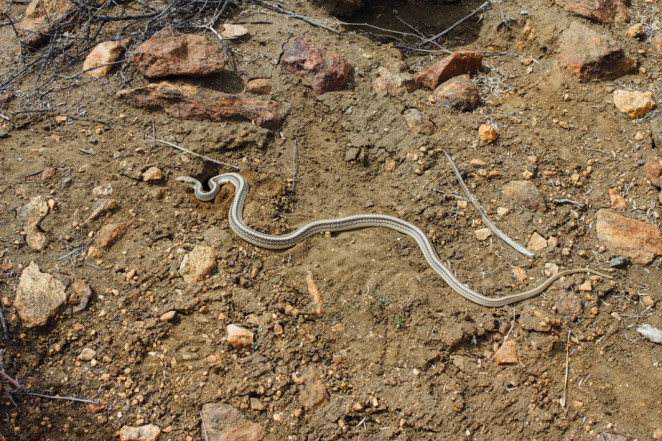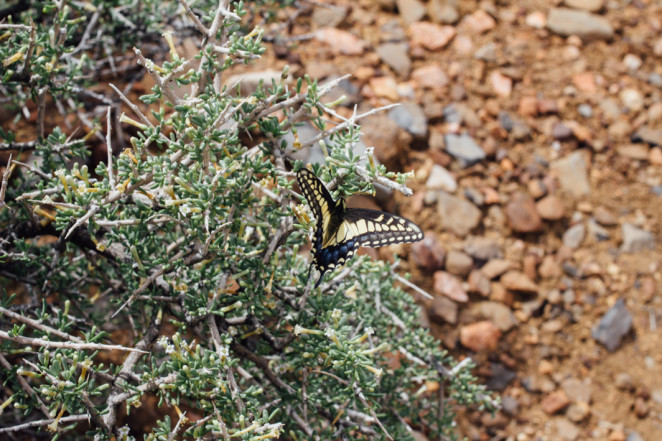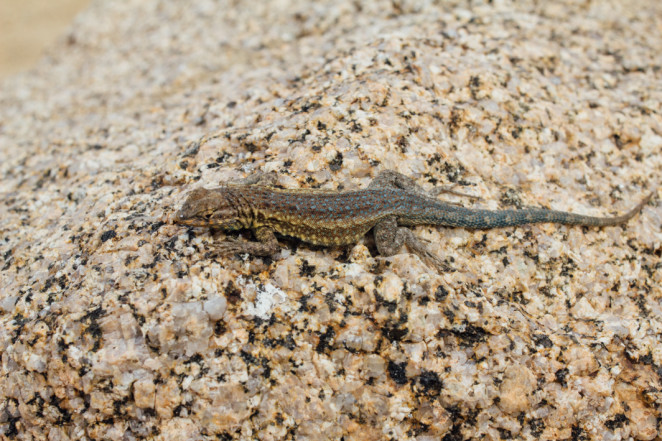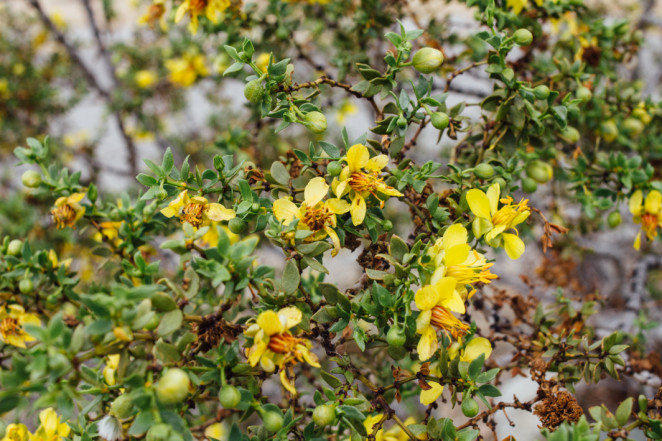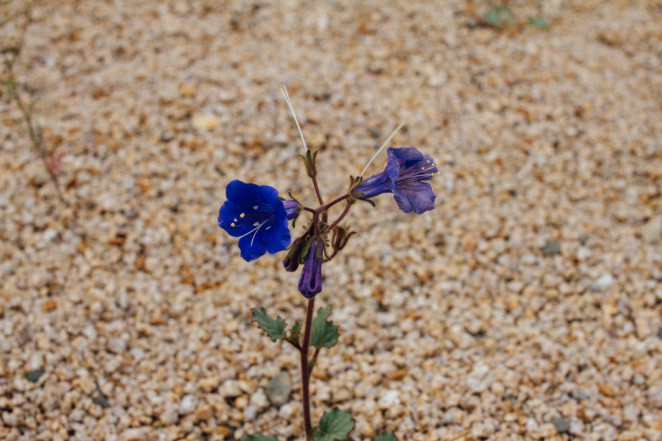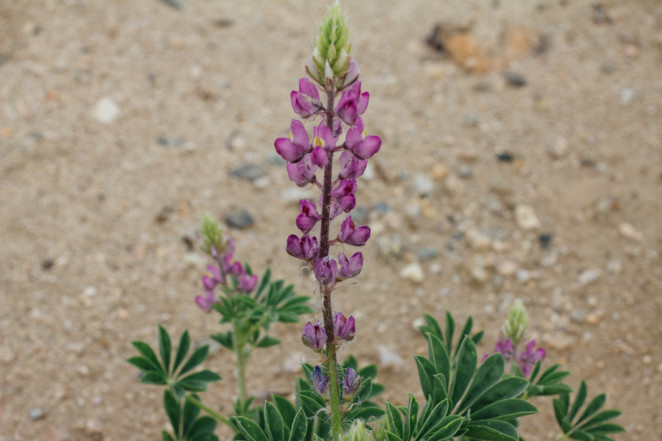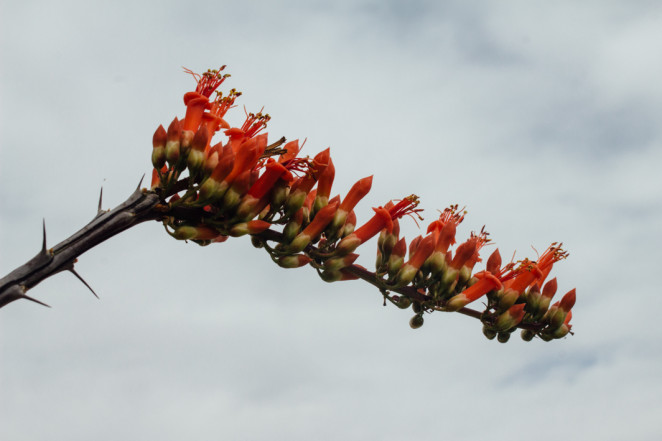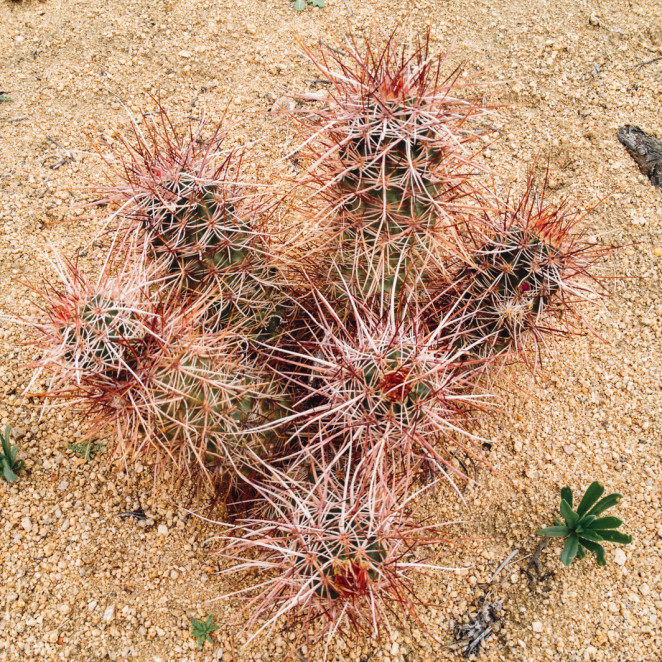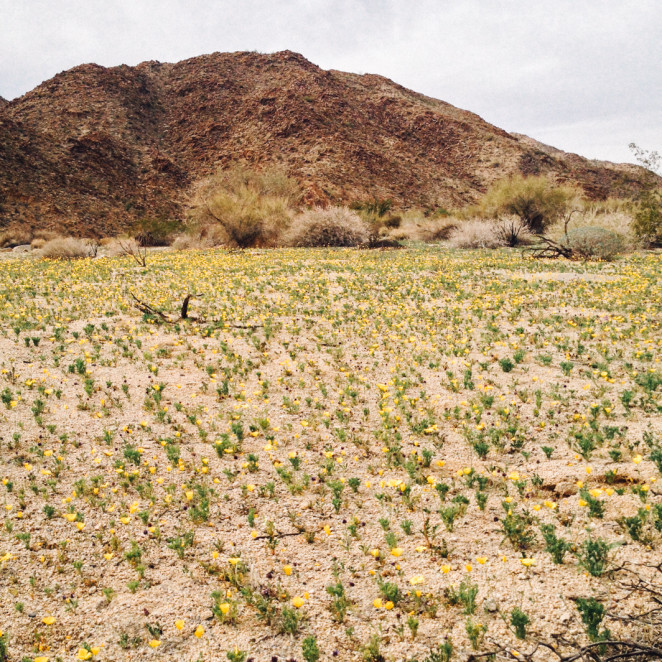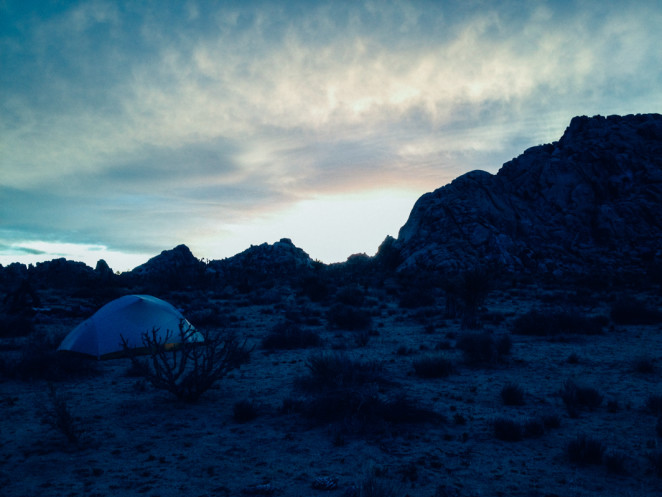 We went on a wildflower scouting excursion to Joshua Tree a few weeks ago. The backcountry camping is great because you just have to hike over a mile away from any road, find a spot you like and set up.* We arrived just before sunset, hiked into the darkness and made camp. We woke up to a beautiful sunrise and, after breakfast, spent the day searching for wildflowers throughout the park. There were lots to be seen in the lower elevations and some were just sprouting in the higher areas. Getting a campsite can sometimes be tricky at this park since it's so close to Los Angeles. Knowing you can just head out into the wilderness makes me want to visit every weekend.
*There are a few other rules, so check out the National Park site for details.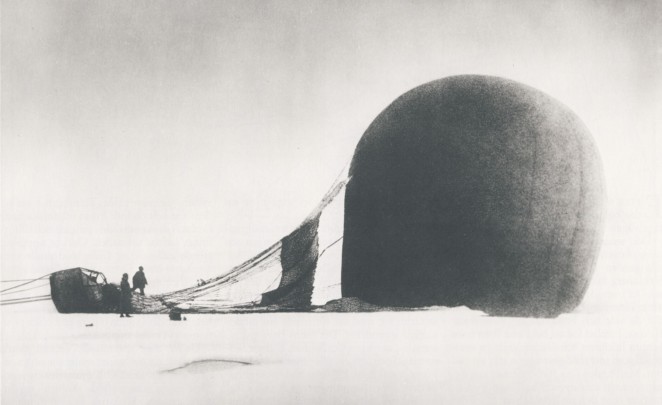 Dear readers I have a favor to ask. A short film I whipped up is in a contest and could really use your vote to get to the finals. This ghostly short is based on the true story of S.A. Andreé's tragic balloon flight to the Arctic.
**UPDATE** I won the contest! So excited to go check out the Stanley Hotel, the place where Stephen King came up with the idea for The Shining.
You can watch the short below.
White Island from miss alix on Vimeo.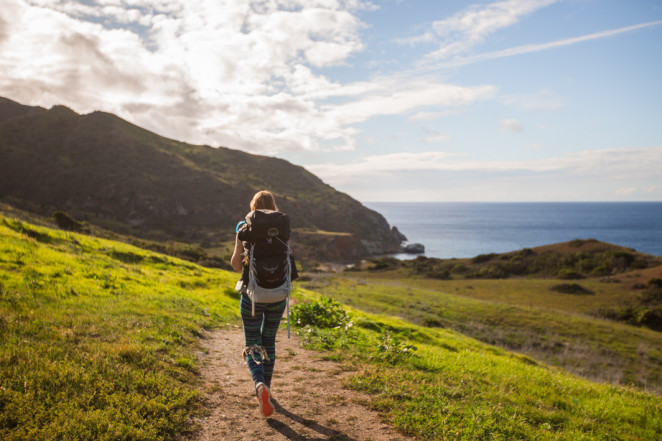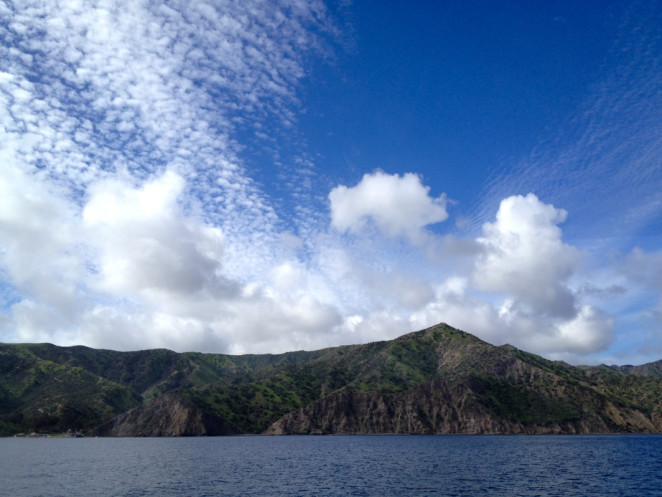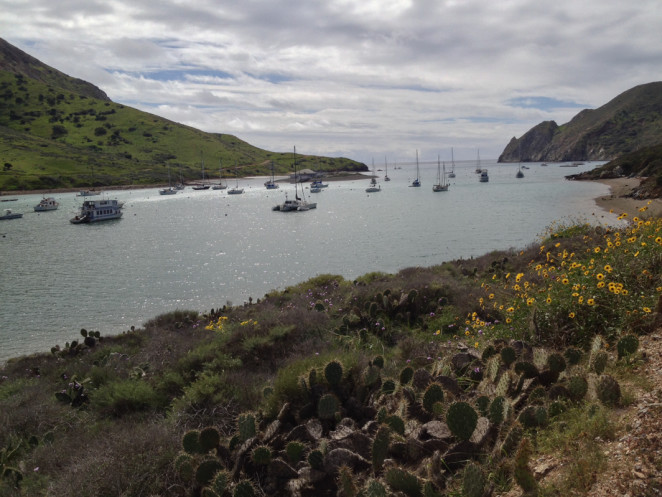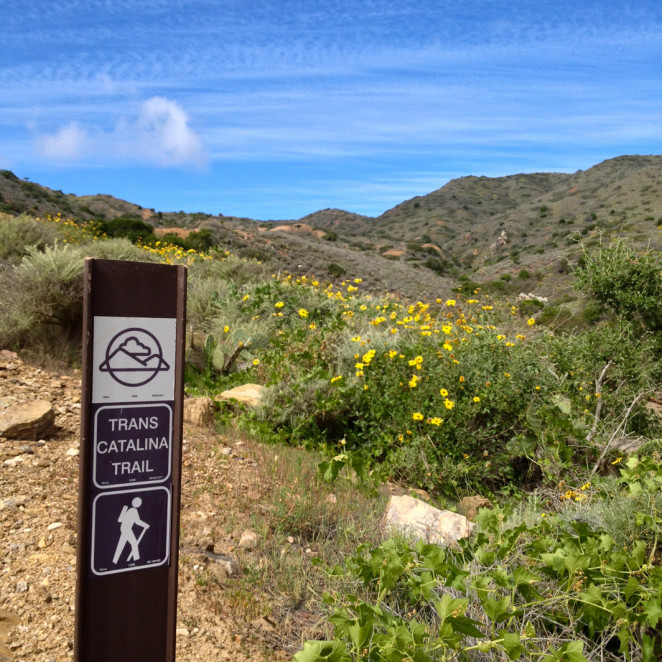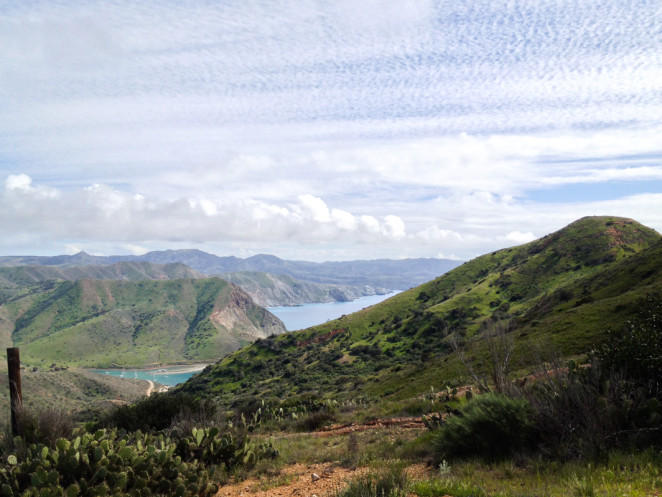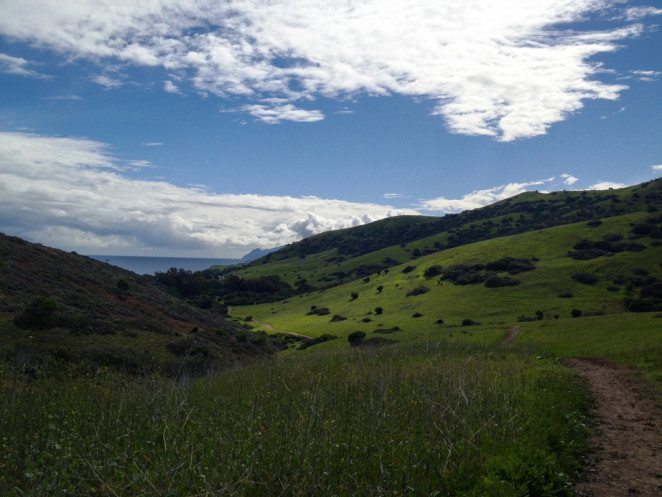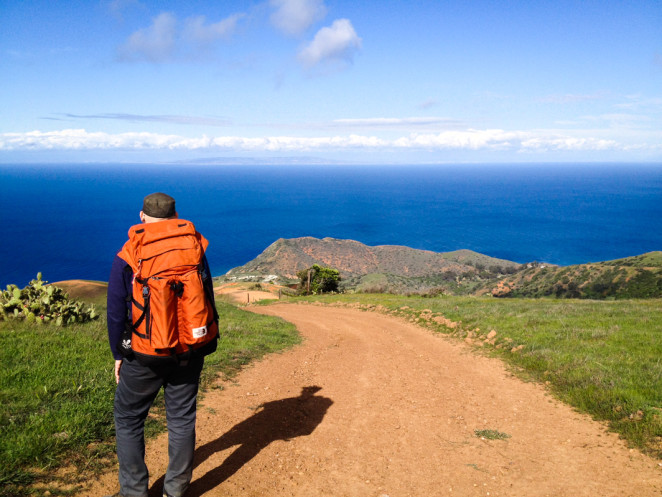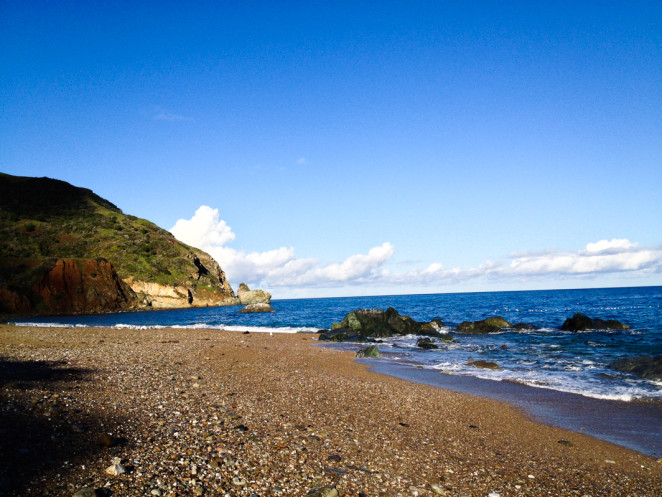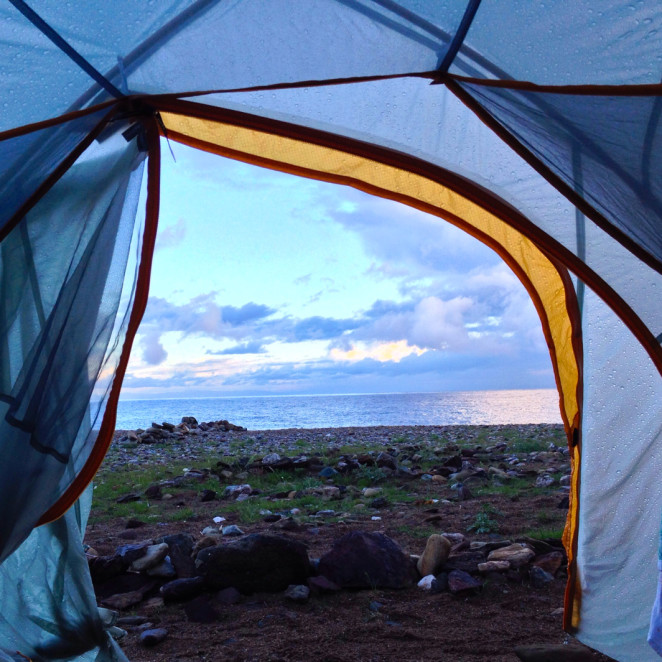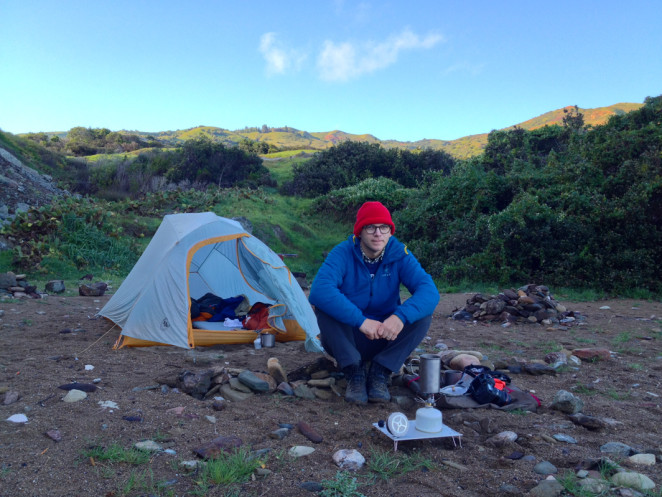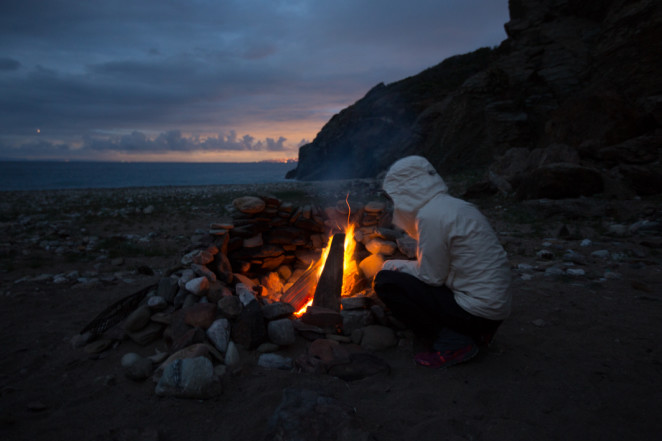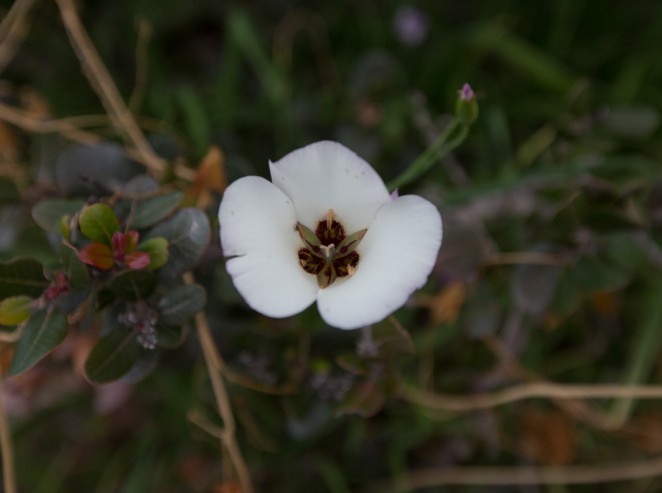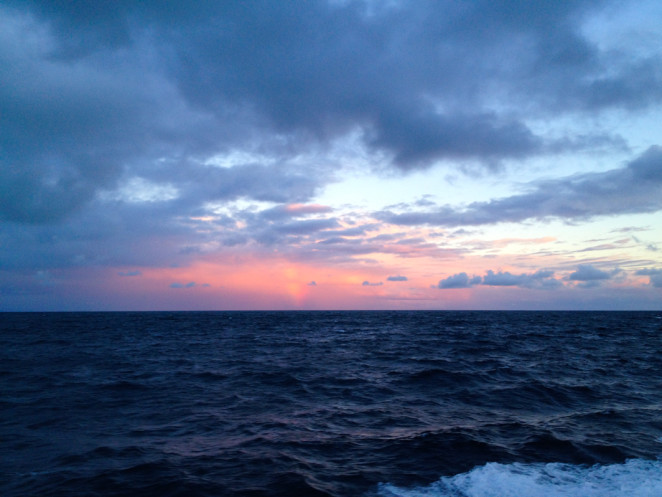 Spring is here which means it's time to get serious about outdoor adventures. It's already starting to get terribly hot here in Southern California, so we're trying to take advantage of the local trips before summertime. One of the trips on my ever growing list was Catalina. The island is just an hour ferry ride away from the South Bay, making it easy to visit for just the weekend (or even the day really). Besides just a general interest in visiting an island that is just off the coast, I was very curious about the Trans Catalina Trail as a multi-day backpacking trip that was close to home. We decided a weekend visit was in order and opted to stay at the Parson's Landing campground.
Parson's Landing is about about six miles from Two Harbors, the southern bay where you can take a ferry to from the mainland. Unlike Avalon, which is a bit more developed, Two Harbors feels like a sleepy beach town. Now the thing about camping in Catalina is that besides making site reservations (camping is only allowed at designated campsites), you also have to buy locker keys to get water and a bundle of firewood. There is limited water on the island so filtering water isn't usually an option, particularly in summer. Even though the whole thing feels a little bit like a scam, I just decided to look at it as a luxury to have our water and firewood delivered to our campsite.
The forecast for the weekend of our trip, booked months in advance, called for rain of course. This also meant that there was particularly stormy weather at sea, making for a bit of a wild ferry ride out to the island. The skies held while we hiked out on to the Trans Catalina Trail. The trail itself isn't so much of a trail as it is a dirt road that rises steeply to the top of the island. Once at the ridge line, you can enjoy views of both coasts of the island. I could imagine this hike being not so pleasant during the summer months when it is warmer, there is no escape from the sun and the island grasses have dried. And of course, what goes up, must come down which is where you may find yourself inching down the fenceline trail. This trail is steep and rocky and all around a drag. There is probably some efficient way to hike this section but I certainly don't know what it is. A few hikers passed us, as I was going really slowly, and they of course both wiped out on the loose rocks.
After finishing the fenceline portion, we found ourselves on one of the hiking only trails which was quite lovely and my favorite part of the hike all together. Being on a road the entire time was a bit dull. A single track trail, winding through open fields was a relief. And just like that we were at our campground.
Parson's Landing is really spectacular. We snagged site two, which is one of the more secluded spots. All the sites are directly on the beach (unlike in Point Reyes for instance where you are on a cliff above the beach). There is a giant salt water container at the site though, evidently for fire safety, which is a bit of an eyesore. There were several fire rings set up around the camp with rocks stacked high to block the wind. We made our dinner and started a fire just as the sun started to set. We sipped hot cocoas by the fire before it started to rain pretty heavily and we jumped in the tent and spent the rest of the evening there, cozy and dry.
Magically it stopped raining by morning and we at breakfast on the beach. Normally we start hiking home just after breakfast as we often have a drive at the end of each trip. Being so close to home, even with the ferry ride, we were allowed a few hours to relax. I dug into a book (Nobody Is Ever Missing
which I really enjoyed and recommend) and just listened to waves crash on the beach. It was perfect.
We hiked back via the coast road. This road is about a mile longer but as the name suggests, it runs along the coast, rather than over the top of the island. It was a leisurely hike with no elevation gain really at all. Though this route is not as secluded (you pass several camps along the way) I enjoyed it a lot more than the Trans Catalina Trail. I'm glad that we did both trails in the end but the best part about this backpacking trip was the camp itself by far, so might as well go with the easier hike. While waiting for the ferry we ran into several other hikers who had just completed the whole trail. None of them seemed particularly enthusiastic about it to be honest.
I really wanted to see buffalo on our visit but didn't realize they are contained to another area on the island. If you don't already know about the buffalo, they were brought to Catalina for use in a movie and then left behind to fend for themselves, and have multiplied over the years. Upon returning home, I learned the buffalo do a fair amount of harm to the island and aren't in particularly good health. There have been several efforts to reduce the herd size (they're now on birth control) but the conservancy that manages them has stopped short of removing the herd altogether. You can read more about the effects of the buffalo here. It is fascinating.
The trip was brief, relatively easy and a perfect escape. I can't stress enough how lovely Parson's Landing really is once you arrive. It's a wonderful place to just totally unplug and get away. It really does feel different being on an island, being able to look back at the big city you live in and be completely separate from it. When we returned, even though we had done a fair amount of hiking, I felt entirely relaxed and refreshed. I'd like to return and check out some more of the island and perhaps go kayaking or snorkeling.
Forgiveness – short film from miss alix on Vimeo.
It may seem like all I do these day is go hiking and camping but I can assure you that is not entirely the case. I still spend most of my free time writing and developing more film projects. It is the undercurrent in almost everything I do.
I thought it was time I finally shared this short, Forgiveness, that I wrote and directed. It seems like ages ago that we actually shot this and I remember how thrilling it was. I feel very fortunate to have been able to collaborate with some very talented people including the lovely Keriann Kohler who stars in the short and was so great to work with. I am also forever grateful to the whole Moorhead family. Technically Liz should probably get an assistant director credit for knowing all the secrets to getting little Josh to play along. After everything was put together, the amazing Shepherd Stevenson agreed to write original music for me which really set the tone of the piece. And of course I really couldn't have done it without Shawn, who was totally into my wild idea the whole time and shot and edited it beautifully.
In any case, I'm happy to put this out into the world. I hope you'll watch it.