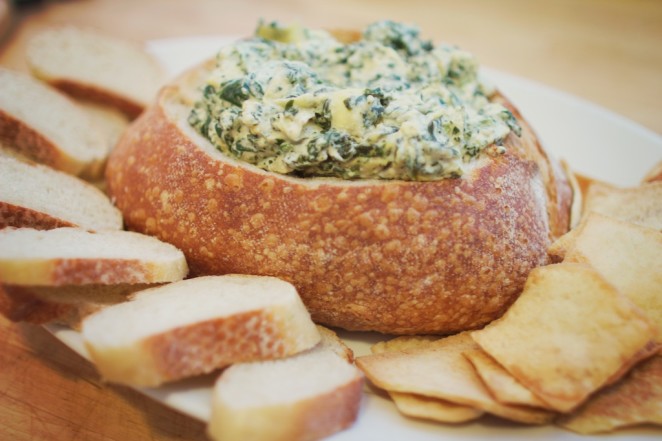 After having some awesome spinach artichoke dip at a restaurant recently, I couldn't stop thinking about making some at home. The Oscars were the perfect excuse (although, I wish I had just made the dip and skipped the show).
This recipe consists of blending and mixing so it's really easy. I made my own cashew cream cheese to use, but you could used the store bought kind instead if you like. Also, I used 3 cloves of garlic but it turned out REALLY garlicy so maybe just use one or two.
1 1/4 cup chopped frozen spinach, thawed with water pressed out
1 10 oz can of artichoke hearts, drained and roughly chopped
3/4 cup non-dairy sour cream
1/2 cup cashew cream cheese (recipe below)
2 garlic cloves, minced
3 Tbsps nutritional yeast
1/2 tsp salt
1/4 tsp pepper
bread bowl (optional)
Cashew Cream Cheese
1/2 cup cashews
2 tsp white wine vinegar
1 tsp lemon juice
water for blending
For the Cashew Cream Cheese, soak cashews in water for 8 to 12 hours. Drain and rinse. Blend with vinegar and lemon juice until it is silky smooth. Add water if needed for blending.
Preheat oven to 400°
Mix all ingredients together in a bowl. Spoon into an oven safe dish. Bake for 15-20 minutes. Serve as is or put in a bread bowl.