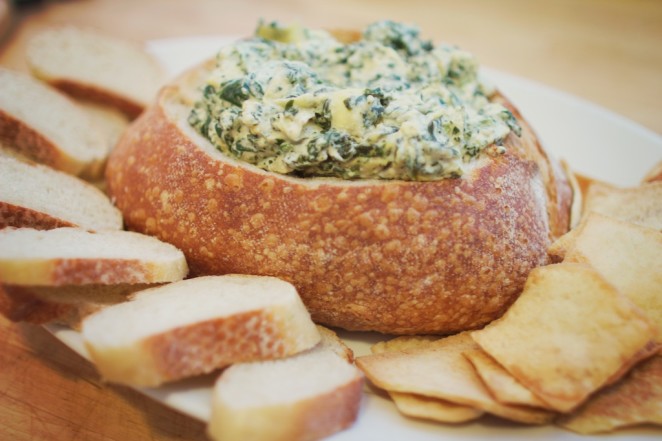 After having some awesome spinach artichoke dip at a restaurant recently, I couldn't stop thinking about making some at home. The Oscars were the perfect excuse (although, I wish I had just made the dip and skipped the show).
This recipe consists of blending and mixing so it's really easy. I made my own cashew cream cheese to use, but you could used the store bought kind instead if you like. Also, I used 3 cloves of garlic but it turned out REALLY garlicy so maybe just use one or two.
1 1/4 cup chopped frozen spinach, thawed with water pressed out
1 10 oz can of artichoke hearts, drained and roughly chopped
3/4 cup non-dairy sour cream
1/2 cup cashew cream cheese (recipe below)
2 garlic cloves, minced
3 Tbsps nutritional yeast
1/2 tsp salt
1/4 tsp pepper
bread bowl (optional)
Cashew Cream Cheese
1/2 cup cashews
2 tsp white wine vinegar
1 tsp lemon juice
water for blending
For the Cashew Cream Cheese, soak cashews in water for 8 to 12 hours. Drain and rinse. Blend with vinegar and lemon juice until it is silky smooth. Add water if needed for blending.
Preheat oven to 400°
Mix all ingredients together in a bowl. Spoon into an oven safe dish. Bake for 15-20 minutes. Serve as is or put in a bread bowl.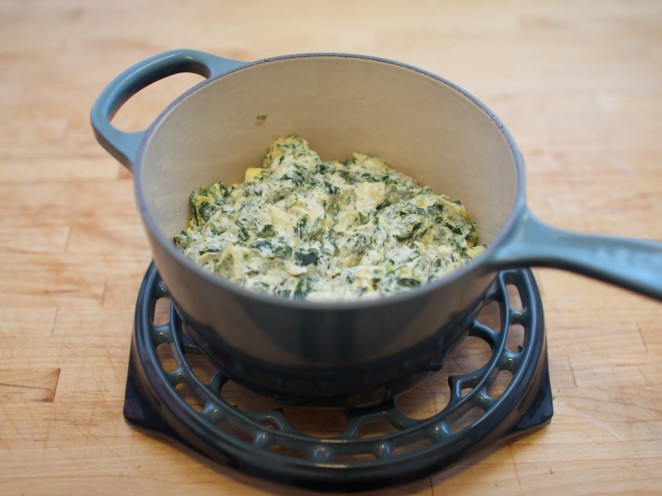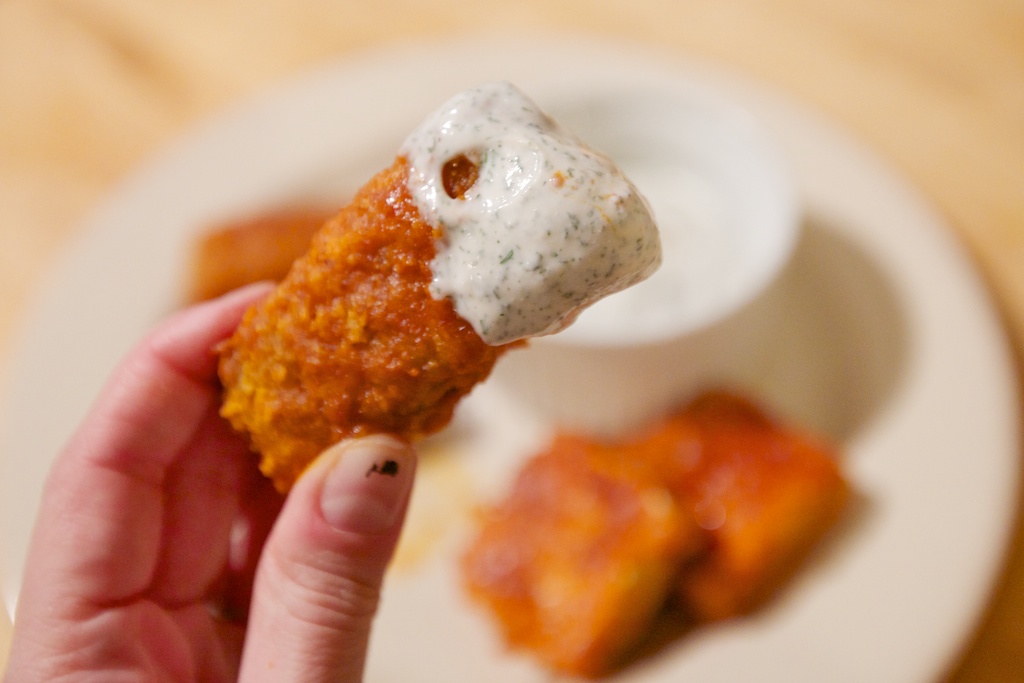 Hello my dears. Happy December! With all the holiday advertising I feel like December has been here for weeks. Needless to say, while it's chilly in Los Angeles, our city doesn't quite have that winter wonderland feel. I guess I need to get with the program and put up some holiday decorations.
So let's begin this lovely month with hot wings, shall we? Let's also pretend I didn't have these for dinner because they aren't exactly dinner fare. You know, I was never even interested in hot wings, but ever since we went to Portland and I had some at the Mash Tun, I've been secretly dreaming about tempeh hot wings. I was going to make some over the holiday weekend but we were too stuffed to eat them.
I used this great recipe from Vegan Dad for the breading and sauce (although I used some bread crumbs as well as the corn flakes since I didn't have enough). Instead of making seitan, I just coated some pieces of tempeh and tofu. The whole process of double coating the pieces with the "buttermilk" mixture is genius. So many times I have breaded something only to have it get cakey or fall off all together. Of course, with the tofu pieces you have to make sure they're pressed and there isn't extra liquid, or the breading still won't stick.
I whipped up some dill dip to go along with them, with just some tofutti sour cream and a seasoning packet. I think next time I'd rather go with a homemade tofu ranch dip, something a little less flavorful even, just to cut the heat of the sauce, but not overpower the spiciness. Needless to say, these guys were awesome; spicy and flavorful. They definitely fall under the category of "just because it's vegan doesn't mean it's healthy" but pay no attention to that. (On the other hand, you can tell the non-vegan naysayers the tempeh is a great source of protein.) They make a great snack or appetizer and would be perfect for a party.
Ok, now I think I'll get to my decorating. Where are those darn Christmas lights?