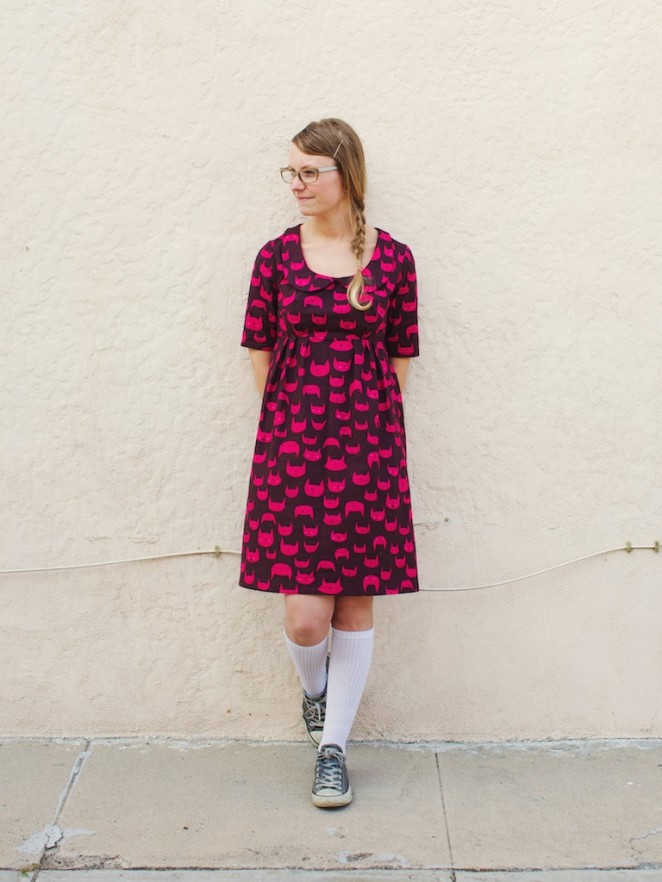 A few months ago I started seeing glimpses of this catnap fabric on the web and couldn't wait to get my hands on it. One night in January, I saw it was for sale and rushed the store first thing in the morning to snatch up some yards of it. I knew I wanted to make a cat dress. Coincidentally, Lizzy House, the designer of the catnap fabric, announced she was having a cat nap dress contest. It was the perfect motivation to get my dress made.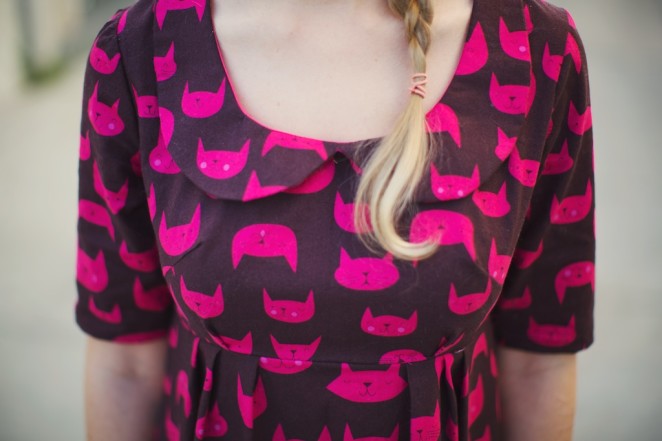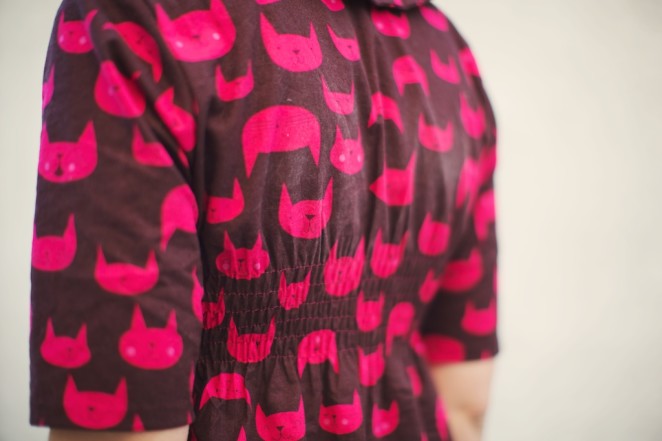 I used the Washi pattern again, like with my spiderweb dress but made some alterations this time around. I added some darts at the waist so the whole front wasn't as flat, added a collar and sleeves. I'm still not 100% sure I love the sleeves so there is a possibility I'll remove them later.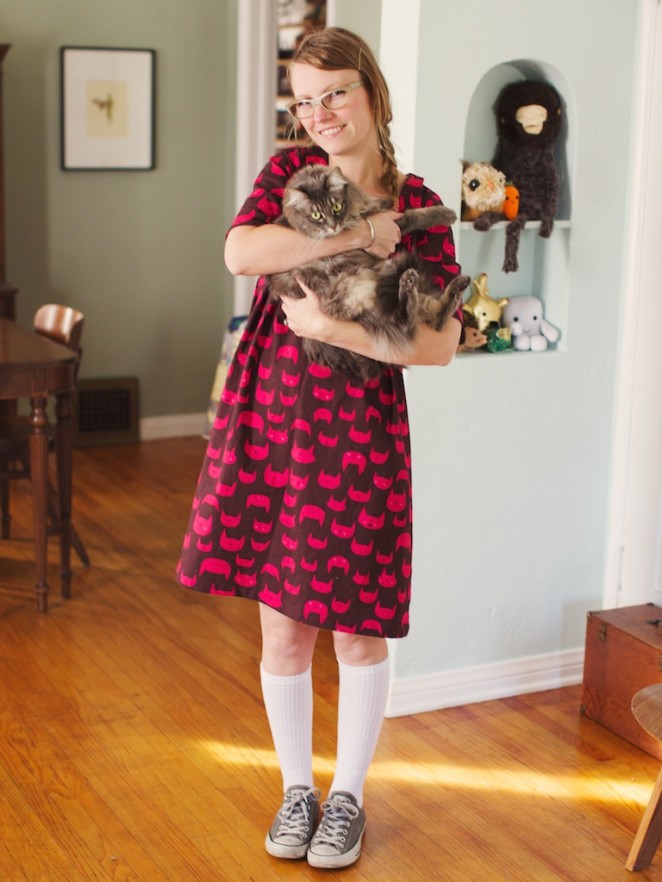 I'm officially starting a cat dress collection. It seems necessary. I also am going to to have to get more comfortable with having my photo taken if I'm going to keep making dresses since at the moment it's a fairly excruciating process (unless I have a cat buddy to help).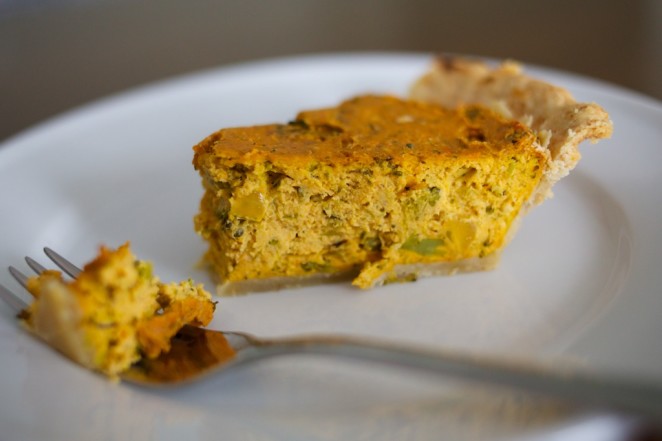 Apparently I'm in organizational mode here on the blog. First it was the PROJECTS page and now a roundup of favorite recipes. Truth be told, with the exception of the few regular visitors, most readers are here for a handful recipes that I posted years ago. I thought it would be nice to have everything in one place, particularly because I used some of these recipes on a regular basis and it would make finding them easier. Anyway, without further ado, here are some of the best recipes from Cute and Delicious history.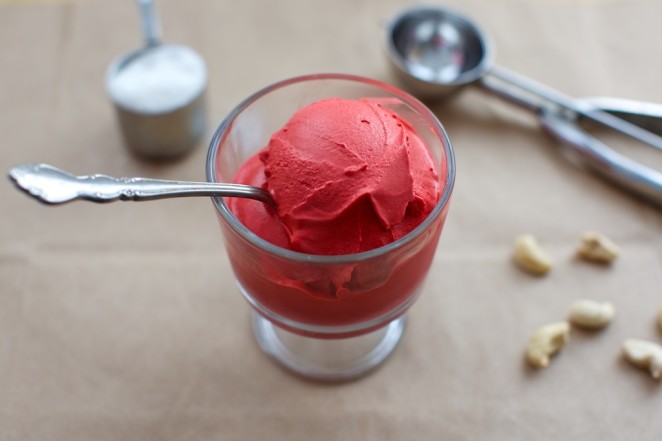 RED VELVET ICE CREAM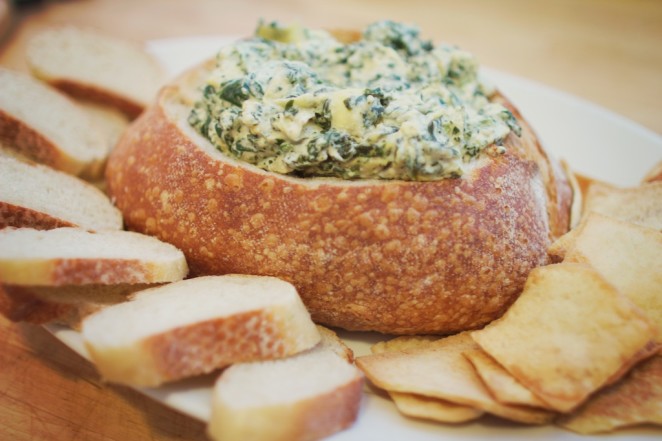 BAKED SPINACH ARTICHOKE DIP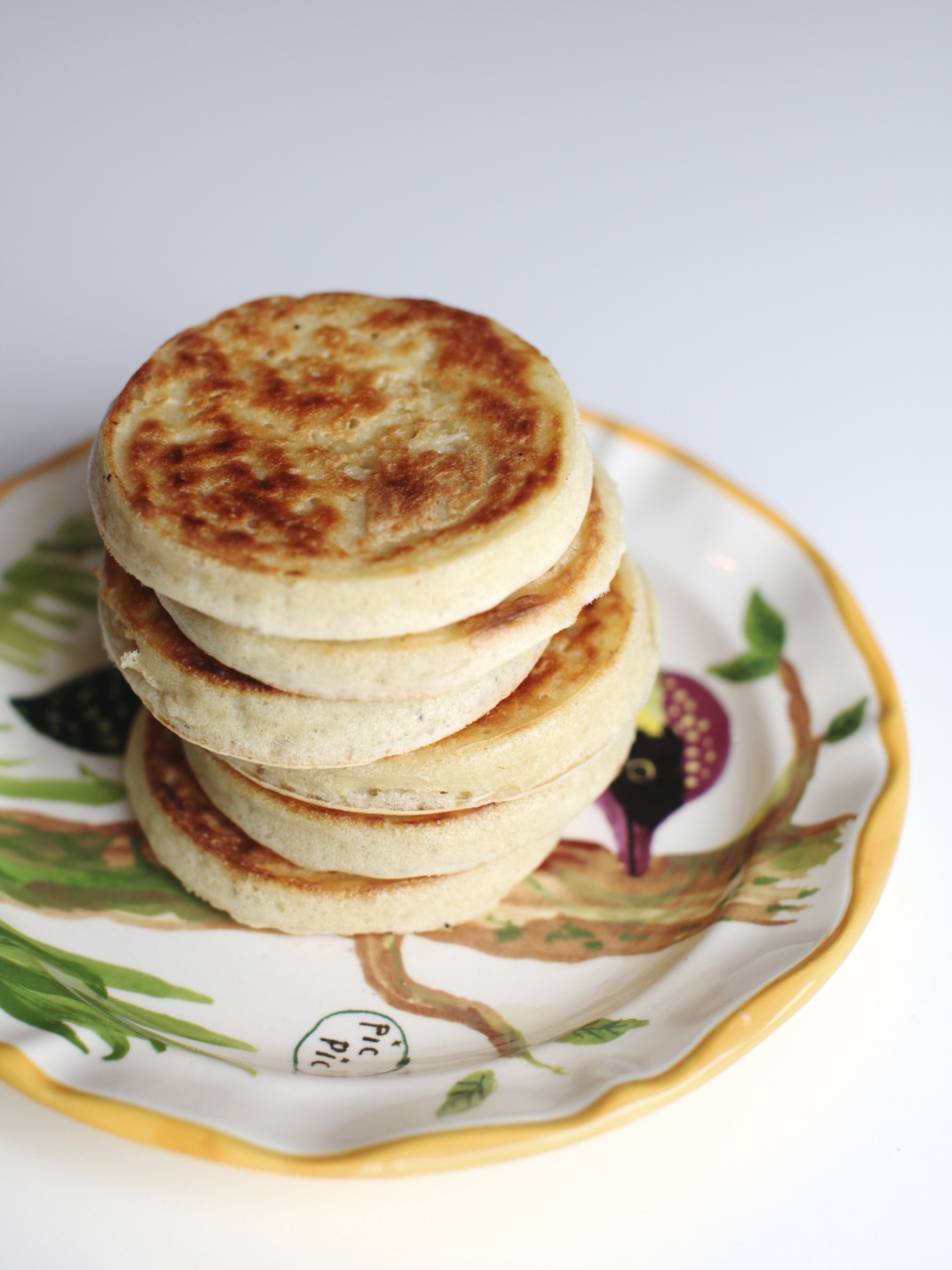 CRUMPETS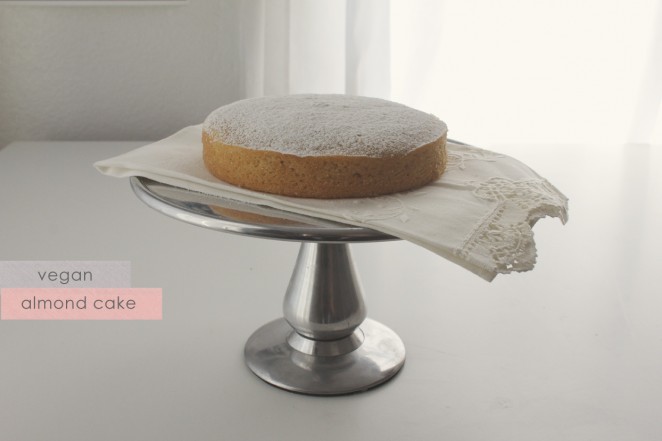 ALMOND CAKE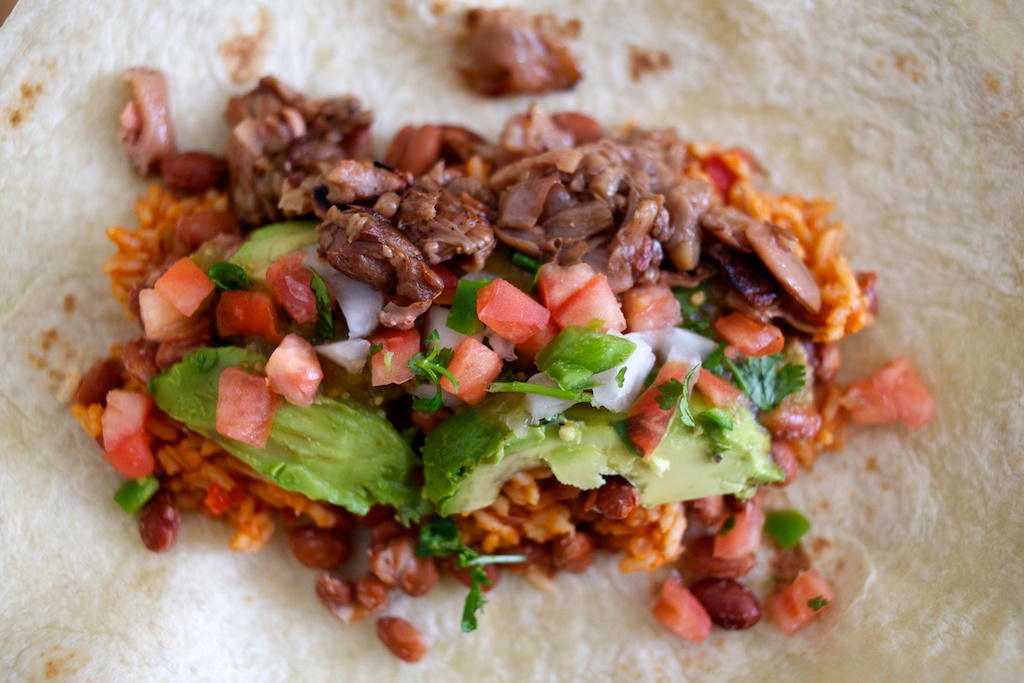 PURE LUCK JACKFRUIT CARNITAS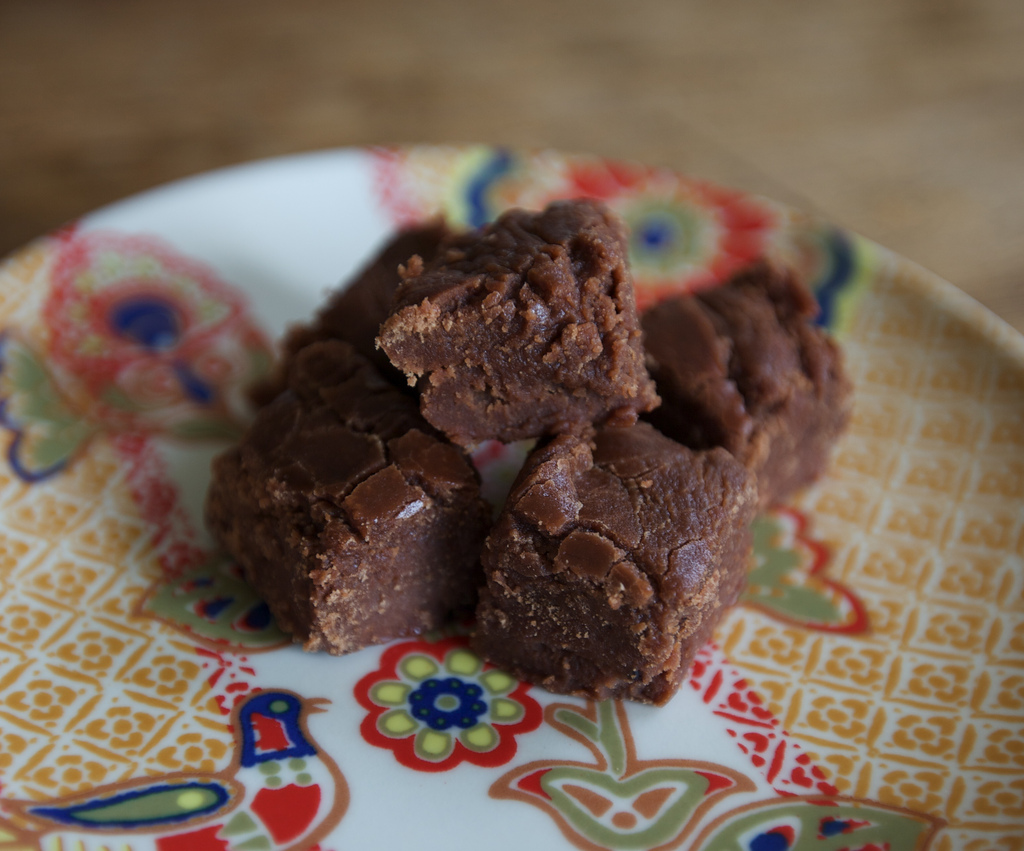 FUDGE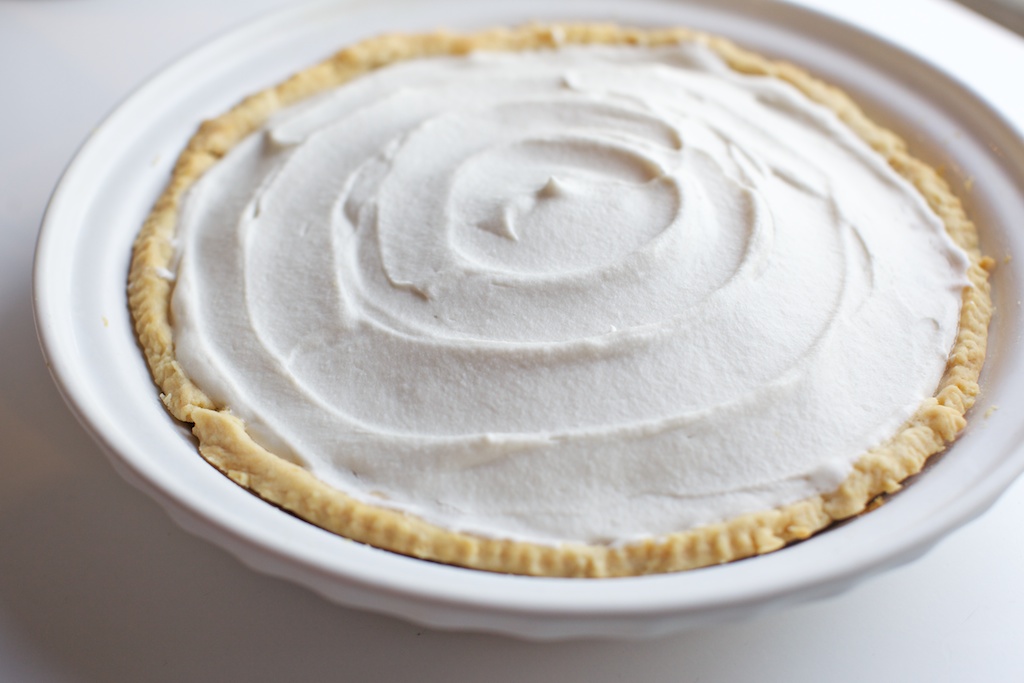 PEANUT BUTTER CREAM PIE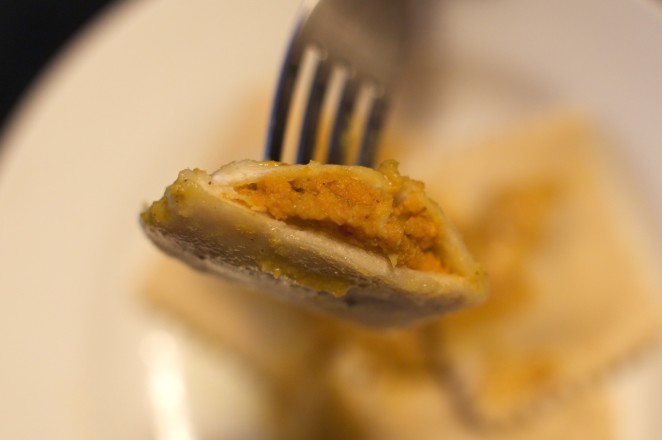 PUMPKIN RAVIOLI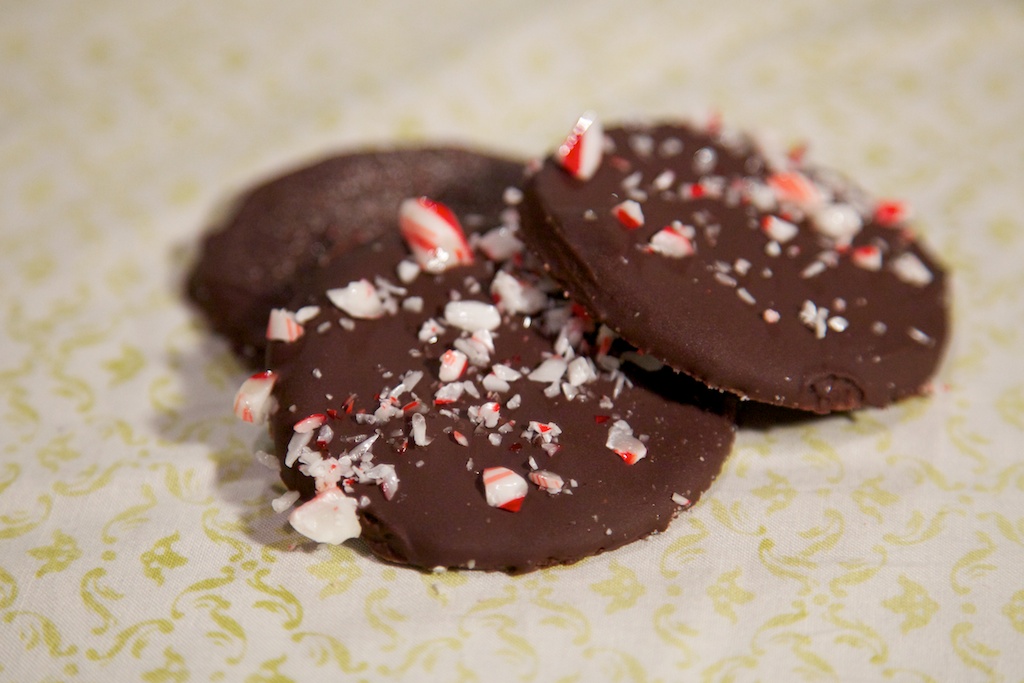 Then there are all the cookies. So many cookies
CHOCOLATE CHIP COOKIES
CHOCOLATE PEPPERMINT COOKIES
MOLASSES SANDWICH COOKIES
MEXICAN HOT CHOCOLATE COOKIES
LEMON ICEBOX COOKIES
ESPRESSO BEAN SHORTBREAD
Looking back there are another handful of recipes I'd like to go back and retry, like the creme brulee and the white russian cupcakes. Things have come a long way though and where I used to have to make up vegan recipes, now many others have already succeeded in perfecting them. It means a little less adventure, but also more reliability.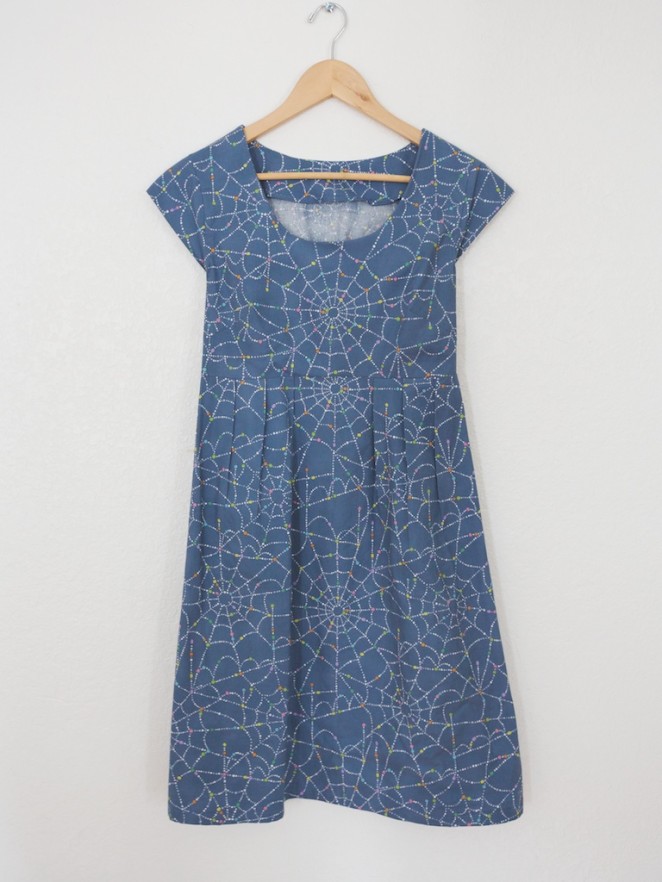 I realized recently that though I make clothes for myself fairly often, I don't usually take the time to photograph them. I made this dress back in November but it's taken this long to make it to the blog. I used the Washi Dress patten which works really well with stiffer fabrics. It's really good for making stuff from your favorite patterned quilting fabric rather than traditional apparel fabric. I also love empire waists, and was thrilled to find a pattern that was neither for a child or maternity wear.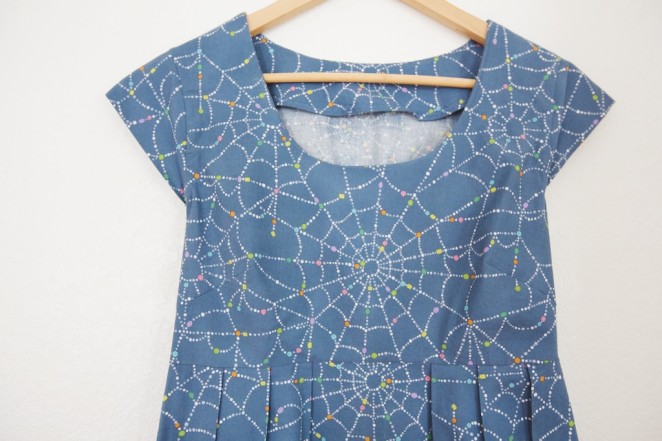 I made the whole thing in about two evenings, it was very fast. If I had more time, I would have made some alterations to the cut, but it fit well overall, particularly because the back is cinched with elastic thread. I accidentally cut the skirt fabric upside down, so the spiderwebs are hanging up rather than down but it's not devastatingly noticeable.
In other news, I've added a PROJECTS page to the blog so I can keep track of finished things. There's a new button over on right sidebar if you're ever interested. Eventually I'll add a section of future projects since I always have a list running in the back of my head. I could also add recipes there if that's something that you all might be interested in. Let me know!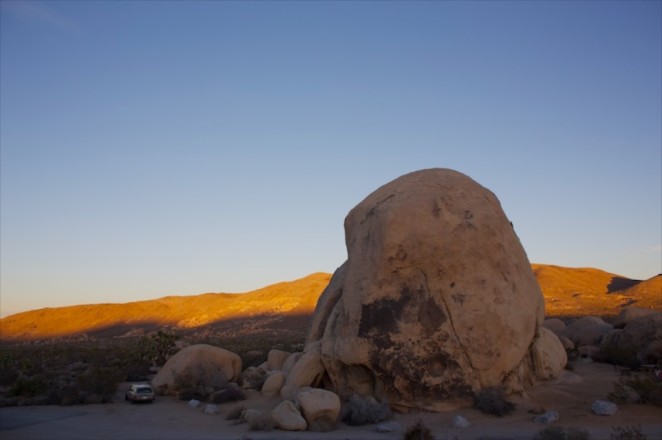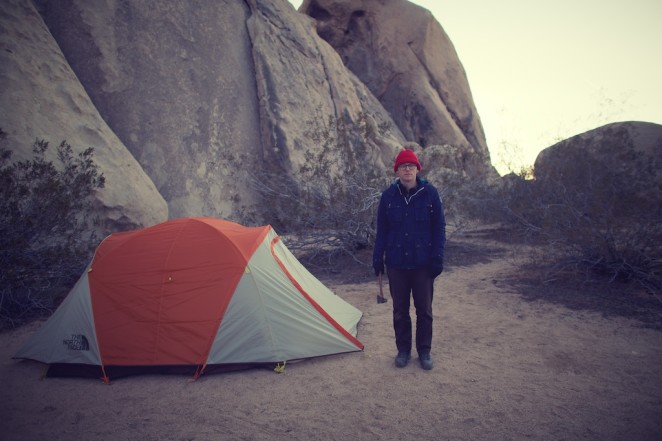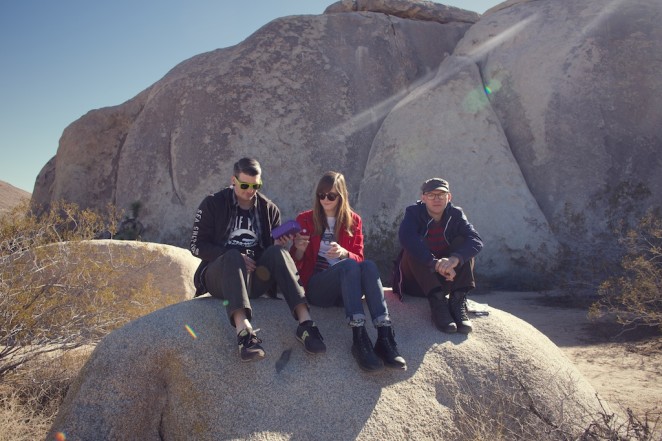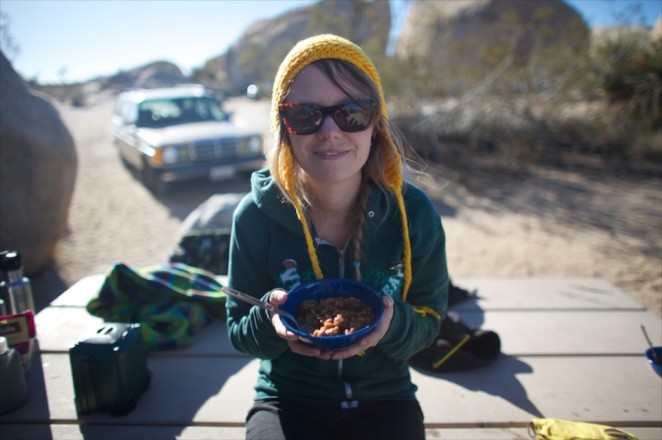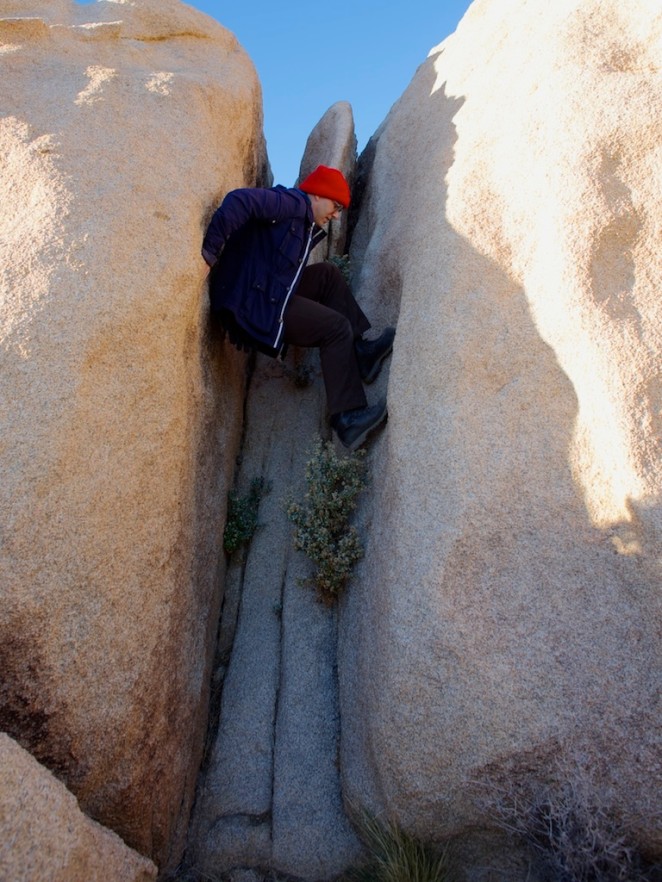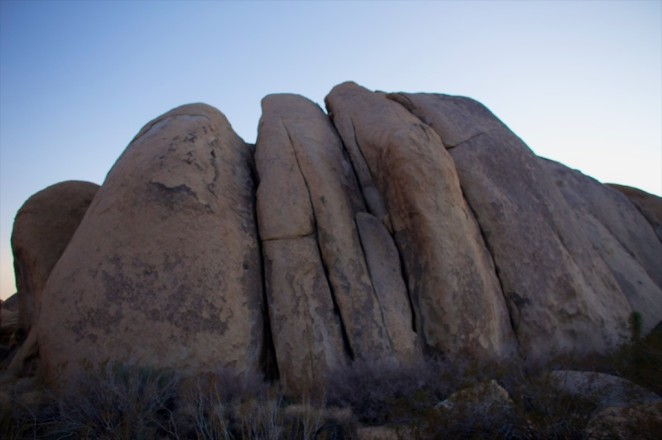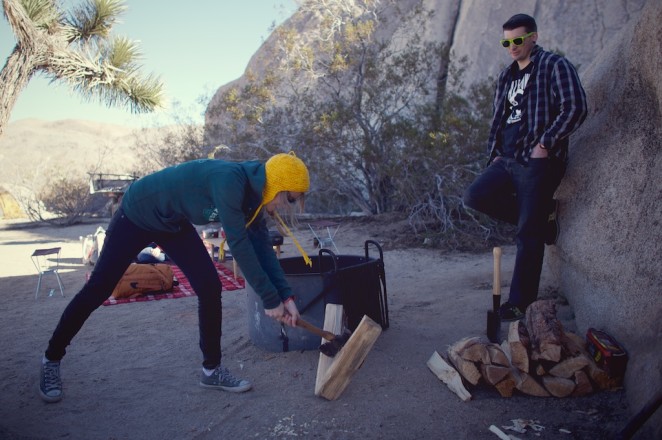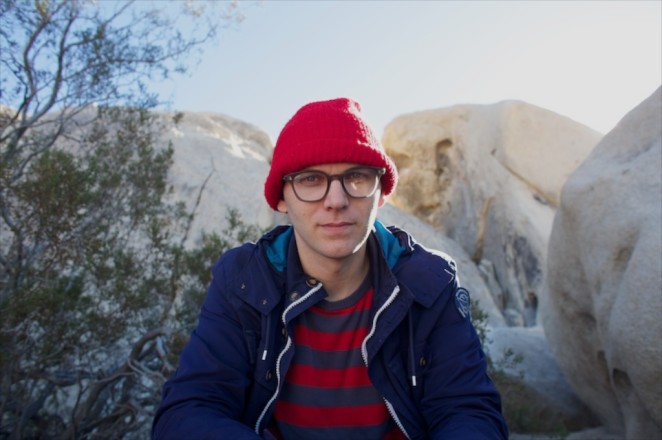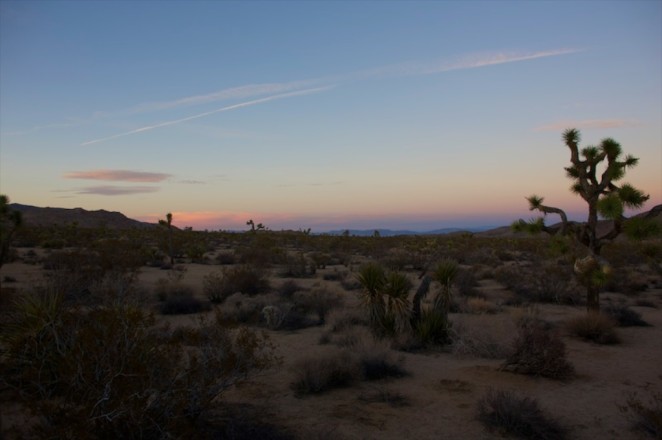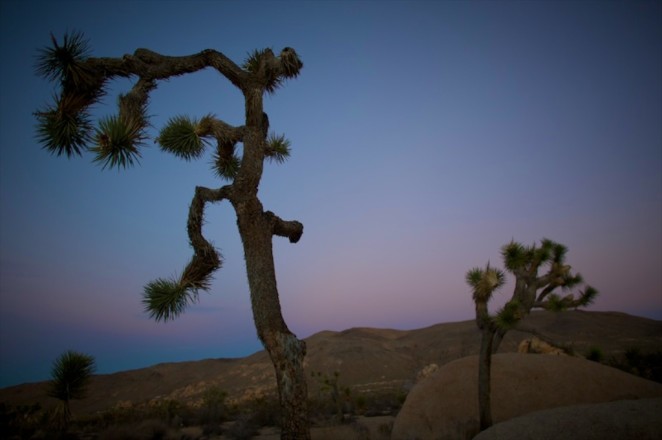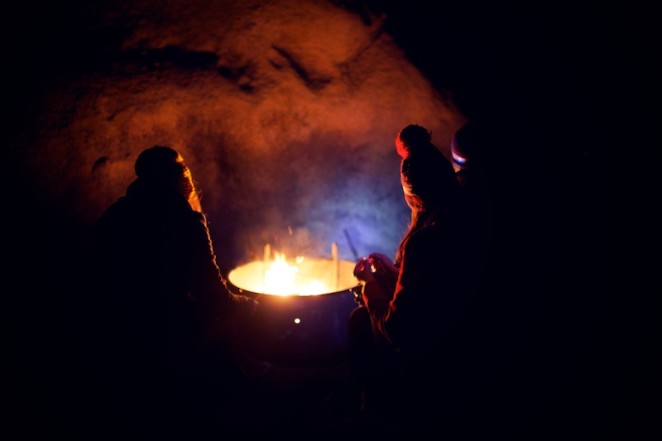 This year there will be more camping. I have declared it so, and so it shall be. We started the year with a trip to Joshua Tree. We arrived a bit late for a holiday weekend but by some great fortune were able to snag a secluded spot behind a boulder. It was one of the quietest campgrounds I've ever been to. It was comfortably warm in the sun during the day and quite chilly at night, though not unbearably so. We ate lots of camp food, split logs, did some rock climbing and made s'mores around the fire with our friends Jenn and Scott.
The thing I love the most about going camping, besides the quiet, is being able to come home and see the place you live with a new perspective. This applies to most travel I suppose, but there's something particular about car trips. You spend all this time examining new places, trying to understand them from the outside. It's easy to keep those inquisitive lenses on for just awhile when you return to try and see what your home is like from a different angle.
Mostly though I just like the quiet. The quiet and the dark and the stillness. There are no pressures on you to do anything at all except feed yourself and perhaps explore if you are so inclined.
This was the third national park we've visited in the past year. I'd love to say that I'd like to visit them all, but with 8 in Alaska, 3 in Hawaii, and several on other various islands, visiting all 59 seems quite daunting. Perhaps we'll just start with the 9 parks in California (that makes us 1/3 of the way there already). Yes, I like numbers. This is something you should know about me.
WILDFIRE – Glendora, CA January 16th, 2014 from Shawn Bannon on Vimeo.
We've entered wildfire season in Southern California. Yesterday this fire broke out in Glendora, just east of Los Angeles. It's crazy to see the fire planes flying so low to fight the flames. Today the fire is still burning but it's not entirely out of control.