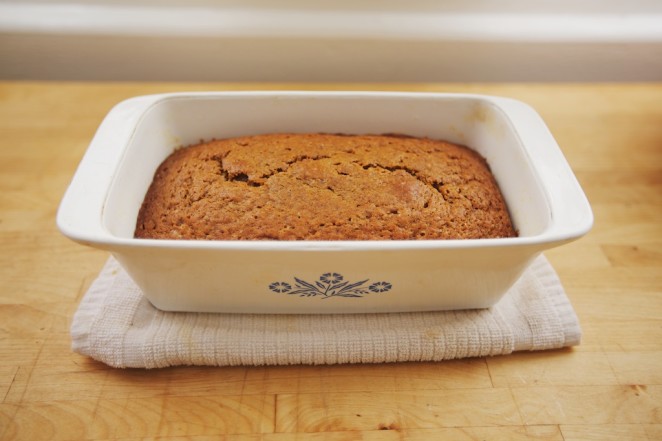 After having a non-stop schedule for the past few months it was nice to have a free day where I could spend some time in the kitchen. We got a little pumpkin in our last CSA box and I had wanted to make something special with it. It seemed like a great chance to make something fully from scratch, instead of using canned pumpkin which is so readily available. It wasn't difficult at all to bake the pumpkin before making it into puree, it just took a little extra time. I used this recipe for pumpkin bread, halved and without the walnuts. It was perfectly moist and spicy.
Can you tell the difference between the canned pumpkin and the fresh pumpkin in the end? I'm not sure. It's still nice to know it was simple if I ever want to nix canned foods in general. Plus I made a little video of the process, which made the whole thing a little more fun.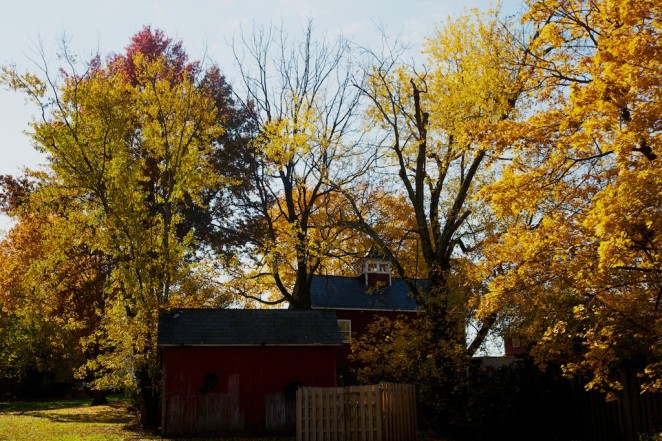 I was sitting in Vegan Treats bakery, having just finished a tiny pumpkin cake, when a wave of elation washed over me. After weeks of planning and stressing and trying to handle a million details during one of the busiest times of the year, I had done what I had set out to do. I was filled with a combination of excitement, relief and just plain happiness mixed with a touch of disbelief. It started with disappointment.
The previous summer I directed my first real short film since college (where I essentially just made abstract art films anyway). It was challenging. Not just because I didn't have money to spend on it or hardly any crew to make it happen, but because I was in charge of everything. I'm not one to shirk under the pressure of planning and organizing but, looking back, I did not have a lot of confidence in myself. I put so much of myself in to that little film that it was difficult for me to visualize how it would come together. There were aspects that were so clear and others that were murky and intangible. The story was ambiguous and I couldn't seem to resolve elements based in reality with bits of fantasy.
Months after putting together an edit of the film, and subsequently taking a break from it, I returned to the footage and was supremely unhappy with it. There were elements of the film I wanted to make there but there were other parts that felt stiff. I wanted to move on, start another project and forget how things had gone wrong. Shawn would pester me about it though, reminding me of the parts I liked, questioning me on how it could be revived. I was stubborn. Finally though, a plan arose. We cut out everything that didn't work, shot more footage and reassembled.
The end result was not the original story I set out to tell, and it is all the better for it. It's still a tender little thing. It would have been so much easier move along and bury it with any past failures, to try again with something else. As much as I didn't want to fix it, I now know that making something I'm actually content with gave me the confidence to keep creating with the knowledge that I'm fully capable of making something good. Once it was truly complete it cleared up my head to start thinking about the next thing without a cloud of doubt hovering over me. I will at some point share this film I'm speaking of, I'm just waiting for the right moment.
Not long after Shawn finished filming Ashes of a Cowboy I came across a historical event that I found so disturbing and bizarre that I knew immediately I wanted to make a film about it. I intended to file it away as an idea for later but one day, feeling inspired, I started writing. The script came together quickly and the momentum carried me forward to keep planning to film it. Since the story took place in the late 18th century, the whole thing became more complicated. Actually filming it seemed so distant and unreal but I just kept on moving forward as if it would happen.
Something compelled me to keep moving forward. I wanted to make this film and it was going to have be before winter came or it wouldn't happen until sometime next year and the momentum I was gliding on would be lost. Then a moment came where things turned from possible to real. A historic location was booked and schedules coordinated. I had just under a month to piece everything together from costumes to props to casting and getting it all to a distant location all while working my full time regular job and hosting horror marathons and making Halloween costumes.
There were many times in that month where I thought maybe it wouldn't work. Unlike before though, I trusted myself. I knew clearly what I wanted and also knew where to let go of that vision for the greater good of the project. Still when we arrived for the first day of shooting I had a list in the back of my head of all the things that could potentially go wrong. Yet somehow, almost magically, in so many instances where I had backup plans, things went even better than expected. A prop I needed that I wasn't able to bring showed up the day before at a relative's house. A room I didn't know we would have access to had the exact lighting I needed for a shot. That's not to say there weren't difficulties. Shooting a film, even a short one, is always a battle against time and light and so many other things.
I had a lot of help from some very patient people, some of whom I enlisted through the internet and only met for the first time the day of shooting. Plus some some family that Shawn convinced to don period clothing and populate my historic village. It goes without saying that Shawn helped me tremendously, though I'm not sure he knew entirely what he was getting into until the last moment.
There will be a long way to go to finish the film. Editing is its own harrowing process. I wanted to record this feeling though, the one I felt back in the bakery, of pulling all the pieces together and actually making it happen.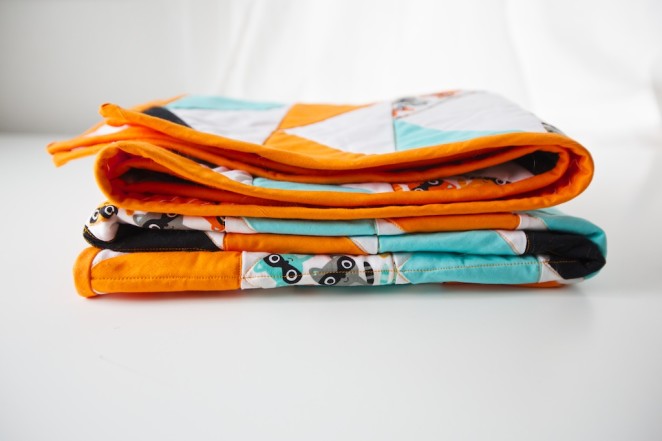 Hello November! I've been away from the blog for a bit longer than I like. We had a whirlwind trip this past weekend to visit Shawn's family and attend his sister, Amy's, baby shower. The exciting thing, besides getting to spend some time with family and catch some of the beauty of fall in the East, I finally get to share this quilt. Since it was a gift for the baby, it's been a secret project while I've worked on it for the past few months.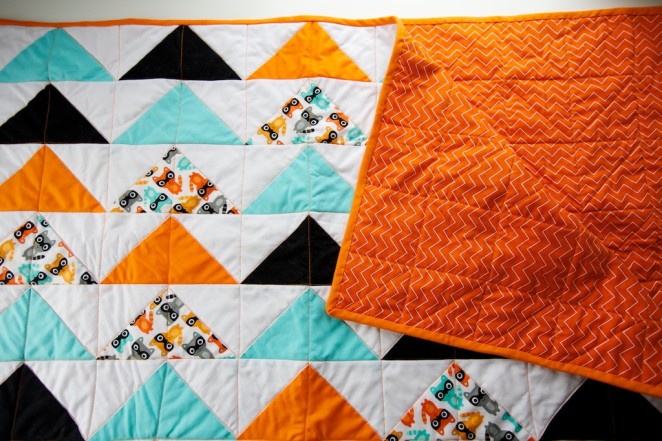 Shawn and I labored over choosing the fabrics and settled on some contrasting colors to go with a cute raccoon print. Since it's a crib sized quilt, it didn't take terribly long to sew together once all the triangles were cut. I hand bound the edges and actually enjoyed doing it for the first time.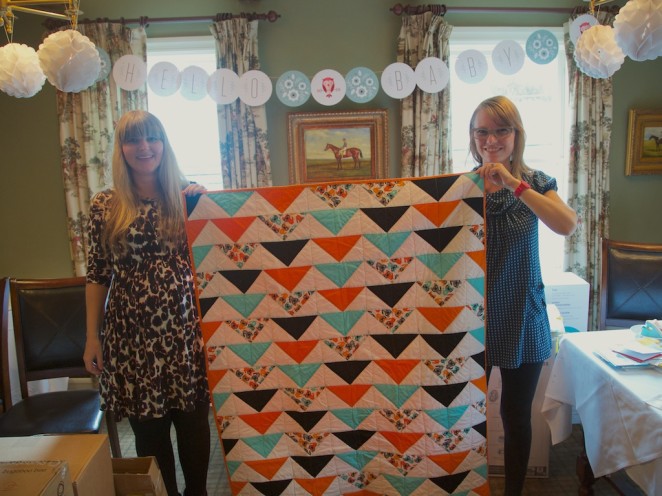 I was really excited to give Amy & Jason the quilt knowing it is something that their baby will have for years to come. I still have a quilt my great grandmother gave to me for my first birthday and it means a lot to me. I like to think that I'm carrying on some small tradition of quilt making.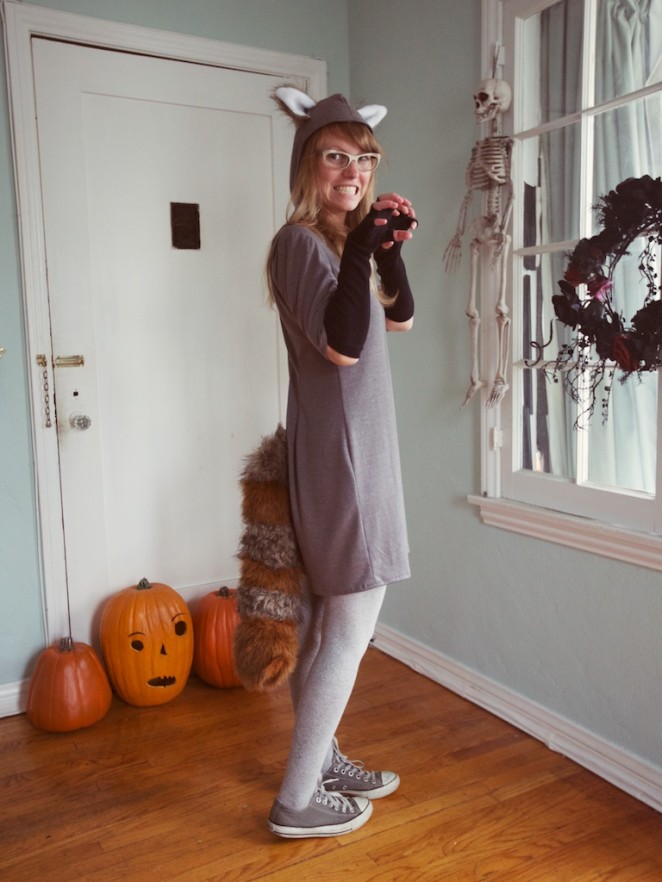 At the last minute I pulled together my Halloween costume just in time for the one party we were invited to. The whole thing was pretty basic: a simple grey dress plus ears and a tail. I'm always happy to be in a comfortable costume (though I'll admit having a tail feels a little odd).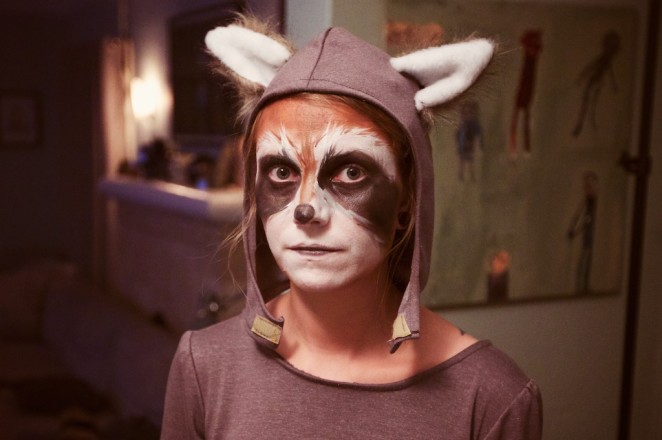 The makeup is really what pulled it all together. I kept thinking about how to make my face more raccoon like but realized the problem was that I don't have a raccoon shaped face and there's not really anything I can do about it.
I had added a velcro closure on my ears but it looked too weird so I'll probably go back and remove it all together. They stay on just fine without.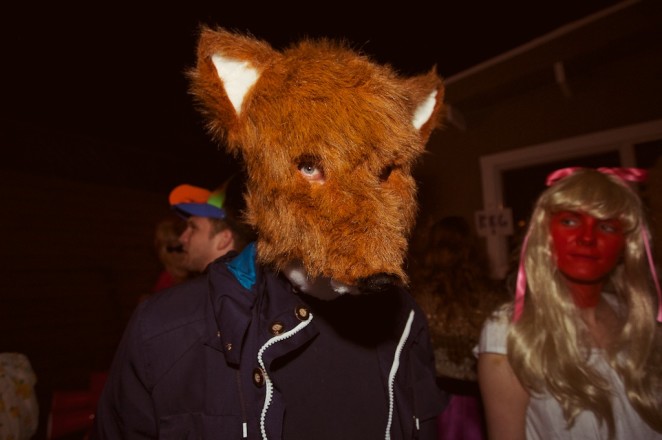 Not to be outdone, Shawn made this awesome fox mask. It took me all night to make my costume and he just made this stunning mask out of nowhere. It looked really great. He also had some furry gloves and a tail, so we matched a bit.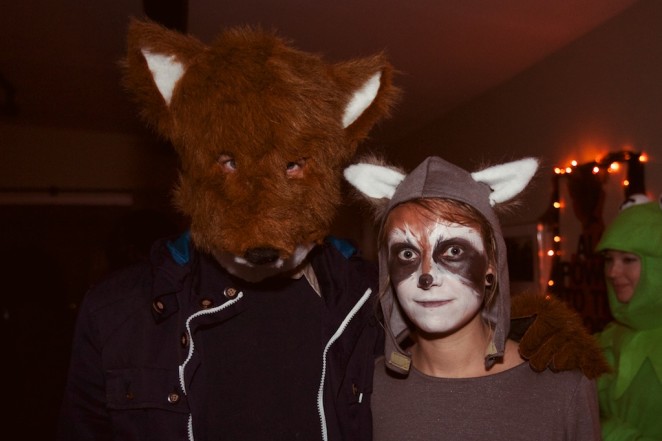 Happy Halloween from some forest creatures!
We still haven't had a chance to carve pumpkins but October isn't over yet. I'm looking forward to a quiet Halloween handing out candy to trick or treaters.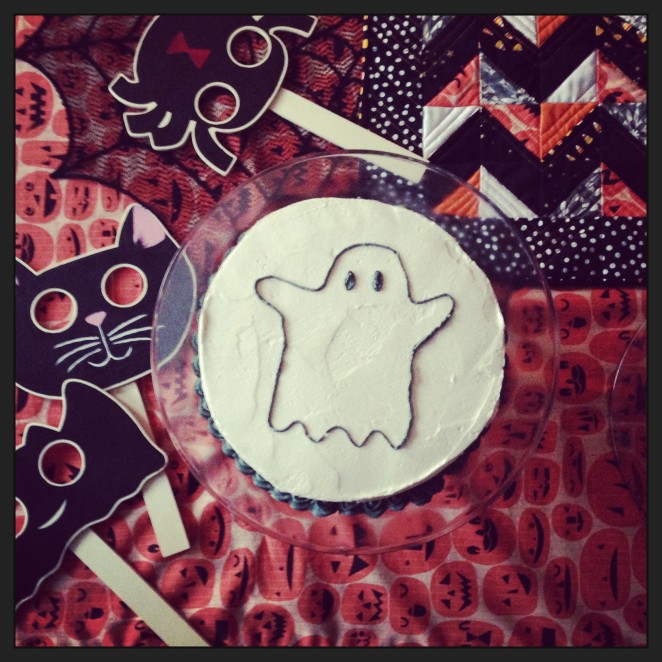 We just finished up our 6th annual Halloween Movie Massacre. We made it through another 24 hours of horror films like the crazies that we are. We're actually watching HOCUS POCUS as I write this because we just can't quit.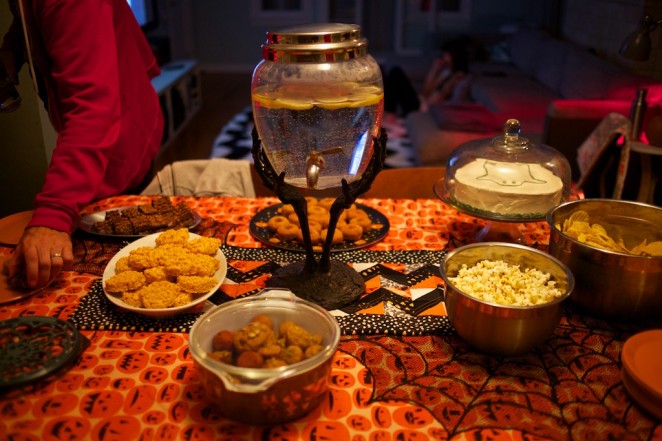 As per usual we made a ton of treats, in fact, perhaps too many treats. There was pumpkin spice cake, rice crispie treat pumpkins, caramel popcorn, spinach artichoke dip, queso and more.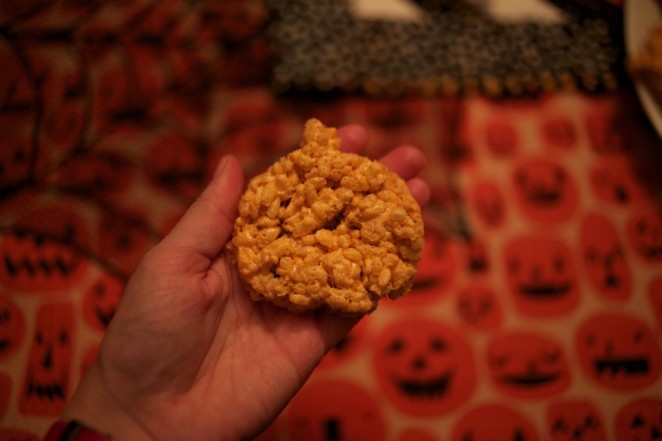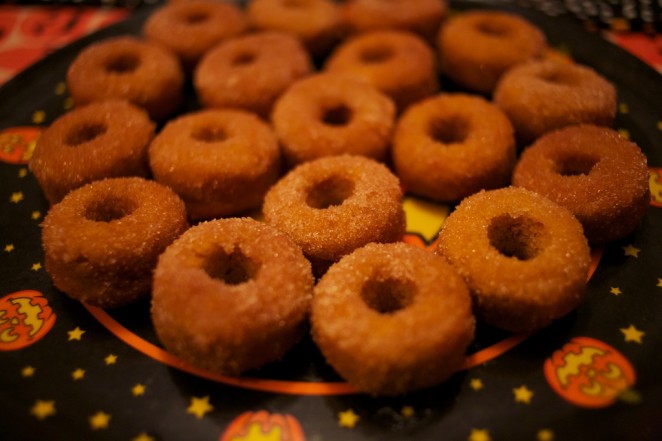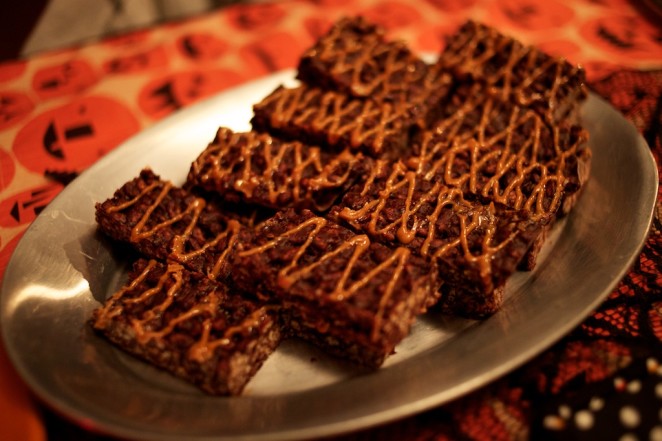 Jenn made some pumpkin spice donuts and chocolate coconut bars. Shawn made a giant batch of macaroni and cashew cheese. Plus we had our traditional tofurky dog bar at some point in the middle of the night.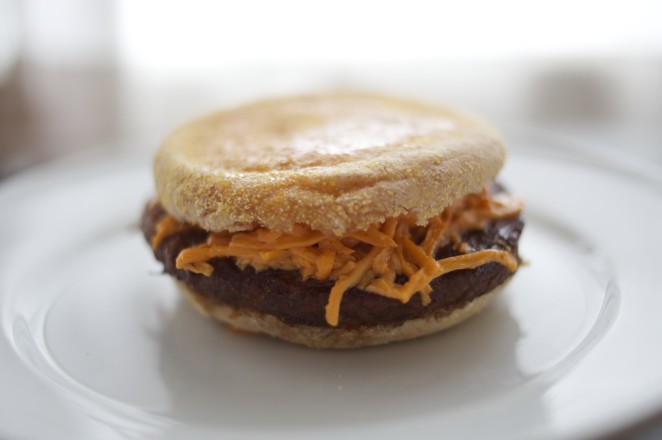 With so many sugary treats and only a tiny bit of sleep I was feeling pretty terrible this morning. I whipped together a a batch of badass breakfast sandwiches since they were a hit last year, and they really helped me rally for the rest of the day. Coffee might have helped too.
This year some friends spawned their own horror movie marathon in Texas so there were dueling marathons this weekend. I like the idea that the marathons are multiplying. You too can watch scary movies in excess!
Since I'm still a bit delirious, I'll just get to the list of what we watched.
1. IT'S THE GREAT PUMPKIN CHARLIE BROWN
2. TEXAS CHAINSAW MASSACRE
3. BLACK SHEEP
4. FRIDAY THE 13TH THE FINAL CHAPTER
5. POLTERGEIST
6. WOLF CREEK
7. THE RING
8. HALLOWEEN III:SEASON OF THE WITCH
9. THE CONJURING
10. LAKE MUNGO
11. DEADLY BLESSINGS
12. MAMA
13. INSIDE
14. POSSESSION
Since this was year six, we included quite a few films we hadn't seen before. Of course it's always the classics that are the real winners. Ending with POSSESSION (from 1981, just so there's no confusion with the more recent The Possession) was a great choice as it is not only a great film, but it's also nuts. Highly recommended if you haven't seen it.
It was lots of fun, especially when things started getting silly. Looking forward to more Halloween celebrations in the next few weeks. Pumpkin carving! Costumes!