I'm excited to share that Shawn has launched a kickstarter for his newest short film ASHES OF A COWBOY. He's been working like crazy on this project but needs some help getting it off the ground. To quote from his site:
Lately I've been making my films more experimental, lower profile and lower budget. For once I want to make something with a more traditional narrative and I need your help. I'd love to make a movie that my friends and family will really care about. This movie is all about great acting and telling a sincere story. For a low budget movie this will take me a lot of time, preparation, and resources.
We've been funding our own film projects for years and this is the first time we've reached out to the the community for support. If you have a few spare dollars to contribute to independent film we would be forever grateful. Even if you can't donate, sharing the project with friends helps get the word out.
Watch the film above or checkout the kickstarter page.
Last weekend little Mabel was adopted. I'm so happy she found a forever home, but since she was with us for quite some time seeing her go was bittersweet. I gave her a lot of special attention because she couldn't hang out with the other cats, and her little personality really grew on me. Not to mention she was uber cute.
The whole experience of fostering her started with a stressful, heartbreaking situation and I'm really thankful that I was able to intervene before an almost certain death at the shelter. Even though Mabel was the sweetest little dear that just wanted to hang out and cuddle all the time, she was still another responsibility. It's funny how you get used to the things that seem difficult though and even grow to sort of enjoy them.
Here's to Mabel, darling rescue kitty with a happy life at new home ahead of her.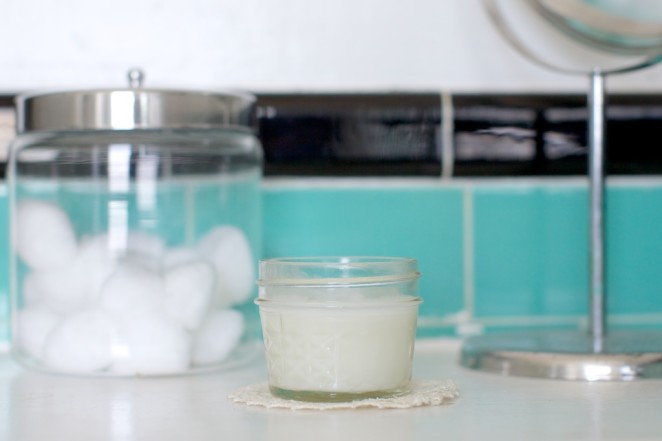 For the past two years or so, I've been a faithful user of Soapwalla deodorant cream but I ran out this weekend and had forgotten to order more. In my desperation I made my own deodorant. It was easy enough and seems to be working pretty well. I made a tiny batch just to try. Here is the recipe.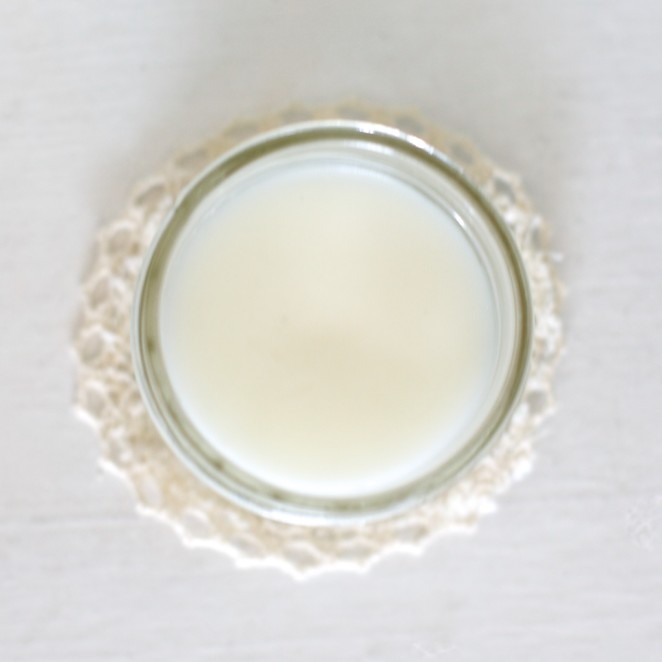 homemade deodorant
3 Tbsp coconut oil
1/8 cup corn starch or arrowroot
1/8 cup baking soda
splash of tea tree oil
Mix ingredients until combined. Store in cool place.*
*With recent high temperatures, I haven't had a cool place. The mixture liquifies but still totally works, I just give it a little extra stir before applying.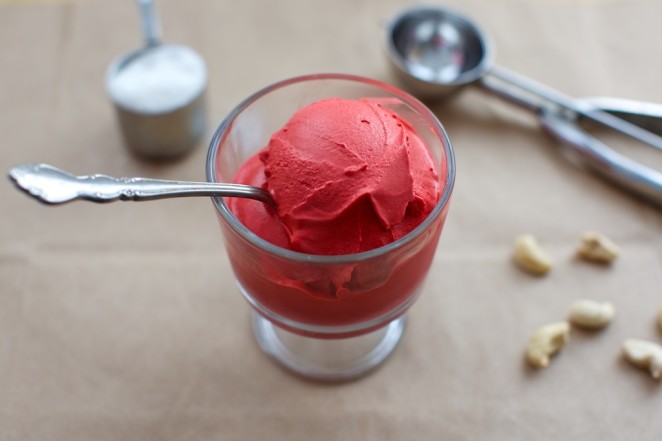 I've been kicking around ideas for this recipe in my mind for oh, I don't know, two years now. It's sort of ridiculous. The curious thing is that when I finally went to procure the ingredients, I found out that Whole Foods had discontinued carrying Mimicream, my go to base for making ice cream. So I came up with a new plan of making my own cashew cream. The end result was a decadent ice cream that's very similar to a custard and extremely delicious.
RED VELVET ICE CREAM
1 1/4 cup cashews *soaked overnight
water for blending
3/4 cup sugar
2 Tbsp cocoa powder
1 Tbsp arrowroot or corn starch
2 tsp vanilla
1/2 tsp almond extract
1/2 tsp white vinegar
1/4-1/2 tsp black salt (or sea salt)
red food dye (optional)
Put cashews in a blender and cover with water. Blend until smooth. Add remaining ingredients and blend again until fully incorporated. If the mixture has heated up in the blender, refrigerate until cool. Freeze according to your ice cream maker's directions. It will be on the softer side, so you can put in a sealed container in the freezer to firm it up more if you like.
If you don't have an ice cream maker, you can put the mixture in a sealed container in the freezer. Stir the freezing mixture every half hour until frozen.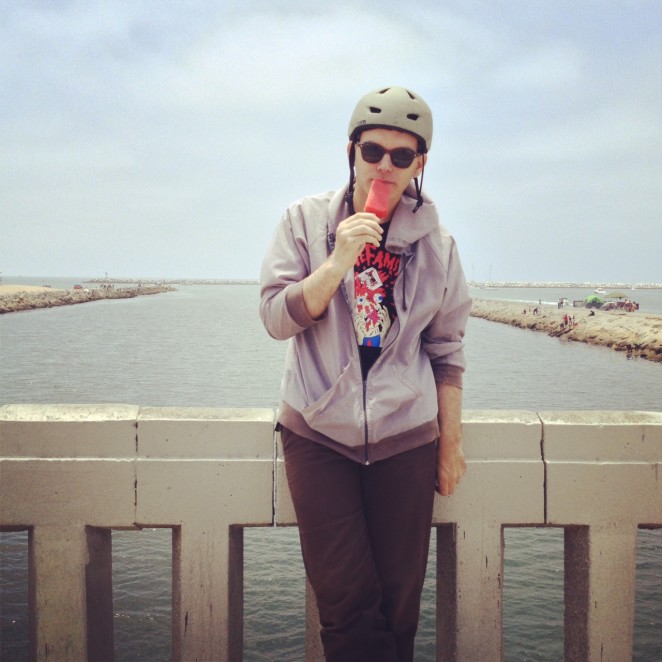 With the fourth of July on a Thursday and no exciting BBQ plans, Shawn and I went on a bike ride down to the beach. We hopped on the Ballona Creek bike path and rode to the beach. The ride is just long enough to feel like you're going somewhere, but not too long to be strenuous. We hung out for a bit at Mustache Bridge, ate popsicles and just enjoyed the cool beach air.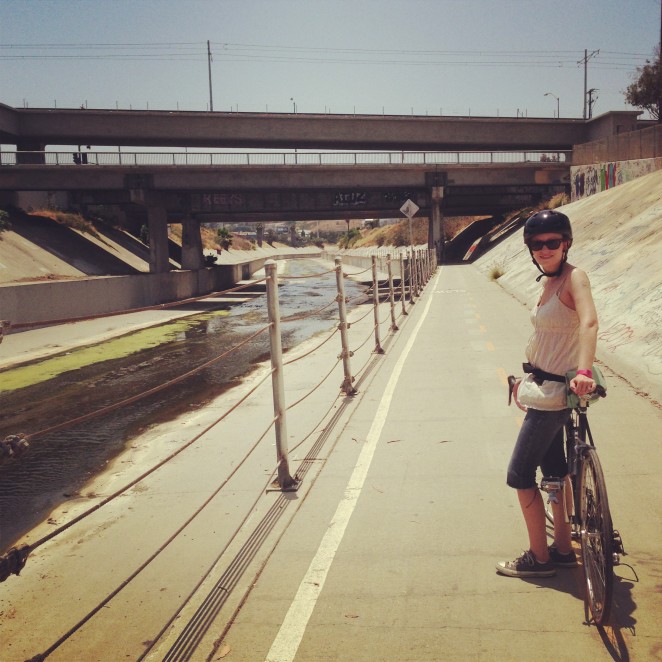 It's been nearly a year since I tried to figure out some kind of exercise routine. I still haven't figured it out. It's really time to start being mindful of having more activity in my life, as much too much of it is spent sitting at a desk or on the couch.
Besides all that, the rest of the holiday was lovely. We feasted on vegan chili dogs and potato salad and watched SCARFACE and JAWS with friends.