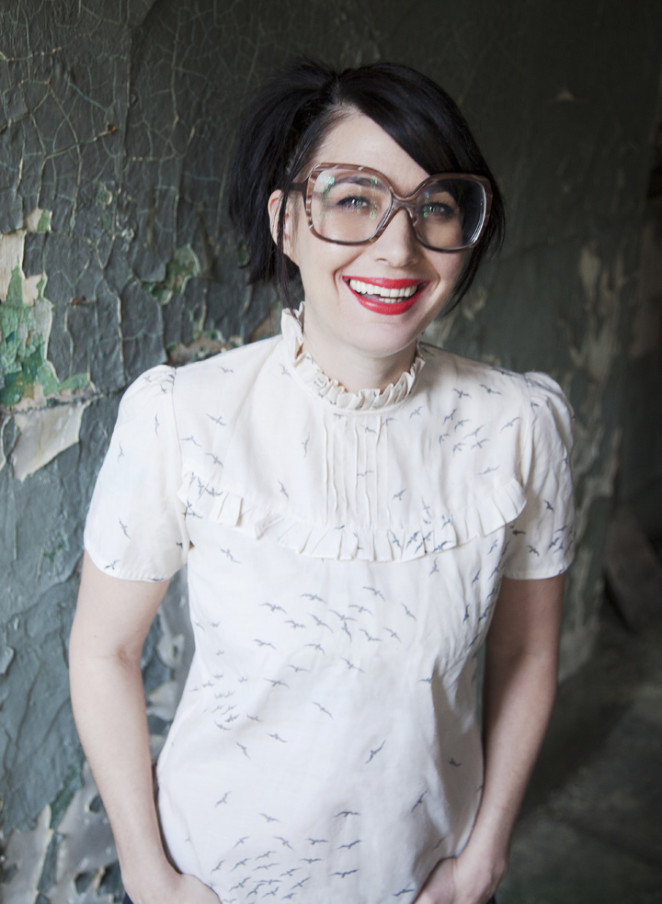 It's been awhile since I've been compelled to speak up about a contemporary movie (well, since Upstream Color). Usually the publicity machine works just fine without me chiming in. The Punk Singer had such a strong effect on me I feel I must say something. It's not so much that The Punk Singer is a groundbreaking documentary but rather that it gives such an intimate look into the life of Kathleen Hanna; how she stood up as a leader in the riot grrrl movement and how she all but disappeared.
I saw the film just last weekend at a special screening at Cinefamily. We showed up two hours early to line up for the event, and scored a couch next to Hanna herself. I've been a huge fan of Le Tigre since high school and Bikini Kill retroactively. (A little known piece of trivia: my original blog was a misheard lyric from a Le Tigre song. This just made me realize I've been blogging for some time now.) Le Tigre was the fun and upbeat music that I could sing and dance to but also had real meaning. Bikini Kill was the rebellious girl version of some of the more hardcore stuff I was listening to. Yet, besides the songs themselves, I didn't know much about the bands beyond the names of their members.
The Punk Singer let me travel back in time and see so many of the Bikini Kill shows I never could have seen, but more importantly, it showed me exactly who Kathleen Hanna is. Her words, without even trying, were an inspiration. She began writing because she felt like no one had listened to her. She joined a band to have her voice heard. She called the girls to the front so that there was a safe space. She told everyone what Riot Grrrl meant to her but asked also what it meant to everyone else.
The film also shows the pressure and strain that being in the spotlight put on her, from the media analyzing her looks and personal history to misogynist threats against her. Seeing the difficulty of everything just made me admire her more. It also details her reasons for leaving Le Tigre and going off the radar (until now, where she is on tour with her new band The Julie Ruin).
Mostly I just appreciated her candidness, in both the film and in the Q&A after the show. She's honest and funny and intelligent all at once. If I sound a bit like a fan girl at the moment it's because I am. There are so many great feminist women to look up to, but often they seem so far from who I am. It was wildly exciting to be in the presence of someone so outspoken who I could easily identify with.

The Punk Singer comes out in late November. You should probably go see it.