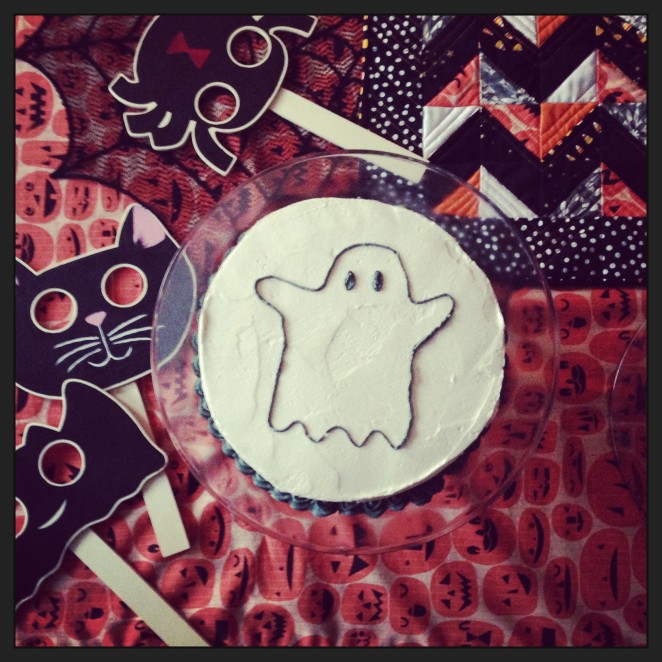 We just finished up our 6th annual Halloween Movie Massacre. We made it through another 24 hours of horror films like the crazies that we are. We're actually watching HOCUS POCUS as I write this because we just can't quit.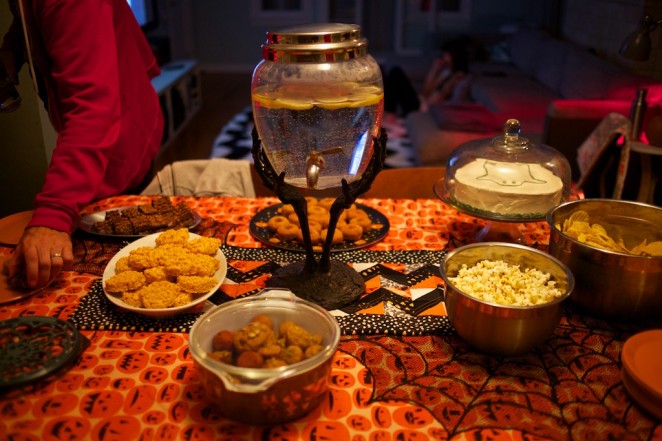 As per usual we made a ton of treats, in fact, perhaps too many treats. There was pumpkin spice cake, rice crispie treat pumpkins, caramel popcorn, spinach artichoke dip, queso and more.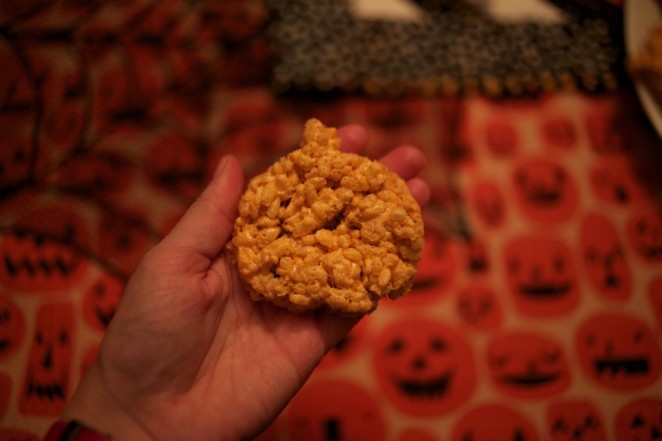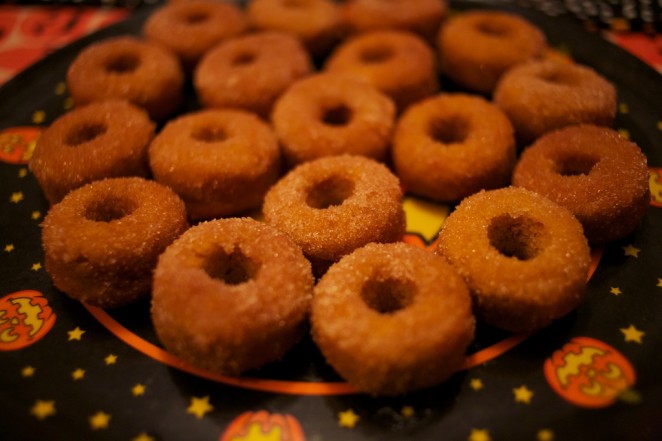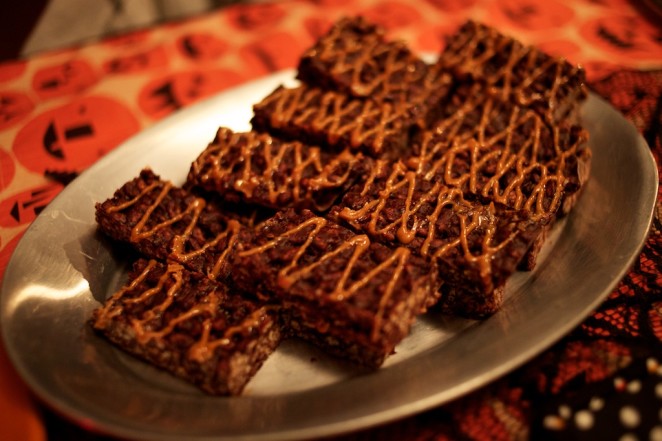 Jenn made some pumpkin spice donuts and chocolate coconut bars. Shawn made a giant batch of macaroni and cashew cheese. Plus we had our traditional tofurky dog bar at some point in the middle of the night.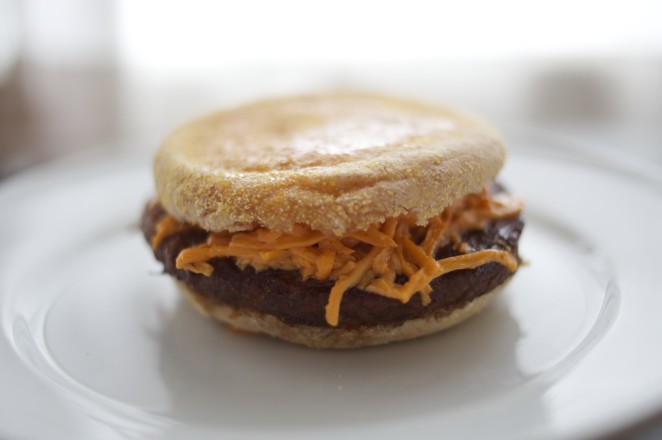 With so many sugary treats and only a tiny bit of sleep I was feeling pretty terrible this morning. I whipped together a a batch of badass breakfast sandwiches since they were a hit last year, and they really helped me rally for the rest of the day. Coffee might have helped too.
This year some friends spawned their own horror movie marathon in Texas so there were dueling marathons this weekend. I like the idea that the marathons are multiplying. You too can watch scary movies in excess!
Since I'm still a bit delirious, I'll just get to the list of what we watched.
1. IT'S THE GREAT PUMPKIN CHARLIE BROWN
2. TEXAS CHAINSAW MASSACRE
3. BLACK SHEEP
4. FRIDAY THE 13TH THE FINAL CHAPTER
5. POLTERGEIST
6. WOLF CREEK
7. THE RING
8. HALLOWEEN III:SEASON OF THE WITCH
9. THE CONJURING
10. LAKE MUNGO
11. DEADLY BLESSINGS
12. MAMA
13. INSIDE
14. POSSESSION
Since this was year six, we included quite a few films we hadn't seen before. Of course it's always the classics that are the real winners. Ending with POSSESSION (from 1981, just so there's no confusion with the more recent The Possession) was a great choice as it is not only a great film, but it's also nuts. Highly recommended if you haven't seen it.
It was lots of fun, especially when things started getting silly. Looking forward to more Halloween celebrations in the next few weeks. Pumpkin carving! Costumes!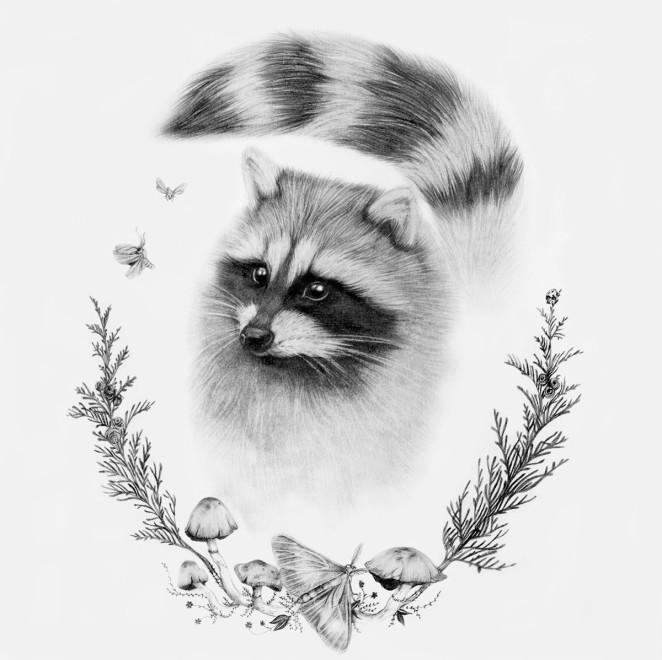 This year I settled on my Halloween costume early, and yet I still haven't made any progress in putting it together. If you haven't guessed already, I'm going to be a raccoon! One of my favorite costumes in recent history was being a deer and I think I'd like to make something equally low tech and comfortable.
The raccoon print you see above is from the BurrowingHome etsy shop. Not only does she have some beautiful drawings but there are also some amazing temporary tattoos made from her art.
I've been looking for some ideas for how all I'll construct the costume, even though I've got the basic idea in my head already. There are lots of cute kid's raccoon costumes but for some terrible reason all the adult costumes I've found so far have been in the "sexy" category. Seriously people, there is nothing sexy about raccoons.
With lots of projects on the slate this month I'm hoping to pull this costume together in an afternoon. Can it be done? I hope so. What are you going to be for Halloween?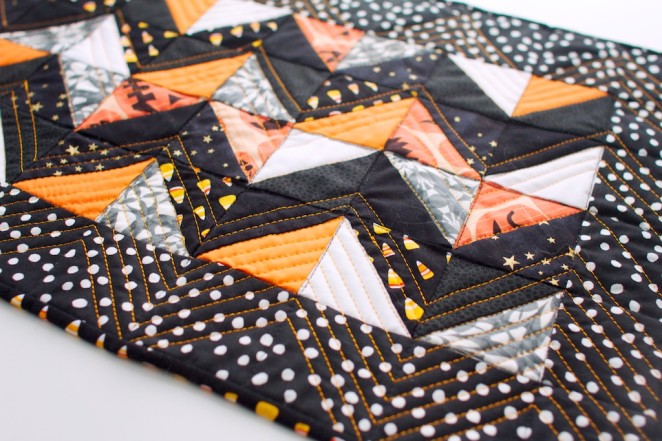 I finished this little quilted table piece for Halloween. It's inspired by the Halloween table runner I found a few weeks ago. I just used some fabric I had saved from last year, and it turned out to be sort of an odd small size, so I added the border. I really enjoyed sewing the chevron stitching and feel like it pulled the whole thing together.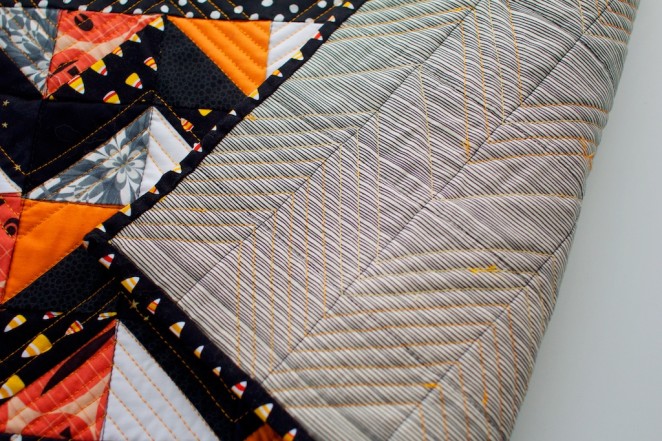 This isn't the the first quilted thing I've made without a pattern but it's one of the more complex things I've put together in terms of all the pieces. It it slightly more polished than some of the other things I've made in a way. I feel like I've turned a corner in quilting from when I had no idea what I was doing to feeling more confident and comfortable with the process. Quilting is one of the few hobbies I've picked up as an adult and it's nice to finally get over being intimidated by various steps. It's now something I can do somewhat mindlessly while watching old episodes of Buffy the Vampire Slayer.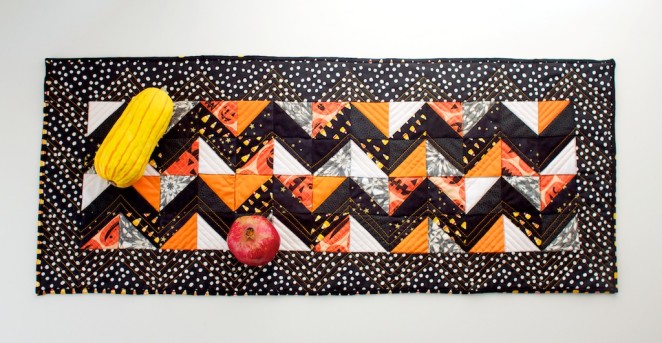 In other news, Shawn had been out of town working for the past month and is finally home. Hooray! We're starting to get in the fall spirit in earnest now and there will be many more Halloween projects and adventures. So excited!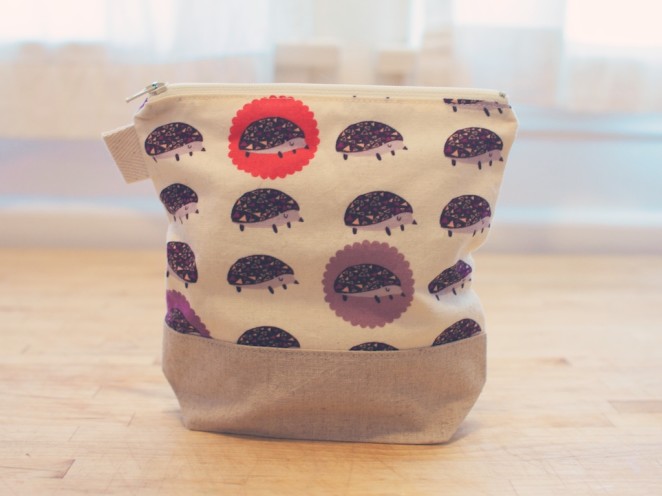 When we went camping Shawn found some reusable sandwich bags perfect for our lunch on the way there. When he told me he was looking for some, I tumbled down a rabbit hole of cute sandwich bags on etsy. I picked out a few I liked and we planned to get them down the line. Lucky for me, they showed up as a little surprise a little while later.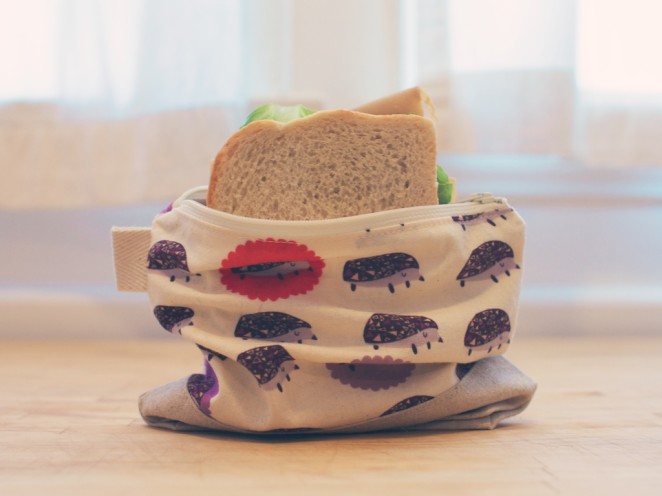 Since then these hedgehogs and foxes have traveled with me in my lunch every week and been the perfect pouch for airplane rides when I was without a meal. The zippers also make them great for other treats like chips or trail mix.
I'm still looking for the perfect reusable produce bags. Since the majority of our vegetable come from our CSA and are bagless, I've been recycling the same plastic bags from the grocery. I'd like to have something a little more substantial and easy to clean. For some reason the mesh bags seem to be popular but I'm looking for something that helps keep greens fresh. Any ideas?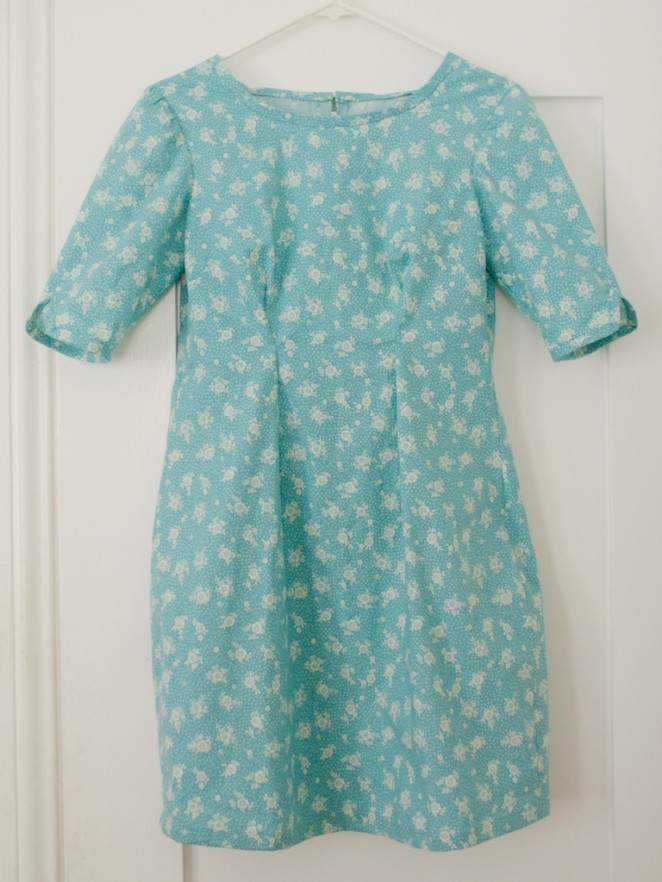 I made a new Laurel dress over the weekend. I'm not nearly as happy with it as the first one. The dress itself if quite cute but it doesn't seem to fit me as well. I think the main problem lies in that I had forgotten to pre-shrink the fabric on the first version so it is just a touch more fitting than this one. I'll most likely give this one a hot wash before moving forward with any other alterations.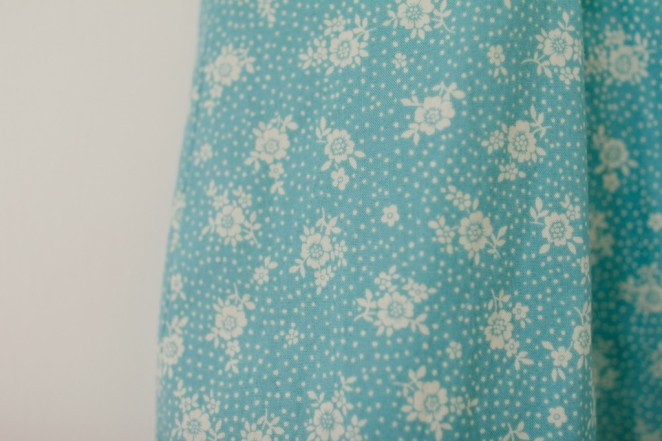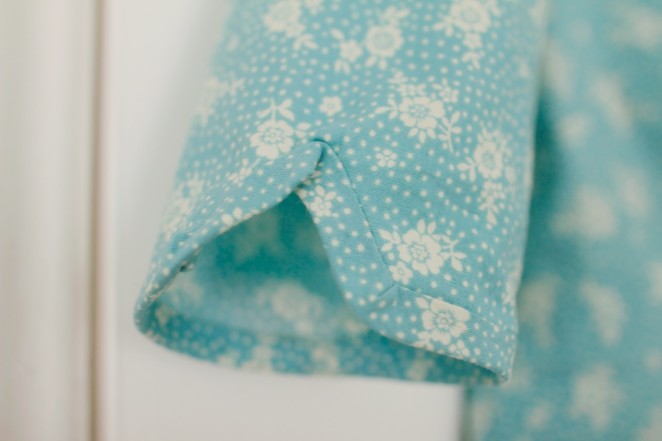 On the other hand, I am really happy with how the fabric looks and since it is just a touch too big it's quite comfortable.
It is the last day of September and I'm so terribly excited for October. I've already begun a list of horror movies to watch. September has been mostly a drag. It hasn't been a very busy month and I thought I would have more time to accomplish little projects but as of right now I've only crossed off 3 items from my to do list. I'm looking forward to putting this month to a close and starting my favorite month of all!