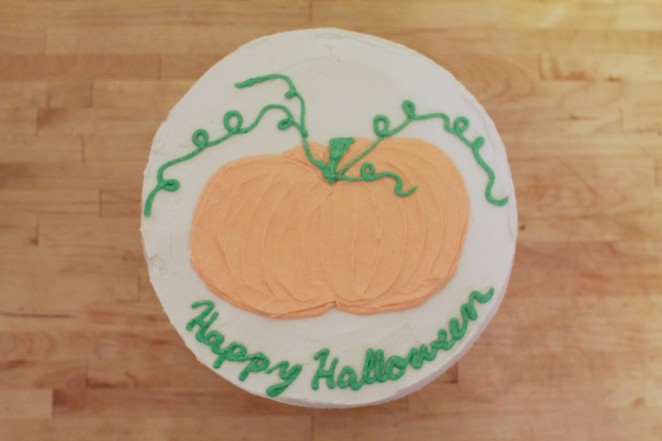 It's that time of year again, time for our annual Halloween Movie Marathon. In fact, this was our 5th year (be sure to check out some of the past years), and we clocked in at a full 24 hours straight of horror movies.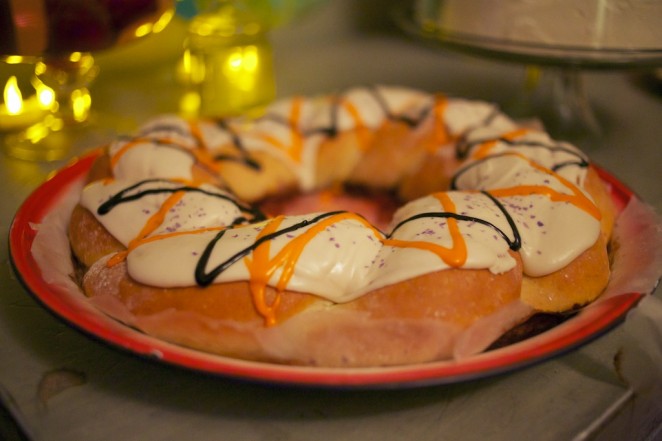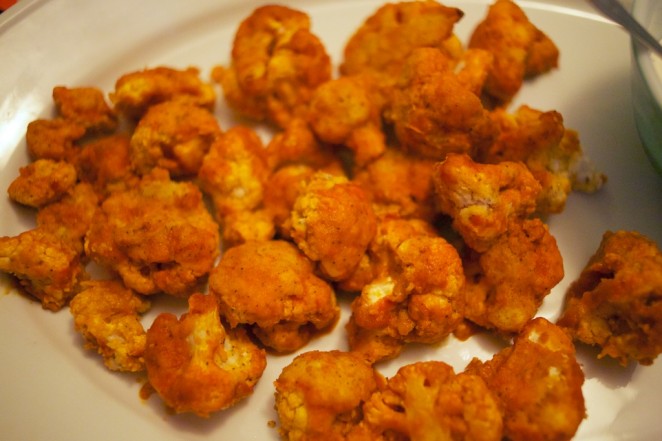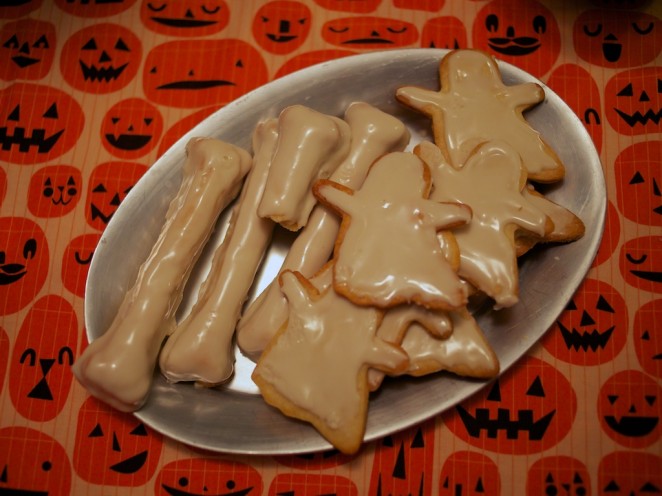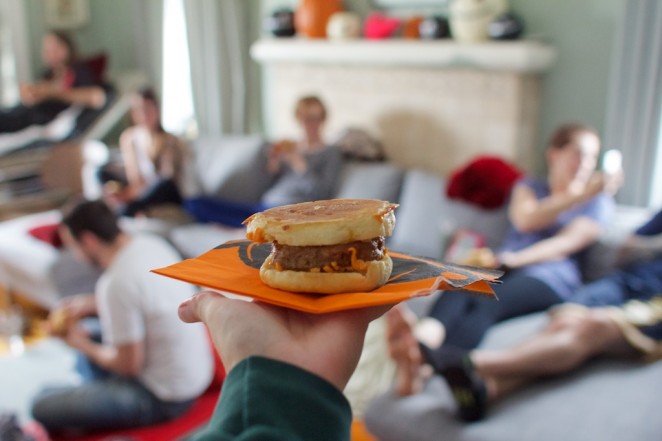 While I usually go nuts with food, I tried to keep things simple, preparing desserts the night before, and designing the rest to be easy to make by popping in the oven. For sweets I made my favorite pumpkin spice cake and some bone shaped sugar cookies (and a sad version of the classic ghosts). Our friend Scott made a vegan King Cake which was super exciting for me.
On the savory side, I made buffalo cauliflower and giant pot of macaroni and cashew cheese. Shawn set up a hot dog station with all the trimmings. We also had French bread pizzas at some point and lots of chips and queso and popcorn and even caramel popcorn. Alas, I have no photos as photography is difficult during dark screenings.
In the morning, I made a bunch of breakfast sandwiches modeled after the Badass Breakfast Sandwich from Locali: maple dipped English muffins, vegan sausage, cheddar Daiya and spicy mayo. They were a hit, and will certainly be a staple in our home for weekends to come.
For decor we opted for lots of creepy lighting and a few key horror elements. I filled terrariums with vegetable specimens and jars of candy were labeled as disturbing fare. We had a handful of skulls and a bunch of pumpkins. One of the most exciting pieces was a drink dispenser held up by boney hands, a Halloween gift given especially for this event. We of course filled it with cold brewed coffee to keep the movie watchers awake. I also painted a few Halloween themed masks just for fun.
I've said it before and I'll say it again but watching endless horror films without sleep does very strange things to your mind. It's no surprise we found ourselves walking down dark hallways with axes, doing zombie crawls across the floor or drilling holes in someone's skull. No surprise at all.
Ready for what we watched? Here's the list:
1. Carrie
2. Near Dark
3. The Descent
4. Triangle
5. Ginger Snaps
6. Poltergeist
7. The Woman in Black
8. Phenomena
9. The Loved Ones
10. Final Destination
11. The Omen
12. We Are the Night