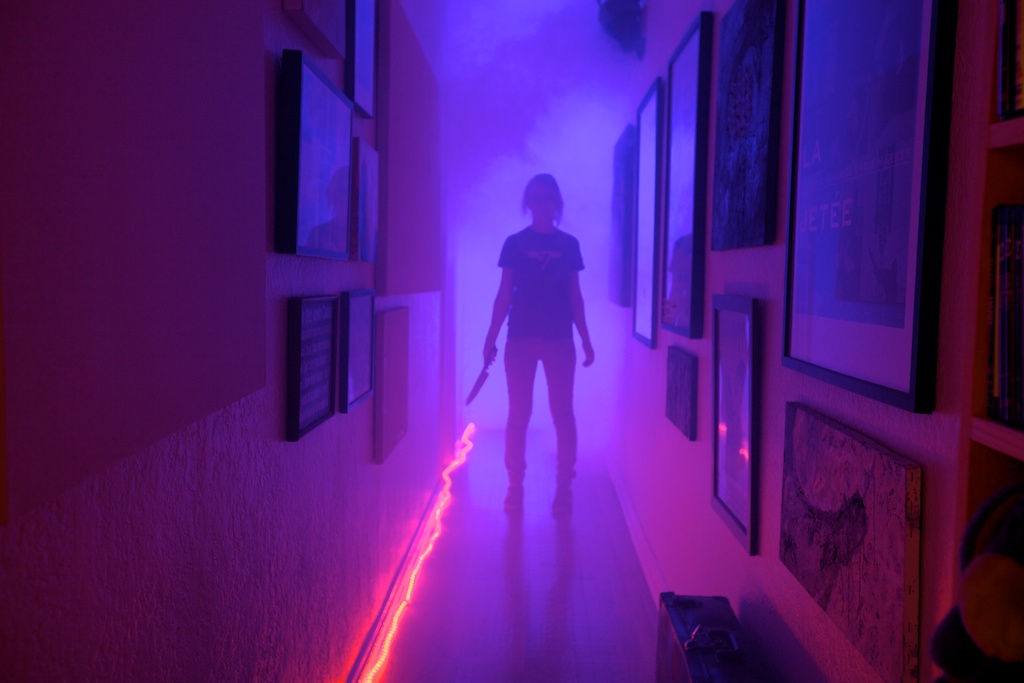 This weekend we had our 4th Annual Halloween Horror Movie Marathon. When it started out a few years ago, it was just a sleepover where we'd watch scary movies, but has since turned into something much crazier, as we watch horror movies for over 24 hours straight. Watching horror movies for so long with so little sleep definitely does some strange things to your mind and it starts to feel like you're living in a horror movie yourself.
So here's a glimpse into what it's like… Get ready for a lot of photos.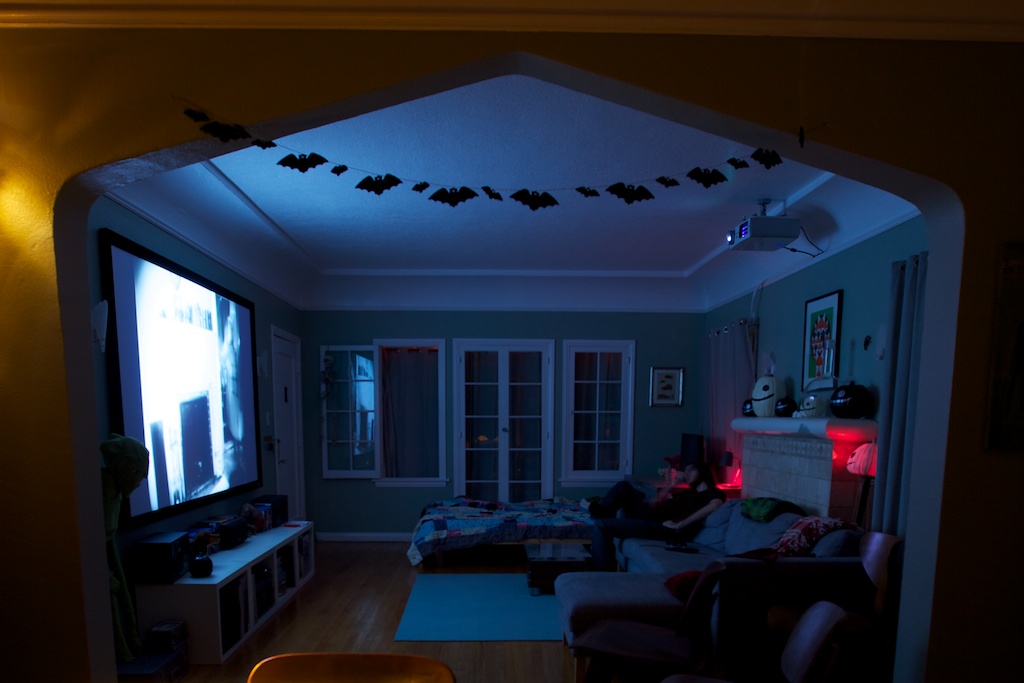 To set the stage, we turn our living room into a screening room, blacking out all the windows and adding some creepy mood lighting. We even brought our spare bed out to add some comfy viewing spots.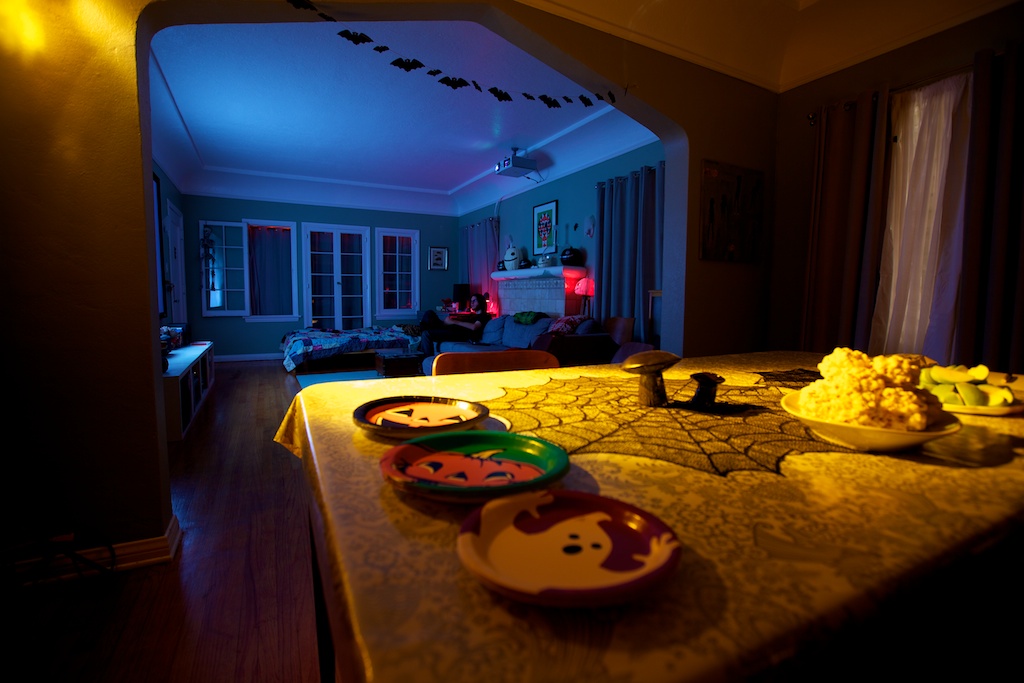 We continued the creepy lighting throughout the apartment. Here are the beginnings of our snack table. Snacks are vital for getting though the night.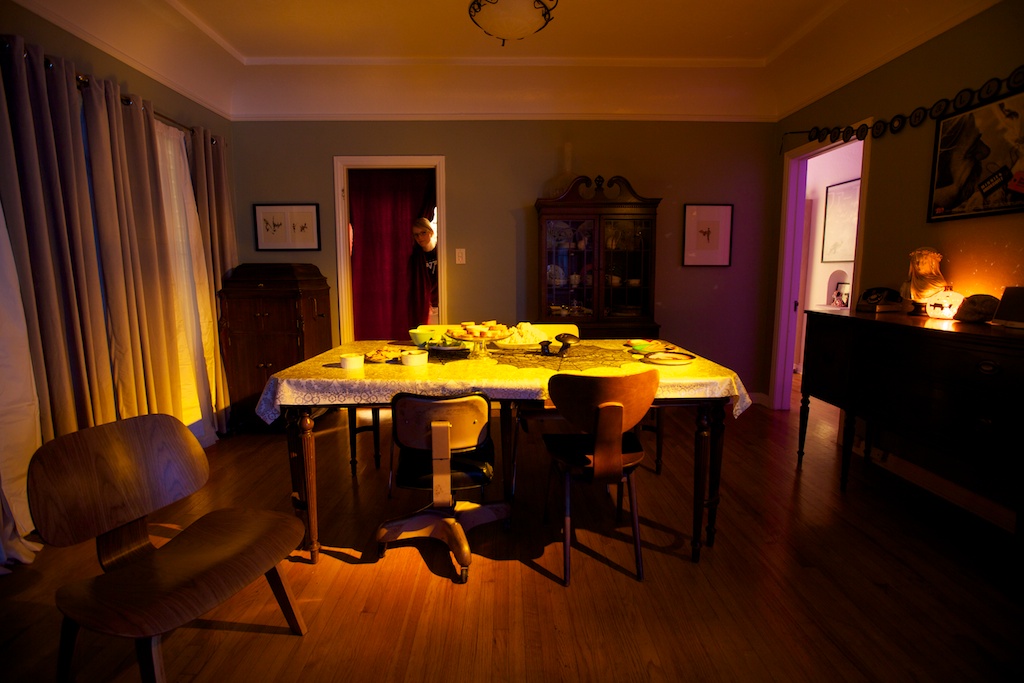 We hung a velvet curtain to keep the light from our kitchen down since there isn't a door. Dining room chairs were moved to the living room for extra seating. We had about 15 people throughout the night, although only a handful made it till morning.
Initially Meeme was excited about the party, hanging out on our new carpet. She and Mochi got scared though and spent the rest of the evening watching movies in their own room. They particularly liked Beetlejuice.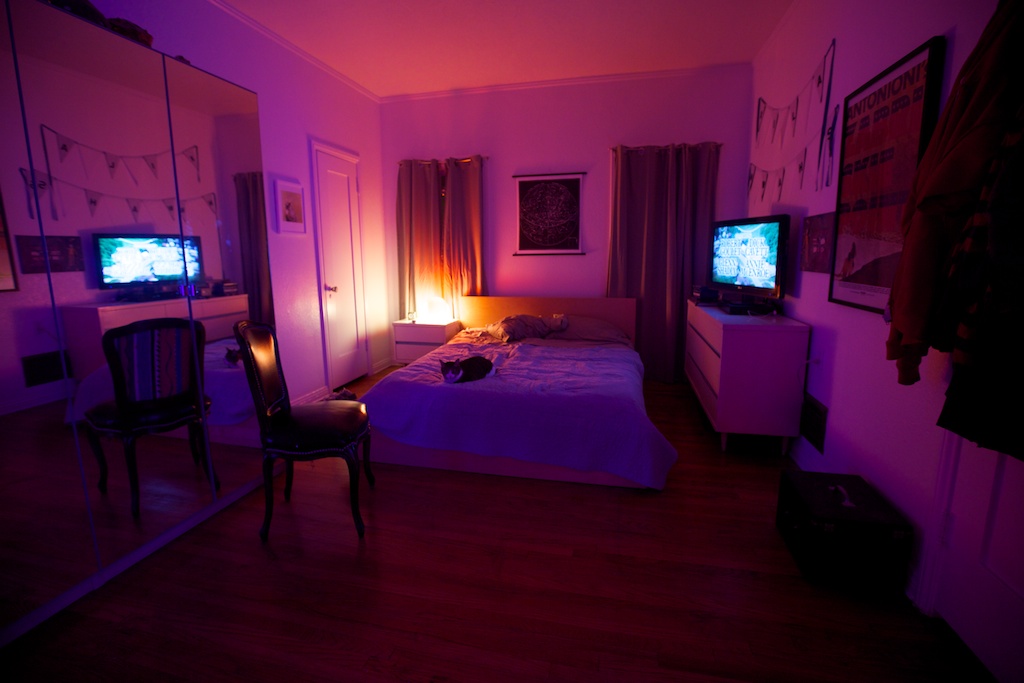 We made our bedroom into a second screening room for our friends who don't like scary movies as much as we do. Everyone toughed it out though and the cats had the room to themselves.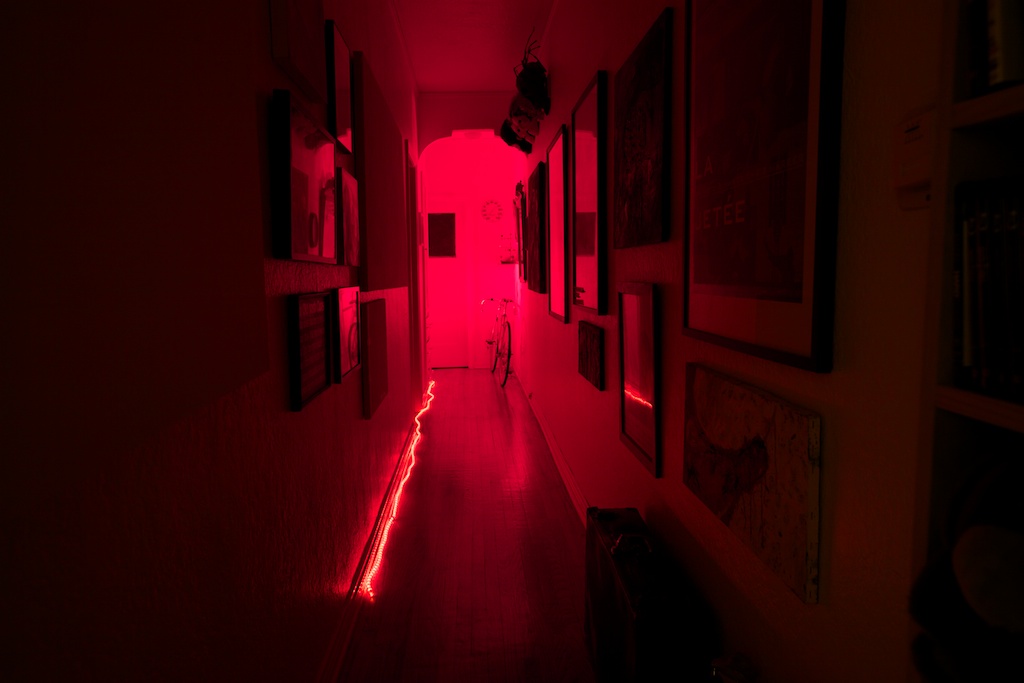 This hallway is definitely horror movie material.
So we've set the stage, shall we get to some of the treats?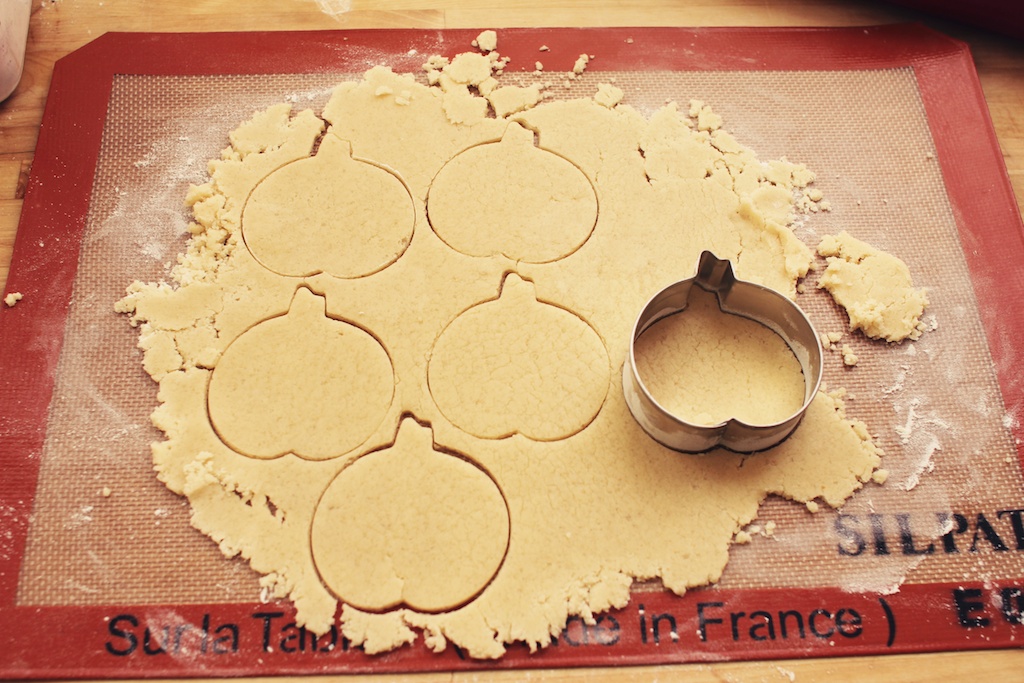 I had to make sugar cookies as it has become a yearly tradition. This year I opted for pumpkins to go a long with my pumpkin theme.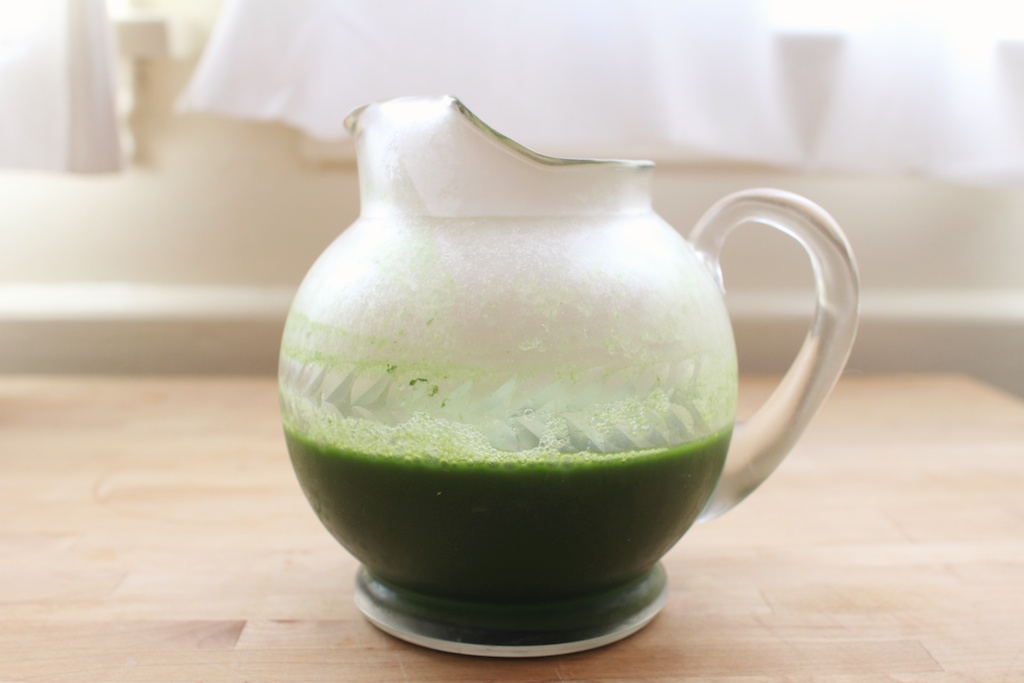 Shawn requested that we make some healthy things instead of all sugary treats and we came up with some  scary looking drinks. While kale, celery and ginger juice, might be fairly common, it still has the look of a strange brew.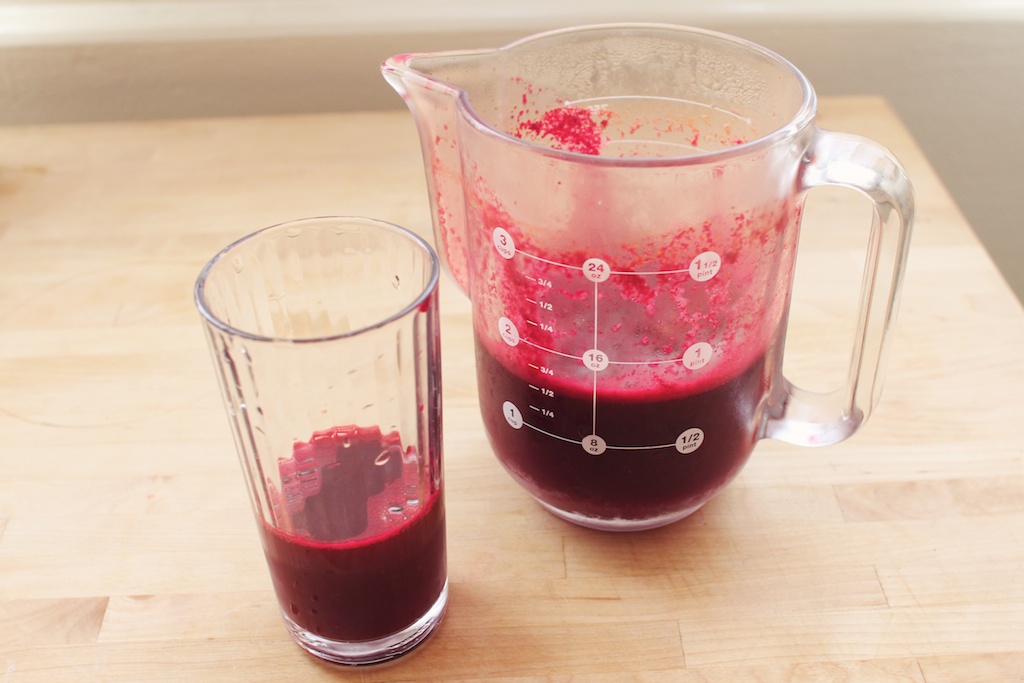 Or how about some blood? I mean, carrot beet juice.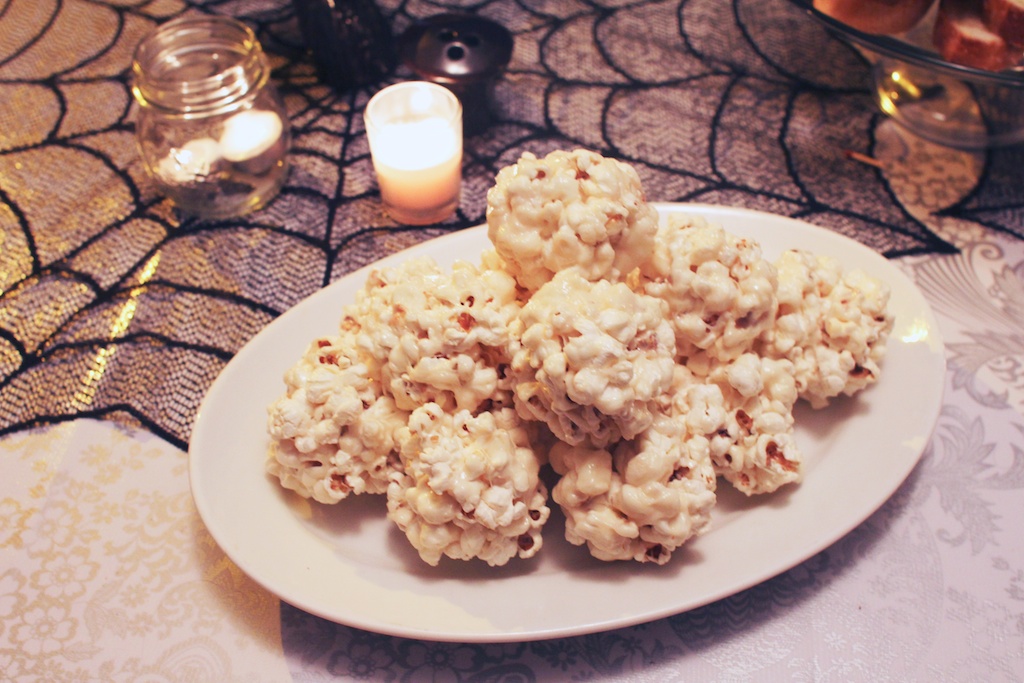 There were popcorn balls made with Dandies.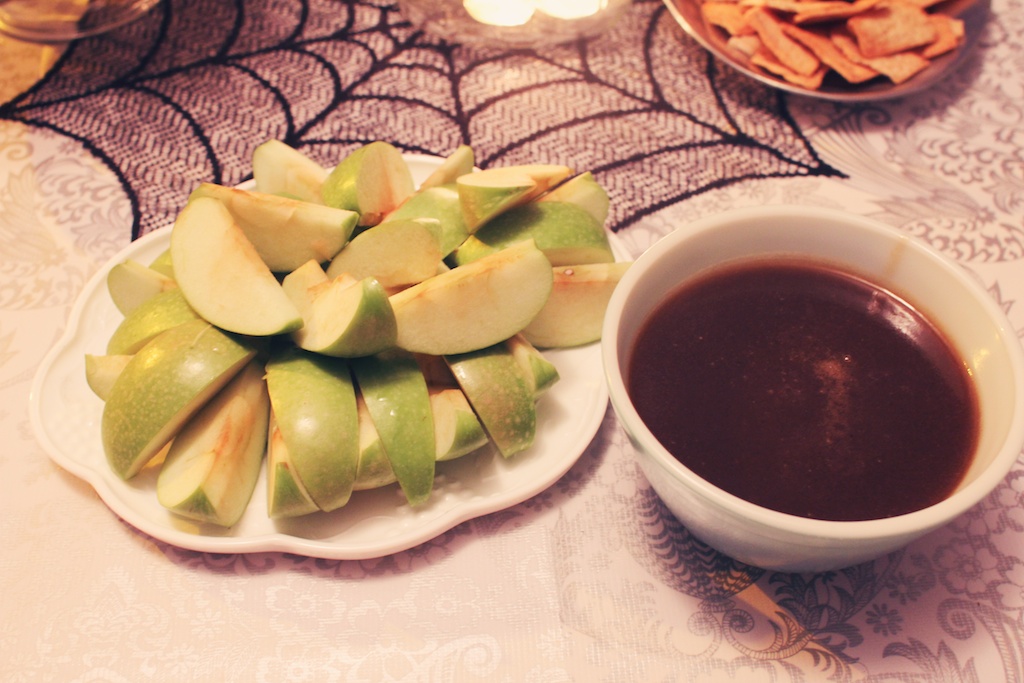 Apples with caramel sauce for dipping.
There were pita chips with black bean dip and hummus as well as crostinis with spinach dip.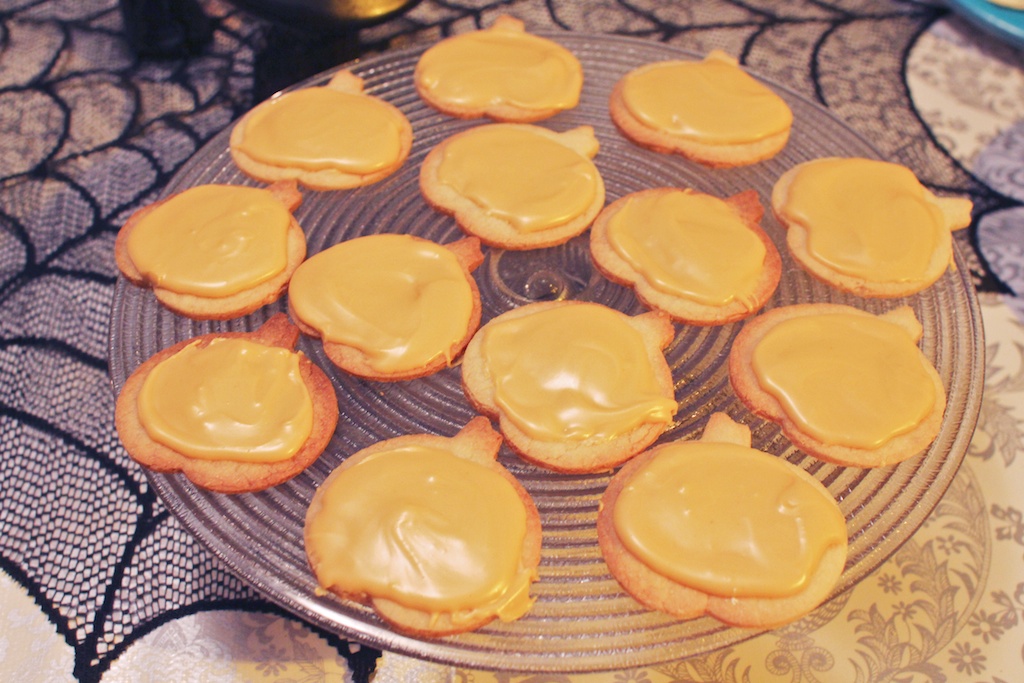 I ran out of time before guests started arriving and hastily frosted the pumpkin cookies. Not too cute but still deliciously sweet.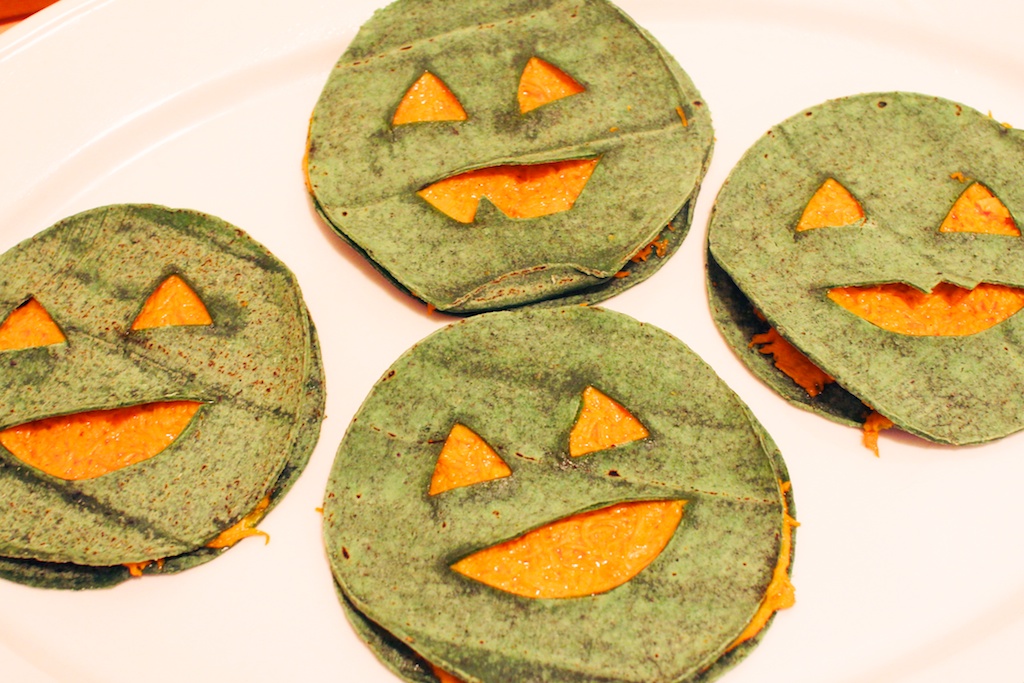 As a later night snack, I made some quesadillas jack-o-lanterns. I found some green cactus tortillas and knew they would be perfect for a Halloween. During the night we also made tons of tofurky dogs with lots of toppings, pizzas and even coffee cake. Oh and lots of coffee. Lots and lots of coffee.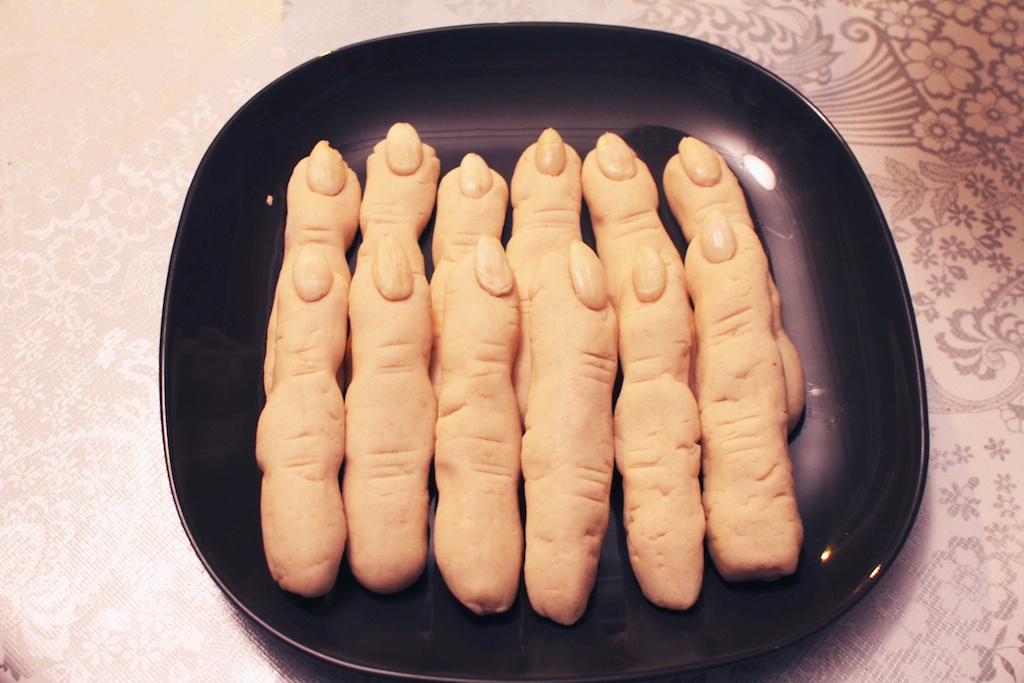 Kim stopped by and brought these amazing lady fingers. How creepy?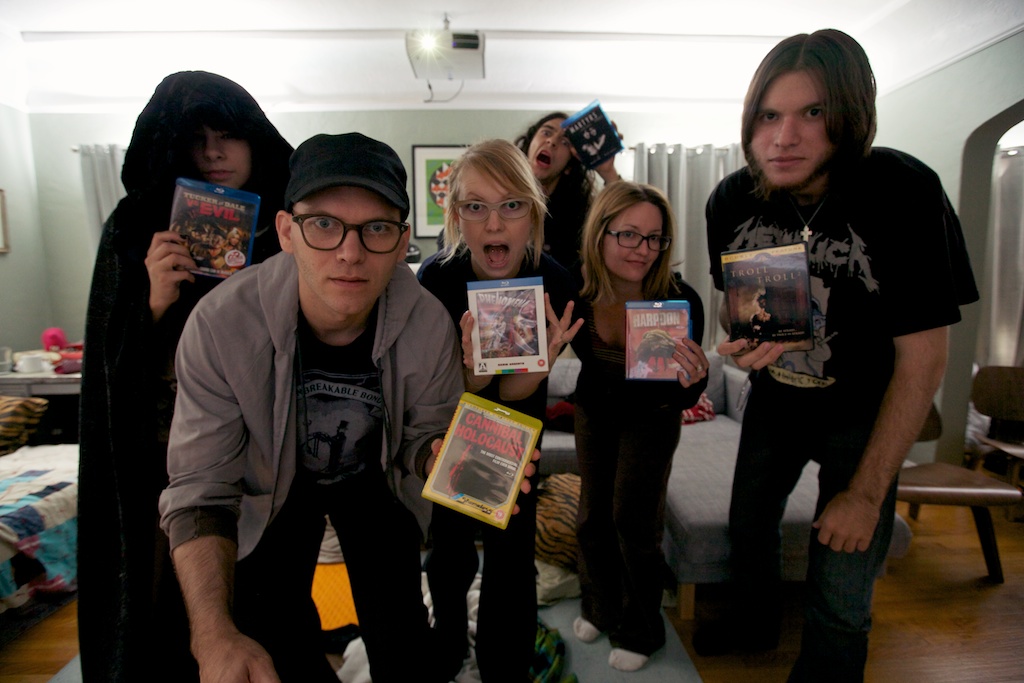 Like I said, we watch straight through the night and well into Sunday. This is the remaining 6 of us some time on Sunday afternoon. Jenny L., Shawn, Me, James, Jennifer Y. and Kyle. Without a doubt this has been the best year yet, so much fun! Already I can't wait till next year.
Want to know what we watched? Here goes:
Coven
Phenomena
Tucker and Dale vs. Evil
Amityville Horror
Martyrs
We Are the Night
Harpoon
Troll II
Sheitan
Dead Snow
The Burning
Rosemary's Baby
The Shining
Silence of the Lambs
Cannibal Holocaust
Sleepaway Camp
The Lost Boys
The Company of Wolves
The Hunger
In fact, we're still watching as I write this…