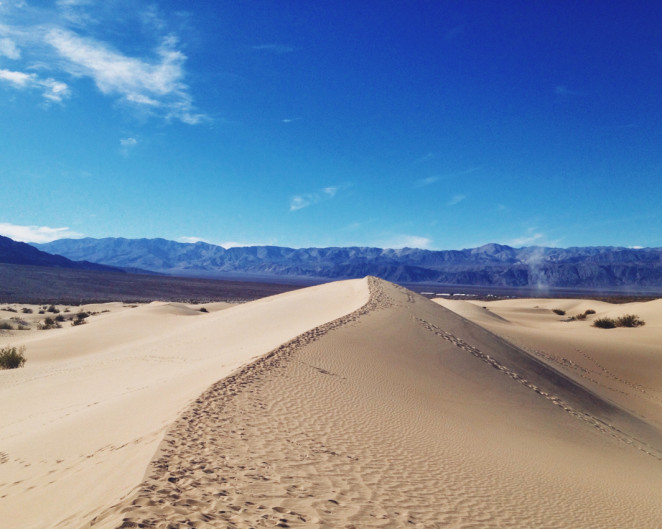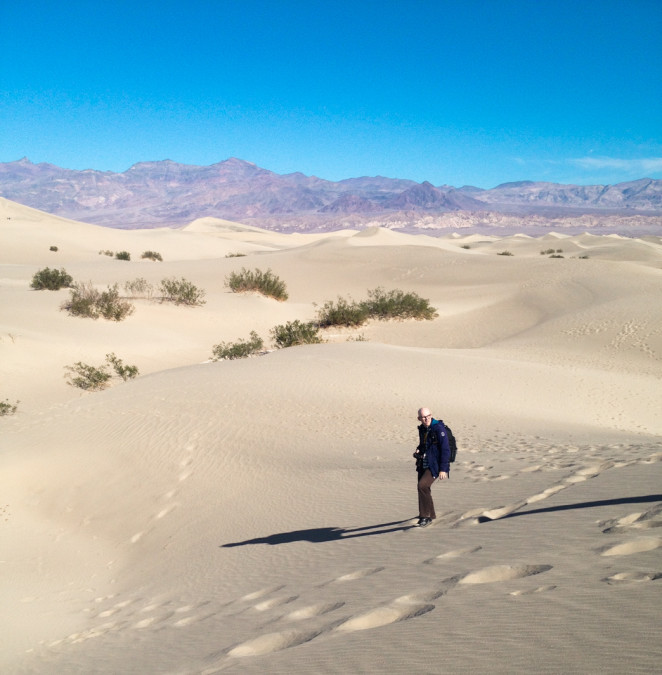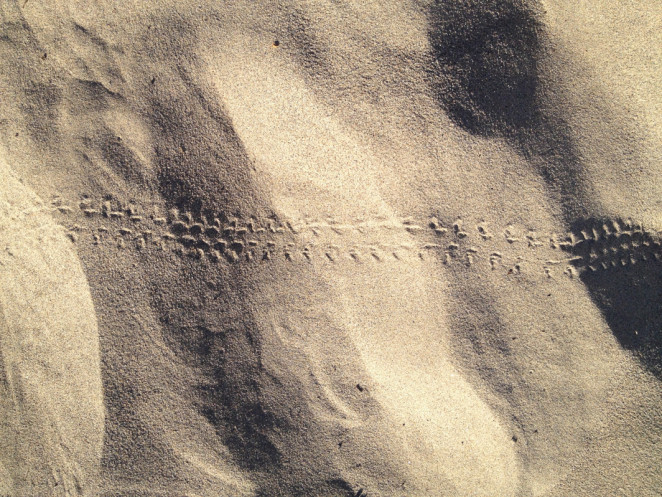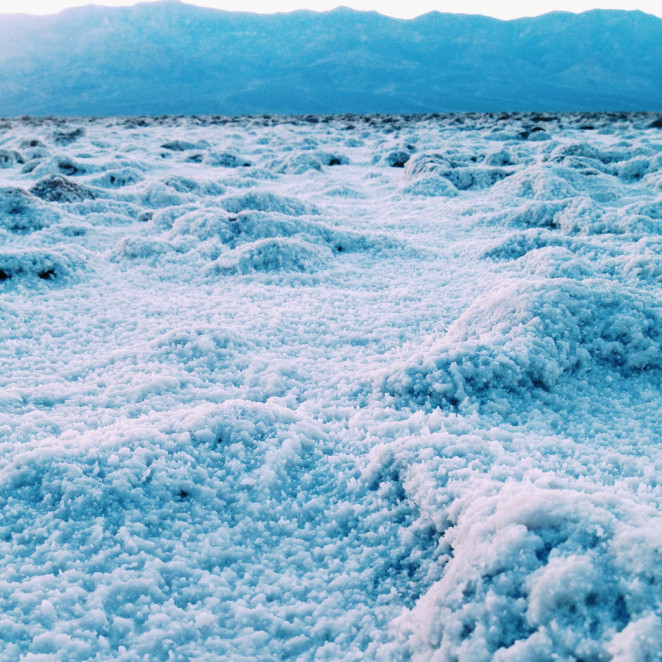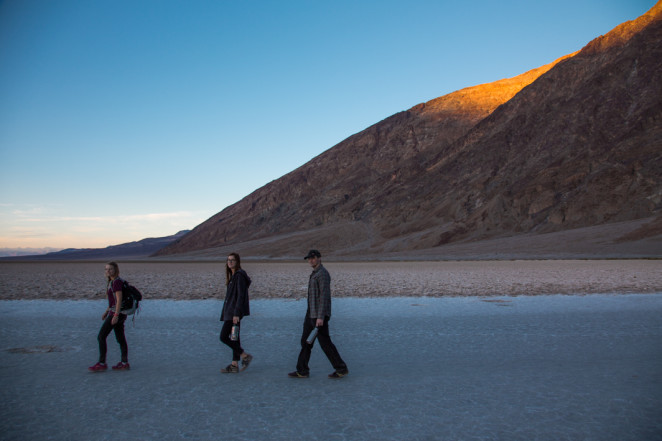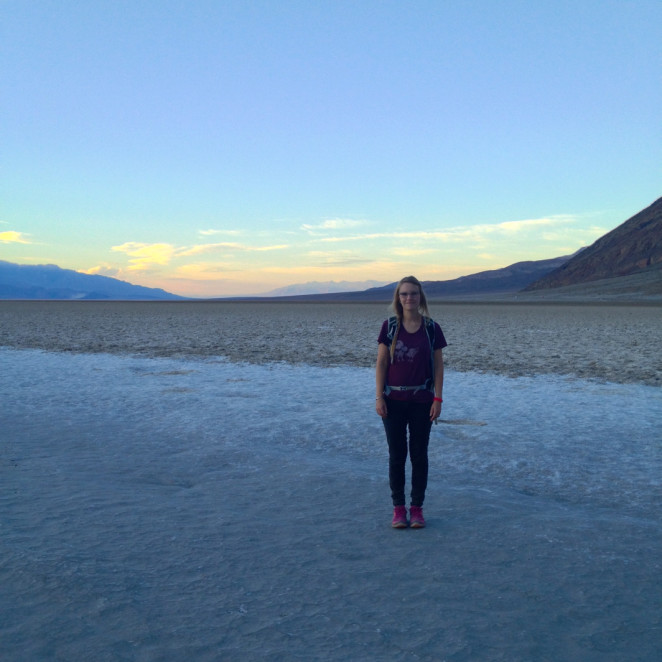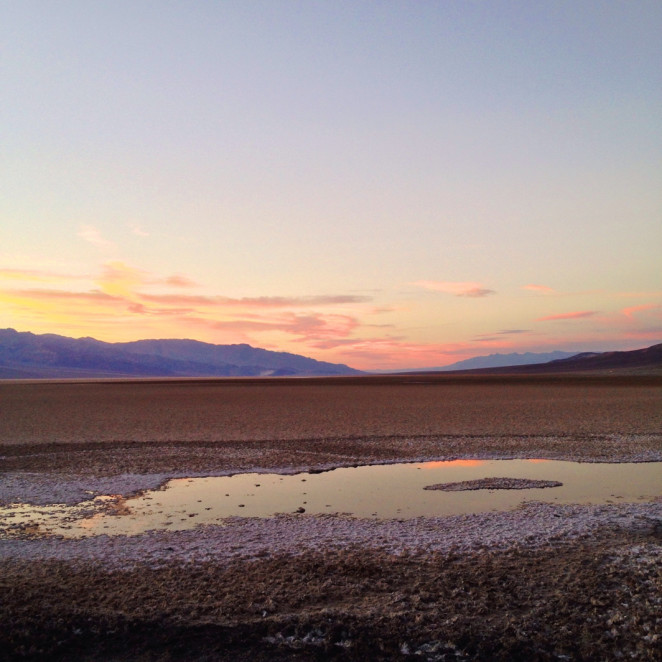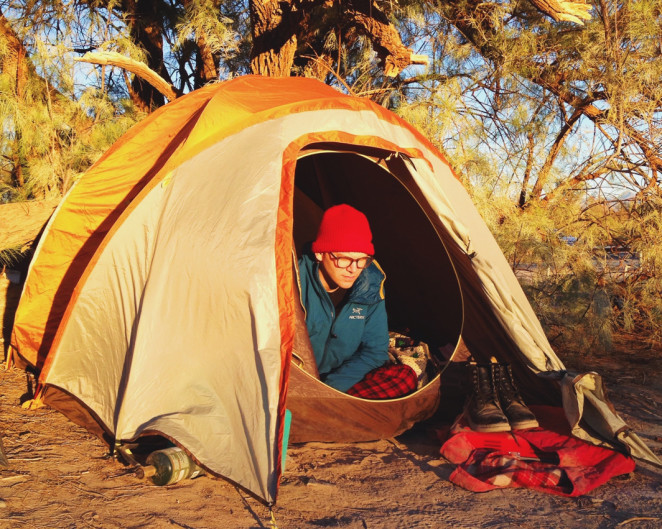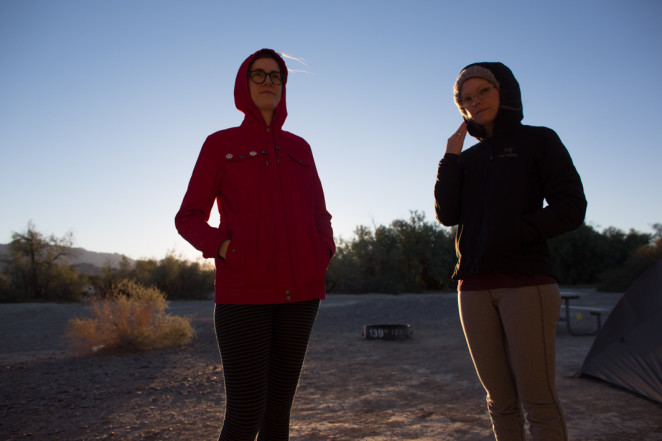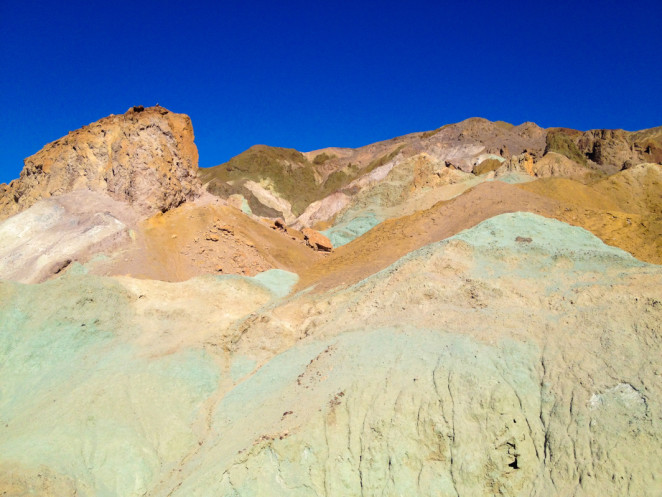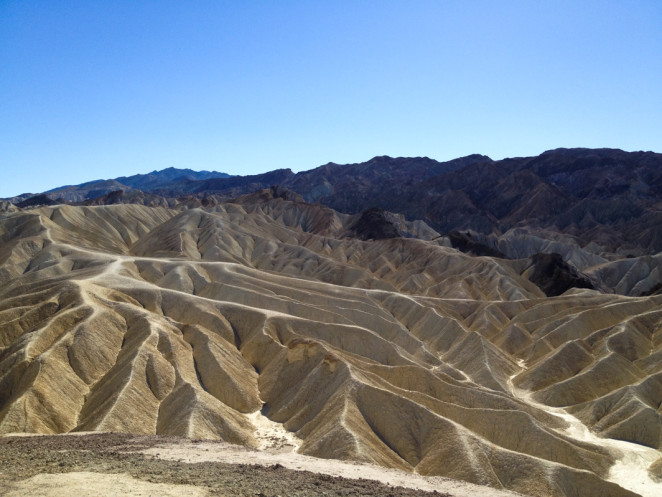 This post is a little overdue, as this trip happened back in November, but nonetheless here it is.
I had been wanting to go to Death Valley all year but as we missed the cooler months in the beginning of the year, we had to wait till fall rolled around to visit. I thought it was going to be my first time at the park but I realized once we were there that I had been to the racetrack when I was young. I'm glad to have been there as a child as it requires a 27 mile drive on a rough road that I don't think I could do again. It is crazy to think that they've just finally figured out how the rocks move on this dry lakebed after decades of research. Though it was previously thought that the rocks were pushed by the wind on icy mud, they confirmed last winter that the rocks are actually stuck in ice sheets and as sections melt, the wind pushes the floating ice sheets, dragging the rocks with them. This is a very technical description as you can tell. You can see a video here.
Our first stop was at the Mesquite Flat Dunes. Several signs warn not to go out into the dunes in the afternoon and I could easily see why after trekking out into them. Walking up and down the sand is deceptively tiring and there is almost nowhere to hide from the sun. Even in the cooler months, out on the sand it suddenly felt like midsummer. I particularly liked seeing various tracks in the sand, like a record of all the things that had happened over the past few days. The dunes themselves and the views they provide are quite stunning.
After cooking up some vegan cheeseburgers at our camp we headed down to the Natural Bridge and then to Badwater Basin. The Basin is the lowest point in North America at 282 feet below sea level and has been filled with salt from runoff from the surrounding mountains. A cycle of rain dissolving the salt, freezing and crystallizing has left a patchwork of hexagonal ridges. The salt flats are a strange and beautiful place. Some parts looked much like a snow field but the hard salt cracks under your feet as you walk.
We camped at the furnace creek campground in part of the tent only section surrounded by mesquite trees. Up until this point we'd had a lot of luck finding really great campsites without making reservations but finding a private spot in places with lots of other visitors can sometimes be a stressful gamble. This trip I didn't want to have to worry about it so I reserved a spot, site unseen and hoped for the best. I figured if it was truly terrible we'd hike into the desert and camp there as backcounty camping is allowed further than a mile from any road in the park. The site (no. 139) was fairly secluded though and there wasn't anyone at the nearest sites to us. Further away, some bikers had set up a projector and were watching home movies and celebrating, but from where we slept we couldn't heat them.
I think because some of my earliest camping experiences were in the desert, camping there feels very comfortable to me. Though there is obviously extreme weather to deal with, there aren't bears to steal your food for instance. The desert at night feels wide open, looking up into the sky and seeing the expanse of the universe. As we climbed into our tents for the night a pack of coyotes began to howl, they're calls echoing through the valley. Late in the night, the winds started to blow like crazy. We had left some camp chairs outside so as Shawn went to grab them, I headed towards the bathroom, where I saw several other campers frantically pulling down pop up tents and various items likely to blow away. In the morning I saw a few people sleeping in their cars.
We had a windy breakfast at camp, packed up our gear and went to Artist's Drive. The hills in this area are an array of vibrant colors caused by the different metals left from volcanic eruptions. As we hiked through the Artist's Palate we came across a small wedding (that happened to be the celebrating bikers from the campsite the night before). Though we were a ways off, I could still hear them cheer when the officiant announced that the couple was married and it felt magical to be witness to such an event in a beautiful place, even if they were strangers.
Finally, we visited Zabriskie Point. Besides the stellar views I was particularly excited because of the Antonioni film of the same name. Though I didn't expect there to be some crazy orgy between the hills, it was still cool to see the iconic location in person. Mostly thought it was just beautiful in every direction.
The park is so huge, there was so much left still to explore so I look forward to going back and checking out other areas.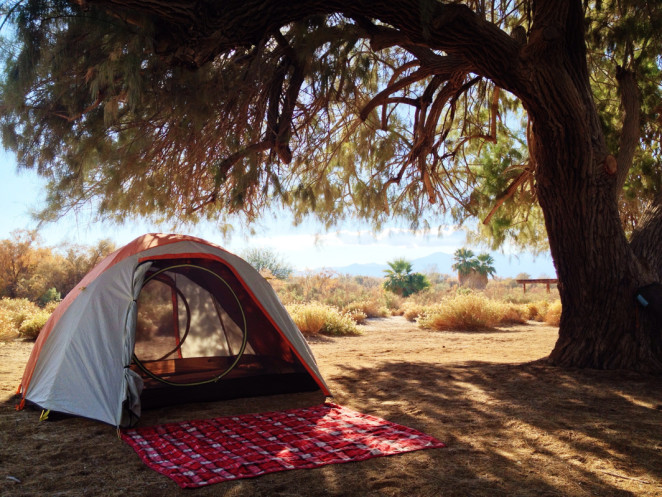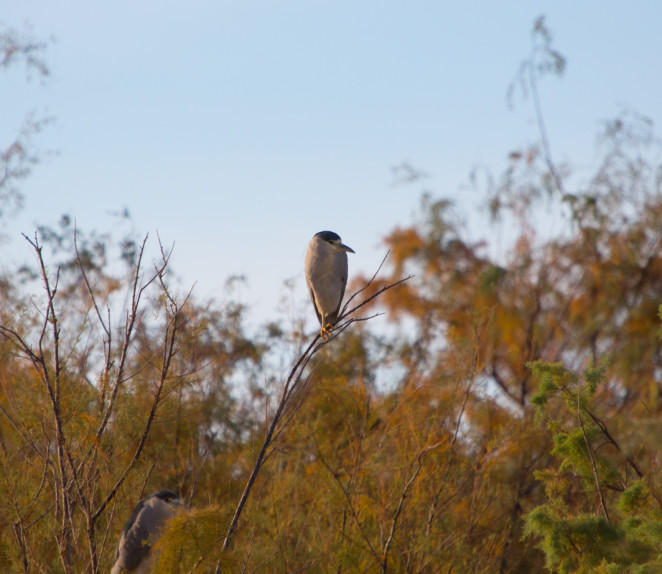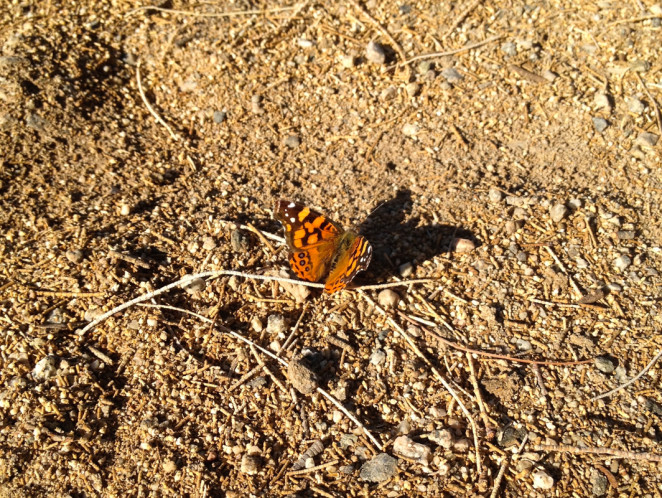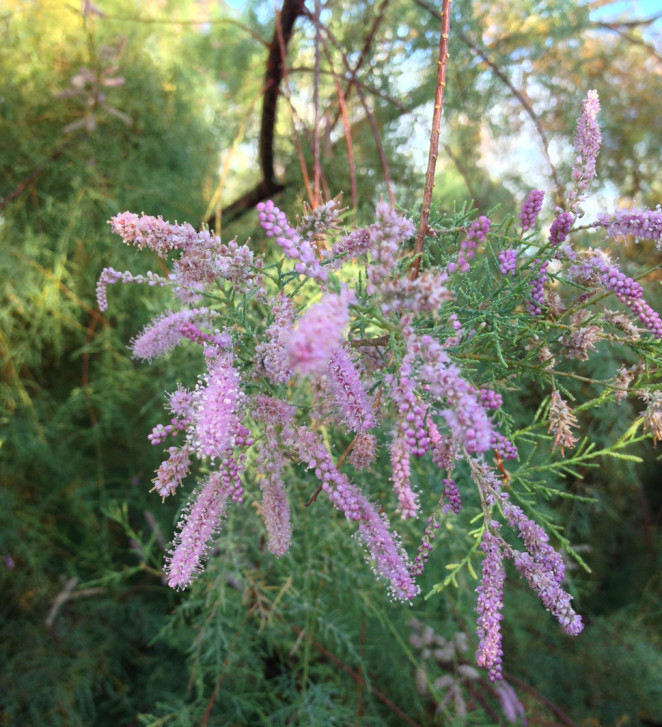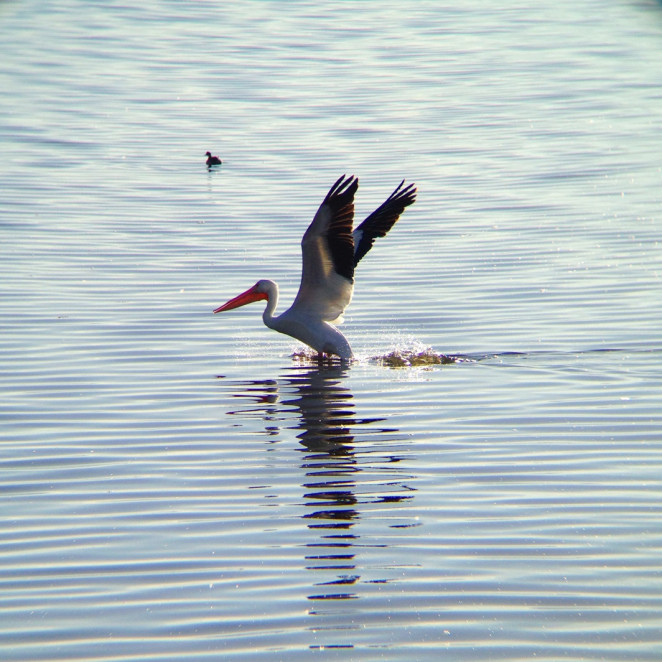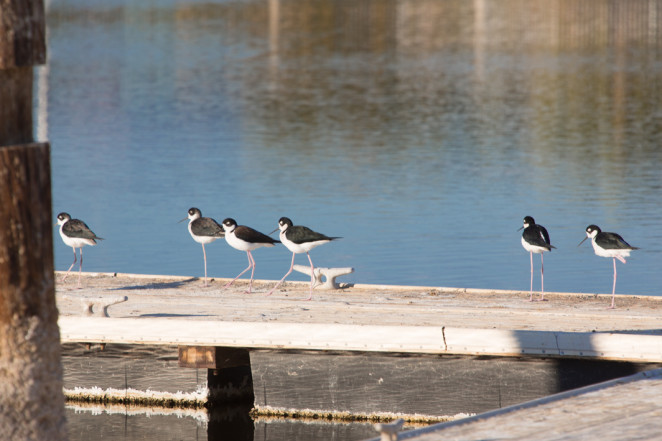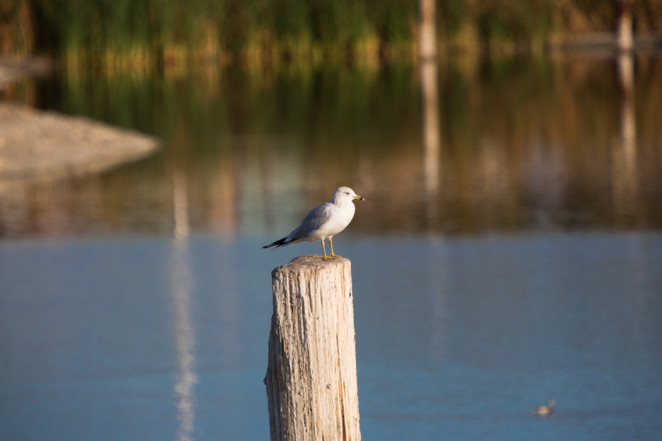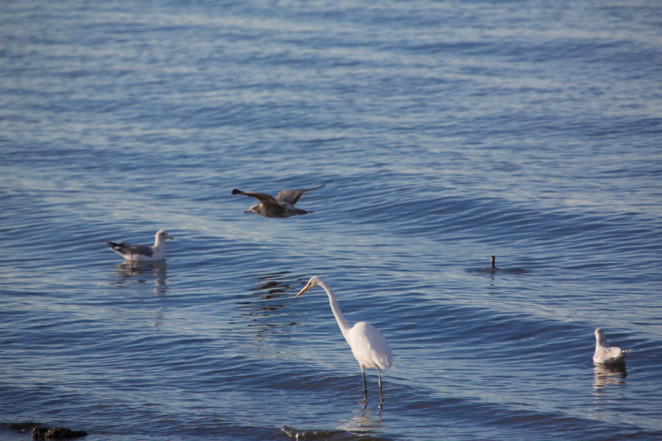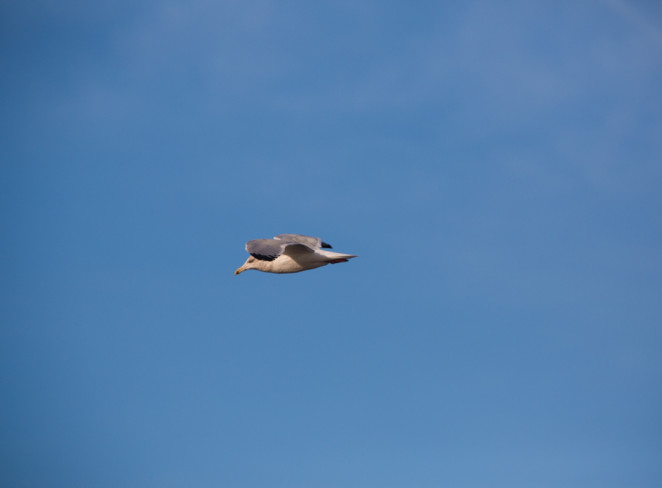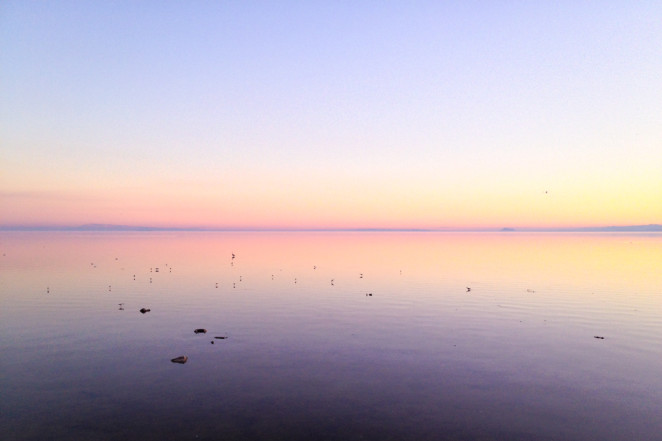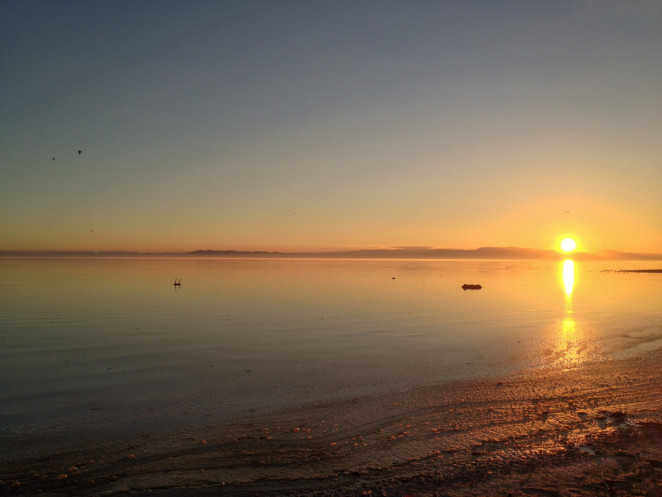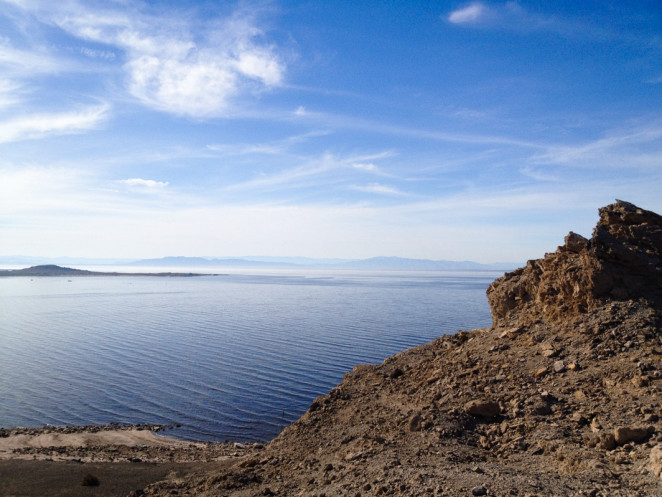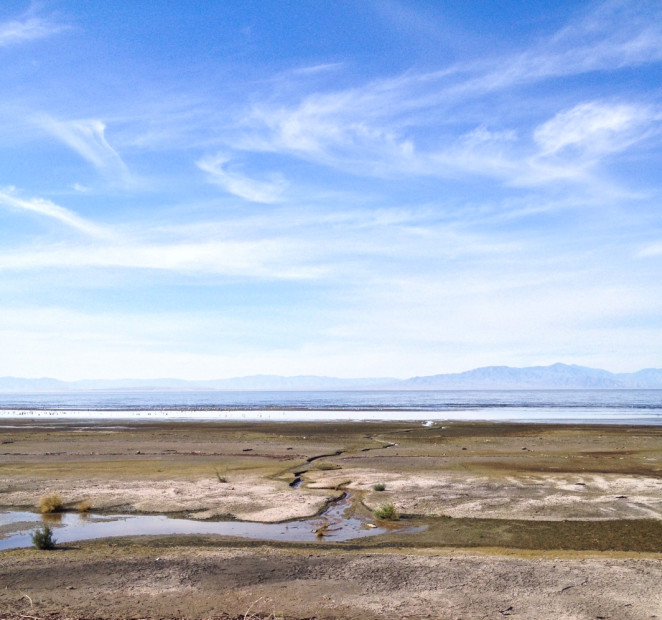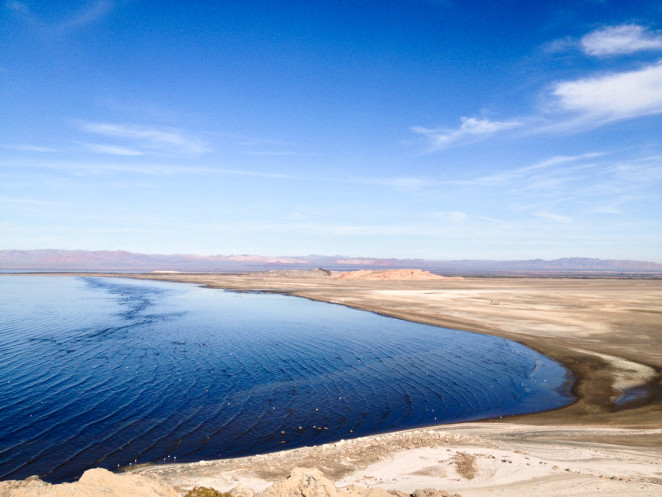 The Salton Sea is a mysterious place. I've been fascinated by it since I first visited ten years ago. The Sea is the largest lake in California and it was created by accident in 1905 when a canal on the Colorado River broke, sending water into the Imperial Valley for the next two years. In the 1950's the area was developed as a resort town and homes and yacht clubs sprang up creating nearby communities. The idyllic retreat couldn't last though, as the water in the lake was fed mostly by agricultural runoff, algae blooms from the high phosphate levels caused mass die offs of the lake's most abundant fish, the tilapia. The beaches are now littered with fish bones and dried carcasses.
The place is eerie. The dead fish, coupled with derelict houses and the remnants of trailers flooded decades ago and left to decay, give the place an ominous atmosphere. It alludes to something under the surface that has gone terribly wrong. The truth is though, the sea is still truly exquisite. Hundreds of species of birds visit the lake, which despite it's toxic reputation is still beautiful to behold.
When we've visited in the past we've camped in Slab City so when Jenn said she wanted to spend her birthday there and camp at the new campground I was thrilled. The new camp has a tent only section and is not far from the beach itself. Butterflies flitted around our site as we set up our tent. We walked down to the water to explore for awhile and watch the birds. I was particularly fond of the black crowned night herons, with their striking red eyes. The whole place was peaceful and calm with very few other campers.
Before it got dark we headed up Bombay Beach. We watched the light change from a soft pink to a burnt orange as the sunset over the water. We weren't the only ones enjoying the view as a painter had set up his easel on the shore as well. I couldn't help but think about how this beautiful place has gotten such a bad reputation for problems us humans have caused. We walked through some of the abandoned buildings before it got dark then headed back to camp for dinner. The moon was bright, and with nothing else to do, we went on a short hike, watching the birds, mostly white pelicans, float on the water in the dark.
The next day, we visited Salvation Mountain. Though I am entirely uninterested in the religious message of the place, I can appreciate the dedication needed to build such an outlandish monument. It seems like Slab City has grown significantly in the past few years as more people look for a free place to live their lives outside of society. I am curious to see how it changes as time goes on.
Then we headed up to the Sonny Bono Wildlife Refuge, a specifically designed part of land on the southeastern edge of the lake meant to provide habitat for birds (though oddly they allow hunting of some birds, so I don't really understand entirely). We hiked up to Rock Hill, which offered views of both the refuge and the Salton Sea itself. The hill is part of a group of young volcanoes known as the Salton Buttes which are thought to have erupted as recently as the first century (so not recently at all). One of my favorite parts of the refuge is the abundance of quails. They may not be rare birds but they're adorable and make such amusing little noises.
I hope to go back in the next few months, while it is still cool and the park offers kayaking around the lake. For you bird lovers out there, the weekend of January 23-25th is the Pelican Days Birding Festival.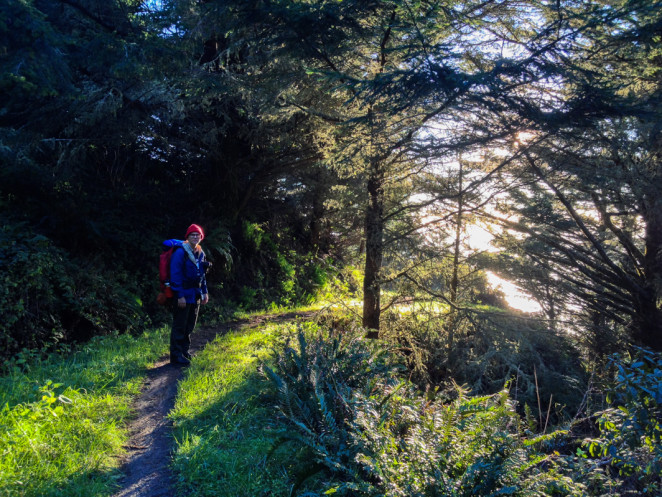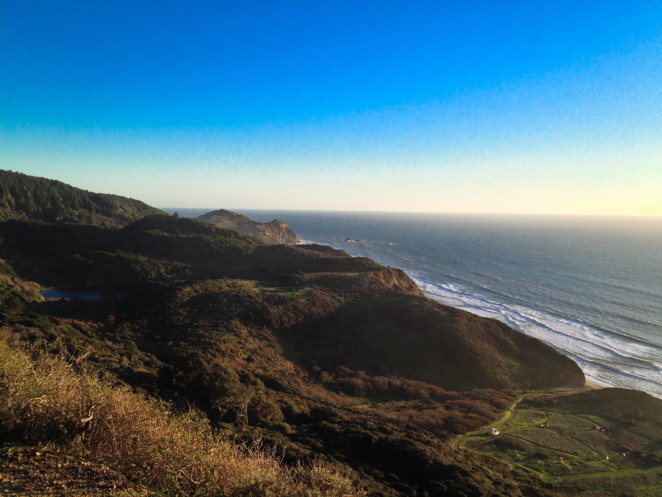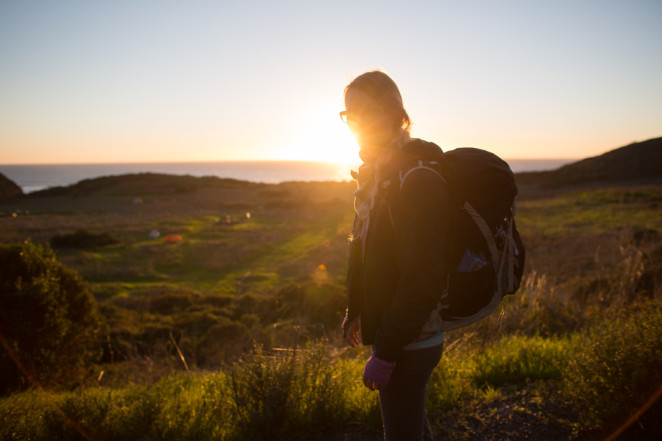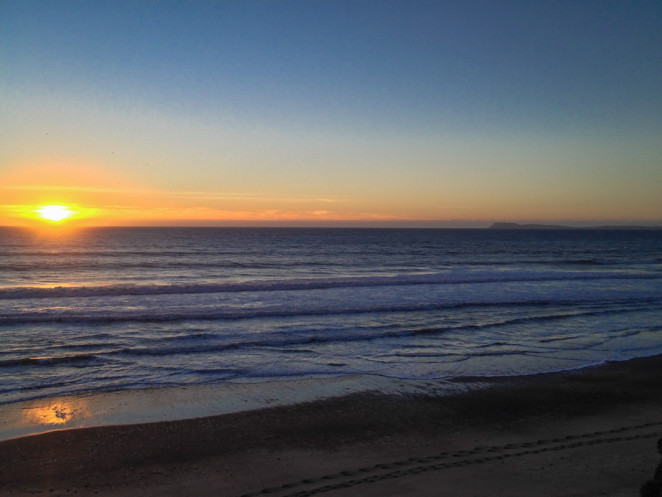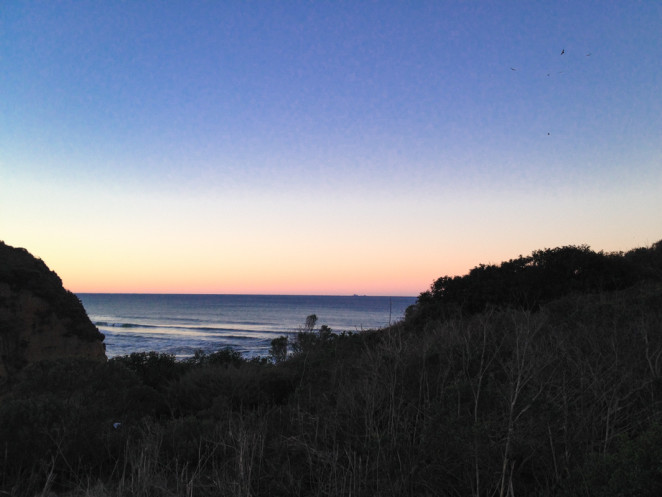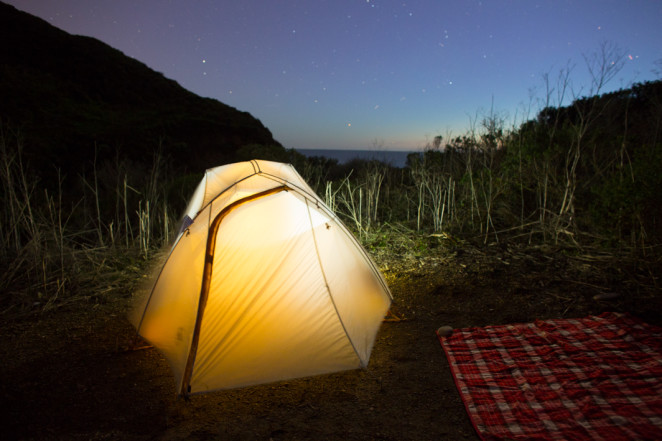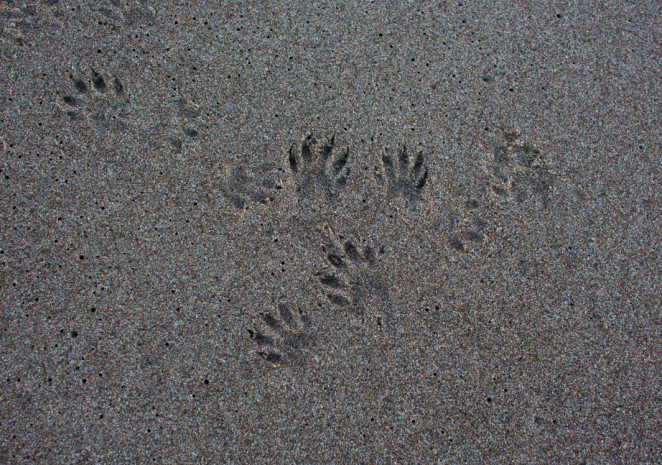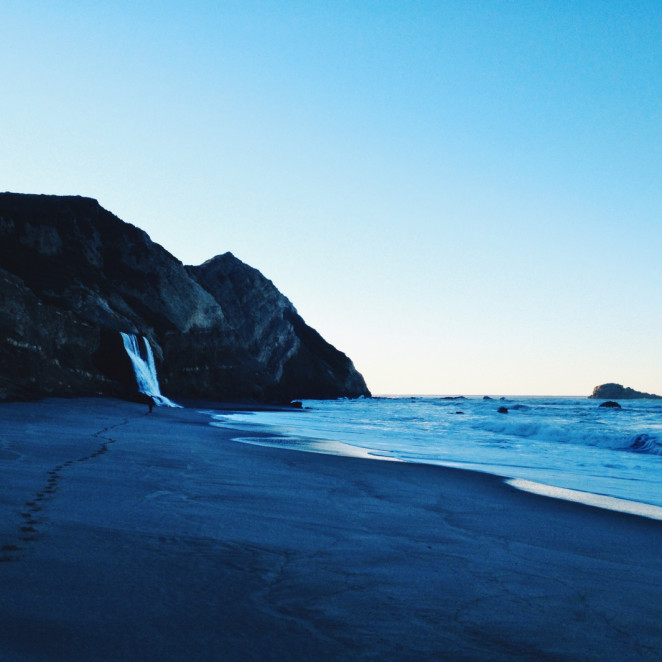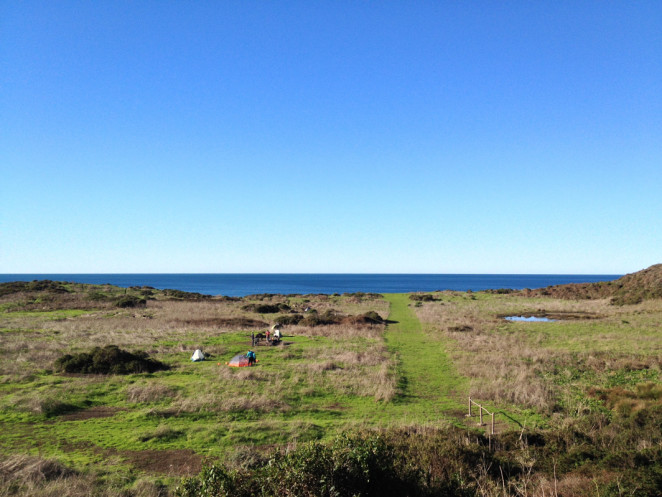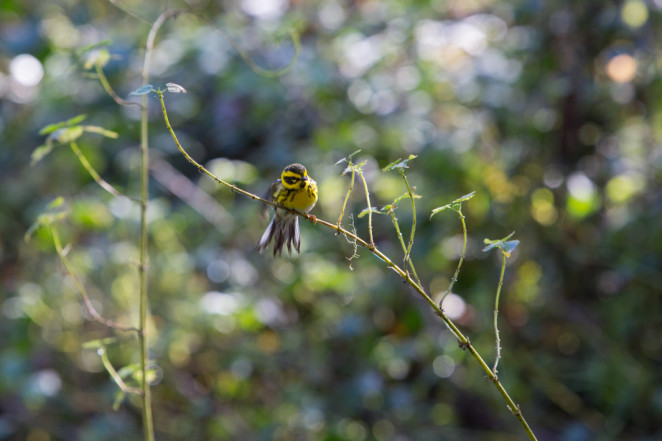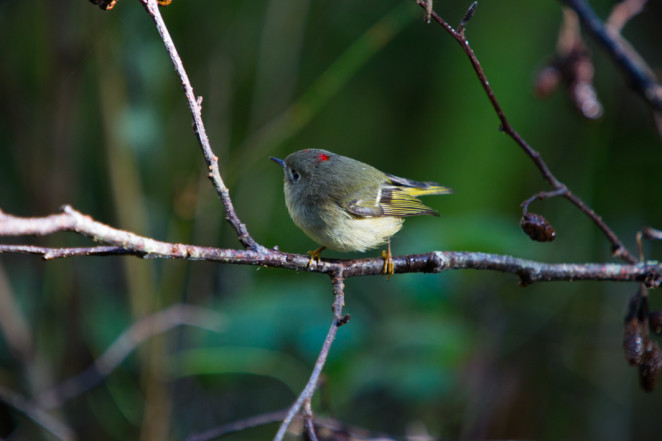 A few months ago, while visiting Oakland, we made an impromptu trip to Point Reyes National Seashore. The Point Reyes Peninsula is a curious geological area in that the landmass has moved north along the San Andreas fault over 300 miles. The peninsula is made up of the same granite found in the Tehachapi Mountains, a southern section of the Sierra Nevadas. The rugged coast offers stunning views and the chance to see unique wildlife such as elephant seals and the rare Tule elk. When we discovered there were places to camp on the seashore, we knew we would be back.
Now, there are many places to go hiking and camping in California, it's a huge state, with several national parks and large swaths of wilderness areas. Yet, there are a few spots that require reservations or permits that are nearly impossible to get. Usually these are sites with reasonable hikes at a particularly coveted location. One of those campsites is Wildcat camp in Point Reyes. There are several campsites in Point Reyes that all require hiking, biking, horseback riding or boating to the sites but for some reason this spot is booked every weekend for months in advance, especially if you're looking to stay at sites 5, 6 or 7 which are closest to the beach. Luckily I have a very persistent husband who discovered the site was open on Christmas night so we reserved a space and headed out for the holiday.
We hiked in from the Bear Valley visitor center where we had to pick up our permit. The hike is almost a mile longer if you start here (6.3 miles), rather than at the Palomarin trailhead, but it seemed to make more sense to hike the extra distance rather than spend another 40 minutes in the car driving to the other trailhead. It's a fairly easy hike, with the first half being wide and flat. Once you get off the bike trail, the hike gets a little harder and a little more interesting as you climb through wooded areas. There were tons of mushrooms everywhere.
We made it to camp just before sunset and as soon as we stopped hiking the cold really set in. We made our favorite backpacking dinner, vegan stroganoff, before snuggling up in the tent. The thing about winter camping, even in places where it doesn't get deathly cold or snowy, is that the sun sets so early you spend a lot of time in the dark. Obviously you can hang out by the campfire in certain places, but in others the hours seem long and you may find yourself thinking it is very late at night when it is still only 9 pm. In any case, since it was just the two of us, we got in our sleeping bags, played cards and ate chocolates for awhile before going to sleep. It was a very cold night, with temperatures down in the low 30's, but I cinched my sleeping bag up tight and was still cozy.
We woke up early and hiked down to Alamere Falls, a waterfall that flows directly onto the beach. There are several smaller streams emptying into the sea on the way and all the birds seemed to congregate at these areas. There were lots of raccoon tracks here as well. We saw quite a bit of wildlife on this early walk, several turkey vultures, some black tailed deer high on a cliff and even a seal bobbing along in the ocean alongside us.
After having a breakfast of oatmeal, tofu scramble and vegan maple sausages, we packed up and headed back. The hike out was a bit more strenuous, with a fair amount of climbing, but nothing terribly difficult. We ambled back and stopped for a long while to take photos of birds like the Townsend's Warbler and the Ruby Crowned Kinglet you see above (thanks to the Merlin Bird ID app for helping me with those or I'd really have no idea).
This trip in Point Reyes was actually the longest distance that I've gone backpacking, 14.6 miles including the hike to the waterfalls, but I felt much better afterwards than I have on previous trips. Partially this is because there wasn't a ton of elevation but I think mostly because I've pared down my pack since I first started. At some point I'll do a post on all my gear but I have to say that the thing that has made backpacking more enjoyable is having a lighter weight backpack. There will always be an element of pushing yourself through pain and fatigue but it is much easier to appreciate your surroundings when you're not struggling with how much your joints hurt or how exhausted you are. Carrying less weight makes the biggest difference here. I read this hundreds of times before I started backpacking and it really didn't sink in until I tried it.
Post hike we headed to Souley Vegan for lunch, then made a stop at Timeless Coffee Roasters for treats. I can't deny that part of the fun of a backpacking trip, even a short one, is how much more I appreciate a good meal afterwards. I love the solitude of getting away and rush of exerting myself, but it also makes the simple pleasures of regular life shine a little brighter.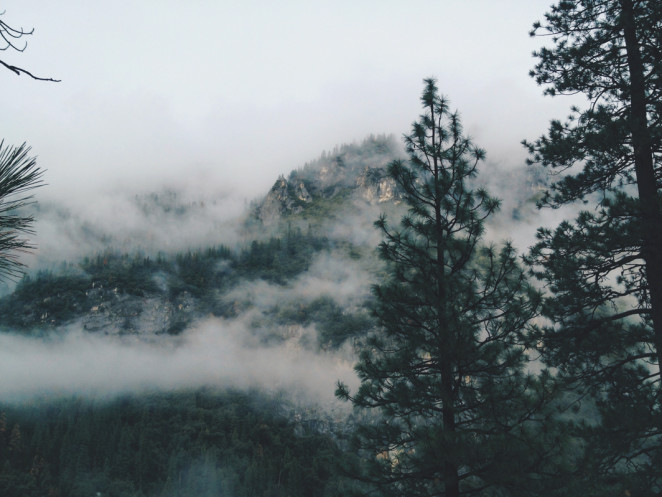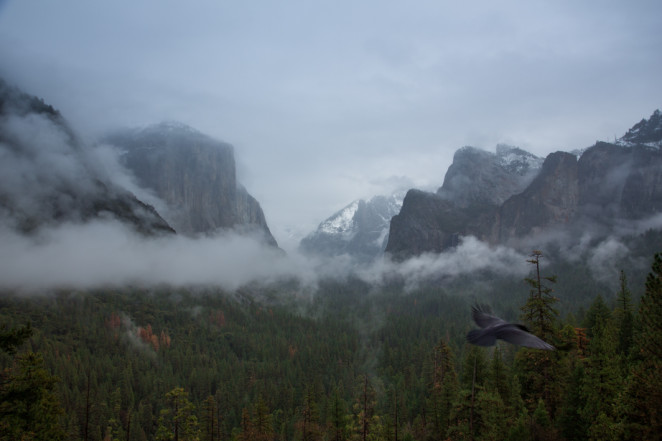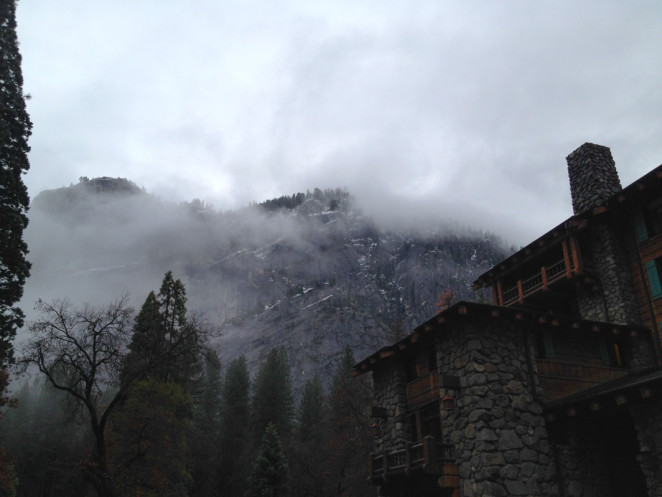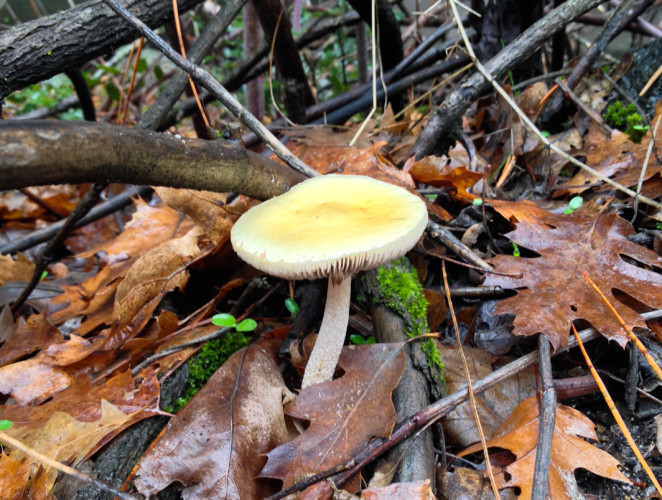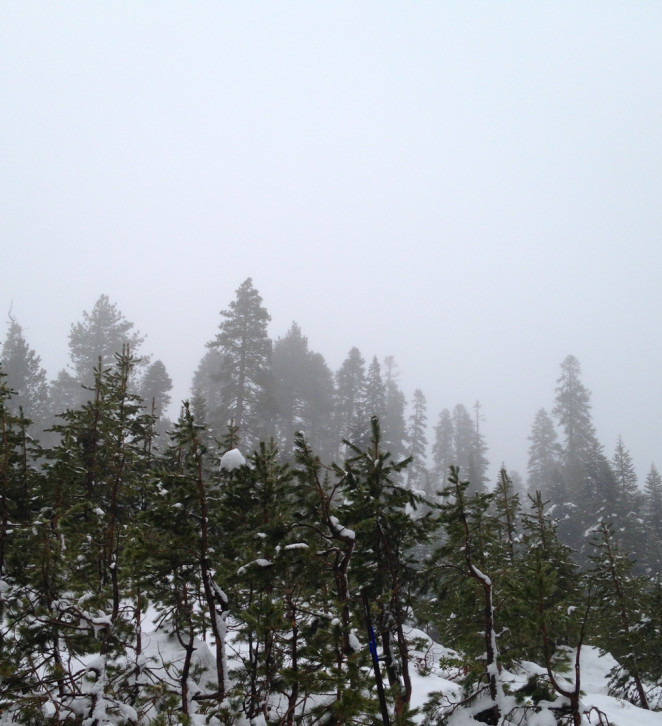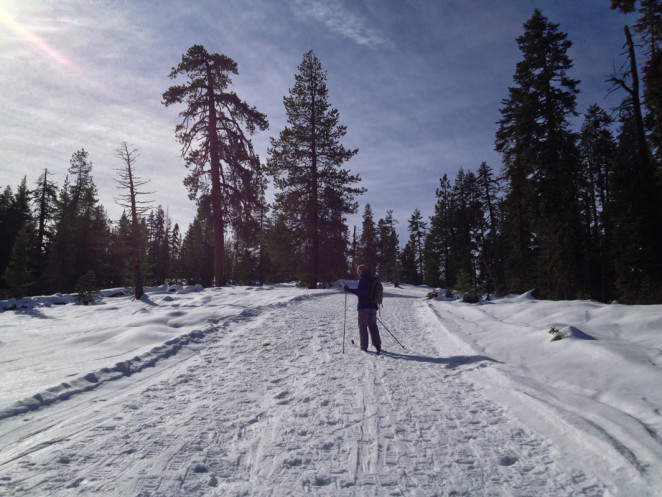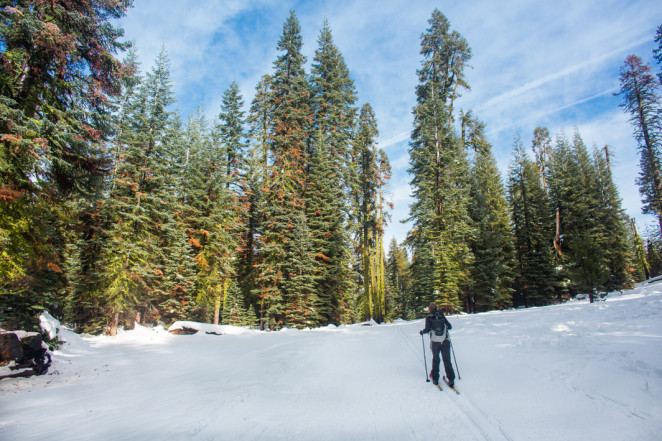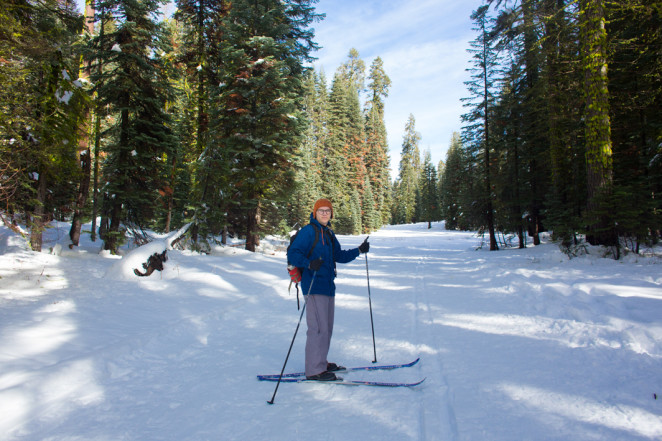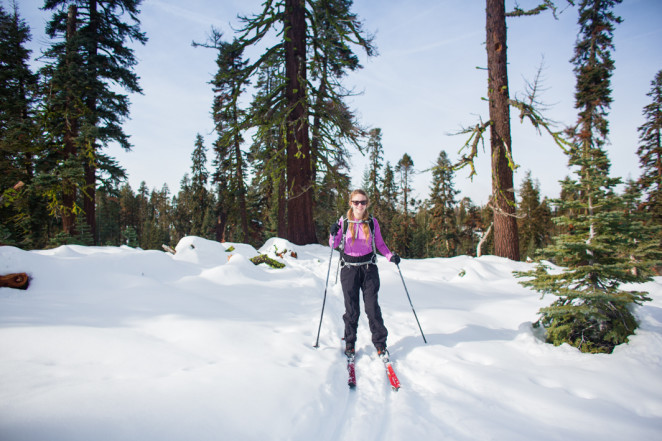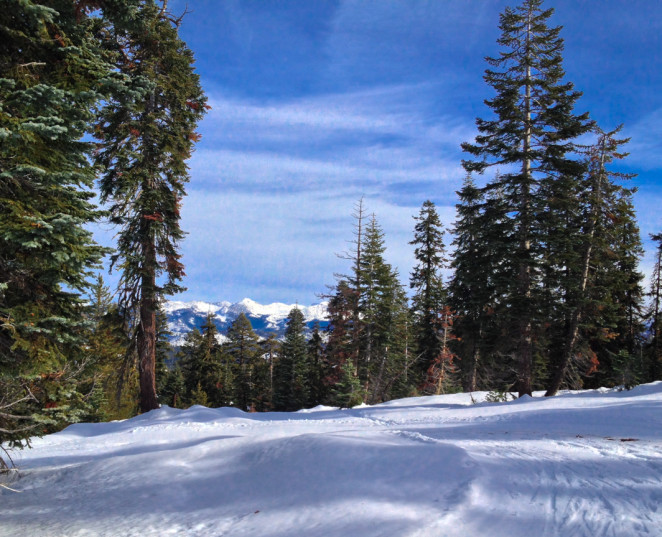 In early December, when we heard that it had started snowing in the Sierras, we made our way north to Yosemite for the weekend. Though we'd visited the park at the tail end of last winter, the severe drought meant that there was only a little bit of snow. It was a treat to get into the real winter spirit. Down in the valley it was cold and rainy but there was a few feet of snow in the higher elevations. We stayed in Camp Curry in one of the unheated tents. It was nice to not have to set up camp in the rain and have more space to spread out our things but Camp Curry has some drawbacks too. You aren't allowed to cook anywhere in the camp, which means traveling to a picnic site a few minutes away. It was sort of an amusing adventure to cook all alone in the dark though, even if it meant carting all our stuff.
After nightfall, we went to the Ahwahnee hotel to warm up and check out the massive fires they have. It happened to be the night of the Bracebridge dinner, so the main halls were empty except for the costumed performers who made their way in and out of the dining room. We found a table for ourselves and played cards and ate chips until late in the evening.
In the morning, we woke up early and headed up to Badger Pass for a day of cross country skiing. We signed up for a group lesson but happened to be the only two in the group. While Shawn has been snowboarding for years, I've been skiing all of once when I was a little kid, so my snow experience was basically nonexistent. I fell a few time and struggled to get the hang of it but still had lots of fun learning. It was crazy to climb up the trail on skis but eventually we made it up to the Old Badger Pass Summit. It was super hard and by the end of the day my muscles were aching but it was really cool to explore in the snow. I'd really like to go on the skating tracks, where it's much easier to glide along. One day we hope to ski all the way out to the Ostrander Ski hut. I could certainly use some practice first. Mostly I'm hoping for more winter weather so there are snowy places to visit.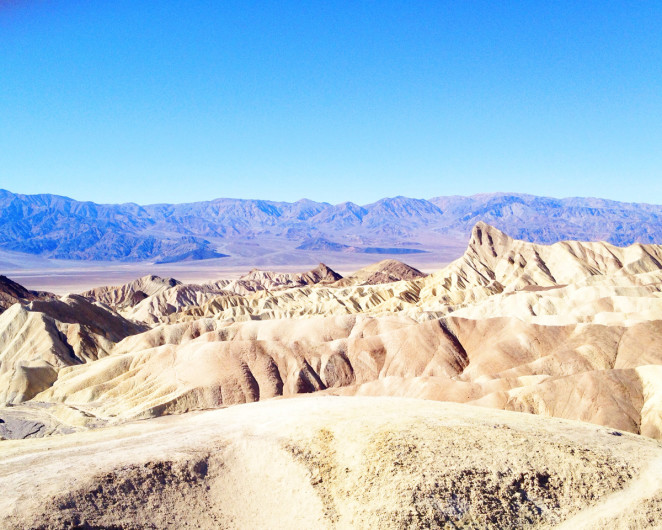 The new year is here. Now is the time for both looking forward and looking back. What was accomplished this year and what can we strive for in the next?
I wasn't particularly fond of 2014, though it held lots of wonderful adventures. I aimed to write more, which I succeeded at on some level. I finished a new feature script and made progress on another, which I feel pretty good about. On the other hand, this writing is hiding away on my computer, rather than out in the world, so it sometimes feels like it hasn't happened. Though there were a few posts here I was proud of this year, I've neglected this blog I am not sure I will continue to keep it. I may find another avenue to share photos and words.
Another goal was to do more camping and exploring and we did much more than I ever expected. Shawn and I visited Joshua Tree, Yosemite (in winter, spring, summer and winter again) and Pinnacles. We went backpacking in Kings Canyon, in Big Sur and the Fish Canyon Narrows. We took a trip to Oregon and Washington, visiting Mount Hood, Mount Rainier and Olympic National Park. We hiked to the top of Mt. Baldy and I took my first cross country ski lesson, two things I could not have imagined myself doing even just a year ago. There were also several trips I haven't even blogged about, including Death Valley, Sequoia, Point Reyes and the Salton Sea.
Clearly Shawn and I had a bit of wanderlust this year, which was both exciting and refreshing. It did make me feel less productive though than I normally am. I watched significantly fewer movies this year than previous years, which in some way was a relief. I did on the other hand read more books, a trend I'd like to continue in this new year.
So what are my goals for 2015? It's best to write them down, lest I forget, which I inevitably will. I want to make more meaningful connections with friends, more time spent in the real world than online, which includes making an effort to meet people in far away places that I consider dear to me. I want to put myself out there more as a filmmaker. It's much easier for me to be reclusive about such things, but what I really want is to be out there making stuff. That means working on other people's films (especially lady filmmakers) and sharing more of what I'm doing. I also want to allow myself time for hobbies. The thing I missed the most this year was small creative projects, which really fell by the wayside. I already have a sweater in mind to knit and some quilt ideas on the horizon. I'm looking forward to all the things a new year can bring.
Happy New Year! May all your dreams be within your grasp.