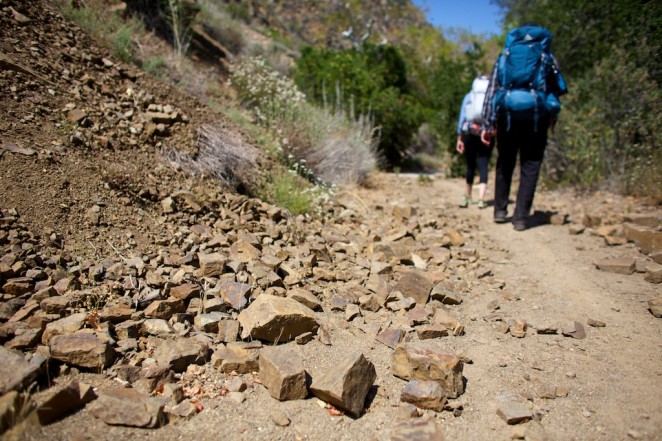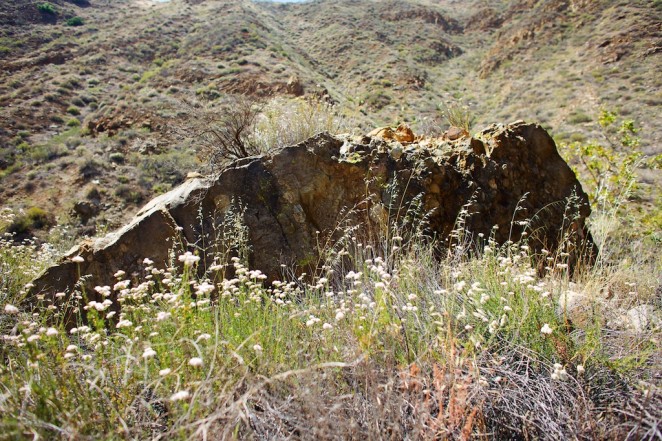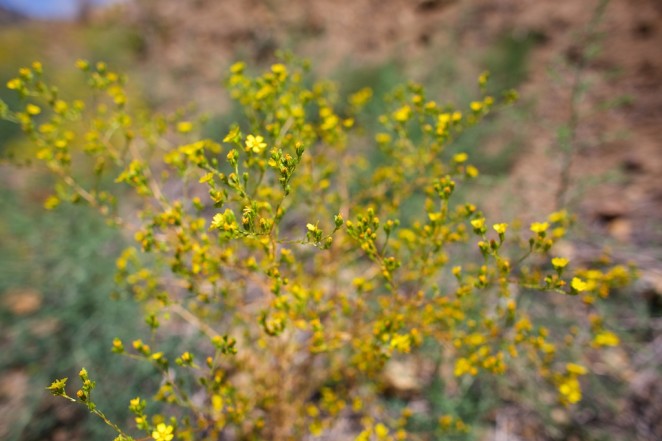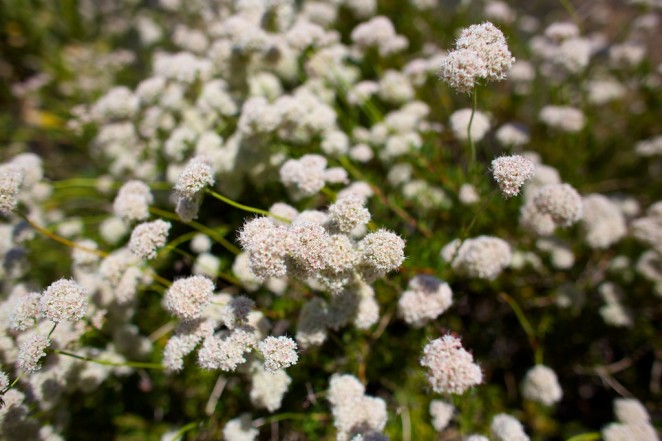 Another brief weekend adventure, backpacking in the Fish Canyon Narrows. It's a trail not too far from Los Angeles that made it great for an overnight trip where we couldn't get going until later in the day. The trail once lead to a maintained campground that was left to decay after a road was washed out and never repaired.
We left in the mid-afternoon, the heat bearing down on us as we walked through the exposed, dry hills. I was excited because even though I had brought lots of extra water, my backpack was still fairly light, all things considered. We walked the open trail until we reached a paved area between two rock walls. Here the creek had eroded the concrete, forming small, clear ponds of water. As we considered how nature had reclaimed its space, we spotted some snakes at the bottom of the pools (which I believe were garter snakes).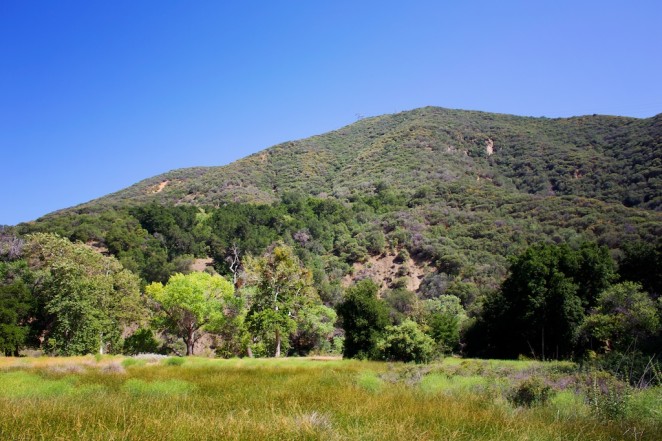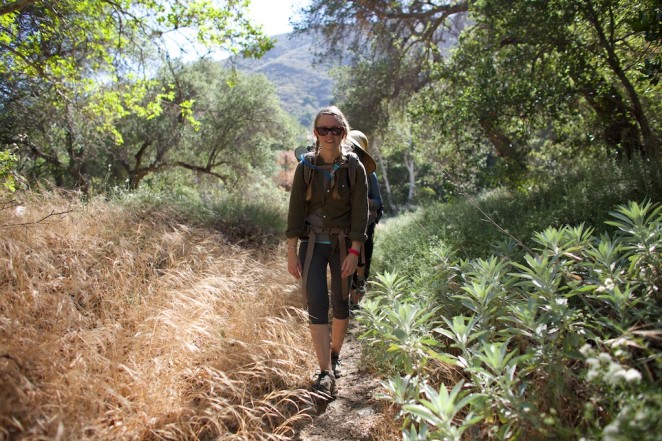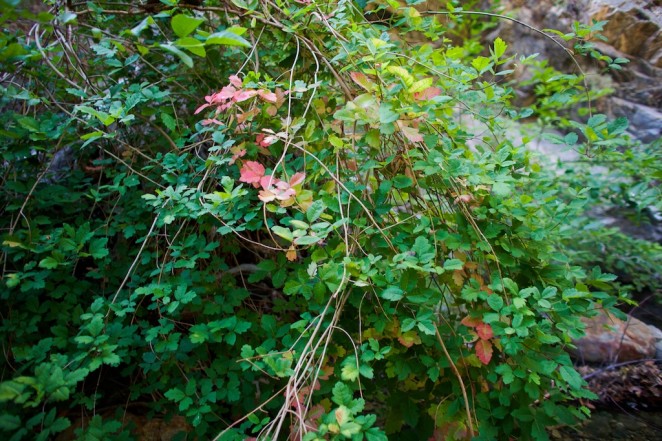 Down the path a bit more we came upon the abandoned campground. It is now grown over into a lovely meadow. A few posts and fire pits still remain, as do the toilets, which have been shot up and spray painted as abandoned structures often are. Here is where we started to see signs of the poison oak we were about to find ahead of us.
The next mile or so was a lovely mix of oak trees and tall grasses. Growing up in this dry desert place, I've always been more fond of leafy green woods, but I'm starting to appreciate the unique flora of Southern California. We came upon the Pianobox mine, which has since been filled, but some equipment still remains. Then it was time to enter the narrows.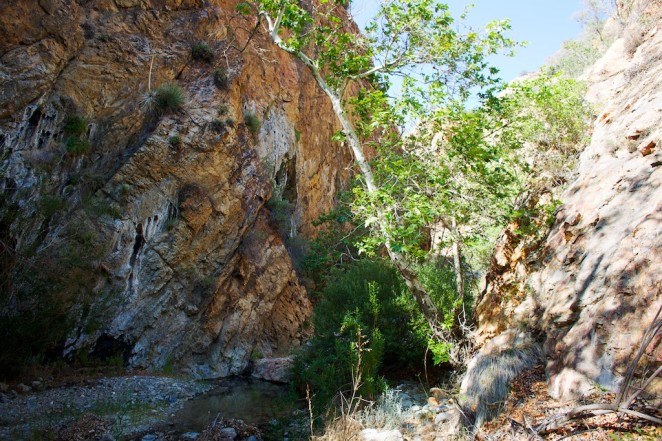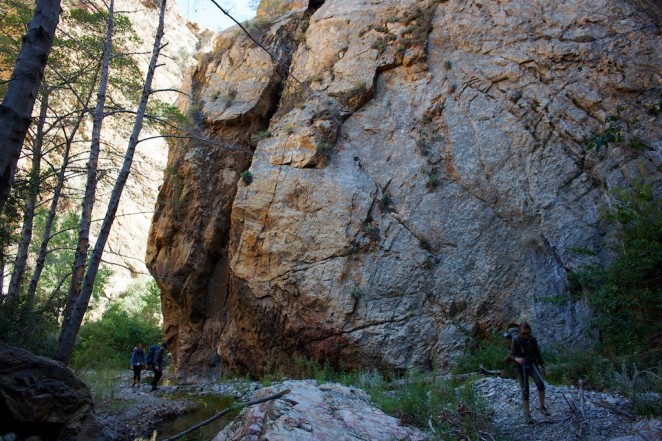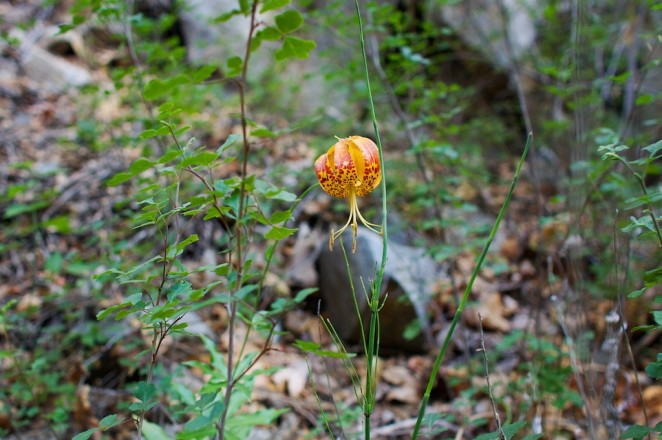 The creek in this section runs between two rock walls and there isn't a clear path for the rest of the way. It's a beautiful place, with the flowing water and red rock. We marched along gleefully at first, skipping over the stream on rocks. As we went on, there was less and less of a trail, as sections beside the water had become overgrown, often with giant swaths of poison oak. Still we moved forward, sometimes climbing over large rocks rather than going through the water. Though there wasn't much incline, we all were quite tired as the mile that remained to our camp dragged on. It was fun but exhausting bushwacking through sections and navigating loose rocks and the ever present poison oak.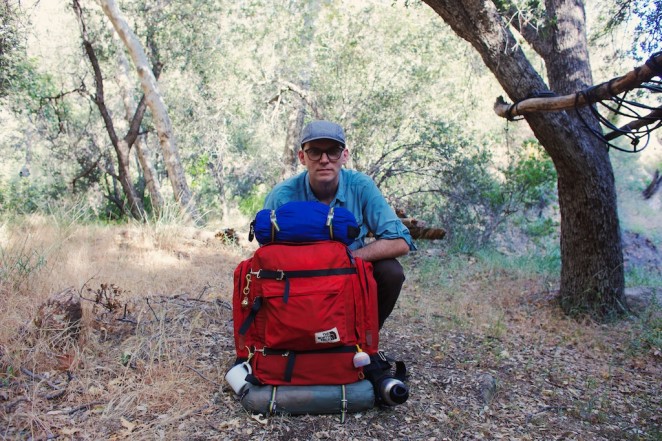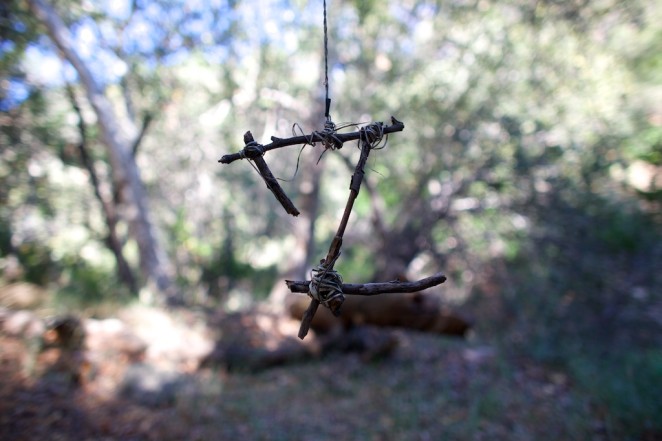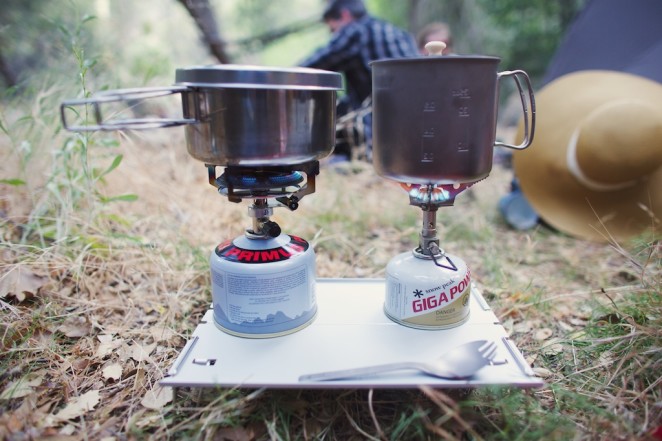 It was hard to contain our excitement when we did finally arrive at the small camp. It was only a 5 mile trek but the narrows had really taken it out of us. It was slightly foreboding that some wooden talismans hung from the trees but we were happy to have a place to rest.
We set up camp and cooked dinner. You can see Shawn's stove and mine next to it on his light weight table. Though he's got an old school backpack, Shawn is growing to love some of the light weight gear. As the sun started to set, a wave of nausea started to roll over me. I had been having some trouble with the hose on my water reservoir and hadn't been drinking enough water. In fact, I don't think I drank any on the whole section through the narrows themselves. I ate a little and tried to drink as much as I could but I just couldn't shake it or the anxiety that comes with being far from anything and feeling terrible. Even though it was dark, it was still hot when we climbed into our tents. When I was finally able to sleep, I had vivid dreams about rhinoceroses and giant tree monsters. Thankfully by morning I felt mostly better, though I didn't sleep all that much.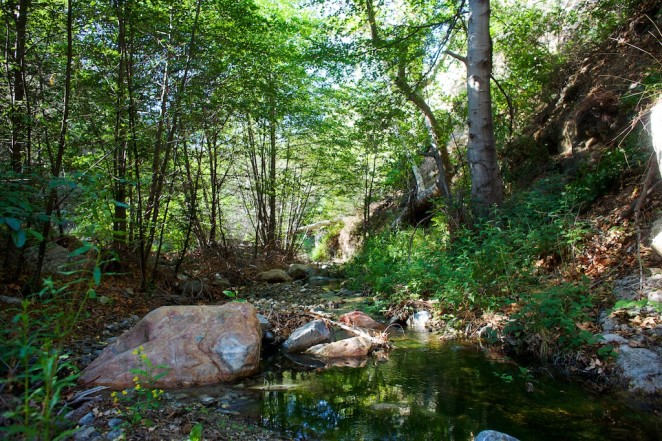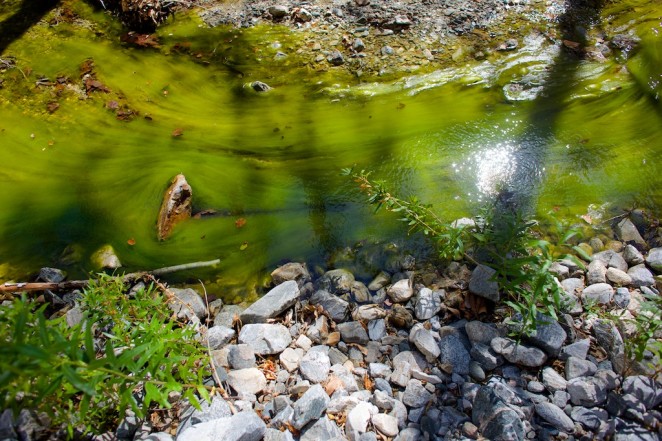 The hike out was lovely as we were able to conquer the tough section first. Also, rather than navigate over minefields of poison oak and loose rock we just accepted that our feet were going to get wet. It was sort of nice actually, as most of the trail was still hot and dry.
It was exhilarating to be on a trail where there were no other hikers, on a trail that in some sections was hardly a trail at all, but it was nerve racking at times. I would definitely do this hike again, especially now that I know what I was in for. With an earlier start, clocking in around 10 miles it would make a nice day hike.