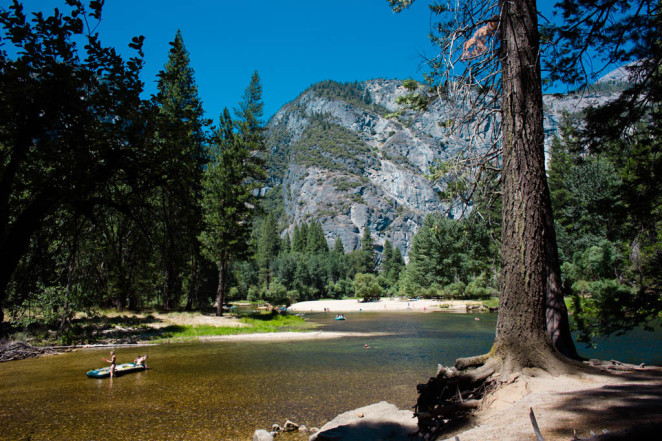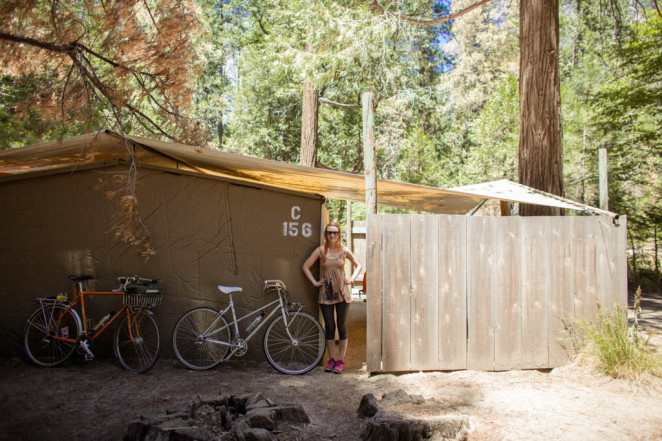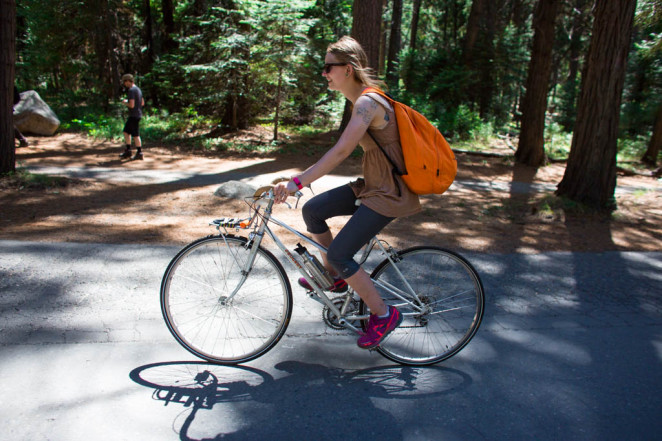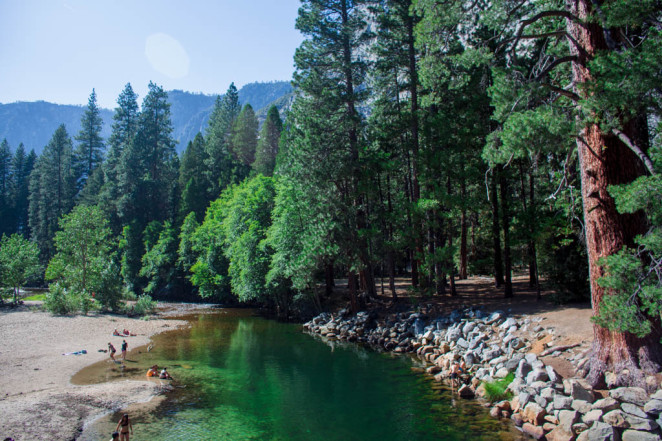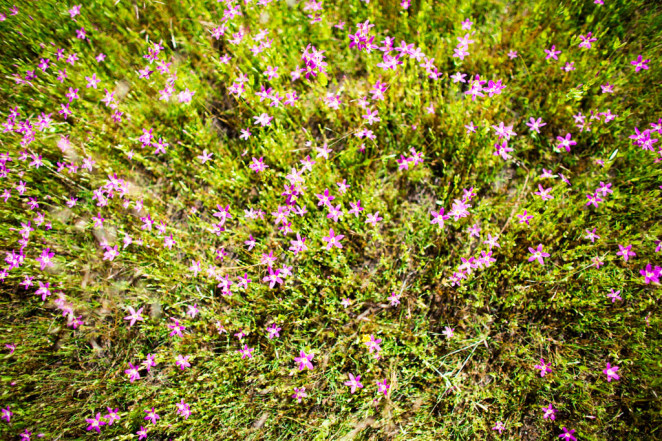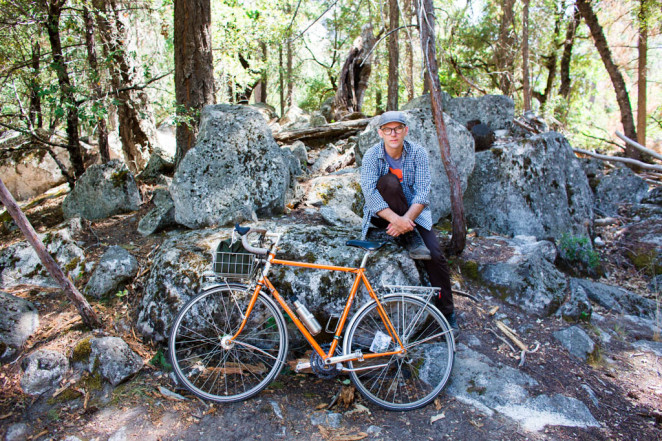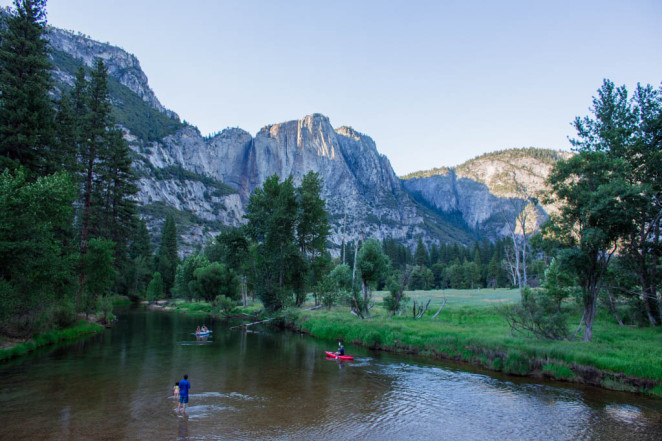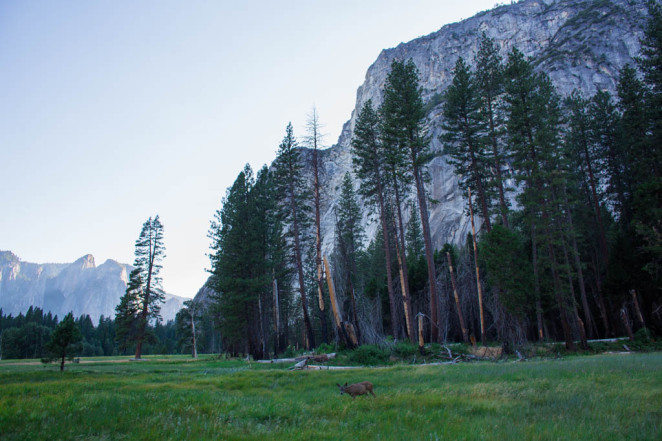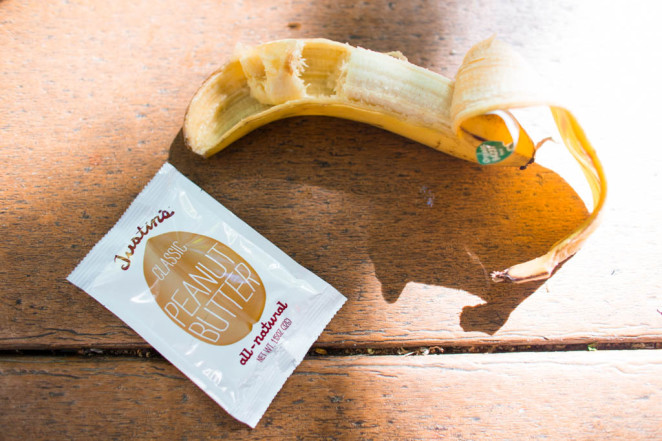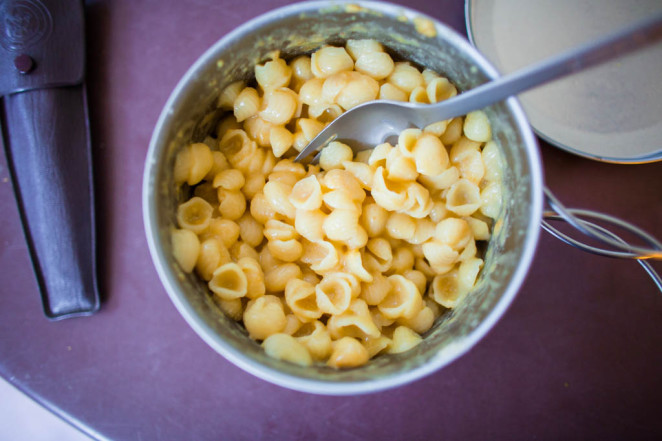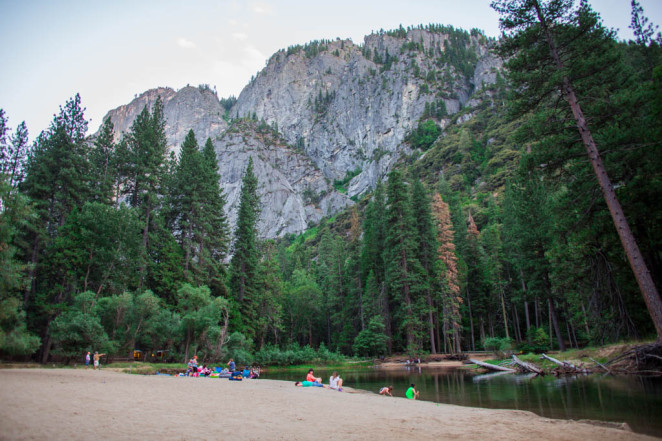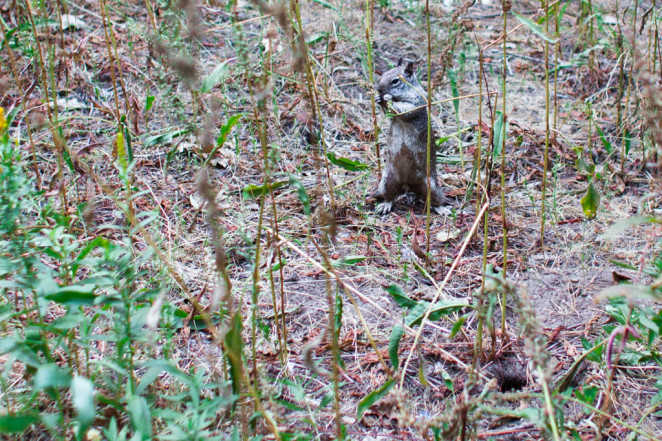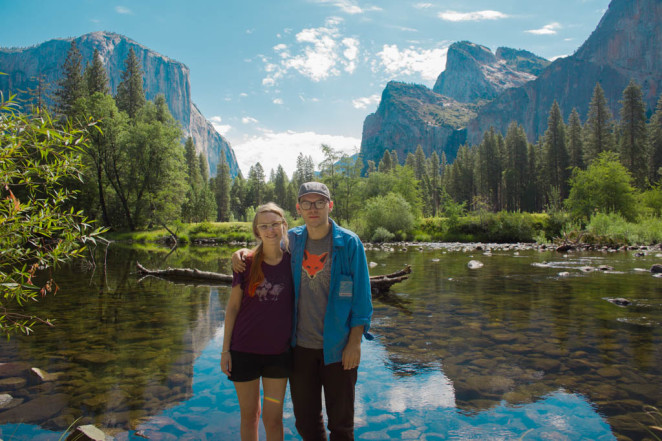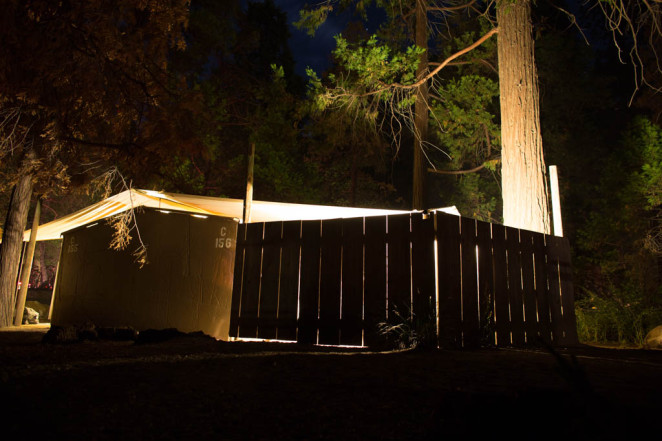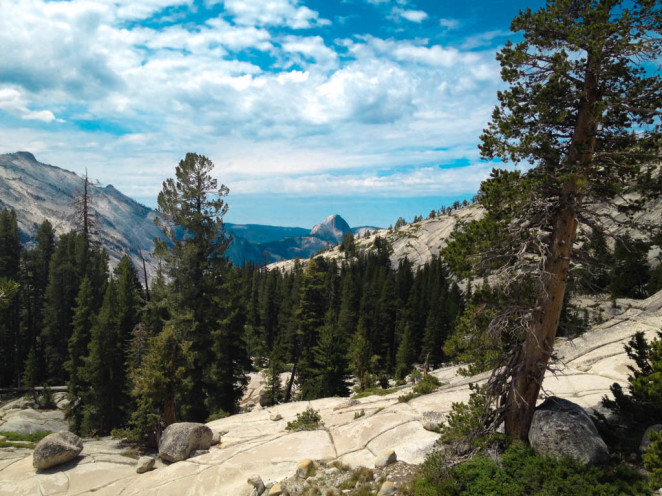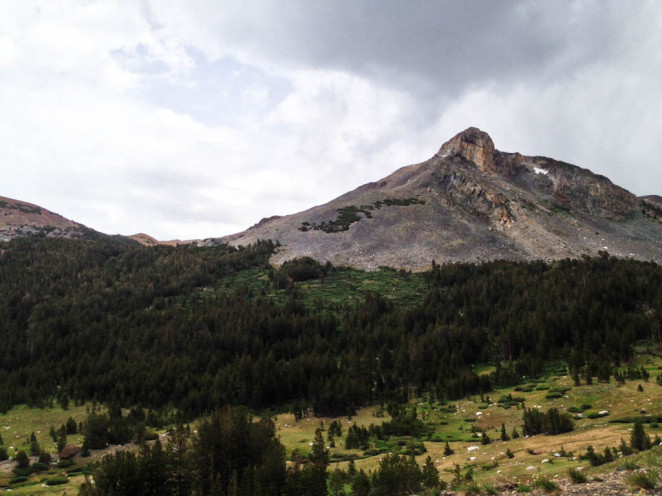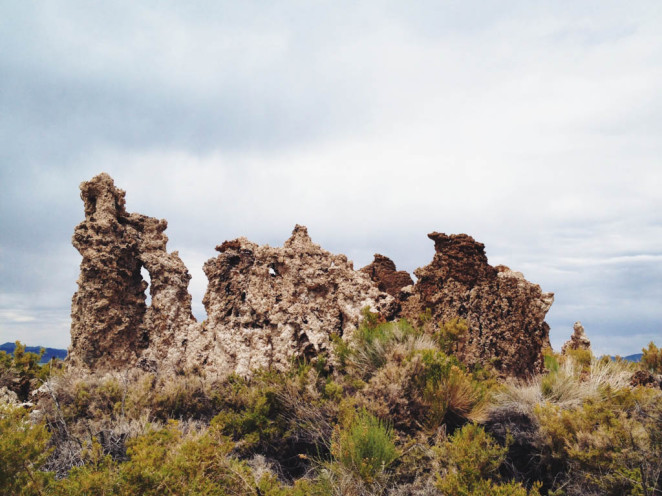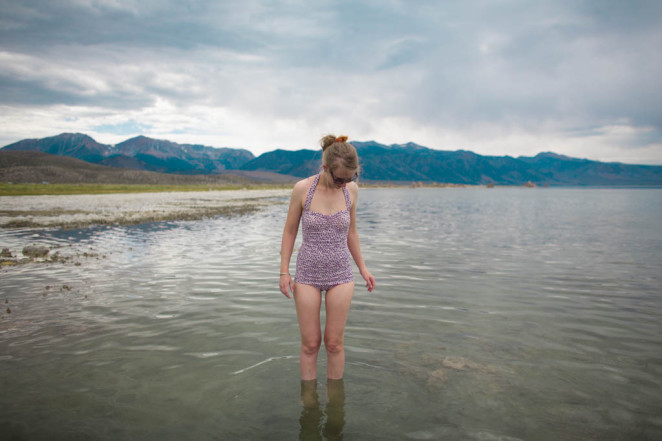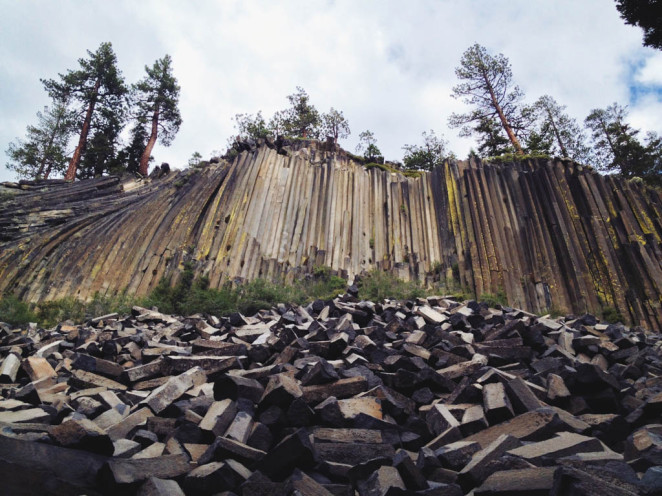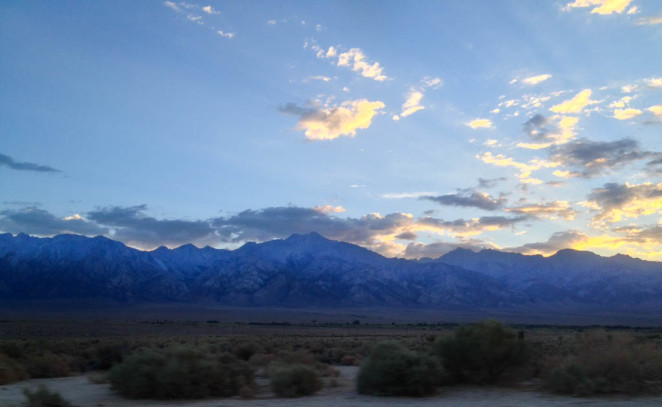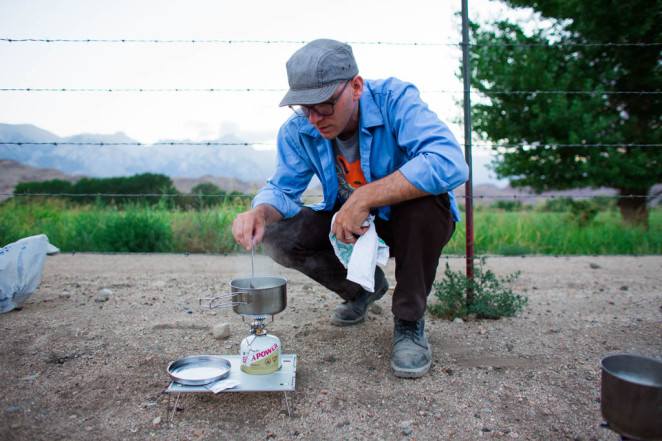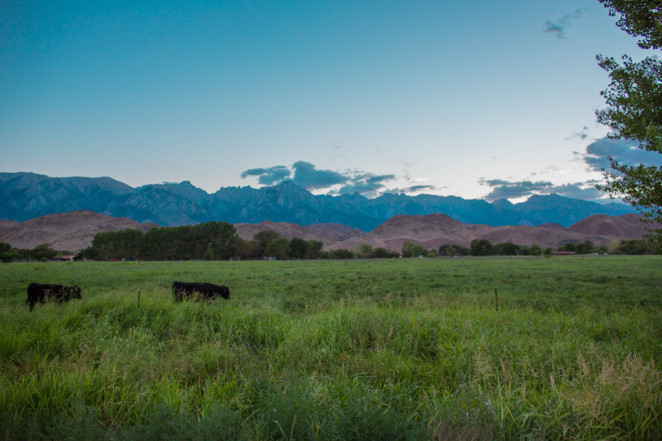 Look at us, already nearly through July. It's still summer and summer is for adventures. The whole year is for adventures!
We had big ideas about going on a longer trip over the 4th of July weekend but delayed planning until the last minute. Amazingly, we found an opening at housekeeping camp in Yosemite. Though we've visited the park several times this year, we have yet to stay in the valley together. After our recent Ojai bike ride we really wanted to bring our bikes to Yosemite. There are about 12 miles of bike trails around the valley which means you get to explore more without getting in a car. This was amazing on a crowded weekend like the one we visited where the notorious traffic jams clogged up the loop around the valley floor. While visitors in cars sat waiting, we were able to fly by.
On previous visits we sought to avoid crowded spaces in search of more secluded trails. Summer is different though. There is a distinctly camp vibe around the whole place: families gathered around campfires, everyone playing in the rivers. It didn't feel as touristy, I'm sure in part because we were edging around particular view points on our bikes, but also because people were really enjoying the nature around them. Visitors seemed settled, rather than just stopping in. In housekeeping camp, large groups set up compounds at their rental sites, stringing lights together and setting up rings of chairs around fire pits. I imagine it must be great to spend a whole week with friends, biking around, grilling and swimming.
The following day we drove over Tioga Pass, the road to the Eastern Sierras. This road is closed for a good portion of the year due to snow, so it was exciting to finally get to drive across. We passed through Tuolumne Meadows and enjoyed the beautiful mountain scenery.
Once on the other side, we made a stop at Mono Lake. I had wanted to go swimming because it had been so warm out and Mono Lake seemed like an ideal spot with its high salinity. I dreamed of floating in the lake until we arrived. Unfortunately I forgot to bring sandals and the floor of the lake was too rough to walk on without them. I'll know for next time. It's a beautiful and surreal place. The tufa towers you see were only exposed in the 80's when the water level dropped due to tributary water being redirected to Los Angeles. The lake only became protected in 1992 and it has been rising since, though not to previous levels entirely.
We also made a stop at Devil's Postpile near Mammoth Lakes. I wish we had more time to explore, but it was still cool to see. I personally enjoyed the bus ride to the site, where I got to listen to various backpackers talk about their travels.
As the sun set and we made our way back home, I asked Shawn to pull over so I could try to take a photo of Mt. Whitney. Though my photo was questionable, we decided that there was no time like the present to make some dinner. We dug out our stoves and made some ramen on the side of the road. It was perfect, particularly since there wasn't anywhere else for us to stop to get food. Some cows came to see what we were up to, then just went about their business.
most photos by Shawn Bannon, except the oddly shaped ones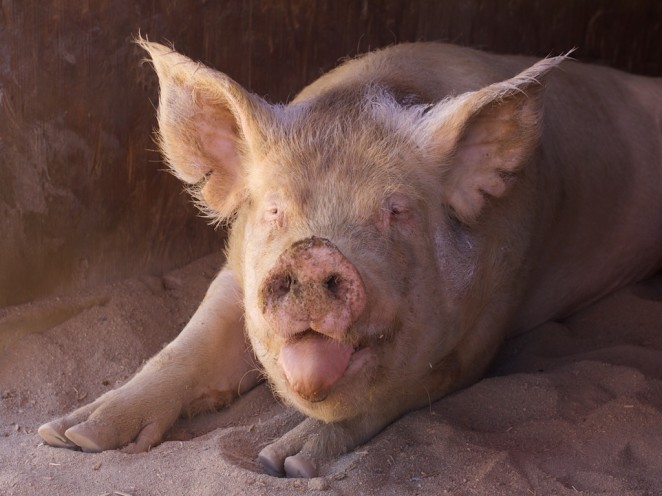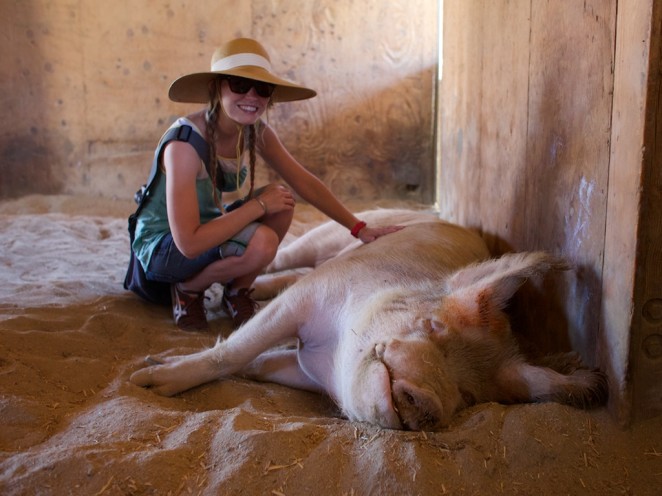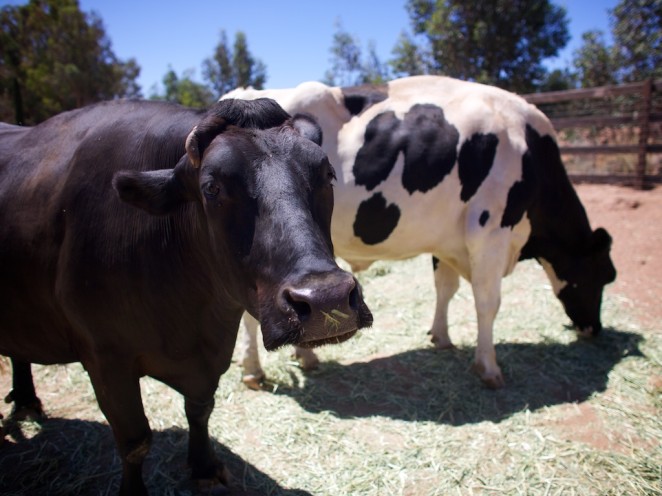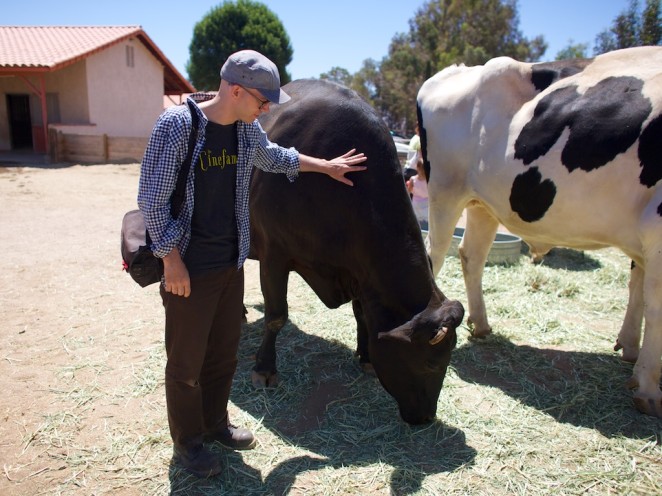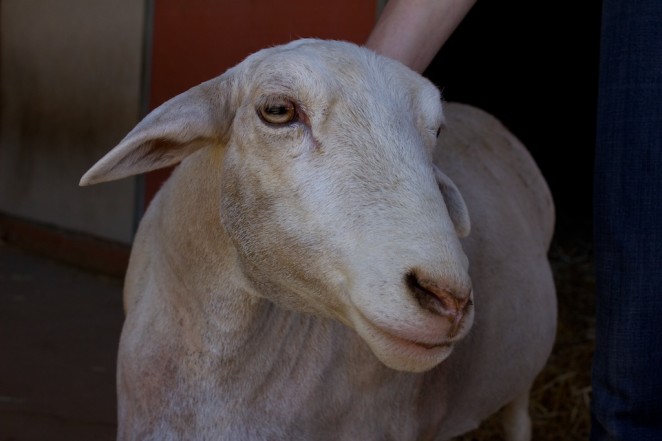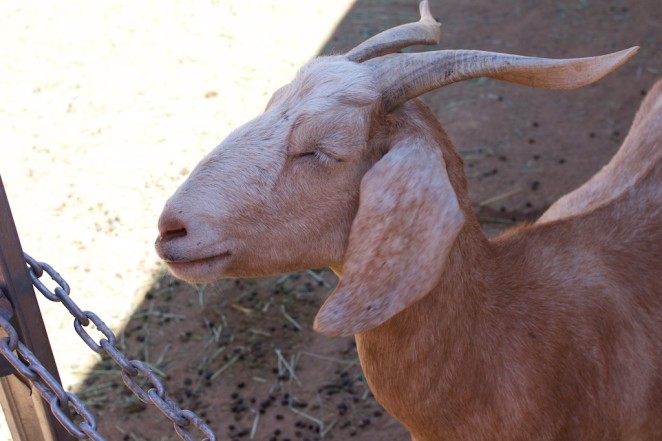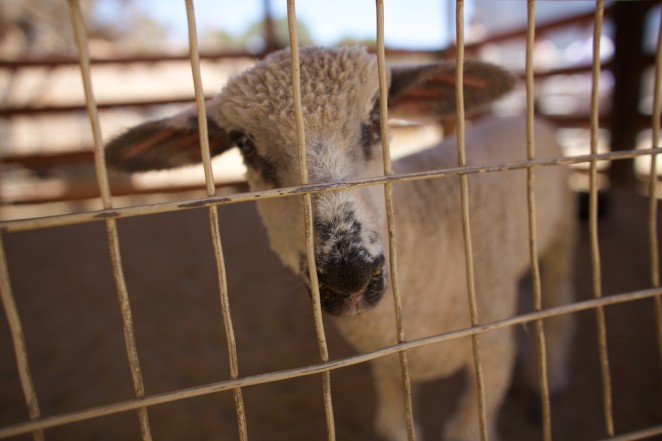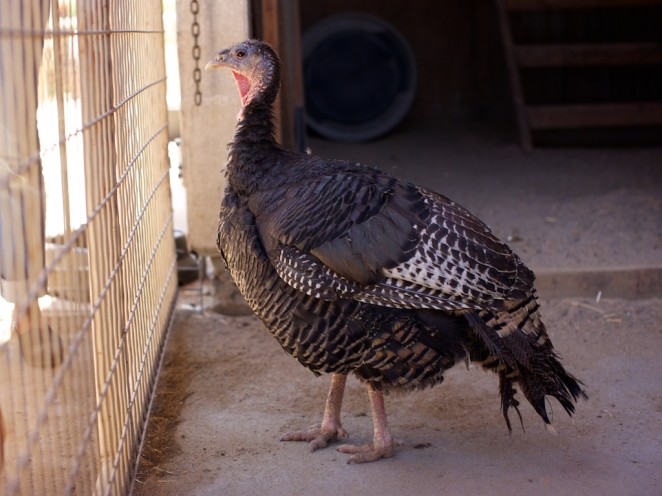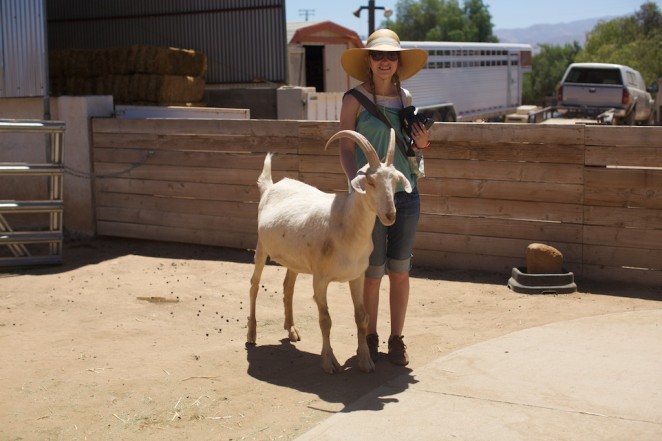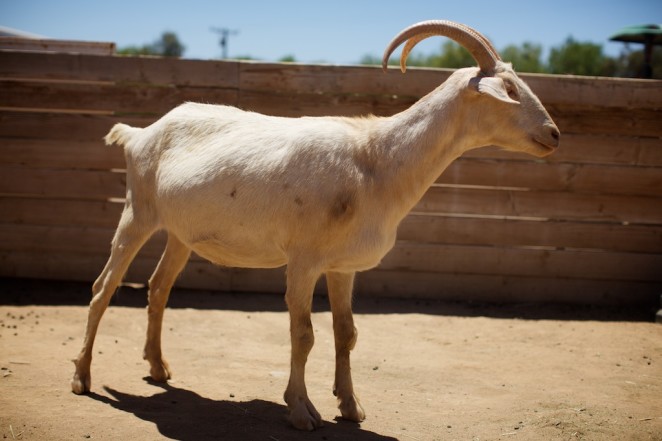 A few weeks ago we headed up to Farm Sanctuary Animal Acres to hang out with some of the rescued farm animals there. It was cool to give belly rubs to some enormous pigs and pet some massive cows. All the animals were super friendly. One of the goats just wanted to follow me around. I seriously love goats. There was baby lamb that had just come to the rescue who was just getting used to people and the other animals. She was very curious and bahhed at all the visitors. I could probably spend all day with these animals given the chance. I was glad to hear many of the animals stories of how they came to the rescue even though they were often sad. It's crazy to think that the animals they have are only just a tiny fraction of the animals that are tortured and slaughtered every day in factory farms. I'm glad there are organizations like Farm Sanctuary that are doing something to help these animals that are thought of merely commodities rather than living beings.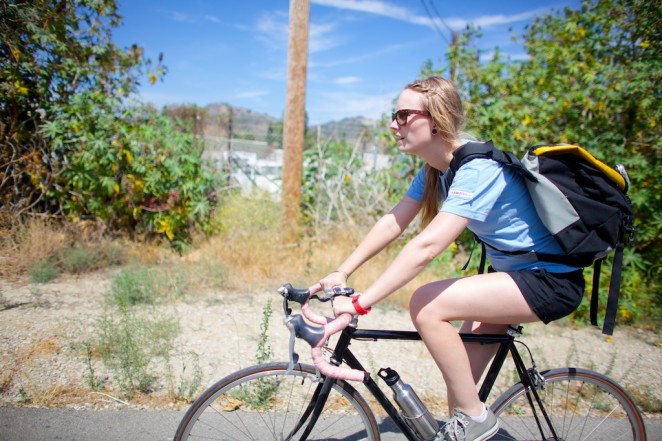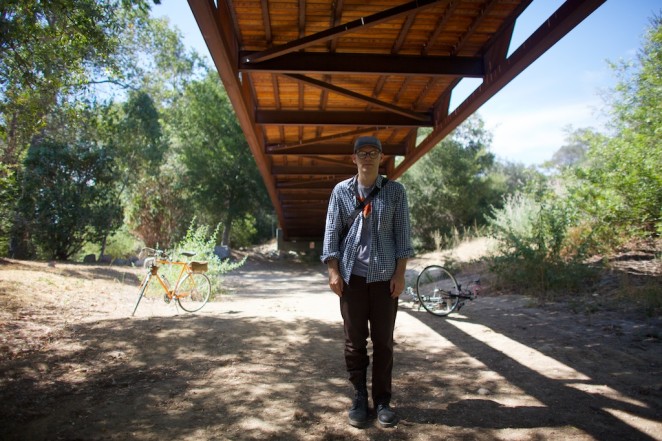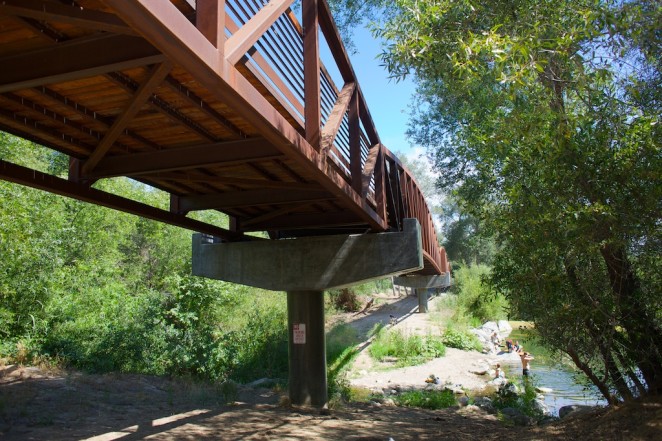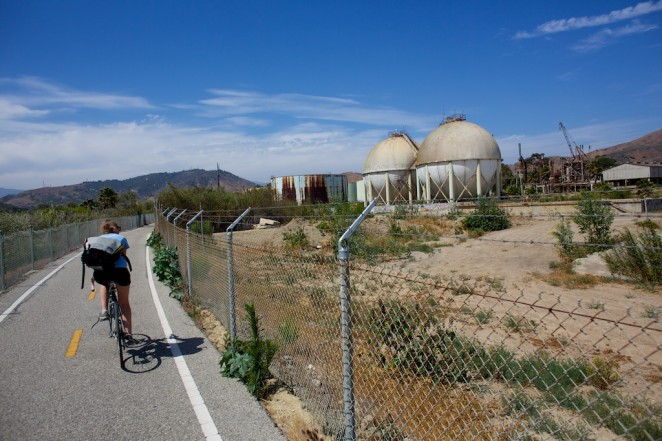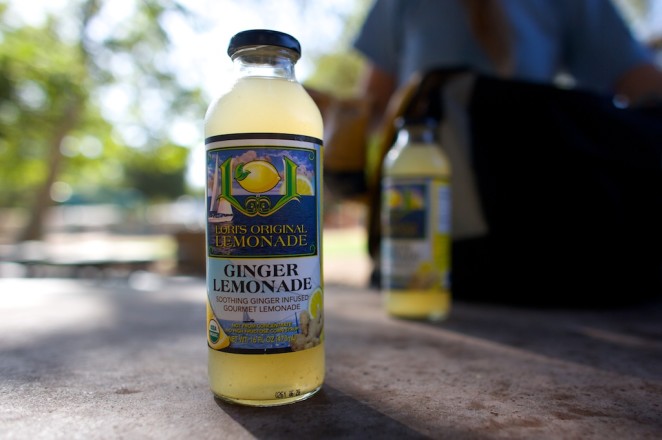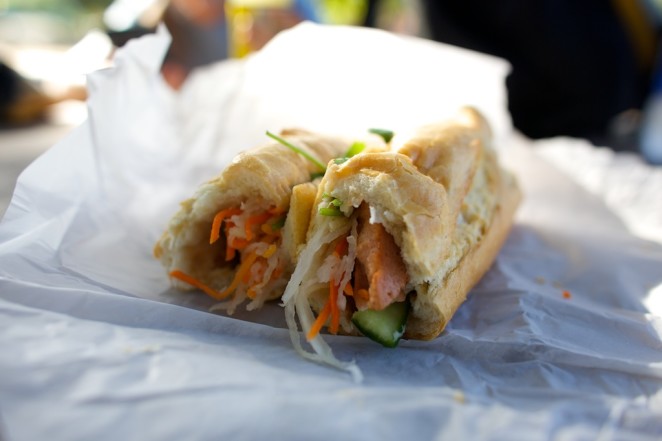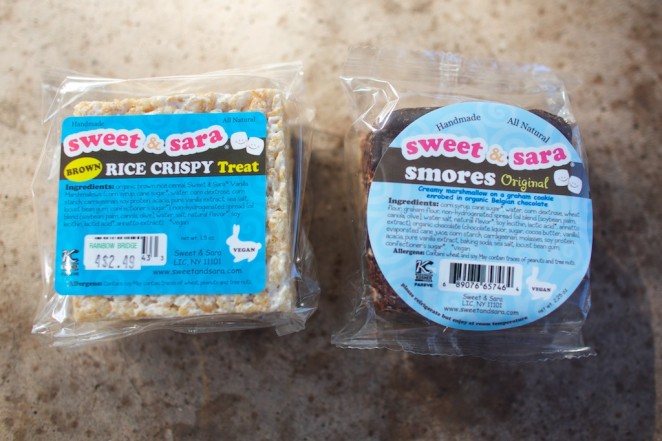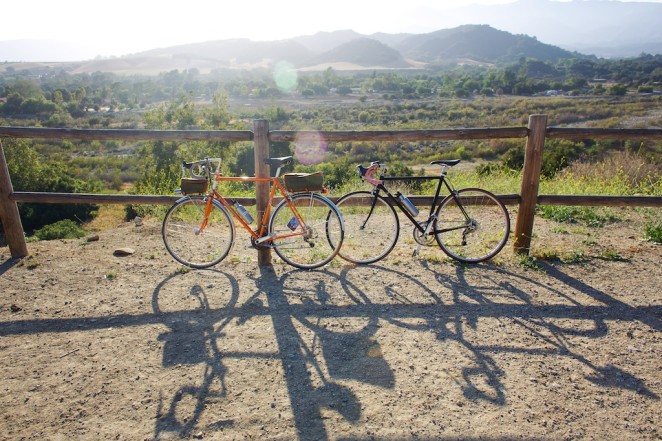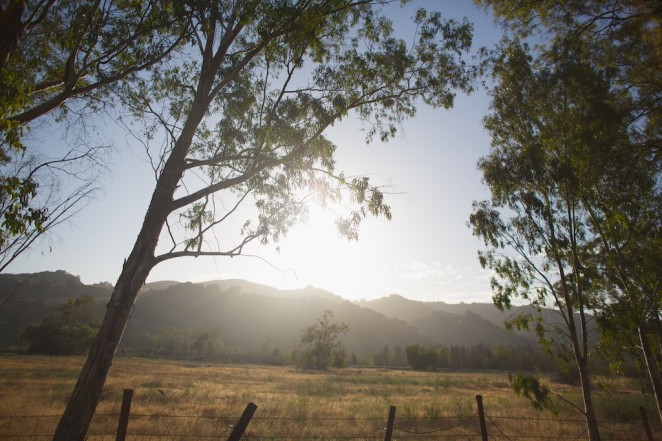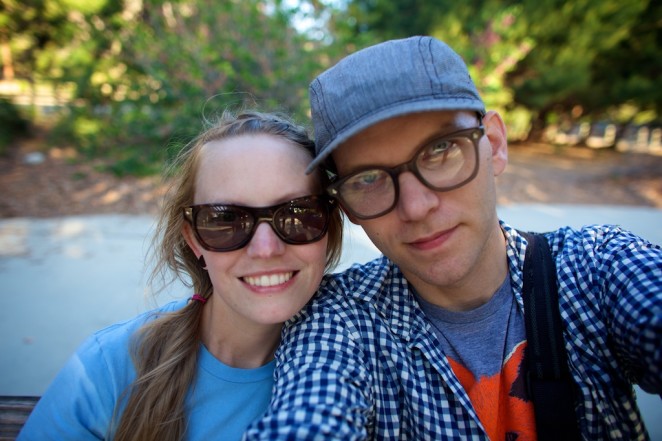 Summer Solstice! Shawn has been asking me to go on this particular bike ride from Ventura to Ojai for ages. We have done it a few times in the past but, as I haven't been riding my bike nearly as much as I used to, the mileage has scared me off from going again. We've been having tons of fun going on our backpacking adventures recently but I wanted to give my knee a break since it's been bothering me on most of our hikes. I thought the bike ride would be a good alternative, even if it might be a stretch to do the 30 miles. It's not crazy far, I've done it before, I thought I could do it again.
We set off late in the day on Saturday, picked up some vegan pork banh mi sandwiches from Vinh Loi Tofu and headed towards Ventura. The ride itself is a nice separated bike path with a gentle incline all the way to Ojai. It was warm out but not unbearably hot. There were lots of flowers blooming on the side of the path which was a nice treat. About ten miles in I really started to feel the miles and all I could think about was getting a cool drink when we stopped. It probably would have been better to do some shorter trips before embarking on this one but sometimes you just have to go or you'll never go.
There was one section that had been reconstructed from our last visit, adding a nice bridge over a creek. From what I gather, this addition removed a fish barrier so that trout can now breed upstream again. Below the bridge is a nice little watering hole, where some families were swimming. It was a nice spot to rest and get out of the sun for a bit.
When we made it to Ojai, I picked up some ginger lemonades from a market and we ate our sandwiches in the park. While I relaxed for a bit, Shawn popped into the natural food market to pick up some more treats. I had declined any desserts but when he came back with Sweet and Saras I had to steal some. We got back on the road, which was thankfully down hill the whole way back. My muscles were tired and my shoulders achy. Every time we passed a mile marker for the last 4 miles, I would sing a little song of joy. Despite our late start, we made it back before the sun set.
I like this ride because it's not hilly and you don't have to deal with cars much so it's pretty stress free. It's not terribly far but long enough to make a day trip out of it for someone who isn't a well trained cyclist like myself at the moment. If you ride more frequently, it's a fun, easy ride.
I realized that I could have just kept saying no to this ride, that I could let worrying about whether I could do it comfortably get in the way of just actually doing it. So I decided to just say yes and we spent a lovely day outdoors on the summer solstice, enjoying each others company and the California landscape.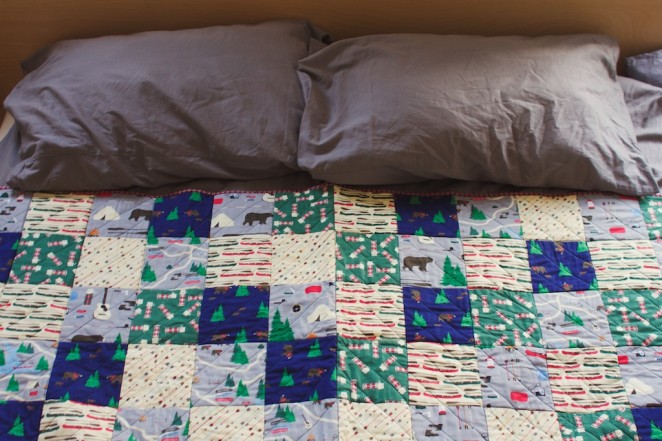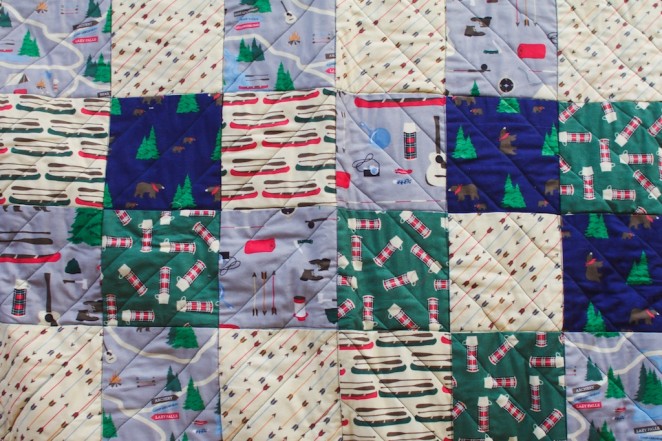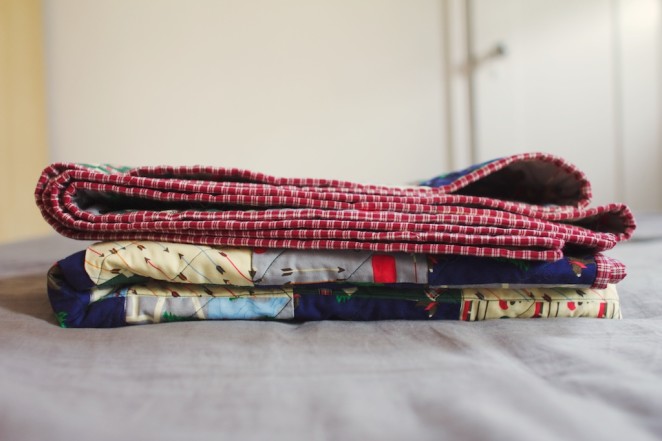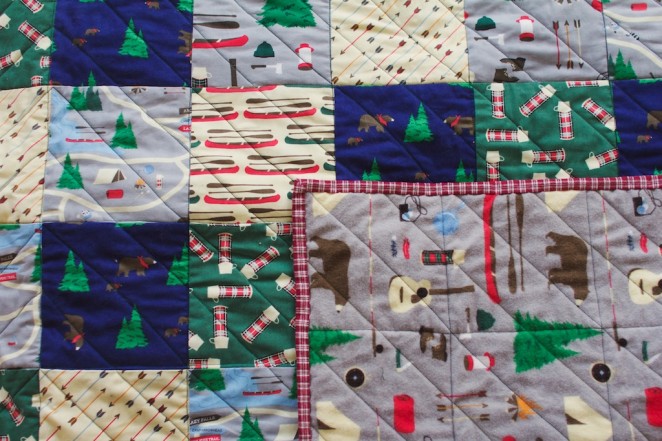 For some reason it seems strange to write about quilting during summertime but here goes. I was supposed to finish this quilt last year. Then I was supposed to finish it in January. Then I got super busy and we went on lots of adventures and the quilt was nearly done but I just couldn't make myself sit down and hand sew the binding. Last week, I found myself with an evening where I wasn't exhausted and our plans had been cancelled and finally it was time to finish the darn quilt. I was determined. So much so that I finished sewing it with a headlamp on after Shawn had gone to sleep. It is done!
The quilt is a gift for Shawn, as I thought he'd like the outdoor adventure fabrics. It is not really meant for the outdoors, as the backing is a snuggly fleece, but it isn't necessarily restricted from them. It's a bit larger than a standard throw blanket, by request of my tall husband. I did all the quilting on his vintage Singer sewing machine, also by request. The binding is hand stitched as I still haven't figured out how to make a pretty machined binding (passable sure, but not pretty). I'm pretty happy now that it's complete. I thought I was sort of done with quilting but I imagine it's just a summer thing. As I write this I am imagining a cute quilt that could go on our spare bed. If only I knew how to make a quilt that repelled cat fur.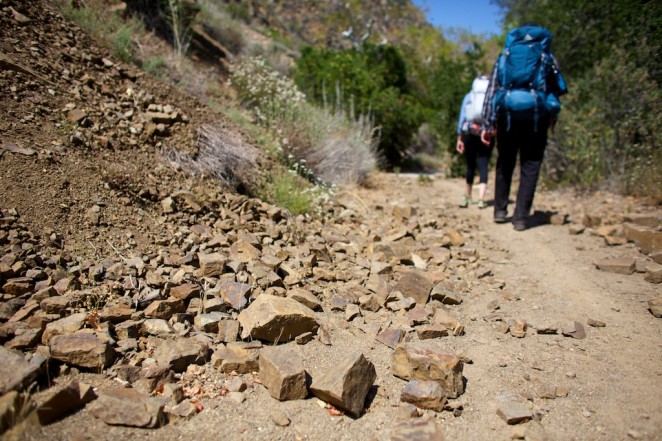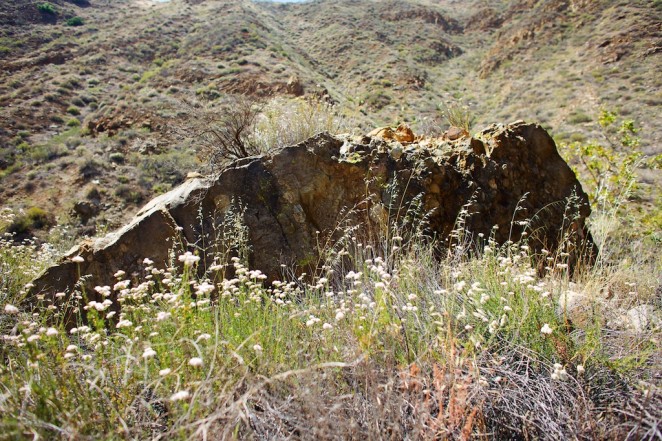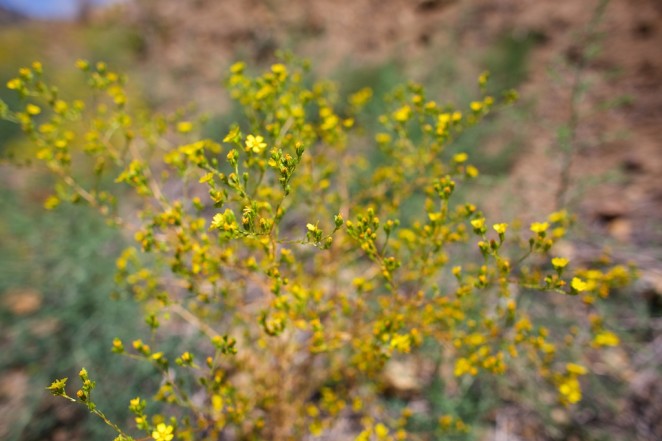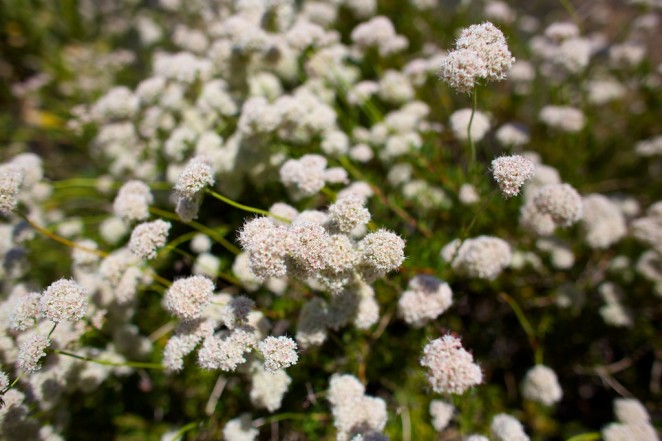 Another brief weekend adventure, backpacking in the Fish Canyon Narrows. It's a trail not too far from Los Angeles that made it great for an overnight trip where we couldn't get going until later in the day. The trail once lead to a maintained campground that was left to decay after a road was washed out and never repaired.
We left in the mid-afternoon, the heat bearing down on us as we walked through the exposed, dry hills. I was excited because even though I had brought lots of extra water, my backpack was still fairly light, all things considered. We walked the open trail until we reached a paved area between two rock walls. Here the creek had eroded the concrete, forming small, clear ponds of water. As we considered how nature had reclaimed its space, we spotted some snakes at the bottom of the pools (which I believe were garter snakes).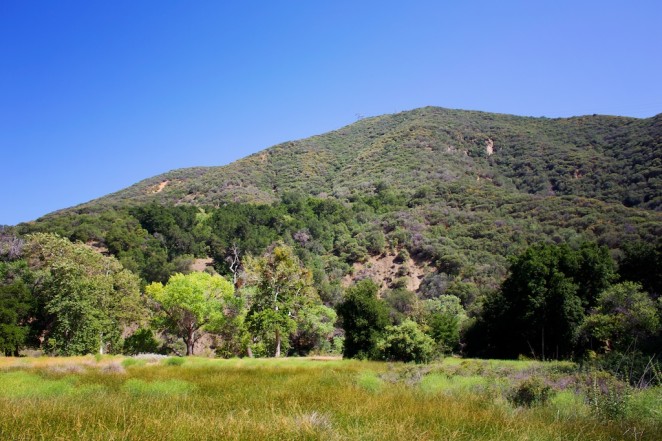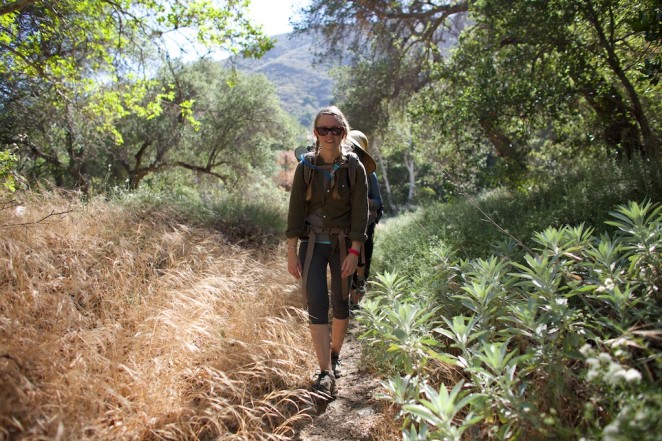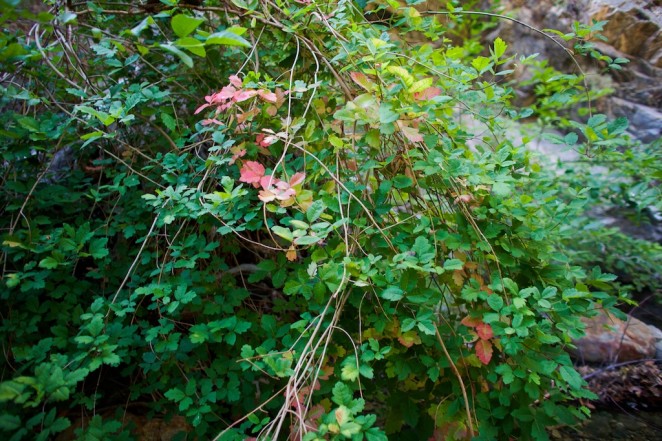 Down the path a bit more we came upon the abandoned campground. It is now grown over into a lovely meadow. A few posts and fire pits still remain, as do the toilets, which have been shot up and spray painted as abandoned structures often are. Here is where we started to see signs of the poison oak we were about to find ahead of us.
The next mile or so was a lovely mix of oak trees and tall grasses. Growing up in this dry desert place, I've always been more fond of leafy green woods, but I'm starting to appreciate the unique flora of Southern California. We came upon the Pianobox mine, which has since been filled, but some equipment still remains. Then it was time to enter the narrows.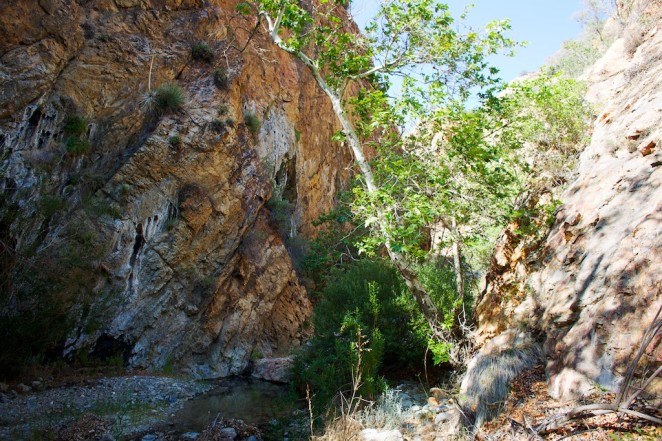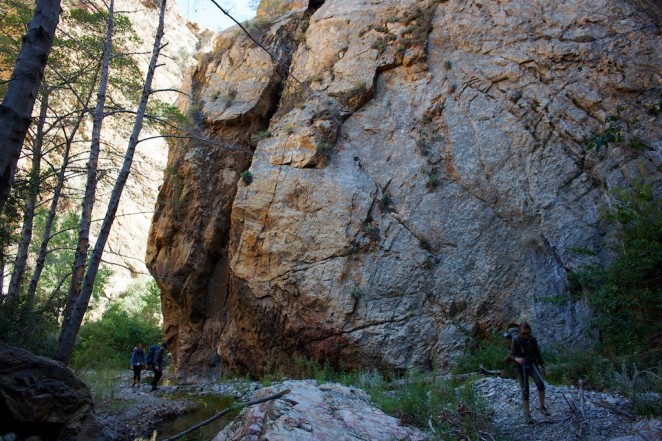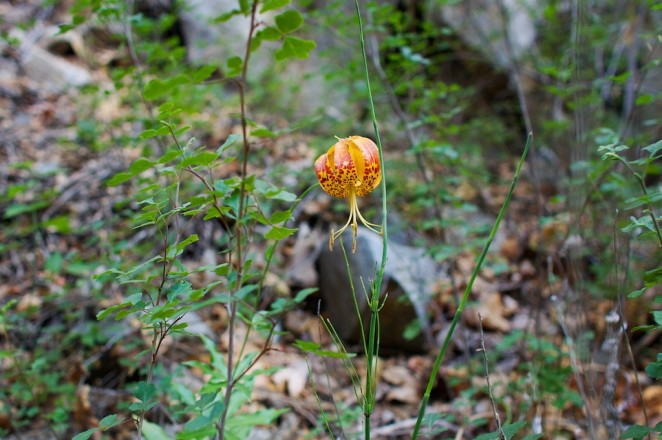 The creek in this section runs between two rock walls and there isn't a clear path for the rest of the way. It's a beautiful place, with the flowing water and red rock. We marched along gleefully at first, skipping over the stream on rocks. As we went on, there was less and less of a trail, as sections beside the water had become overgrown, often with giant swaths of poison oak. Still we moved forward, sometimes climbing over large rocks rather than going through the water. Though there wasn't much incline, we all were quite tired as the mile that remained to our camp dragged on. It was fun but exhausting bushwacking through sections and navigating loose rocks and the ever present poison oak.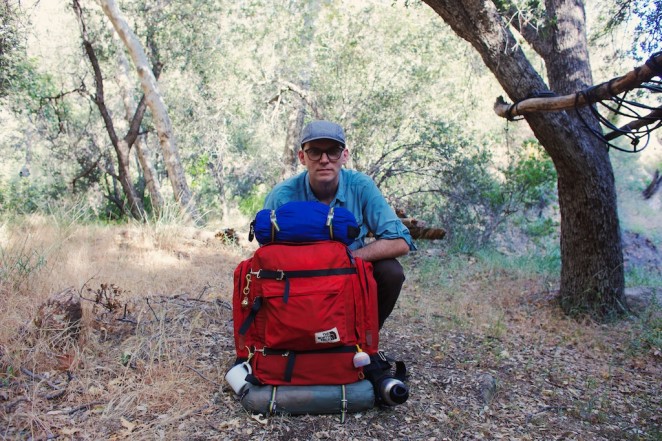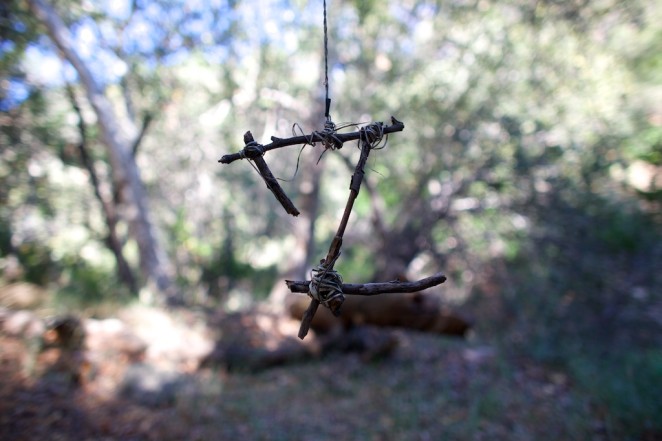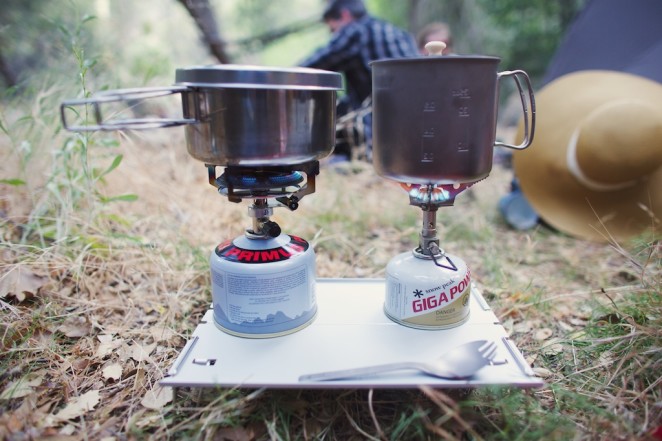 It was hard to contain our excitement when we did finally arrive at the small camp. It was only a 5 mile trek but the narrows had really taken it out of us. It was slightly foreboding that some wooden talismans hung from the trees but we were happy to have a place to rest.
We set up camp and cooked dinner. You can see Shawn's stove and mine next to it on his light weight table. Though he's got an old school backpack, Shawn is growing to love some of the light weight gear. As the sun started to set, a wave of nausea started to roll over me. I had been having some trouble with the hose on my water reservoir and hadn't been drinking enough water. In fact, I don't think I drank any on the whole section through the narrows themselves. I ate a little and tried to drink as much as I could but I just couldn't shake it or the anxiety that comes with being far from anything and feeling terrible. Even though it was dark, it was still hot when we climbed into our tents. When I was finally able to sleep, I had vivid dreams about rhinoceroses and giant tree monsters. Thankfully by morning I felt mostly better, though I didn't sleep all that much.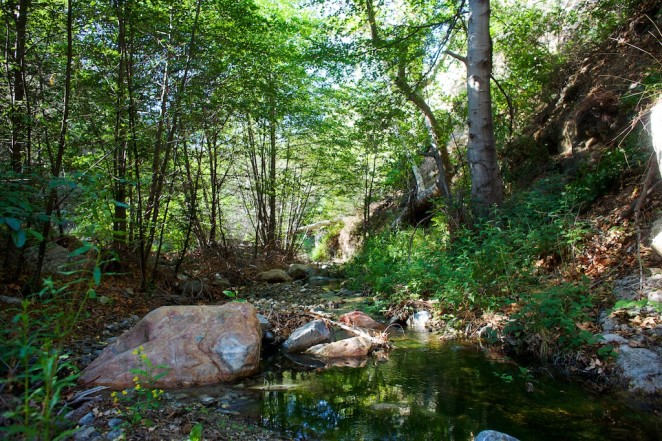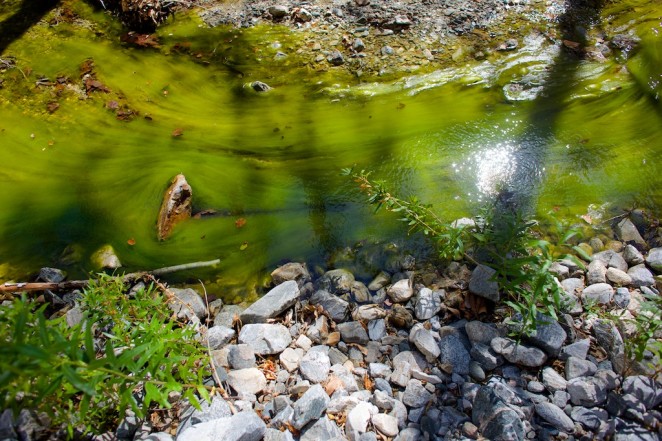 The hike out was lovely as we were able to conquer the tough section first. Also, rather than navigate over minefields of poison oak and loose rock we just accepted that our feet were going to get wet. It was sort of nice actually, as most of the trail was still hot and dry.
It was exhilarating to be on a trail where there were no other hikers, on a trail that in some sections was hardly a trail at all, but it was nerve racking at times. I would definitely do this hike again, especially now that I know what I was in for. With an earlier start, clocking in around 10 miles it would make a nice day hike.