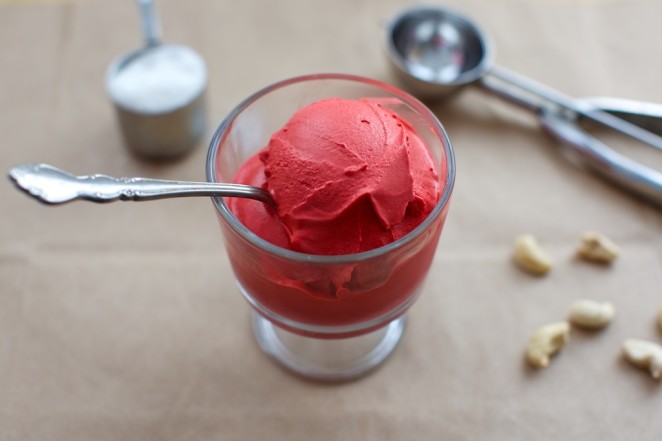 I've been kicking around ideas for this recipe in my mind for oh, I don't know, two years now. It's sort of ridiculous. The curious thing is that when I finally went to procure the ingredients, I found out that Whole Foods had discontinued carrying Mimicream, my go to base for making ice cream. So I came up with a new plan of making my own cashew cream. The end result was a decadent ice cream that's very similar to a custard and extremely delicious.
RED VELVET ICE CREAM
1 1/4 cup cashews *soaked overnight
water for blending
3/4 cup sugar
2 Tbsp cocoa powder
1 Tbsp arrowroot or corn starch
2 tsp vanilla
1/2 tsp almond extract
1/2 tsp white vinegar
1/4-1/2 tsp black salt (or sea salt)
red food dye (optional)
Put cashews in a blender and cover with water. Blend until smooth. Add remaining ingredients and blend again until fully incorporated. If the mixture has heated up in the blender, refrigerate until cool. Freeze according to your ice cream maker's directions. It will be on the softer side, so you can put in a sealed container in the freezer to firm it up more if you like.
If you don't have an ice cream maker, you can put the mixture in a sealed container in the freezer. Stir the freezing mixture every half hour until frozen.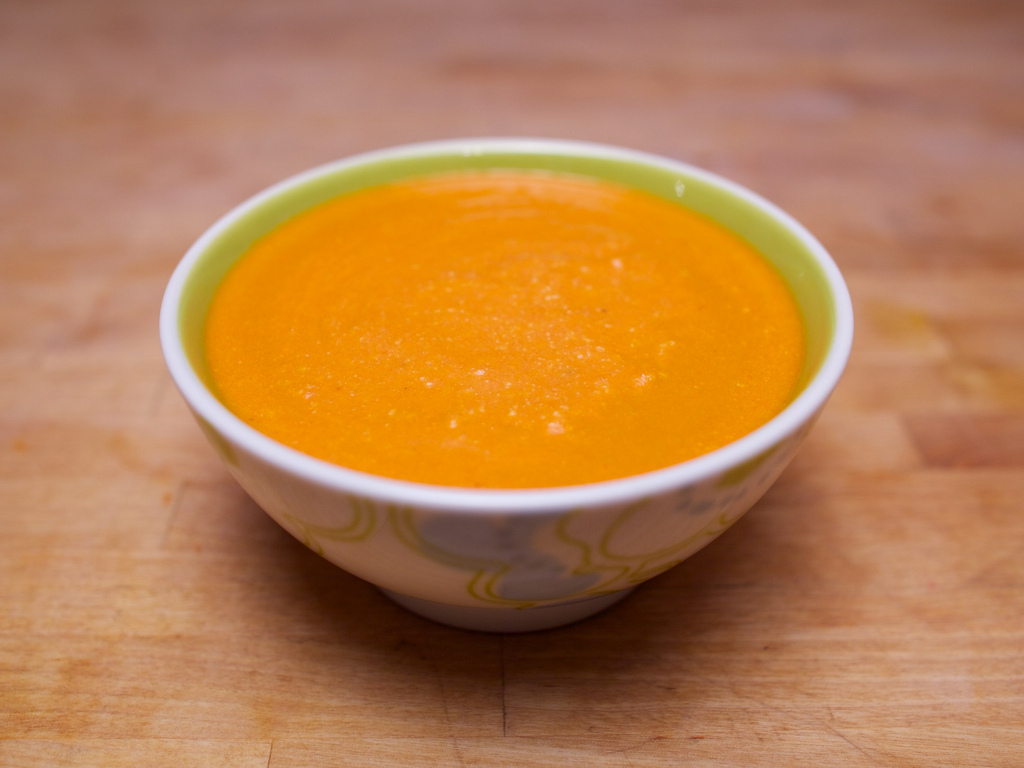 When the weather gets cold, I love a rich, creamy bowl of soup. Who doesn't? It's the best. My favorite is tomato soup, but I have to admit, I'm a little picky about it. I like my tomato soup thick and creamy. It shouldn't have chunks and it shouldn't be brothy.
I finally decided to try and make my own tomato soup, it seemed only logical. I was blown away by not only how easy it was to make but how amazingly flavorful it was. Since it is nearly as easy as heating up a can of soup, and about 10 thousand times better, I don't think I'll ever go back to eating pre-made soup again.

Creamy tomato soup approved by Shawn Bannon.
The key to making it so rich and creamy was cashews. I considered using some sort of soy creamer but knew it wouldn't give it the right density or the subtle nuttiness.
I most definitely had seconds (and thirds). It was hearty enough to eat on it's own, but since I ate it a few nights in a row, we also had some kale and roasted butternut squash to go along with it.
Creamy Tomato Soup
1/2 cup cashews
1/2 cup vegetable broth
2 Tbsp Earth Balance
1 small onion, chopped
2-4 cloves of garlic, minced
1 28 oz can of whole peeled tomatoes
1/3 cup nutritional yeast
salt & pepper to taste
In a food processor, blend together your cashews and vegetable broth until smooth. Pour into a separate container and set aside.
In a medium sauce pan, over medium heat, melt the Earth Balance. Add the onions and saute for about 2-3 minutes. As they begin to become fragrant, add in the garlic and saute until your onions are soft and translucent, stirring as not to burn. Add in your tomatoes, including any liquid in the can. Reduce heat and simmer for 10 minutes.
Remove from heat and let cool for a few minutes before pouring into your food processor. Blend until combined and not chunky. Add in the nutritional yeast and pulse to combine. Add in the cashew mixture and blend until very smooth. Season with salt and pepper to your liking and pulse a few times.
It will be fairly thick, so if you like a less robust soup, add more vegetable broth.
I decided to embark on the wonderful challenge of making vegan crème brulée. This has always been one of my favorite desserts, but I never considered trying to make a vegan version myself. I wanted to try to use a cashew base instead of relying on tofu, as I find that often desserts that have a subtle flavor and a good deal of tofu can some times be too plain. After mixing my first batch, I tested the uncooked custard before it went in the oven and it had a very strong cashew flavor. Since I had extra of all the ingredients, I thought it would be best to try another batch with a different recipe, to make a less intense version. Here are the results and recipes to go along with them.
Vegan Crème Brulee  v.1   ¼ cup silken tofu ½ cup sugar 1 cup raw cashews ¼ cup Mimicreme or soy creamer 2 Tbsp corn starch 1 Tbsp vanilla 1 tsp lemon
  Vegan Crème Brulee v.2   1 cup silken tofu ½ cup sugar ½ cup raw cashews ¼ cup Mimicreme or soy creamer 1 Tbsp corn starch 2 Tbsp vanilla 2 tsp lemon
The process for each version is nearly the same, version 2 just has to cook a little longer.
1. Preheat oven to 325° Place your dishes on a cookie pan. Depending on your dishes, this will make 4-6 servings.
2. In a food processor, blend the tofu until it is smooth. While the processor is still running, add the sugar and let blend until smooth before adding the cashews and soy creamer together. Blend until there are no chunks, this should take a few minutes. Finally, add the cornstarch, vanilla and lemon, blending until everything is combined.
3. Pour the custard into your dishes and place in the oven. Cook for 15-20 mins for version 1 and 25-30 for version 2. The outsides will be slightly firm and centers still slightly soft.
4. Let cool to room temperature and then place in refrigerator. Refrigerate for approximately 2 hours or until cold.
5. Sprinkle with sugar, enough to make a thin layer over the top of the custard. Use a butane torch to caramelize the sugar. If you don't have a torch, you can try putting them under the broiler for a  few minutes.
I was impressed at how good these were. Both have a strong cashew flavor, but it isn't overwhelming. I believe this is mostly due to the  flavor of the Mimicreme which is  also made from cashews/almonds. I think next time I'd like to use a generic soy creamer to make it a bit lighter. Version 1 was much denser. The flavor was smoothed out when it baked and was very pleasing and rich. Version 2 was lighter and creamier but wasn't quite as custard like. Back to back, they didn't have major flavor differences, they did have the same ingredients after all, it was mostly just a difference of consistency and intensity.
I have only had one vegan crème brulée ever, which was amazing, so I know that a fantastic vegan version is possible. These were really good (I've eaten 3 already!) but I know they could be even better. This is one experiment I won't mind repeating.