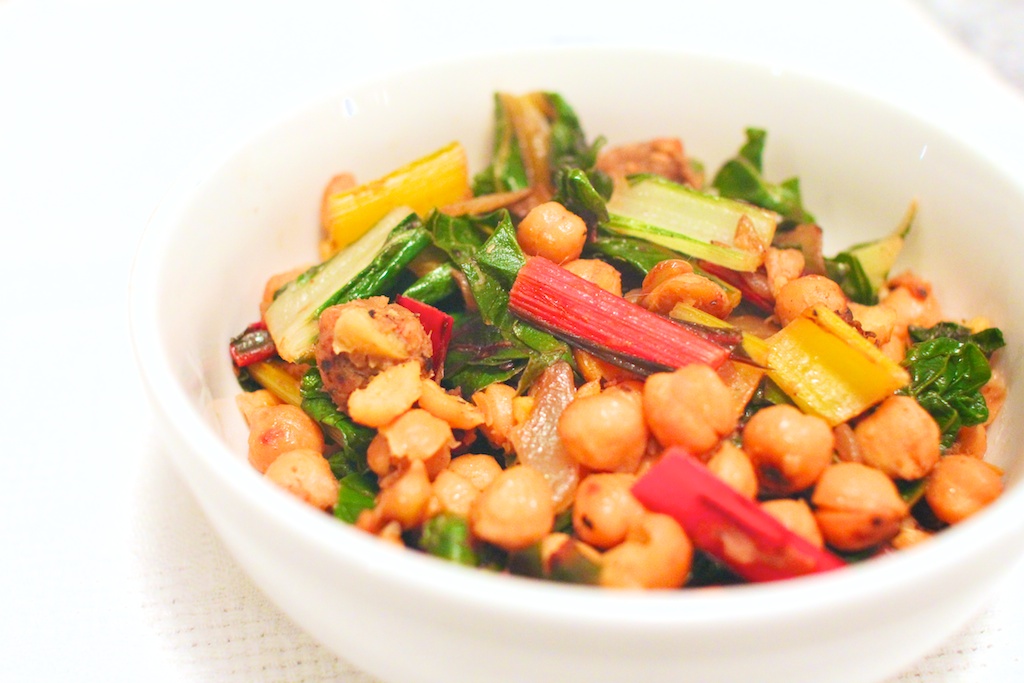 I bet you thought I was going to talk about movies all week. I guess I tricked you, didn't I?
I've been trying to make some more wholesome dinners. It's easy to eat pasta or rice and broccoli every night when you're busy, and as much as I love both of those, variety is good too.
I picked out some easy recipes this weekend and with the help of our slow cooker have made them in no time after work. The first experiment was lemony pan-fried chickpeas with rainbow chard. This lovely dish came together in about 20 minutes and was shockingly flavorful especially for how simple it was. I added in some seasoned jackfruit that I had cooked up over the weekend just to make it a little more substantial and used rainbow chard for a little bit of color. The whole thing was very satisfying and I loved the varied texture of chard, chickpeas and jackfruit together.
It was a nice reminder that meals can be simple and still be special.
It's not very often that I make genuinely pretty dinners. Especially because we love things like mashed potatoes and gravy, which while delicious, aren't all that photogenic. At the store the other day I decided I needed to buy some squash since there was such a good selection and I've never really made anything with squash besides zucchini.
So I picked out some lovely delicata squash without any idea what I would do with it. I decided that even if I couldn't find a recipe I liked it would serve as good decoration in the mean time. Luckily I found an exciting recipe on gothamist for chickpea stuffed delicata. The chickpeas are fried and mixed with a cranberry wine syrup. It was a really nice mix of flavors and textures sweet and savory. Of course, it looked pretty too which I was pleased about. Not to mention it was quite different from the usual meals we make and very quick to prepare.