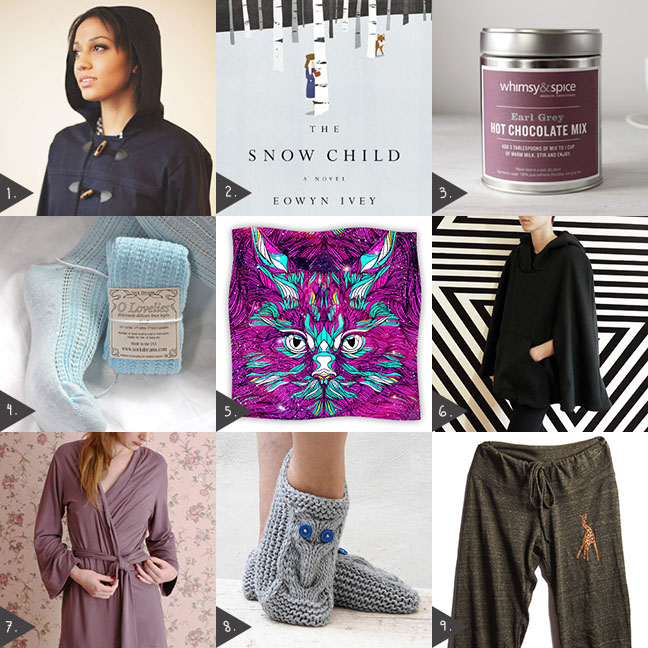 1. Albion Coat Pattern > 2. The Snow Child: A Novel
> 3. Earl Grey Hot Chocolate > 4. Over the Knee Socks > 5. Space Cat Throw > 6. Sweatshirt Cape > 7. Bamboo Robe > 8. Owl Slippers > 9. Giraffe Pajama Pants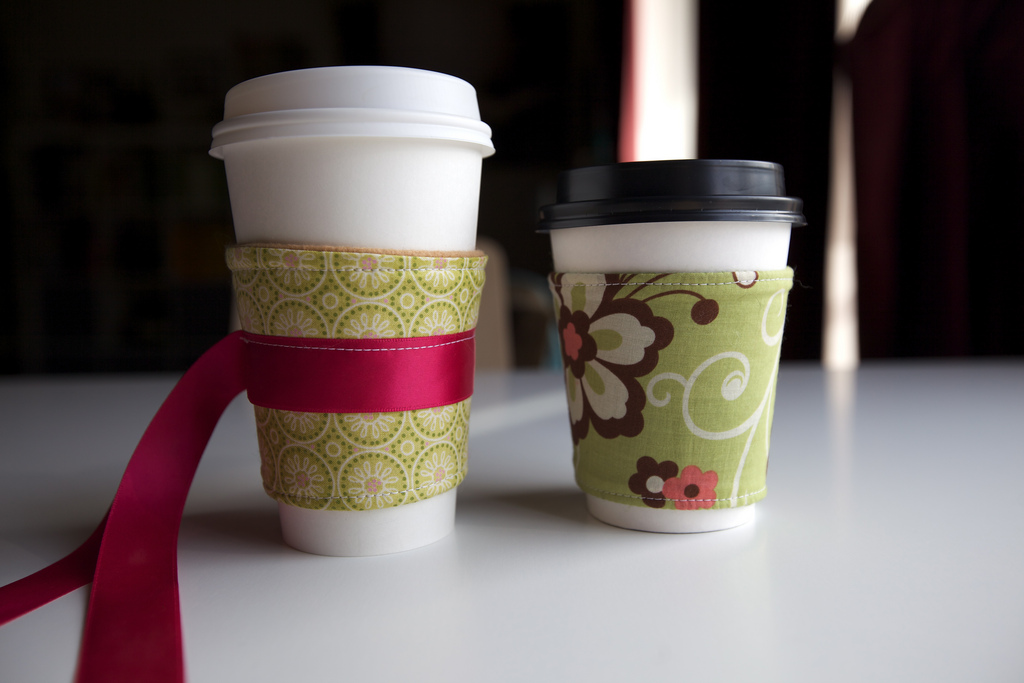 In case I hadn't made it clear in some previous post, I love coffee. Mostly I love the rich flavor of a good espresso, but I won't lie, I can't go without my daily caffeine boost. I don't often get coffee to go, but when the occasion arises, I come prepared with my own coffee cozy. It's not quite as earth friendly as bringing your own mug, but its much more convenient as I can carry one in my purse all the time. Not to mention, they're damn cute. I made these one night after seeing some adorable ones on various craft blogs and knew I had to have one. I used some scrap fabric and some felt to line them. They came together in just a few minutes.
Lucky for you…I'm including a tutorial on how to make one of your own AND giving away a cozy to one lucky reader. Better than an infomercial!
Before I get to the tutorial though, just wanted to let you all know I'm now on formspring. So if there's something you're curious about or just bored, feel free to ask me! Ok back to the cozies…
1. First print out the template I've included. Use the template to cut two pieces of fabric for your cozy, one out of felt, and the other out of a fabric of your choice.
2. Next take a piece of velcro and sew onto one side of the felt, being careful to leave space for seam allowances. I should probably tell you now that I rarely pin things, mainly because I am lazy, but you might want to baste or pin pieces in place.
3. Put your two fabric pieces together with the right sides facing. The velcro will be on the inside. Pin if necessary and trim any areas where the fabrics do not line up.
4. Sew along the two long edges and the short edge near the velcro, following a 3/8 inch seam allowance. Make sure to double back and secure any open ends.
5. Turn the cozy inside out, using a chopstick to poke out corners. Fold the unfinished edge inside and press the whole thing.
6. Sew around the outside edge of the whole cozy starting on the unfinished side about 1/8 inch away from the edge. You can use a matching thread or something contrasting, depending on what you prefer.
7. Last, sew the other half of the velcro on the outside so that it will meet the velcro on the inside. That's it! Good work, I think you deserve some coffee.
If you like the cozy you see made in the tutorial, you can win it. All you have to do is comment and a winner will be chosen at random on March 7th. Good luck!
Update: and the cozy goes to…Christy! Congratulations!