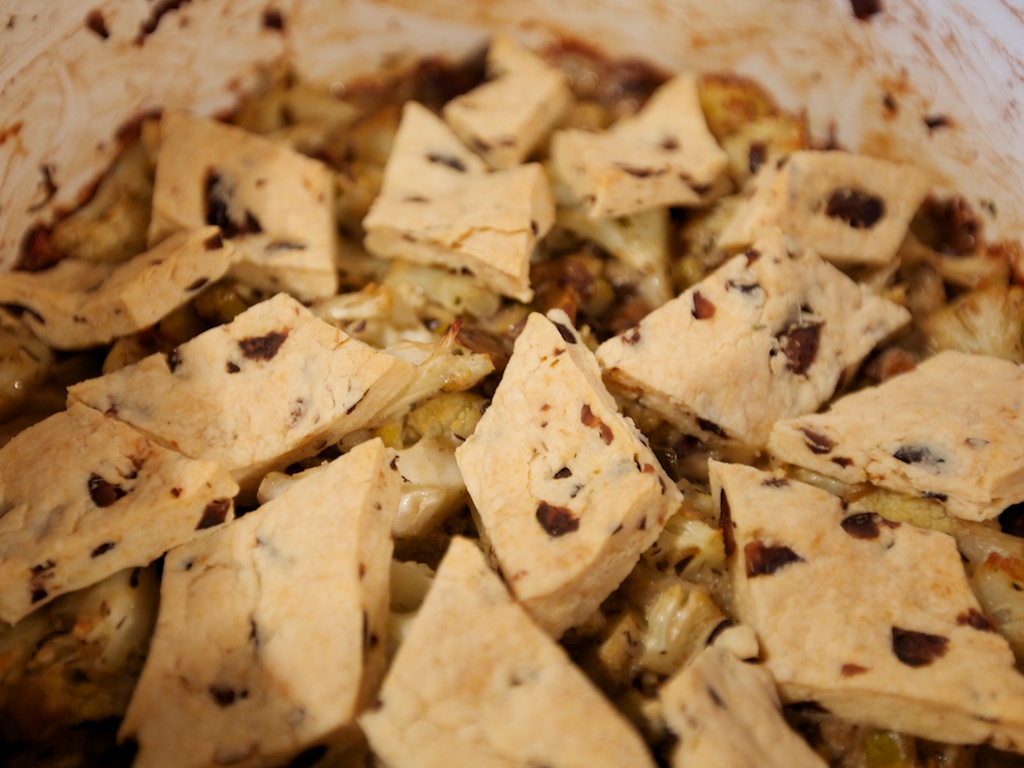 Today was a beautiful grey day here in Los Angeles. While we didn't have much of a summer, I'm ecstatic about the arrival of fall. Why? Because fall is the best. The best time to get baking away. And of course Halloween is just around the corner. I can't contain my excitement.
With Labor day off, I wanted to spend some time in the kitchen. I made the Cauliflower and Mushroom Pot Pie from Veganomicon. This is the perfect recipe for the transition from summer to fall.
This pot pie is  full of fresh fragrant vegetables with a good dose of spices. While the pot pie is leaning towards the heartiness of fall, the vegetables still have a hint of summer.
Check out all that cauliflower. This pie is packed with it. It cooks down to a soft and insanely delicious treat. It meshes greatly with the mushroom and other veggies.
The pie is topped with a biscuit like olive crust. The savory crust is salty and crunchy and a nice contrast to the soft veggies; all in all, wonderfully balanced. While this pot pie is fairly large, Shawn and I were able to finish it off in one sitting. It's that good, and not overly filling.
Ok, now back to that giveaway. I couldn't have made this pot pie without the help of my Dutch oven. Well I guess I could have but it wouldn't have been nearly as simple. But let's not kid around, these guys aren't cheap. Cookware.com has offered to give a $70 gift card to one lucky reader (which doesn't quite pay for a dutch oven, but would definitely make one affordable).  The great thing is that you can buy anything on their site…or any of their affiliated sites, like AllModern.com or 200 other sites. That's a lot of options.
All you have to do is comment on this post before midnight on September 13th. If you want another chance to win, follow me on twitter (and make sure to mention it in your comment). I'll pick a winner at random when the giveaway closes. Good luck!
Update
And we have a winner! Congratulations to Meghan! She's gonna get to go on a fancy shopping spree. Yay!
Just a quick little update with a recipe for these amazing individual pot pies. They're so yummy, so easy and darn cute too. I could probably eat them for every meal  (I totally had one for lunch and one for dinner today). This is the sort of thing where you could add pretty much any vegetable your heart desired and they would still come out well. This version is the clean out the freezer edition.
These pies are savory and rewarding. They're not too big so it would be great to serve with some greens or fresh bread. They have a full flavor without being too heavy. I used a lot of corn and carrots so it was fairly sweet but was offset by the saltiness of the seitan. Also, just for the record, this was my most successful batch of homemade seitan of record.
Seitan Pot Pie
makes 4 servings
1/2 onion, chopped
1 1/2 Tbsp Safflower oil
2 cups mixed vegetables frozen or fresh (corn, peas, edamame, carrots etc.)
1 1/2 cups chopped seitan
2 cups vegetable broth
2 Tbsp flour
1 package vegan puff pastry
First and foremost, take your puff pastry out of the freezer to defrost. It can take up to 40 minutes, so be patient. It does not need to be completely soft, but rather just pliable enough to unfold and cut. For me this is the hardest part, even though technically it is the easiest because you literally just have to do nothing. I've found a number of vegan puff pastries, both generic and healthy, so just make sure you check the label.
Next, heat the oil in a medium sauce pan and add the onions. Sautee on medium until they are soft and lightly browned.
Preheat the oven to 400°
At this point, add your vegetables. If you are using frozen ones, it's fine if they aren't defrosted. Pour in the vegetable broth and bring to a boil. Let simmer for about 10 minutes at which point the vegetable should be tender.
Add in the seitan and flour and stir thoroughly. Continue to stir for a few more minutes to let thicken. Spoon the filling into individual pie dishes.
Now, assuming your puff pastry has defrosted, it's now time to cut out the tops. Unfold the pastry onto a flat surface and cut out circles slightly smaller than your pie dishes. Simply lay the circle on top of the filling. Bake for 12-15 minutes or until golden brown.
Let cool just enough to eat and serve.
While I made individual servings, you can easily make one single pie, the small ones are just a bit more fun.