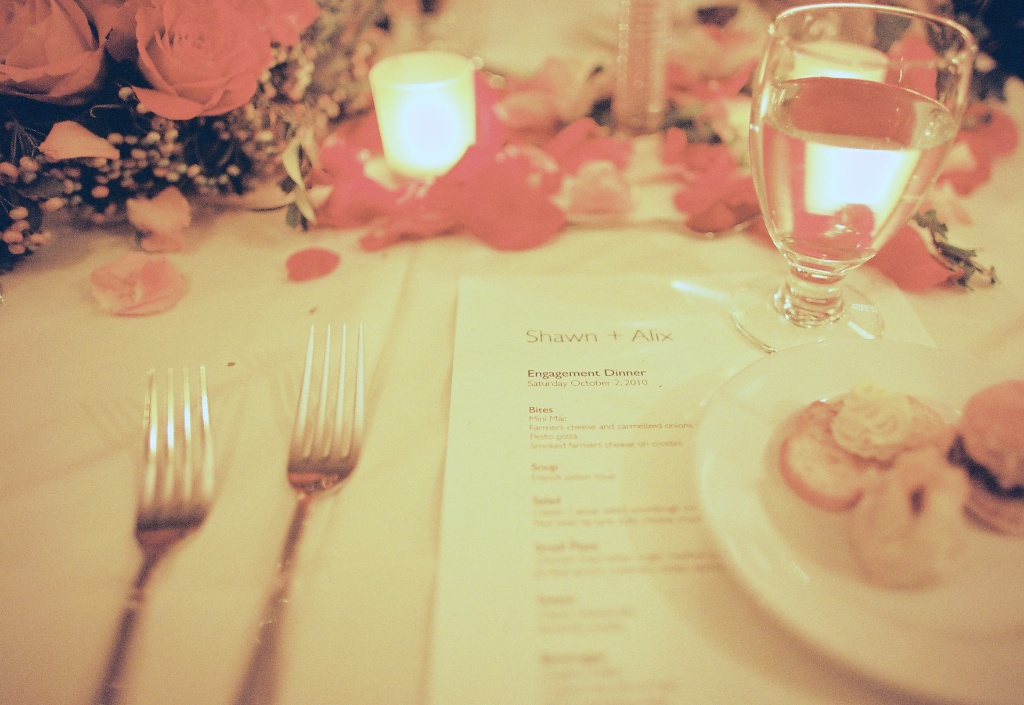 It's been a crazy weekend. The Brainwashed Love screening was Friday. It was such an amazing experience. The theater was packed and we got such good responses from everyone. So exciting! More about that later though…
Since most of Shawn's family lives out of state, we thought we'd make the weekend a double feature and have our engagement party on Saturday night. Oh the joy of throwing a bunch of people who don't know each other together in a room over food. Not to mention, hoping that the vegan meal you serve a bunch of non-vegans will convince them that the wedding food is going to be awesome as well.
Luckily, we had a secret weapon…Madeleine Bistro. We chose the most gourmet of vegan restaurants in Los Angeles as the venue for our dinner. It was outstanding and everyone was more than impressed.
We started with a selection of appetizers. I tried them all. They all were awesome. They included the mini mac, farmers cheese and caramelized onions in filo, pesto pizza and smoked farmers cheese on crostini. Oh man.
I just realized how hard to write this post is going to be. This food was so good. I'm salivating.
Each was a perfect little burst of flavor and taste of what was to come. I was particularly impressed with the farmers cheese, which was smoky, rich and left me wanting more and more.
I think the big hit of the bunch was the mini mac. A cute, bite sized burger with all the flavors of the full size version.
The next course was a french onion soup. One of my favorite soups that it so hard to find vegan. I loved the thick bread soaked in the savory soup.
We were lucky to have gorgeous flower arrangements made by Shawn's uncle, Gordon. He showed up to the restaurant and surprised us by decorating the tables with these lovely flowers and candle before we arrived. It looked amazing and really made the dinner just that much more special.
On to the next course. We had a choice of either the red beet tartare or a ceasar salad for our guests. Both Shawn and I had the red beet tartare. I can't believe I haven't ordered this off the menu before. It was SO good. The beets were sweet,  magically creamy and perfectly matched with the crispy croquette. Even the oil and vinegar drizzle on the plate was superb.
But wait…there's more! For the next course, we again had a choice of two items. Shawn ordered the chicken fried seitan with rustic mashed potatoes, pan gravy and vegetable medley. I'm pretty sure Madeleine bistro makes the best seitan ever. Especially the chicken fried seitan. It's simultaneously crunchy and moist. It's like the perfect southern meal, made vegan.
I went for something new to me, the grilled lemon rosemary seitan with a savory crepe and black kale. Again, the seitan was fantastic. It had a light sauce and was so juicy. The crepe was mind blowing. I'm not even kidding. Filled with asparagus and a sort of cheesy filling, it was unlike anything I've tried anywhere else.
Finally on to dessert. I was so full at this point (but pleasantly full, mind you). Shawn had the cheesecake.
I went for the brownie sundae. It was everything I could have dreamed for in a dessert. Chewy, chocolately brownie with sweet ice cream and a decadent fudge sauce and a touch of fruit sauce. Loved it. So much.
We made it! Stuffed and happy and families introduced! Success!
It was really a special night for us and I'm so glad that we were able to impress our guests with such wonderful food. A few family members admitted that they had backup plans if they didn't like the ominous vegan food, but in the same breath told us they loved everything they had. I love being able to show people that vegan food can really be wonderful and delicious and break through any misgivings they might have.
Just a quick little update with a recipe for these amazing individual pot pies. They're so yummy, so easy and darn cute too. I could probably eat them for every meal  (I totally had one for lunch and one for dinner today). This is the sort of thing where you could add pretty much any vegetable your heart desired and they would still come out well. This version is the clean out the freezer edition.
These pies are savory and rewarding. They're not too big so it would be great to serve with some greens or fresh bread. They have a full flavor without being too heavy. I used a lot of corn and carrots so it was fairly sweet but was offset by the saltiness of the seitan. Also, just for the record, this was my most successful batch of homemade seitan of record.
Seitan Pot Pie
makes 4 servings
1/2 onion, chopped
1 1/2 Tbsp Safflower oil
2 cups mixed vegetables frozen or fresh (corn, peas, edamame, carrots etc.)
1 1/2 cups chopped seitan
2 cups vegetable broth
2 Tbsp flour
1 package vegan puff pastry
First and foremost, take your puff pastry out of the freezer to defrost. It can take up to 40 minutes, so be patient. It does not need to be completely soft, but rather just pliable enough to unfold and cut. For me this is the hardest part, even though technically it is the easiest because you literally just have to do nothing. I've found a number of vegan puff pastries, both generic and healthy, so just make sure you check the label.
Next, heat the oil in a medium sauce pan and add the onions. Sautee on medium until they are soft and lightly browned.
Preheat the oven to 400°
At this point, add your vegetables. If you are using frozen ones, it's fine if they aren't defrosted. Pour in the vegetable broth and bring to a boil. Let simmer for about 10 minutes at which point the vegetable should be tender.
Add in the seitan and flour and stir thoroughly. Continue to stir for a few more minutes to let thicken. Spoon the filling into individual pie dishes.
Now, assuming your puff pastry has defrosted, it's now time to cut out the tops. Unfold the pastry onto a flat surface and cut out circles slightly smaller than your pie dishes. Simply lay the circle on top of the filling. Bake for 12-15 minutes or until golden brown.
Let cool just enough to eat and serve.
While I made individual servings, you can easily make one single pie, the small ones are just a bit more fun.
This Thanksgiving was all about stuffing. Shawn and I made probably about 20 servings worth of stuffing which has lasted us for days. We both spent the whole day in the kitchen with our various projects. Despite the potato peel disaster of 2008 everything turned out really well.Instead of Tofurky, I made a version of the Seitan Roulade from
Vegan Yum Yum
. I filled it with apple cranberry stuffing (more stuffing!) that made it taste even better a day later. The fruit flavors seeped into the seitan after being refrigerated. Although it probably would have been prettier cut into smaller pieces, it was kind of fun to eat "caterpillars" for Thanksgiving.
Shawn made a monster batch of mashed potatoes that further tested the abilities of the new mixer. Of course they turned out smooth and delicious. I also made my first apple pie. I made the crust from scratch, which was slightly terrifying. Unfortunately I decided to bake it in our small oven (yes we have two) and ended up with a slightly burnt top crust. It still tasted really good, the filling was the perfect consistency and sweetness, and the bottom crust was not bad at all, but it wasn't quite photo material. I can't wait to try another.

I also got a new cupcake courier, and a good deal on it no less. I love this thing. I previously had a smaller carrier that carried 24 cupcakes but was always irritated that half the holders were too shallow and the other half were too deep. The new one holds 36 cupcakes securely for travel. It's great. So here it is on it's first delivery filled with red velvet, pumpkin spice and vanilla/chocolate cupcakes (from the top).
Hope everyone else had a great turkey-free Thanksgiving.