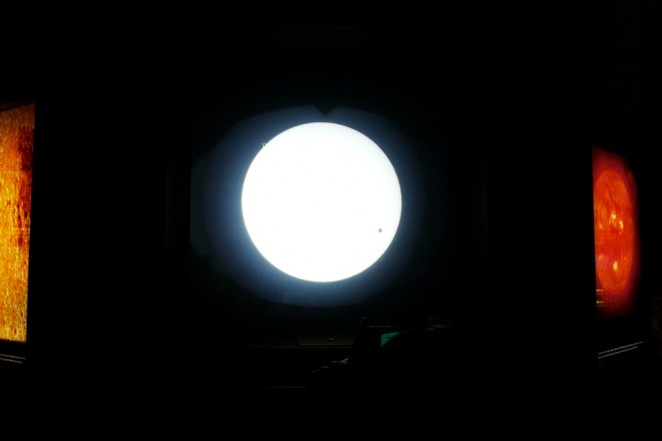 Yesterday was the transit of Venus in front of the sun, and if you missed it, you really missed it as the next transit won't happen until 2117. Los Angeles is notoriously bad for many celestial events, since most are seen at night and we have awful light pollution. For once, with this daylight occurrence, we had prime viewing conditions and I knew I could not miss it. I headed up to the Griffith Observatory before sunset, with countless other people, to see the tiny planet cross the surface of the sun.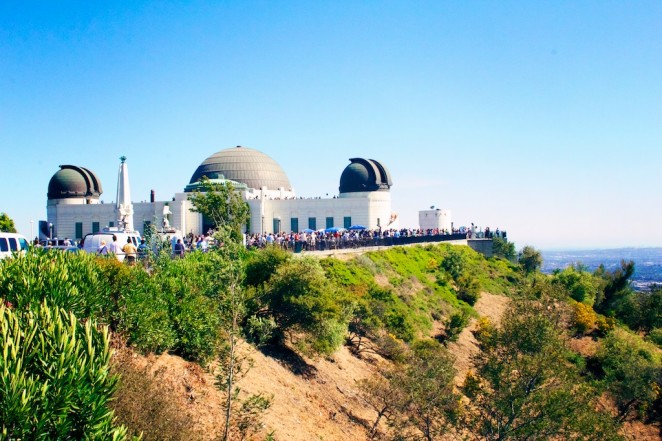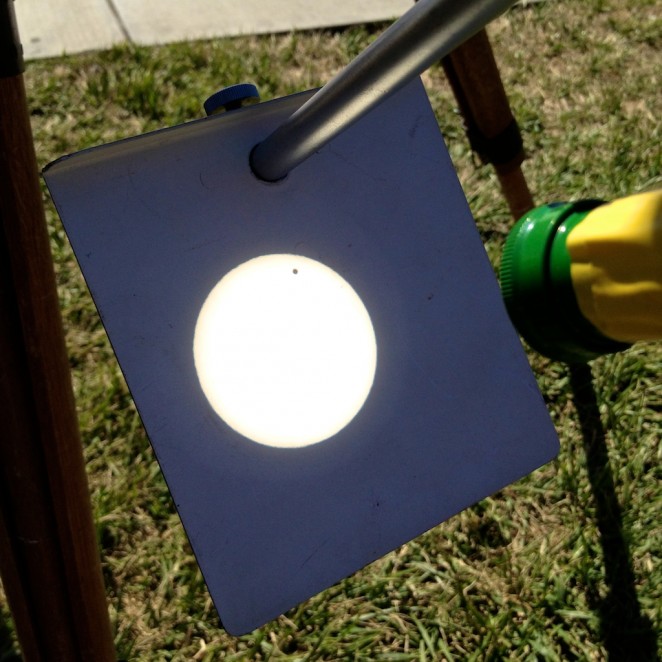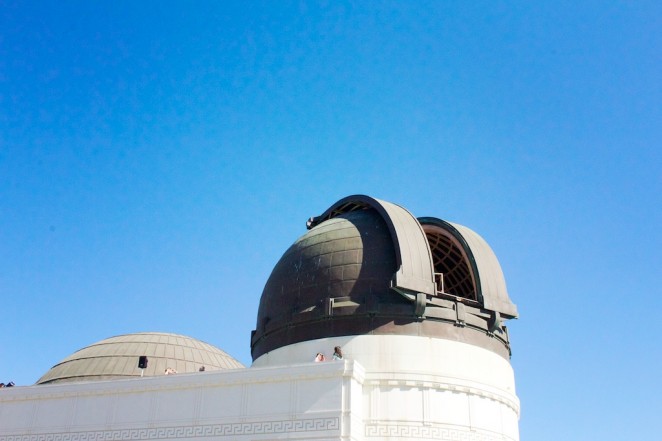 I have always been fascinated by space; the complete unknown held in it's distance and intangible beauty. In another life, one in which I was better at physics, I could easily see myself studying the planets. The experience of seeing this tiny dot cross in front of a glowing orb affected me intensely. Just a little dot, really a planet nearly the size of our own, traveling in front of the all powerful sun. The magnitude is difficult to put into words. Instead I'll recommend that you watch Melancholia, Tree of Life and 2001:A Space Odyssey for maybe a glimpse into what I'm talking about.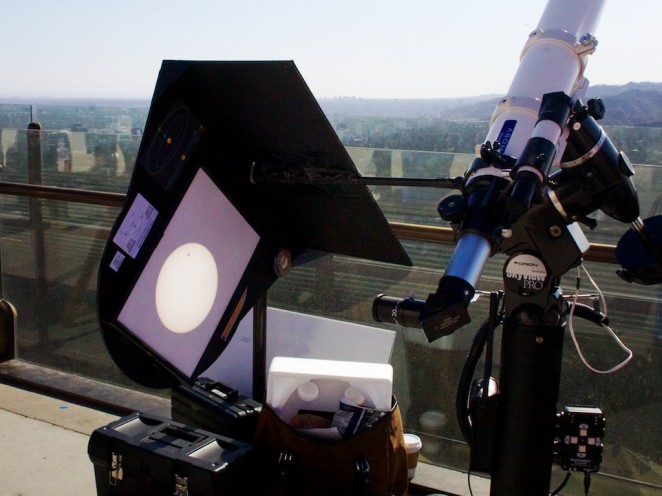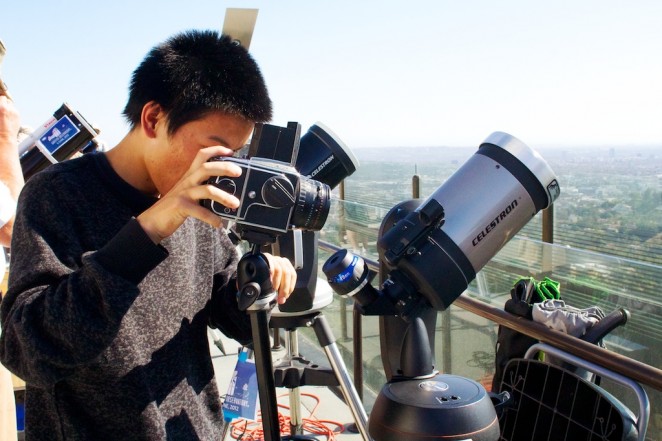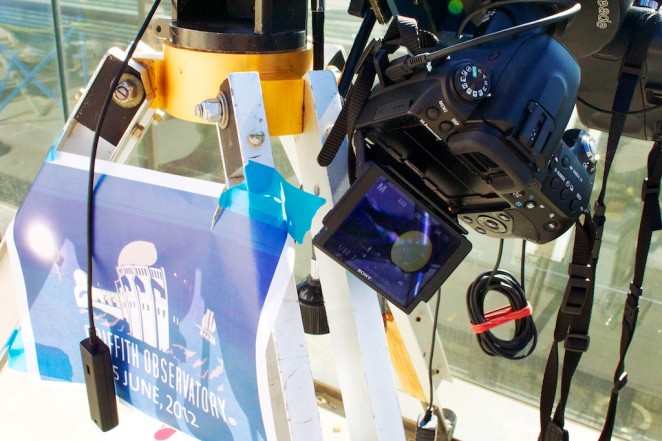 There was also something great about congregating with all these other people to see it. Many of the telescopes that were set up for viewing were brought by friends of the observatory. I have so much appreciation for these people who sat out in the sun and shared their equipment with the masses so that everyone could see. I loved seeing all the various telescopes and assorted ways of capturing the event. The most astounding view for me was a binocular telescope that allowed you to see a three dimensional image of the sun in excruciating detail.
I shall end this with this stunning video of the entire transit. Were you able to see it?
Hello my dears, I've been gone a bit. Did you miss me? As I mentioned before Shawn and I spent the majority of last week at AFI Fest. We saw over 14 films and a handful of shorts. It was a transformative experience for both of us. Even though we were still here in Los Angeles, we were transported to the dream world of cinema for a week. We saw by far some of the best films I've seen all year and in the theater surrounded by people who love film.
It was inspiring to say the least to be able to see such touching films with honest and creative storytelling. I feel so lucky to have been there. The coolest thing was that the whole thing was free and open to the public. While some screenings, like the gala events, were harder to get into, nearly everything was easy for the public to see.
We did manage to get tickets to the gala screening of Shame shown in the majestic Grauman's Chinese Theatre (where Shawn worked as a projectionist back in the day). It was touching to see the director, Steve McQueen, nervously repeat how big the theatre was. As the movie started, there was murmur of crunching popcorn and it hit me how important it is to see movies in the theater with an audience on a gigantic screen. There's something powerful about seeing a film with others, something about experiencing it in a group that is untouchable and important.
The whole experience really lit a fire in my heart to be true to my love of film in whatever form that may take. And I have some ideas.
Over the next week I want to share with you some of the films that I saw that I believe are not to be missed. I'm not here to critique them, I just want to give some attention to the ones I thought were truly amazing.
To start, I wanted to show you my favorite short film from the selection we saw…
The Voyagers by Penny Lane is a beautiful piece about space and eternity and love and the unknown. The film is constructed mostly of amazing stock footage from NASA overlaid with a narration by Penny Lane. I found it captivating and touching. It has the perfect balance of beauty, science and romance that makes me swoon. Lucky for you, you can watch it above. I hope you love it as much as I did.