Just a quick update to let all you vegans know about some cool upcoming events that you won't want to miss.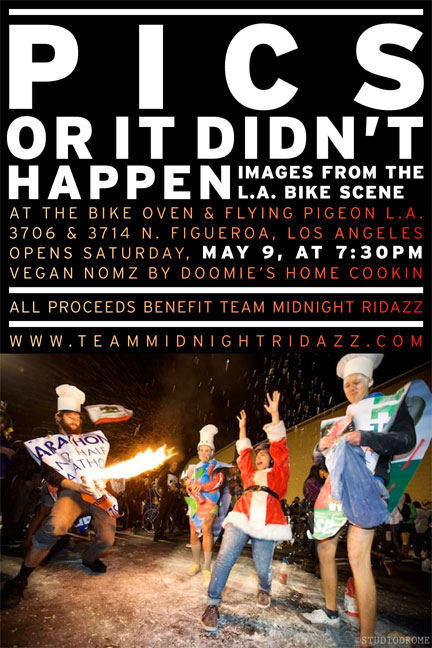 First of all, if you've been missing the tasty decadence that was Doomie's Home Cookin' you have a chance this Saturday to bask in the glory days. Team Midnight Ridazz is hosting a photo show to raise money for Aids Life Cycle. The show will feature photos from Los Angeles artists (including my favorite Studiodrome) documenting local bike culture. I don't know the entire roster but I know a few of the associated artists have really amazing photographs and they'll be selling for dirt cheap. Not to mention, it's all for a good cause. Besides that though, DOOMIE'S will be catering the event, so you can come and get a taste of their food if you never had the chance or just miss it like crazy.

Also, this Sunday, The Silent Movie Theater is having a rummage and bake sale. From their website:
Sunday, May 10th, from noon-5pm, is our First Annual Cinefamily Rummage and Bake Sale, a wonderful opportunity for all of you to come by and sift through (and purchase!) the various relics and oddities that have been cluttering the theater's hallways, stockrooms, and storage spaces since we opened. Items range from the typical (audio and film equipment) to the quaint (vintage books and posters) to the NSFW (seriously, I can't even print it here). Come for the delicious treats, stay to pick out something special from our magical stockpile of weirdness. You might even find something for your mom (she mentioned you don't call enough).
Besides the fact that this is a really cool place and I'm sure they're going to have amazing things for sale, there will be cupcakes from Vegan Bake Sale for you to enjoy while you browse. The Silent Movie Theater is one of my favorite theaters in Los Angeles and has some really fantastic screenings. This theater is one of the few places you can see rare films in amazing condition and obscurities that will blow your mind. Despite the name, not all the movies are silent, but they do have a handful of those as well. They're also a non-profit so all the proceeds go to obtaining even more awesome films to share. If you can't make it to this sale, you should still check out the theater if you have a chance.
The Silent Movie Theater is located at 611 N Fairfax Avenue, Los Angeles, 90036
Anyway, I'll be there! You should be there! We should all be there! See you this weekend.