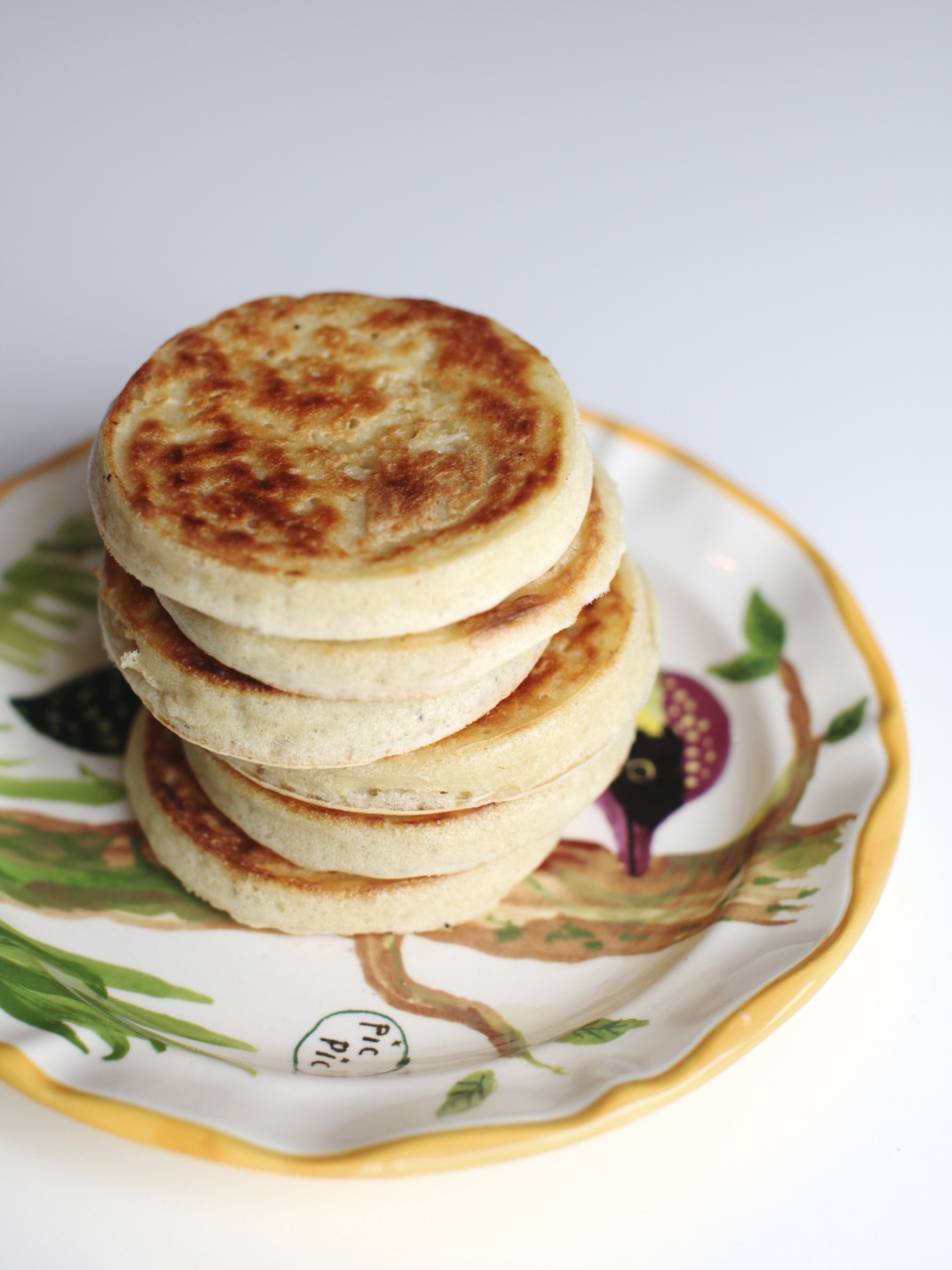 Somehow I became obsessed with the idea of making crumpets. It may have had something to do with going to see Alice in Wonderland. I had to have them though, despite possibly never having them before in my life. Oh what I've been missing. They' make an amazing breakfast or afternoon tea snack. Crispy on the outside and soft and moist in the middle, they're like english muffins and pancakes had a baby. And perfect with a bit of earth balance and jam. Now you can make them for yourself.
Vegan Crumpets 1 3/4 cups all purpose flour 1 rounded tsp yeast 1/2 tsp baking powder 1/2 tsp salt 3/4 cup soy milk, room temperature 1/2 cup water, room temperature 1 Tbsp Earth Balance, melted
Mix all ingredients together in a bowl until there are no lumps. If you're using a stand mixer it will take a minute or two with the paddle attachment. Cover and set aside in a warm place so that it can rise. It should take about an hour, and you'll be able to see a bunch of bubbles popping to the surface.
When your batter is looking good, you'll want to head up a griddle or pan. It's best to use a medium low heat so that they can cook all the way through without burning.
Grease two crumpet rings and place them on your pan, making sure they're flat. Scoop or pour about a quarter cup of the batter into the rings on the pan.
After about five minutes you'll see the edges begin to firm up. You can then gently remove the rings using tongs or an oven mitt.
They should hold their shape. Let them cook for a minute more without the rings.
Flip them over and let the other side cook through, another 5 minutes or so. That's it! Eat them up! Quick while they're still warm!