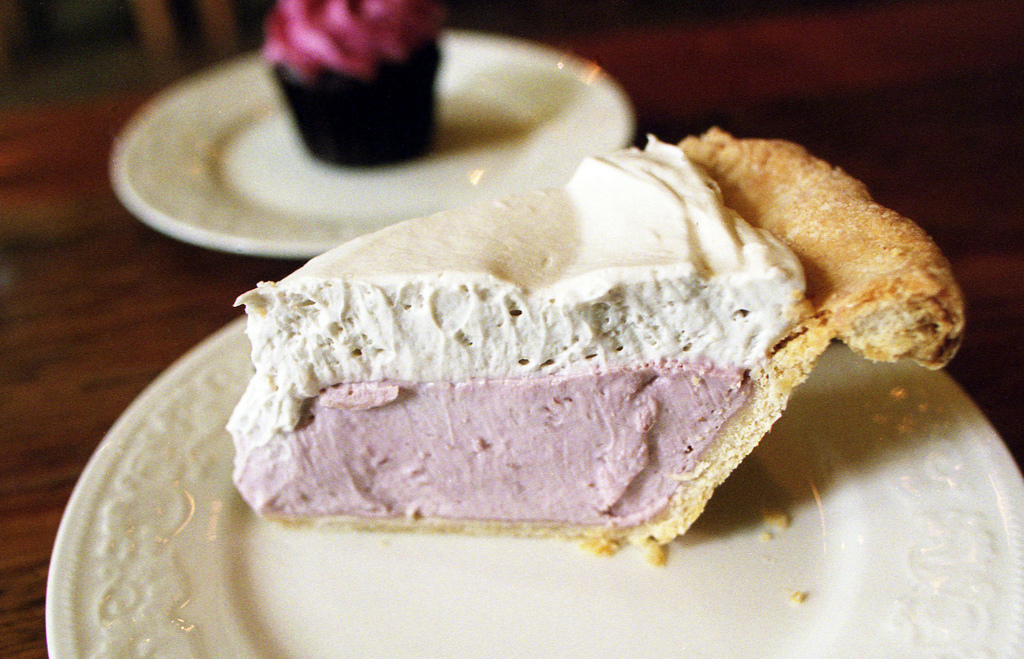 In the four days Shawn and I spent in Portland, I ate more food than I ever thought possible. With so many vegan restaurants, it's not even possible to try everything, but we were on a mission to test as much as we could. One of the highlights was being able to visit some completely vegan bakeries which Los Angeles is sorely missing. The most amazing treat that we tried, I believe was the raspberry coconut cream pie from Back to Eden. I don't even like coconut, but oh my god, this pie was heavenly. Fluffy and sweet with the perfect crust.
Back to Eden was basically the last place we went before we headed for the airport. After getting numerous recommendations, we had to go there before we left. I tried a chocolate marionberry cupcake and also snagged some marionberry bread for the plane. I don't even know what marionberry is but it is damn good. The fruity frosting on the cupcake was rich and amazing. The marionberry bread was moist with just the right amount of sweetness.
They had a case full of delicious treats including whoopie pies, tartlettes, chocolates and other savory items like quiches. The whole place is adorable. Oh yeah, and they have soft serve.
Of course we visited Sweetpea Baking Company. Actually we visited quite a few times.  Everything we tried was super good. I loved the cute little zucchini cake. We also had cookies and donuts and…
Loved how cute these pride cupcakes were. They were completely sold out on our second visit. We really tried to make it for their Sunday brunch but couldn't get there in time. Not to mention, the idea of eating a huge brunch was a little terrifying considering all the food we had the day before.
We stopped in Saint Cupcake Deluxe just to check out the selection and were happy to find a handful of vegan flavors. This shop was super sweet and not only had cupcakes, but also had a lot of sweet cupcakes supplies. It was also attached to Noun, a shop where I wanted to buy basically everything.
It's not a trip to Portland without Voodoo donuts. Do I really have to say anything about these guys? So good. While I usually prefer risen donuts to cake donuts, the chick-o-stick donut is a must have. It may have been my favorite. I'll probably have to try them again to see.
Wow, that's a lot of dessert. That's not even everything. I drank a lot of coffee to counteract the sweetness. That makes sense, right? This soy latte from Stumptown was one of the best I've ever had. I mean, Intelligentsia good. Damn I want one now.