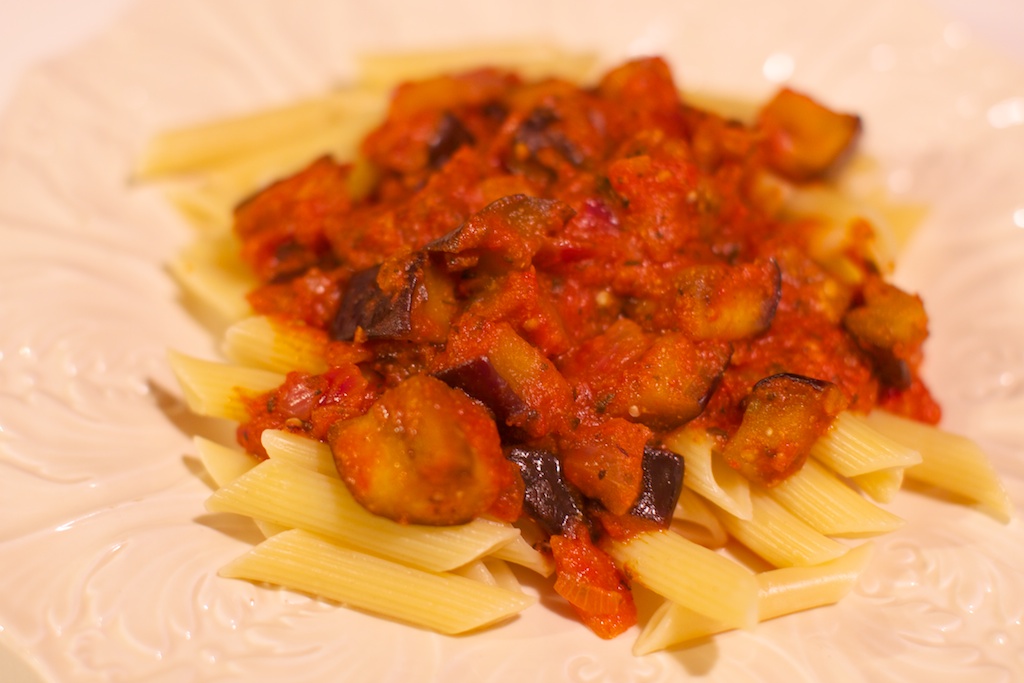 Half way through today I realized that it's my veganniversary. I've been vegan for 5 years now. I'm pretty excited about it. I'm looking forward to a time when I've been vegan longer than not.
I thought I'd share this little recipe that I made the other night. It's inspired by eggplant cacciatore, but there aren't any bell peppers. So I'm not sure what to call it, but it's delicious and you should make it. Maybe I'll call it Super Yummy Eggplant Pasta Thing. What do you think?
Anyway, here's the recipe, maybe you can come up with a name.
Super Yummy Eggplant Pasta Thing
1 eggplant, chopped into bite size cubes
1 red onion, chopped
1/2 small head of garlic, minced
1 tsp oregano
1/2 tsp thyme
1/2 tsp salt
1/4 cup nutritional yeast
1/4 tsp pepper
1 26 oz jar of marinara sauce
pasta of your choice
olive oil
Begin with the eggplant by salting the pieces and letting them sweat while you prepare the other ingredients.
Put on a large pot of salted water to boil for your pasta. Cook according to the instructions for your particular pasta. I only recommend doing this first since I made an entire package of penne and the water took forever to boil on my spare burner.
Heat about 1 Tbsp of olive oil in a large sauce pan over medium heat. Once the oil has warmed, add in the onion. Saute until it has softened. Add in the garlic and stir until it becomes fragrant.
Add the marinara and spices into the pan, stiring together. Reduce heat and let simmer. A note here, my marinara had basil already in it, but if yours doesn't you may want to add 1/2 tsp.
Rinse your eggplant of salt and dry. It doesn't have to be bone dry, just get most of the water droplets off.
While the sauce is simmering, in another pan, heat some more oil and add in the eggplant. Saute until the eggplant is slightly browned and softened.
Combine the sauce and the eggplant in whichever has the larger pan. Continue to simmer for about 10 minutes. That's it!
You can either mix with all the pasta or serve as a chunky sauce on top.