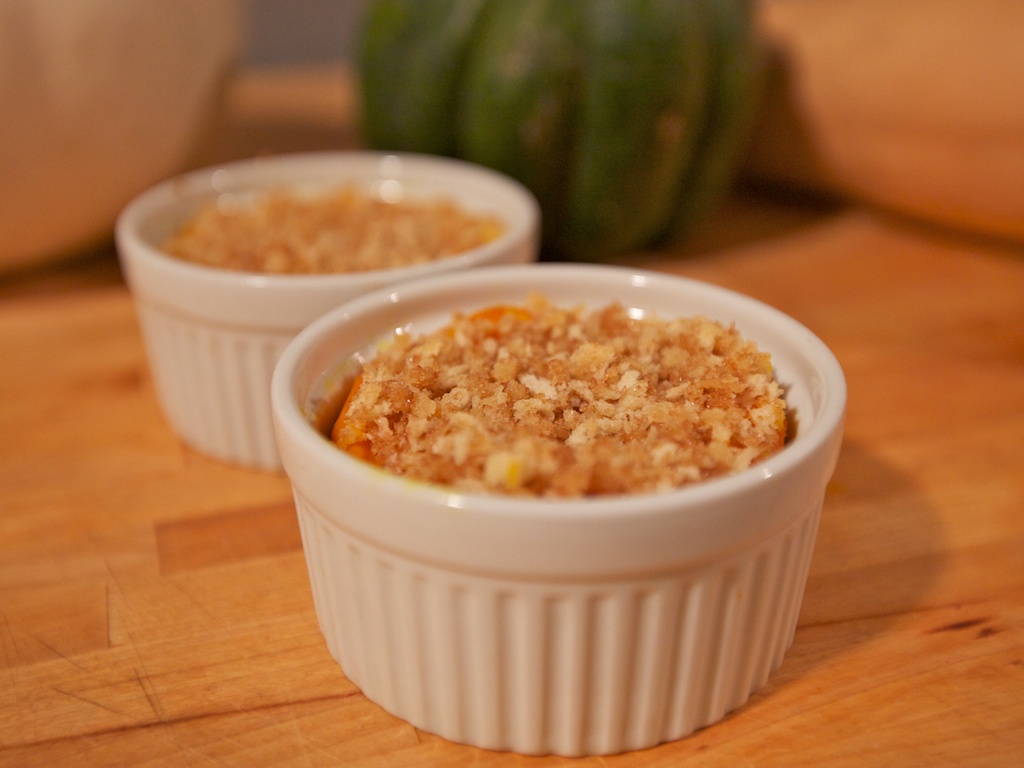 I was looking for some inspiration for new things to try for Thanksgiving this year, so I asked my friends on twitter for some ideas. There were a few things that peaked my interest, but the one that caught my attention was the suggestion of a carrot souffle.  Not only had I never heard of such a thing, I was instantly determined to make one.
I wasn't sure a vegan souffle would puff up and have those wonderful qualities that make a souffle what it is, but this sure did. It was a beautiful thing.
The recipe I based this on was a bit sweeter than I was interested in, so I cut down the  sugar a fair amount. While it was lovely this way, you might want to forgo the sugar in the topping altogether and instead use some savory seasonings. I would go as far as to say that one might not even need the crumb top, but it's also nice to have the crunch.
Also, I should note, that even though this is a recipe with carrots as it's main ingredient, it isn't the healthiest thing ever. But who cares? Make some as a side dish for Thanksgiving. Your guests will love it, I'm sure. And yeah, it's got carrots!
Vegan Carrot Souffle
adapted from here
Crumb topping
1/2 cup bread crumbs
2 Tbsp brown sugar
2 tsp Earth Balance, softened
Souffle
1 cup firm tofu
1 lb carrots, cooked until soft (I boiled them)
1/4 cup apple cider
1 Tbsp sugar
3 Tbsp flour
1 tsp vanilla
1/2 cup melted Earth Balance
1/4 tsp nutmeg
1/4 tsp salt
Clean, cut and cook your carrots. They should be soft but don't need to be mushy.
Preheat the oven to 350°
Combine the bread crumbs, brown sugar and Earth Balance in a bowl using a fork. Set aside.
Crumble your tofu into a food processor and mix until it is fairly smooth, scraping down the sides when necessary.
Add the carrots to the food processor and blend together until the mixture is smooth, light and fluffy.
Add in the remaining ingredients for the souffle and continue to blend until combined.
Pour into souffle dishes, being mindful not to overfill as they will puff up a they bake.
Bake for 40 minutes.
Remove the dishes from the oven and sprinkle with the crumb topping. Bake for 8 minutes, turning on the broiler for the last minute or so to brown.
Let cool for at least 10 minutes before serving.