Onto a rather controversial topic…wedding cake.
From the start, I've said that I'm going to make it myself. At some point I made a concession that we'd order a small wedding cake from someone and then I'd make a few additional cakes. Let's be honest though, I really just want to do it myself. Generally speaking, don't people hate wedding cakes anyway? If we're gonna serve cake, it better be a good cake, and I make a damn good cake.
My plan is to make a handful of cakes rather than one giant one. Then we'll have a bunch of different flavors and I don't have to worry about tiers. Here is  some of the inspiration I've found.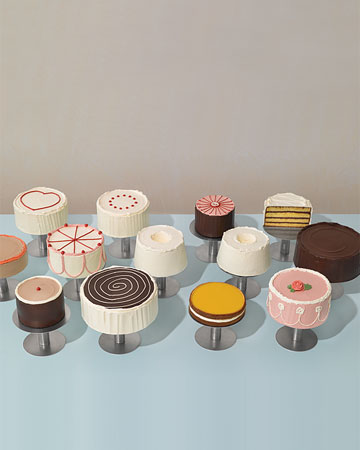 I totally fell for these art deco cakes courtesy of Martha Stewart (of course!).  Simple but varied designs with limited color palate. I love that all the cakes are different sizes.
Seriously, who doesn't like a choice in cake? Check out this pound cake table from Once Wed. Gorgeous!
I was also thinking something like these rustic cakes. The idea of not having to pipe anything seems pretty appealing. I'm also into the fact that they're kind of tall. Kind of into the idea of tall cakes.
I'm really excited about the whole project. I am looking forward to spending a day baking without having to worry about all the other wedding stuff (although I'm sure I will anyway).
Now we just need to decide what flavors…and how many…