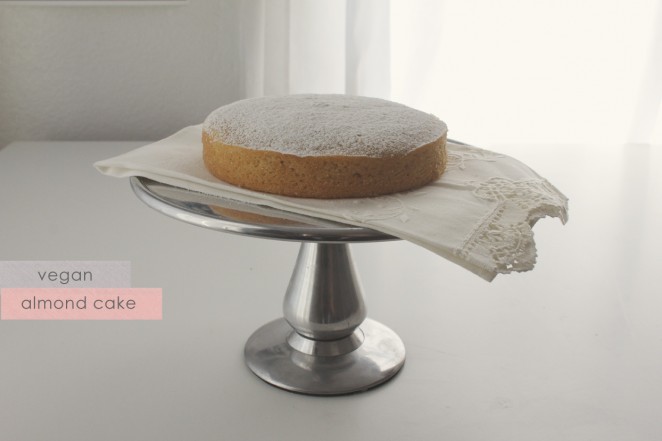 I originally shared this recipe as a guest post on the wonderful Glitter and Ganache, but thought I should share it with you all in case you missed it. Mainly I just love this cake and think about eating it all the time. It's a great summer recipe because it pairs well with fruit and coconut cream, but you could also have it with simple powdered sugar or frosting and chocolate ganache.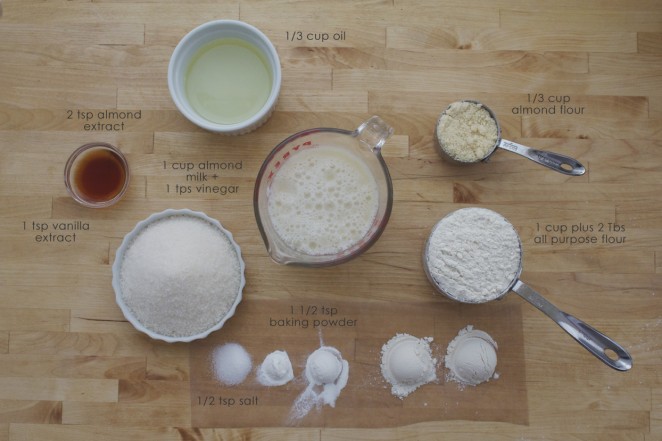 Vegan Almond Cake
1 cup almond milk
1 tsp vinegar (apple cider or white)
1 cup plus 2 Tbs all purpose flour
1/3 cup almond meal
1 1/2 tsp baking powder
1/2 tsp salt
3/4 cup sugar
1/3 cup vegetable oil
1 tsp vanilla extract
2 tsp almond extract
Preheat your oven to 350 degrees and grease and flour your cake pan. Whisk the vinegar into the almond milk and set aside. In a medium bowl, whisk together the flour, almond meal, baking powder and salt. In a separate bowl, combine the sugar, oil, extracts and almond milk mixture. Make a well in your dry ingredients and pour in the wet. Stir until just combined and only a few clumps remain. Pour into the prepared cake pan and cook for 30 – 35 minutes, or until the edges brown and pull away from the pan. Let sit for about 5 minutes before removing from pan and letting cool on a wire rack. Sprinkle with powdered sugar and enjoy!