Just a quick update to let all you vegans know about some cool upcoming events that you won't want to miss.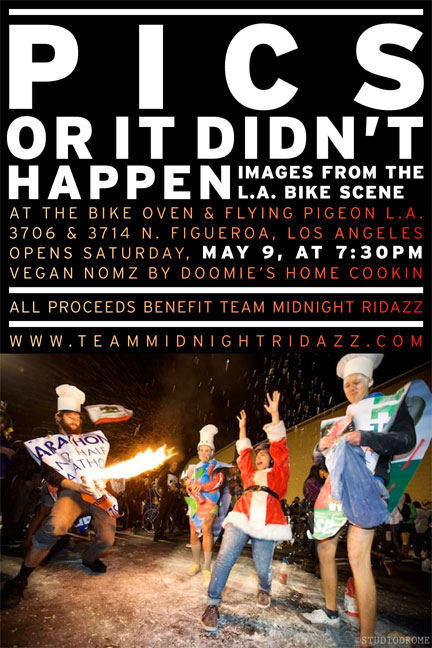 First of all, if you've been missing the tasty decadence that was Doomie's Home Cookin' you have a chance this Saturday to bask in the glory days. Team Midnight Ridazz is hosting a photo show to raise money for Aids Life Cycle. The show will feature photos from Los Angeles artists (including my favorite Studiodrome) documenting local bike culture. I don't know the entire roster but I know a few of the associated artists have really amazing photographs and they'll be selling for dirt cheap. Not to mention, it's all for a good cause. Besides that though, DOOMIE'S will be catering the event, so you can come and get a taste of their food if you never had the chance or just miss it like crazy.

Also, this Sunday, The Silent Movie Theater is having a rummage and bake sale. From their website:
Sunday, May 10th, from noon-5pm, is our First Annual Cinefamily Rummage and Bake Sale, a wonderful opportunity for all of you to come by and sift through (and purchase!) the various relics and oddities that have been cluttering the theater's hallways, stockrooms, and storage spaces since we opened. Items range from the typical (audio and film equipment) to the quaint (vintage books and posters) to the NSFW (seriously, I can't even print it here). Come for the delicious treats, stay to pick out something special from our magical stockpile of weirdness. You might even find something for your mom (she mentioned you don't call enough).
Besides the fact that this is a really cool place and I'm sure they're going to have amazing things for sale, there will be cupcakes from Vegan Bake Sale for you to enjoy while you browse. The Silent Movie Theater is one of my favorite theaters in Los Angeles and has some really fantastic screenings. This theater is one of the few places you can see rare films in amazing condition and obscurities that will blow your mind. Despite the name, not all the movies are silent, but they do have a handful of those as well. They're also a non-profit so all the proceeds go to obtaining even more awesome films to share. If you can't make it to this sale, you should still check out the theater if you have a chance.
The Silent Movie Theater is located at 611 N Fairfax Avenue, Los Angeles, 90036
Anyway, I'll be there! You should be there! We should all be there! See you this weekend.

I've devoted the past week to home renovation. This involves simple spring organization like cleaning out my closet as well as a lot of other projects that have been waiting for the right season. For one, I plastered and painted our bathroom which was quite an arduous task. Luckily, I was able to offset the toxic paint fumes and dust with a bit of time outdoors creating a balcony garden.
I'll be the first to admit that I am not at all gifted when it comes to growing things. The only plant that I've been able to keep alive thus far is a single stalk of lucky bamboo that has now traveled with me from my past four residences to my current place. On the other hand, I'm a firm believer that you can be good at pretty much anything if you practice, so I'm trying again and going all out with a very small vegetable and herb garden and a few succulents.
If all goes as planned, soon I will have heirloom tomatoes, strawberries and cayenne peppers grown fresh to add to dishes. I'm even more excited for the herbs as the basil was so fragrant, it took a great deal of willpower to not just eat it right then.
I came into possession of some recycled pots of various sizes and filled them with some succulents and small cacti. There are some really strange looking succulents, like the lithop, that are just so cool. I honestly don't even know what some of the plants I got were, but they look awesome. Also, some of the pots were extremely small so the tiny cacti worked out perfectly. I'm also particularly fond of an adorable little cacti with a name something like Red-headed Irish that has a few little clovers on the bottom.
Just a few hours spent planting and we now have our own garden oasis. Here's to hoping everything survives. I can't wait for the time when we have some real space to plant things.
I've also discovered the joy of baking mini-cheesecakes. I have been putting off trying these because of a lack of options for vegan graham crackers to use in the crust. I finally settled on some to try and went with a basic cheesecake recipe. I topped it off with an attempt at a vegan lemon jello. Unfortunately, even though it tasted amazing, the jello didn't solidify and it was really more of a lemon sauce.
Since the mini-cheesecakes are obviously much smaller than regular cheesecakes, I ended up only using half the recipe with another half left over to be made. I got a little experimental and made a spiced molassas cheesecakes which were yummy but didn't quite cut it for my standards. In any case, I will definitely be making more mini-cheesecakes as they are the perfect size for a little treat. They can be fancied up for special occasions or just eaten as a sweet little finger food. I predict mini-cheesecakes are gonna be the next cupcake.
This past weekend, Shawn and I went on a mini-road trip up to San Francisco with his sister, Amy. We packed some tofurky sandwiches and hit the road on Friday afternoon and arrived later that night. We were lucky enough to be hosted by Shawn and Amy's childhood friend Cristen and her husband Tim. I've been to San Francisco before but haven't had an opportunity to try out many of the the vegan eats around town. Before we left, we got some great recommendations from veg friends on where to try out. There were so many places to try, we were only able to hit up a few in the two days we were there.
The first place we checked out was Ike's Place for some vegan sandwiches. We had been warned about the lines but it was a beautiful day out and it didn't take too long to get our food. We ordered the vegan Meatless Mike, a sort of meatball sub and the vegan Eli Manning, a tofurky sandwich with garlic sauce, avocado, mushroom and soy cheese. I had been loading up on tofurky on the way up, so I was much more interested in the meatball sub, but the Eli Manning was really amazing. It's easy to make a decent sandwich but it's no small task to make a great sandwich. The flavors in the Eli Manning were perfectly balanced. It was not overloaded with toppings but had all the tastes you wanted in each bite. The bread was fresh and the whole thing was truly fantastic.
One of the places that we absolutely had to go to was MaggieMudd for vegan sundaes. While we frequent Scoops here in LA for amazing vegan ice cream, it's not the same as a sundae. Shawn got a decked out Tarmack lover with three scoops of chocolate and peanut butter ice cream and topped off with whipped cream, peanut butter and chocolate sauce and peanuts. I don't even know how he ate this whole thing, it was so huge. I went with a more traditional mini-waffle sundae. A waffle cone filled with chocolate mint cookie ice cream and topped with marshmallow sauce and whipped cream. It was super tasty and quite a treat. Everyone was craving more for the next day we were there. I'm glad it's in SF since it's not something I would want to have all the time, but it's a great once in a while indulgence.
We also visited Weird Fish to test out the vegan fish and chips. The vegan fish is actually either batter fried tofu or seitan, which of course we tried both of. The seitan comes with a vegan tartar sauce while the tofu comes with a sweet and sour sauce. They both come on a bed of regular and sweet potato fries. The seitan was very flavorful and fresh and the tofu was super soft and moist. Both were great but the tofu was definitely the favorite. Again, while I really enjoyed trying out this place, it's not something I would want to get on a regular basis as one can only eat so much fried food. We did discover though that they do have vegan pancakes and breakfast options so I'm sure we'll be back to try those.
For me, one of the highlights was going to Rainbow Grocery. I was honestly mesmerized by the great amount of bulk foods and vegan options. There are some great grocery stores these days for vegans but Rainbow Grocery was really exciting. I wanted to buy everything! They seriously had everything you need. I restrained myself and only got some vegan raspberry flavored gelatin and chocolate drops. We tried some of the baked goods but I honestly couldn't even eat them. My vanilla cupcake tasted like a corn muffin.
On our last night we went out to dinner at Greens. While the restaurant is all vegetarian, they are able to make a number of the dishes vegan, and a few are already vegan. We tried a few different entrees and appetizers and everything was generally good. I wasn't particularly blown away and the prices were a bit much for the quality. I really enjoyed the appetizers we had, a carrot ginger soup and a greens and citrus salad. Shawn ordered the pea ravioli which was quite tasty and I had some vegetable skewers which were good, but nothing exciting. I think I had a case of simply ordering the wrong thing, as everyone else was extremely pleased with their meals. On the other hand, our waiter was so awful it was comical. He kept disappearing and forgetting about us. By the end of the night we were all laughing because we couldn't figure out what was wrong with him. Luckily we all had a sense of humor about it instead of getting too annoyed.
On our way home we decided to stop in Fresno and managed to find Au Lac Cafe. This vegetarian restaurant ended up being a big surprise. It was exciting enough to find someplace that wasn't fast food not too far off the freeway, but this place was super good. They had a relatively small menu, and it didn't seem like anything we hadn't had before. I ordered the peppered veggie fish, expecting something similar to what you might find at a Thai vegan restaurant in Los Angeles. On the contrary, the fish was not only super moist, but the pepper sauce had a unique, full flavor. Mixed with some soft rice and steamed veggies, not only was this dish delicious, it was filling and satisfying. These chunks of veggie fish were flaky and soft and I know I will be fantasizing about them the next time I order some veggie fish around here. There is no comparison between these and the veggie fish patties I'm used to.
Shawn ordered some garlic veggie chicken which was equally fantastic. Again, the veggie chicken strips were moist and with no un-savory chewiness that you sometimes get with fake meats. The garlic flavor was strong and delicious but not overpowering. Just writing about this I want to go back. Not everything on the menu was vegan but it clearly told you what was only vegetarian. They had some of the meats for sale in bulk but I was concerned about bringing the frozen food back when we still had quite a drive back home. Right now I'm really regretting that decision.
They also had a really awesome RV out back. I'm sort of in love with all the little animals painted on this thing, including that happy sheep you see up top. If you're ever in Fresno, I definitely recommend checking this place out.
As the weather warms up (at least here in Los Angeles), it means it's time to bring that grill that's been hibernating back into action. Grilling vegetables is one of my favorite ways to prepare them as you get the full  flavor of each veggie. It's also amazingly simple. Here are a few tips to making great grilled vegetables.
First, the most obvious thing is to pick fresh vegetables. Pay attention when you're at the market and you'll have much better results when you get home.
Next, I find that generally simple is best for the grill. Just wash your veggies, slice accordingly, brush with olive oil, sprinkle with salt and pepper and put on the grill. For asparagus, no need to cut the ends off, just bend and they should snap off. The portobellos above were marinated for about 20 minutes in olive oil, balsamic vinegar, salt and pepper.
For eggplant, once it's sliced, I recommend salting it to remove any bitterness. Just sprinkle salt on the slices and let sit until you see moisture on the surface, then wipe away the water with a towel. Repeat for the other side, then grill as usual.
Okay, now get ready, because I'm about to let you in on the recipe my all time favorite grilled appetizer. If you like mushrooms, you will love this. Take a few white mushrooms, wash and remove the stalks. Sprinkle the insides of each mushroom with a fair amount of salt, put directly onto the grill and cover. The salt pulls the natural moisture from the mushrooms into the center to make little mushroom juice shots. They are so amazing and simple I can't even tell you, you'll just have to try it.
Along with these veggies, Shawn and I finally tried out some vegan blue cheese. I will admit that I only tried this for the novelty factor considering I did not like blue cheese when I was a vegetarian. I was pleasantly surprised at how tasty it was. It was rich and flavorful and went amazingly well with the vegetables.
I can't wait till summer comes and more BBQ's will be in order.
Springtime means cute little creatures come out to play. Instead of filling the Easter baskets entirely with candy, although there was a great deal of that as well, a few little critters snuck in. Plans were made to make a bunny cake and some mini-mango cheesecakes but each endeavor was vetoed as everyone had had their fill of sweets for quite a long time.
These little fluff balls were made fairly quickly and assembled even faster thanks to my trusted hot glue gun. In the end, these are even better than chocolate critters as they last much longer than the time it would take you to eat the candy. Not to mention they're adorable. I also made some little origami bunnies and furry bunny ears. Oh I think I would be happy making all things bunny forever.
Another very exciting thing is that I finally shelled out the money to buy myself a stainless steel bento box. Okay, it wasn't that much money, but I'd been holding out. I try to bring my lunch to work with me most of the time, but throwing a sandwich or leftovers in some tupperware just isn't that inspiring. Having an adorable metal bento box to put my food in, on the other hand, makes me want to fill it with delcious meals. It's rare that I make a meal thinking about having it for lunch the next day but I was excited to fill my new little lunch box with rice, toasted seaweed and teriyaki baked un-chicken. It tasted great and was that much better since I knew there wasn't any chemicals leaching into my food from a plastic container. Yay!