Once upon a time I thought I had found the way to make the best chocolate chip cookies ever but my quest for delicious cookies continued. The problem with my early attempts was that it relied heavily on refrigerating the dough overnight which just doesn't work for me. When I want cookies, I want them immediately. Not to mention, I found the results inconsistent, every batch coming out a little differently. I'll be the first to admit that cookies are not my forte, but that's really a result of me liking cookies more than any other treat, chocolate chip cookies especially. I just have no time for sub-par cookies in my life, so I generally wouldn't even try to make them if I didn't think the result was what I wanted.
Then this magical recipe entered my life. It's not only the easiest thing ever, but it also doesn't include any egg replacer that causes so many cookie mishaps. I messed around with this quite a lot but it is the simplest version that works the best.
There is a problem with these cookies though, you will not be able to stop eating them. They're crispy and amazing. When still warm, they have the perfect chewiness. These are my dream cookies.
Chocolate Chip Cookies
1/2 c Earth Balance
1/2 c brown sugar
1/3 c granulated sugar
2 Tbsp water
1 tsp vanilla
1 c flour
3/4 tsp baking soda
1/4 tsp salt
chocolate chips (I use about 6 oz)
Preheat oven to 300°
Mix EB and sugars with electric mixer until they are combined and have a sort of gelatinous, smooth texture. Add in the water and vanilla and mix until combined. In a separate bowl, mix together the flour, salt and baking soda. Mix the dry ingredients into the wet until you have a very sticky dough. Be careful not to over mix. Add in your chocolate chips. Spoon onto a cookie sheet in globs about the size of a tablespoon. They will spread out so don't worry about the shape.
Cook for 14 minutes. Make sure you let them cool for at least 5 minutes before moving to a cooling rack, or eating.
Enjoy!
Hi, my name is Alix and I'm a toast addict. You may think I'm joking when I say that but it is entirely true. I have had an unhealthy obsession with bread basically forever and toast has been a staple in my diet for years. If my day doesn't start with toast, it generally doesn't go right. When I get my hands on a fresh loaf of bread, I'm happier than a kid who got a pony for Christmas. This week, an unexpected trip to a not-so-local farmer's market provided me an amazing loaf of rustic Italian bread. It was a soft loaf, with a thick crust that wasn't too crunchy; the perfect thing for french toast.
I woke up already fantasizing about the delicious breakfast I was going to have when I realized that I had no tofu, a key ingredient for my usual French Toast recipe. Not to be detered, I brainstormed my own recipe. To my surprise, it was just as good as my usual. I can't take all the credit, as having fresh bread makes all the difference, but I will say this was simple and remarkably good.
Vegan French Toast
makes about 4 servings
1 cup vanilla soy milk
1 Tbsp Earth Balance, melted
1 Tbsp corn starch
2 Tbsp flour
1 tsp brown sugar
1/2 tsp cinnamon
1/4 tsp nutmeg
4-6 thick slices of your favorite bread
Whisk together all ingredients (except the bread) in a large bowl. Dip the bread in the liquid and let soak. Heat a bit of oil in pan on medium high. When the oil is hot, place the soaked bread in the pan and cook until the outside layer is slightly crisp. Flip carefully and cook the other side. Lower the heat slightly and cook the first side again to further brown the outside and make sure the inside isn't soggy. Repeat with the other side. Serve immediately with your favorite toppings.
Just a quick little update with a recipe for these amazing individual pot pies. They're so yummy, so easy and darn cute too. I could probably eat them for every meal  (I totally had one for lunch and one for dinner today). This is the sort of thing where you could add pretty much any vegetable your heart desired and they would still come out well. This version is the clean out the freezer edition.
These pies are savory and rewarding. They're not too big so it would be great to serve with some greens or fresh bread. They have a full flavor without being too heavy. I used a lot of corn and carrots so it was fairly sweet but was offset by the saltiness of the seitan. Also, just for the record, this was my most successful batch of homemade seitan of record.
Seitan Pot Pie
makes 4 servings
1/2 onion, chopped
1 1/2 Tbsp Safflower oil
2 cups mixed vegetables frozen or fresh (corn, peas, edamame, carrots etc.)
1 1/2 cups chopped seitan
2 cups vegetable broth
2 Tbsp flour
1 package vegan puff pastry
First and foremost, take your puff pastry out of the freezer to defrost. It can take up to 40 minutes, so be patient. It does not need to be completely soft, but rather just pliable enough to unfold and cut. For me this is the hardest part, even though technically it is the easiest because you literally just have to do nothing. I've found a number of vegan puff pastries, both generic and healthy, so just make sure you check the label.
Next, heat the oil in a medium sauce pan and add the onions. Sautee on medium until they are soft and lightly browned.
Preheat the oven to 400°
At this point, add your vegetables. If you are using frozen ones, it's fine if they aren't defrosted. Pour in the vegetable broth and bring to a boil. Let simmer for about 10 minutes at which point the vegetable should be tender.
Add in the seitan and flour and stir thoroughly. Continue to stir for a few more minutes to let thicken. Spoon the filling into individual pie dishes.
Now, assuming your puff pastry has defrosted, it's now time to cut out the tops. Unfold the pastry onto a flat surface and cut out circles slightly smaller than your pie dishes. Simply lay the circle on top of the filling. Bake for 12-15 minutes or until golden brown.
Let cool just enough to eat and serve.
While I made individual servings, you can easily make one single pie, the small ones are just a bit more fun.
A few months back when I heard the announcement that Chicago Soy Dairy would be making jet puffed vegan marshmallows, I already knew the first thing I would be baking with them. Marshmallows are the one thing that I have missed since I was a vegetarian. I love the sugary flavor, the soft texture and especially the taste when roasted over a flame. As a teenager, when I discovered marshmallows had gelatin in them, I was honestly devestated. Since then, I've made my own marshmallows with the kit from Angel Food and indulged in the true confection that is Sweet and Sarah's marshmallows.
Last Halloween, when I was planning spooky desserts to make, I came across this cake decorated with miniature ghosts. Sadly, the adorably constructed ghosties were made out of marshmallows and it was really only their cylindrical shape that gave them their ghostly appearance. I was not pleased with how my homemade marshmallows turned out, otherwise I would have made another stab at creating cylindrical ones myself. Instead I found myself making  ridiculous frosting ghost cupcakes.When I heard about Dandies I was exstatic. Not only do I have another vegan marshmallow option, but I could finally fulfill my dream of making a ghost cake.
I wanted a dark cake so I baked up a chocolatey coffee cake. I topped the bottom layer with a few Dandies just to see how they would bake. They puffed up in the oven and turned a beautiful golden brown. Though I had initially made a vanilla frosting go to go with it, I used so much to cover the cake that I had to top it off with some left over cookies and cream frosting. I then made my little ghost friends by sticking the Dandies on toothpicks and frosting their heads with vanilla frosting. The cake turned out amazingly. It was decadent with a contrast of rich chocolate and coffee with vanilla and cookies. My favorite part was the Dandies baked in to the center. Not only did it taste great, but it looked awesome; a perfect combination of spooky and cute.
We were so excited about the cake, Shawn made a little animation from it full of cute Dandies ghosts. I love it! I also had a ton of fun roasting these guys with a creme brulee torch (as we have an electric oven and no burners).
Vegan Ghost Cake from Shawn Bannon on Vimeo.
Just a quick update to let all you vegans know about some cool upcoming events that you won't want to miss.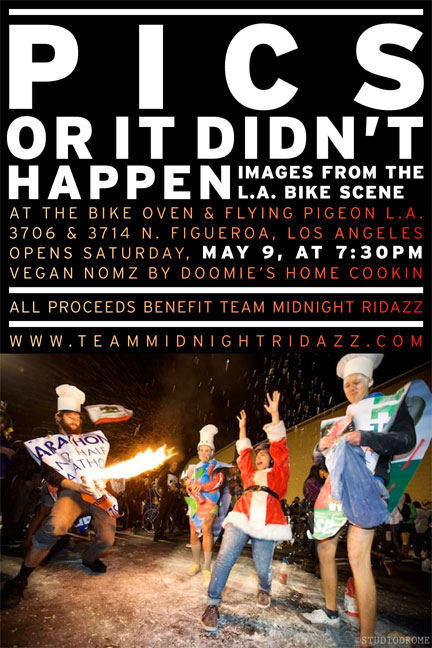 First of all, if you've been missing the tasty decadence that was Doomie's Home Cookin' you have a chance this Saturday to bask in the glory days. Team Midnight Ridazz is hosting a photo show to raise money for Aids Life Cycle. The show will feature photos from Los Angeles artists (including my favorite Studiodrome) documenting local bike culture. I don't know the entire roster but I know a few of the associated artists have really amazing photographs and they'll be selling for dirt cheap. Not to mention, it's all for a good cause. Besides that though, DOOMIE'S will be catering the event, so you can come and get a taste of their food if you never had the chance or just miss it like crazy.

Also, this Sunday, The Silent Movie Theater is having a rummage and bake sale. From their website:
Sunday, May 10th, from noon-5pm, is our First Annual Cinefamily Rummage and Bake Sale, a wonderful opportunity for all of you to come by and sift through (and purchase!) the various relics and oddities that have been cluttering the theater's hallways, stockrooms, and storage spaces since we opened. Items range from the typical (audio and film equipment) to the quaint (vintage books and posters) to the NSFW (seriously, I can't even print it here). Come for the delicious treats, stay to pick out something special from our magical stockpile of weirdness. You might even find something for your mom (she mentioned you don't call enough).
Besides the fact that this is a really cool place and I'm sure they're going to have amazing things for sale, there will be cupcakes from Vegan Bake Sale for you to enjoy while you browse. The Silent Movie Theater is one of my favorite theaters in Los Angeles and has some really fantastic screenings. This theater is one of the few places you can see rare films in amazing condition and obscurities that will blow your mind. Despite the name, not all the movies are silent, but they do have a handful of those as well. They're also a non-profit so all the proceeds go to obtaining even more awesome films to share. If you can't make it to this sale, you should still check out the theater if you have a chance.
The Silent Movie Theater is located at 611 N Fairfax Avenue, Los Angeles, 90036
Anyway, I'll be there! You should be there! We should all be there! See you this weekend.