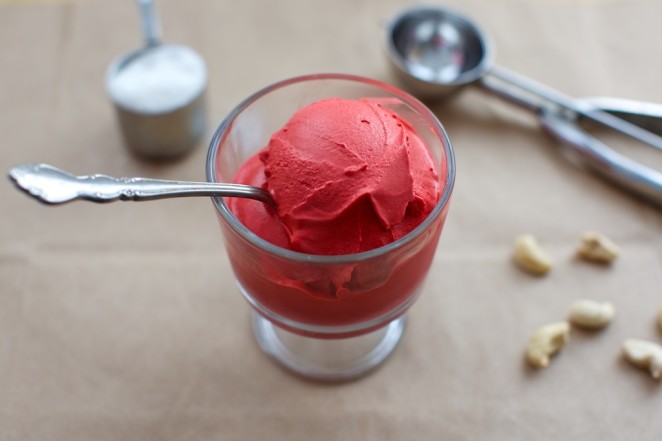 I've been kicking around ideas for this recipe in my mind for oh, I don't know, two years now. It's sort of ridiculous. The curious thing is that when I finally went to procure the ingredients, I found out that Whole Foods had discontinued carrying Mimicream, my go to base for making ice cream. So I came up with a new plan of making my own cashew cream. The end result was a decadent ice cream that's very similar to a custard and extremely delicious.
RED VELVET ICE CREAM
1 1/4 cup cashews *soaked overnight
water for blending
3/4 cup sugar
2 Tbsp cocoa powder
1 Tbsp arrowroot or corn starch
2 tsp vanilla
1/2 tsp almond extract
1/2 tsp white vinegar
1/4-1/2 tsp black salt (or sea salt)
red food dye (optional)
Put cashews in a blender and cover with water. Blend until smooth. Add remaining ingredients and blend again until fully incorporated. If the mixture has heated up in the blender, refrigerate until cool. Freeze according to your ice cream maker's directions. It will be on the softer side, so you can put in a sealed container in the freezer to firm it up more if you like.
If you don't have an ice cream maker, you can put the mixture in a sealed container in the freezer. Stir the freezing mixture every half hour until frozen.