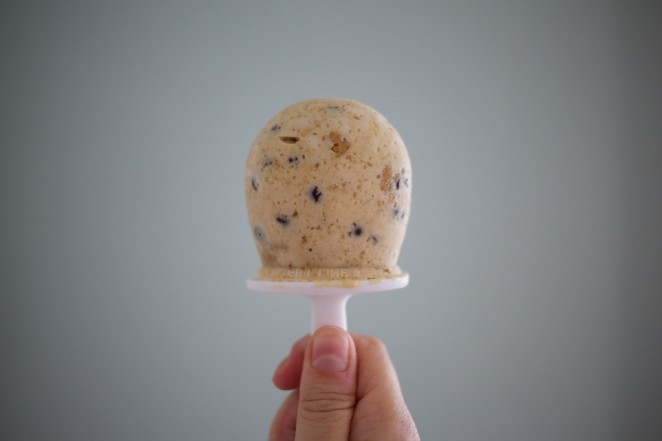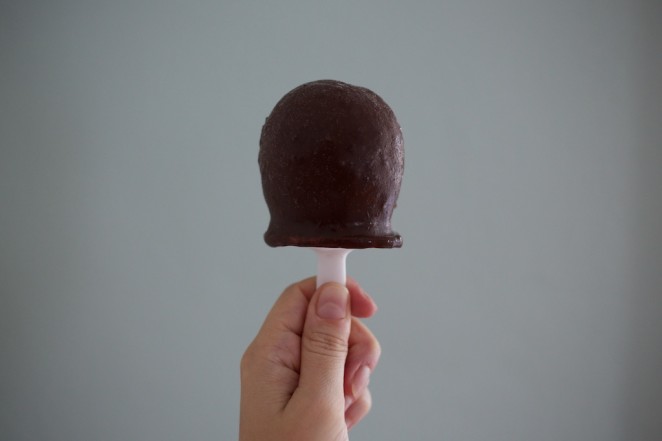 A few weeks ago I had the idea of chocolate dipped cookie dough ice cream in my head and I couldn't let it go. After the red velvet ice cream turned out so well, I thought I would give it a shot. The hardest part about this recipe was choosing the mold. I initially was going to go low tech and just DIY something, but at the last minute I realized it would be a lot less complicated to use a mold. I settled on these round pop molds
. I also went super easy style and used some pre-made vanilla ice cream (soy creamy from Trader Joe's to be exact). You could totally make your own ice cream for this, it would just be an extra step.
One of my biggest complaints with cookie dough ice cream is that there's never enough cookie dough so I dig it all out and end up with a container of craggy vanilla. Here you can add as much as you please. Plus, because the cookie dough is vegan, there's no worries about uncooked eggs.
These are a pretty decadent treat, so I was fine with only having a few, which meant I had leftovers of everything. You could easily make more with this recipe.
Vegan Cookie Dough Ice Cream Bars
non-dairy vanilla ice cream
chocolate chip cookie dough
chocolate dip (recipe below)
Set your ice cream out to soften (but don't let it melt). Prepare your cookie dough. I recommend using mini-chips if you can, so it's not super crunchy. In a separate bowl, mix equal parts cookie dough and ice cream. You can mix it as much as you like but make sure you still have some chunks of cookie dough. Fill your popsicle molds and freeze for about 4 hours, or until they are firm enough to remove from the molds.
While the pops are freezing, line a cookie sheet with wax paper. Then prepare the chocolate dip. Full disclosure here, I wasn't totally satisfied with this chocolate dip. It tasted fine, but didn't have the crunch I was looking for. Next time I'll try omitting the soy milk.
Chocolate Dip
1/4 cup soy milk
4 oz chocolate chips
1 Tbs coconut oil
In a small sauce pan, bring the soy milk to a boil. Remove from heat and mix with chocolate chips and coconut oil until melted and smooth. Let cool, but not solidify.
Remove ice cream pops from the molds and dip in chocolate. Place the chocolate dipped ice cream pops on the cookie sheet and freeze for 1/2 and hour to an hour, until the chocolate hardens. Enjoy!