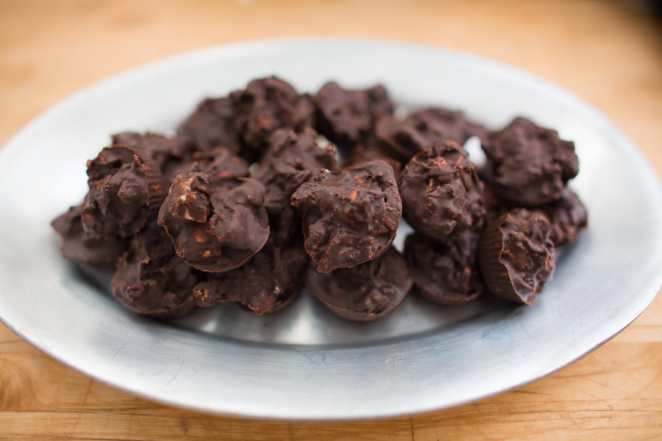 I may get my blogging credentials* revoked as I did not take any photos during this year's Halloween Movie Marathon. It was year seven and we switched it up a little by starting the fest in the morning rather than at night. Since the marathon has been officially running for 24 hours for the past few years, we thought this would make it less about endurance and more about just having a fun time. We also stuck to mostly classic films and included some that were not as scary. It was a great time.
I made the usual treats: caramel popcorn, sugar cookies and spinach artichoke dip. Shawn set up a hot dog bar as always. We kicked things off with fresh bagels and cream cheese for the morning crowd. There was late night cashew mac and cheese. At one point, our friend, Scott, showed up with two seitan meats jesus pizzas from Pizzanista. There was so much food we couldn't eat it all. I had made jackfruit carnitas for burritos but we never got to making them. There were secret donuts that we were all too stuffed to eat.
The one specialty thing I made on a whim were mini s'mores bars. Someone asked that I post the recipe so I will do my best, considering I just winged the whole thing. They were awesome though and really easy. For me, the perfect candy treat. Recipe below!
And of course, for posterity, our playlist for this event:
1. The Worst Witch
2. The Wicker Man
3. Psycho
4. Blue Velvet
5. An American Werewolf in London
6. The Lost Boys
7. Rosemary's Baby
8. The Orphanage
9. The Quiet Ones
10. Poltergeist
11. The Exorcist
12. The Brood
13. Halloween
Mini S'mores Bars

1 bag vegan chocolate chips
about 1/2 cup Dandies mini marshmallows
5 or 6 Speculoos cookies
chocolate mold – I used a chocolate cup mold, but you could probably just spoon these onto aluminum foil and be ok
Break up the speculoos cookies into small pieces and crumbs, making sure they're small enough to fit into your mold, but not all powder. If you can't find the Dandies minis, you can cut up some larger mallows into pieces. They'll get really sticky, so rolling them in powdered sugar will make them easier to handle.
Melt most of the chocolate chips in a double boiler on medium low heat (or in a bowl over a pot if you don't have a double boiler like me), setting a small amount aside for tempering. Once the chips have melted, remove from heat and stir in the remaining chips until they are also melted.
Mix in your marshmallows and cookies. Measurements above are approximate so you might want to do this a little at a time so that there the mixture is still sort of drippy and mostly chocolate. Spoon the chocolate into your mold and let cool in the fridge for 1/2 an hour to an hour. Pop out of the mold and store in a cool place, or refrigerate. Try not to eat them all at once, even though you'll probably want to.
*as if there were such a ridiculous thing
Next up in our set of guest posts for the week is brought to you from Kim Garr of C'est la Vegan. She is the talented baker behind C'est la V Bakeshop, here in Los Angeles. She comes up with some really great recipes, especially some of her treats for entertaining. My mother enlisted her to do make scones and biscuits for my bridal tea. Kim is sweet woman and I'm so pleased to be able to share one of her recipes here.

I'm such a huge fan of Cute and Delicious, and I'm so excited to be doing a guest post while Alix and Shawn enjoy their honeymoon!
I actually used the idea of a honeymoon as my inspiration for this dish, hoping to come up with something that would make for a really decadent breakfast in bed.  I think this Chocolate Ricemellow Creme Panini with Raspberry Dipping Sauce fits the bill nicely, though I would gladly eat this any time of day – honeymoon or not!
This is actually very simple to make, and if you don't have access to vegan ricemellow or marshmallows, you could substitute peanut butter instead, or just do a plain chocolate panini sandwich, which would still be really delicious.  The Raspberry Dipping Sauce is easy to make, and the tartness of the raspberries really helps to cut the sweetness of the sandwich.
This ooey, gooey treat is so incredible, and I'll definitely make it again.  It kinds of feels like a special occasion sandwich to me, but let's be honest, I could easily count a movie night as a special occasion!  I hope you enjoy this as much as I did!
Chocolate Ricemellow Creme Panini with Raspberry Dipping Sauce
serves 2
Wash the raspberries and place them in a small saucepan over medium heat with the agave nectar (you can start with less agave and add more, depending on the sweetness of your berries).  Once you start to hear sizzling, stir the berries and start to break them up with a fork.  Turn the heat down, and simmer the mixture for a few minutes.  Remove the pan from the heat.
Heat your panini press or a large skillet.  Spread the margarine on the outsides of the slices of bread, or melt it in the pan if you don't have a panini press.  Turn the bread over, and on the inside of each slice, spread 1-2 tablespoons of the ricemellow creme evenly over the bread.  Spread the chocolate chips over the ricemellow creme, and press the two sides together with the Earth Balance on the outside.  Place the sandwich in the panini press, and cook until the chocolate is melted.
Serve with the warm raspberry dipping sauce.  Enjoy!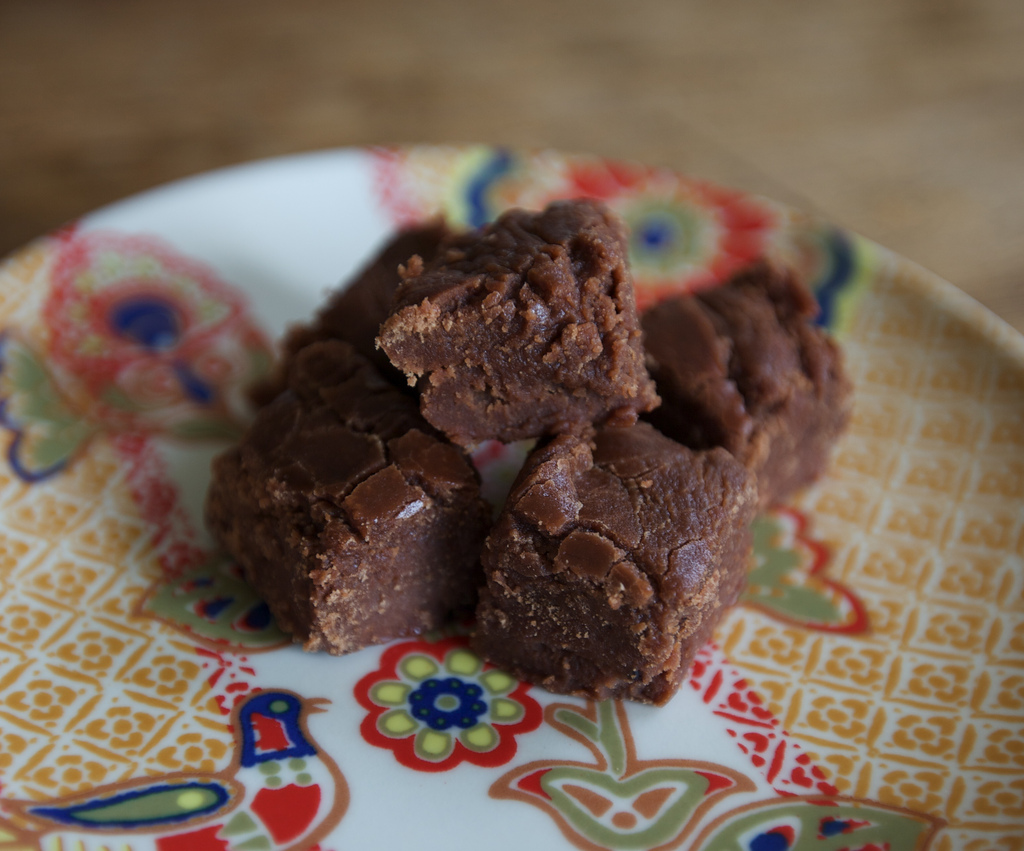 What is the one food you remember from your childhood as being better than anything else? Was it the sugar cookies your grandmother made? The grilled cheese sandwich your dad grilled especially for you? Maybe that's not it, but there was something, wasn't there? And you've never been able to find something as good anywhere else.
For me, the one thing I remember as being incomparably amazing was the fudge my mom made. Even though she would usually sabotage it with walnuts, I would sometimes get a small batch just for myself. It's been years and years since I've had anything even comparable to that fudge. I mean, even before I was vegan, there wasn't anything nearly as good.
Finally, my mom agreed to show me her recipe step by step so I could veganize it. She even said it was ok for me to share it with you, which I think is pretty generous, considering it is the best fudge ever. Thanks mom!
Ok, here's what you need…
1 1/3 cup of non-dairy cream, unsweetened
2 2/3 cup sugar, yeah, that much sugar
4 ish oz bittersweet chocolate
2 Tbsp corn syrup
4 Tbsp Earth Balance
Put everything in a medium sauce pan and stir together. Turn the heat on to medium high and stir occasionally so that the chocolate melts evenly. Bring to a boil and using a candy thermometer, or your cunning senses, heat slowly to the firm ball stage, about 240° – 250° F. If you want your fudge a little creamier you don't have to go quite this hot.
To check the firmness, you can spoon a small bit into some cold water. Take out the cooled piece and roll between your fingers. The harder it is, the firmer your fudge will be. Once it reaches the desired temperature, remove from heat and allow to cool for a few minutes. In the mean time, grease a pan to put your fudge in.  Mix in 1 tsp of vanilla.
If you've made it through all that, get ready for the hard part. Using a spoon, beat the fudge so that air is incorporated into the mixture. Don't stir, beat. If your arm doesn't get tired, you're not doing it right. In fact, you might want to have a backup beater on hand to help you. My arm is still sore from this part actually. Do this for a couple minutes, until the mixture is a bit fluffier.
Pour the fudge into your prepared pan and smooth over a bit. Slice into chunks once it has cooled somewhat, but is still slightly warm. You probably want to use a butter knife as well and not a ridiculous sharp one like the one above. Also, go ahead and make those chunks pretty small, you're better off this way.
You can totally snack on some bits here when it's still warm, but know once you start it will be hard to stop. I personally like it best once it has cooled completely and hardened.
So the verdict? It's almost exactly the same as I remember it. That sugary sweetness that melts in your mouth with a rich chocolate flavor. The flavor of the mimicream definitely has a subtle effect, but in the end one I like, giving it just a hint of nuttiness. I may try a few variations, and practice my beating technique, but I wouldn't hesitate to say that it was a complete success. I should also probably mention this is the recipe for a double batch so go ahead and half it if you like. Although you might not want to. On the other hand, you might eat it all in one day so beware. Not that anyone I know would do that. Never.