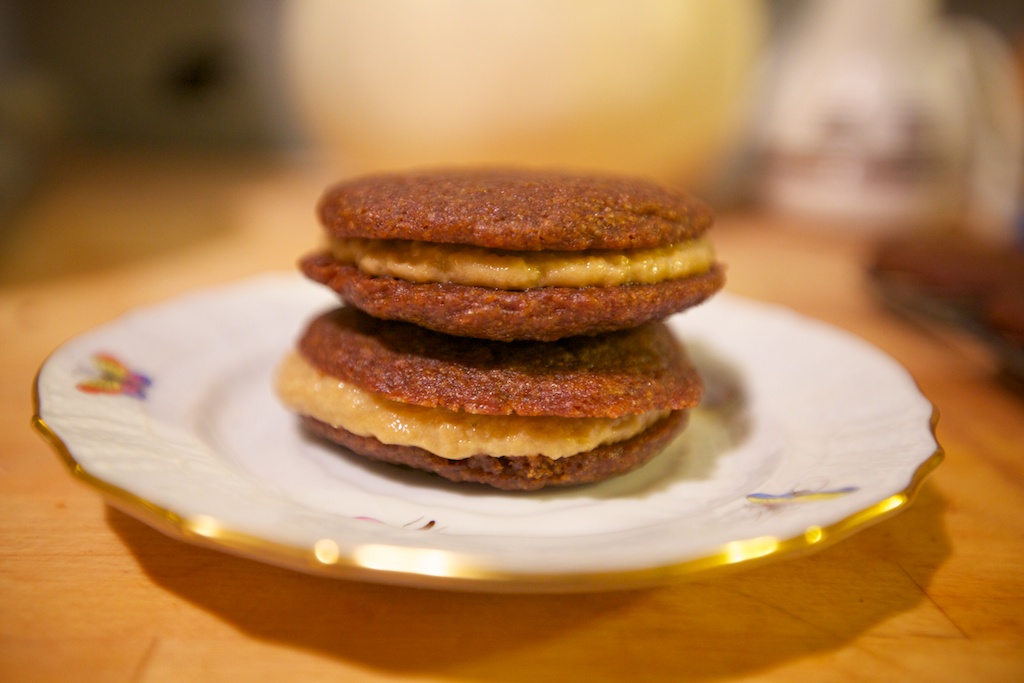 Let me just start off by saying these cookies are like crack. You have one, and even though they're so sugary sweet you instantly want another. They're just insanely delicious. If you want to impress your friends and family with some really easy to make, but seemingly fancy cookies, make these.
They're chewy and crispy all at once, with a lovely holiday flavor. They would be perfect as dessert but also with a cup of coffee. They're just so darn good though, you could really eat them anytime, and trust me, you'll want to.
I had a bit of trouble with my first batch because I misread the recipe entirely. On my second go around, they came out as beautiful as they tasted, no crumbly edges.
Molasses Sandwich Cookies
adapted from Martha Stewart, found here
1 1/2 cup flour
1/2 tsp baking soda
1 tsp ground cinnamon
1/2 tsp salt
1 cup packed brown sugar
1/2 cup Earth Balance, room temperature
1/4 cup molasses (not blackstrap)
1/8 cup water
Preheat your oven to 350° and line 2 baking sheets with parchment paper. Whisk together dry ingredients in a medium bowl; flour, baking soda, salt, and cinnamon. In another bowl, cream together the Earth Balance and sugar with an electric mixer. Mix in the molasses until combined. Add the flour and mix until it forms a dough and then add in the water.
Using a tablespoon, scoop balls of dough onto your prepared baking sheet, giving each about an inch and a half between cookies. Bake for 12 – 15 minutes, until the center is firm.
Let cool on the baking sheet for 5 minutes. Transfer to a cooling rack to let cool completely. Prepare the filling.
Molasses filling
12 Tbsp Earth Balance, room temperature
3 Tbsp molasses
2 cups powdered sugar
Beat together the Earth Balance and molasses till smooth. Gradually add in the powdered sugar and beat until slightly fluffy. If you desire a firmer filling, add more powdered sugar.
Using a knife, a spoon, or a pastry bag, spread a bit of the filling on the bottoms of half of your cookies. Press another cookie onto the filling to make each sandwich.