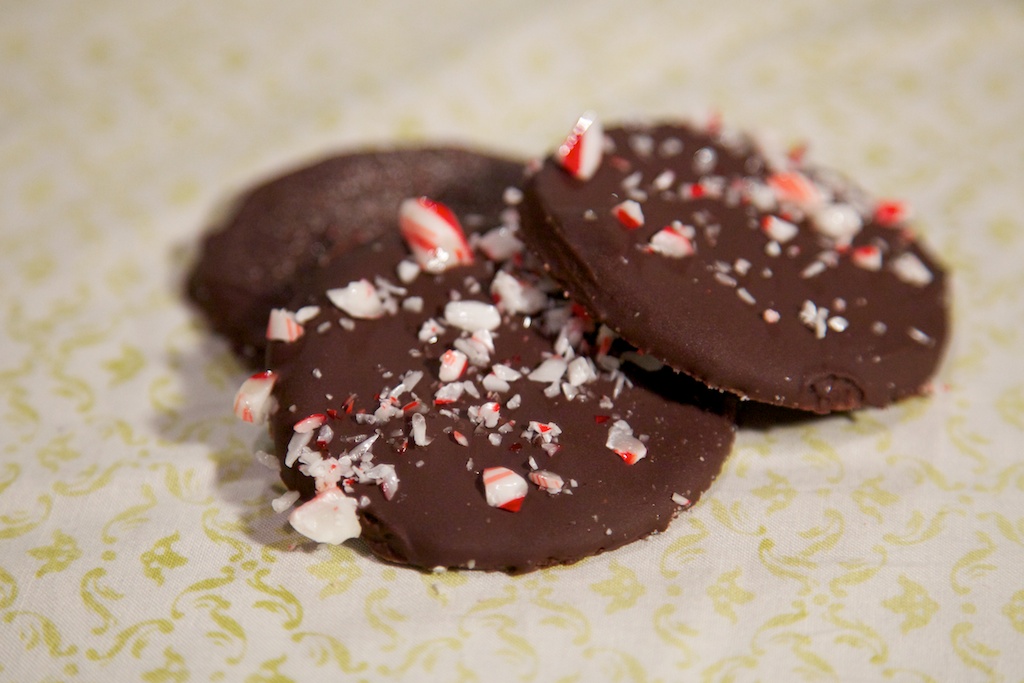 Hello my dears. It's nearly Christmas and I'm bringing you another cookie recipe for the holiday. This is the most festive of the bunch for sure. While there were a few more in my agenda, I've been a bit overwhelmed and unable to make all I set out to. These cookies should totally make up for that though.
One of the most fun parts of making these is decorating with crushed candy canes. Not only do you get to take your holiday frustration out on some candy canes in pulverizing them (I used a hammer), but they make the cookies look like pink shiny snowy Christmas cookies. I love it.
The cookies are crunchy and rich. The peppermint is refreshing especially paired with the sweet chocolate. The original recipe used white chocolate but I much prefer dark chocolate, so I went with that.
Chocolate Peppermint Cookies
adapted from Martha Stewart, found here
1 cup all purpose flour
3/8 cup cocoa powder
2 tsp instant espresso powder
1/2 tsp baking soda
1/2 tsp baking powder
1/4 tsp salt
5 Tbsp Earth Balance
3/4 cup sugar
2 Tbsp warm water + 1 tsp egg replacer whipped together until frothy
3/4 tsp peppermint extract
4 crushed candy canes or 15 or so peppermint candies
1 lb chopped dark chocolate
In a medium bowl, whisk together the flour, cocoa, espresso, baking soda & powder and salt, then set aside. Using an electric mixer, beat together the Earth Balance and sugar. Gradually add the water and egg replace mixture and continue to beat until well combined. Add in peppermint extract and continue to beat. Add in the flour mixture a little at a time and beat until the dough just comes together. Shape into two disks, wrap in plastic and refrigerate for at least and hour.
Preheat oven to 325° and line two baking sheets with parchment paper. Roll out the dough into until it is 1/8 inch thick. Use a 2″ cookie cutter to cut cookies and transfer to prepared baking sheets. Cool in the freezer for 15 minutes and then bake until crispy, about 12 minutes. Move parchment with cookies on it to a cooling rack and let cool.
Using a double boiler or a bowl set on top of a pot of water, melt your chocolate. Once it is smooth, let sit on stove so that it cools enough to not burn you, but remains soft. Sift your crushed candy canes into a fine powder and separate chunks. Set aside both to decorate. If it is particularly humid, you may have to sift the powdered peppermints again.
Dip the tops of each cookie in your melted chocolate making sure the entire top is covered, but tapping off any excess. I found this was easiest to do with my fingers, but be careful if your chocolate is still hot. It cold easily be done with a fork or tongs (chopsticks?). Sprinkle the crushed peppermint chunks on half and the peppermint powder on the other. Let set in the fridge for at least 3 hours. Best eaten within the next day.
For more holiday cookie ideas, check out the recipes for these Molasses Sandwich Cookies.
Or try your hand at these Mexican Hot Chocolate Cookies.
There are these delicious Oatmeal Cranberry Cookies.
Adorable, sweet Lemon Icebox Cookies.
Or the awesome Espresso Bean Shortbreads.
Happy Baking!