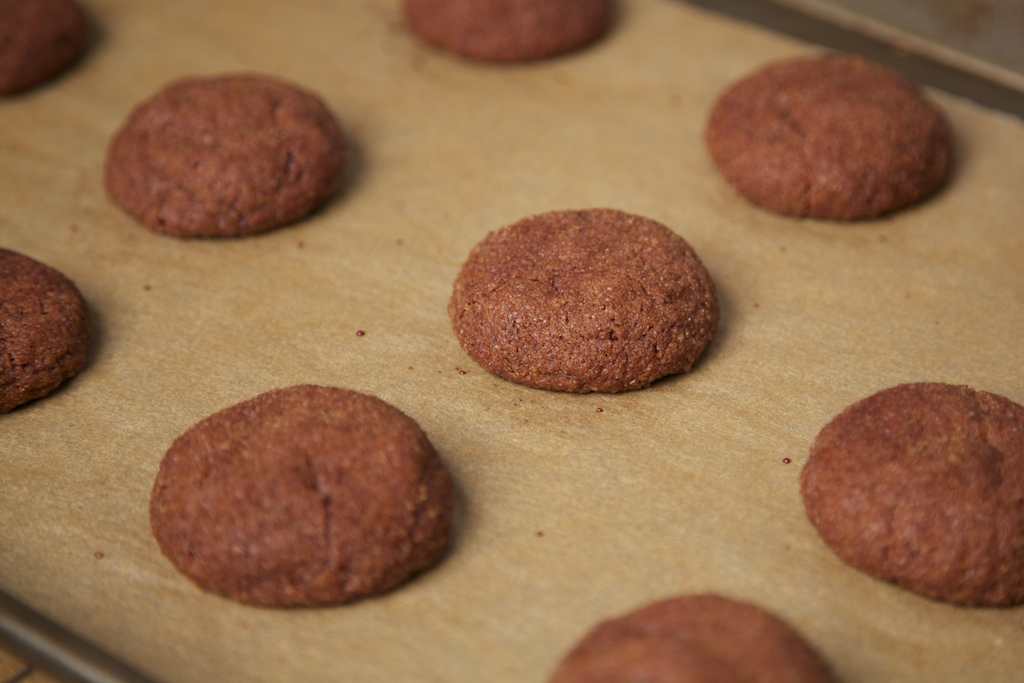 So far in my cookie journey, this batch was the easiest and most fun to make. They were also my least favorite, which isn't that much of a criticism since I think this week's other cookies have been amazing. They came out a little doughy and didn't have the crackly tops I was looking for. They were good, but not perfect. I imagine I'll be noodling with this recipe to perfect them. It may have just be an issue with my oven temperature, as they were a bit brownie like, which isn't bad at all, just not what I was looking for in these particular cookies.
On the other hand, after I made these I realized there is a perfectly good recipe in Vegan Cookies Invade Your Cookie Jar
that I neglected to check out. In fact, you can see the recipe with a video of the infamous Isa Chandra. So perhaps I'll just make those instead of trying to fix these. Maybe not though as I like to figure things out for myself sometimes.
Basically these are like chocolate snickerdoodles with a hint of spice.  Which is awesome. The original recipe said to roll them into balls and let cook like that, but I found they came out much better when pressed into disks before hand. You can see my first batch had a lot more height than the second (below).
Please do try these though, perhaps you'll have better luck than I.
Or you can try some of this weeks other cookie recipes
Mexican Hot Chocolate Cookies
adapted from Martha Stewart, found here
2 1/4  cup all purpose flour
1/2 cup unsweetened cocoa powder
2 tsp cream of tartar
1 tsp baking soda
1/2 tsp salt
1 cup Earth Balance
1 3/4 cups sugar, divided
1/4 cup water
2 tsp cinnamon
1/4 – 1/2 tsp chili powder
Preheat oven to 400° and line two baking sheets with parchment paper. Whisk together flour, cooca powder, cream of tartar, baking soda, salt and arrowroot powder. Make sure there are no clumps of cocoa remaining. In another bowl, using and electric mixer, mix the Earth Balance and 1 1/2 cups of sugar until fluffy. Gently mix in the water and then flour mixer until a dough forms.
Combine the remaining 1/4 cup sugar with cinnamon and chili powder in a separate bowl. Roll the dough into golf ball sized balls between your hands. Press each ball until flattened and then coat in the sugar mixture. Place approximately 2 inches apart on you baking sheets. Cook for approximately 10 – 12 minutes, and remove when they begin to crack. Let cool for 5 minutes on the pans and the remove to let cool on a wire rack.