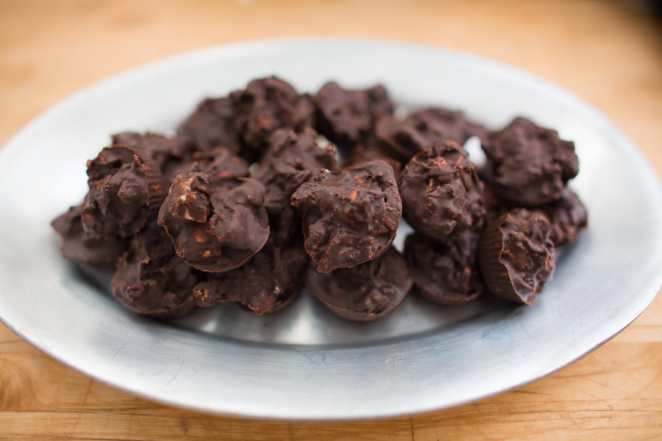 I may get my blogging credentials* revoked as I did not take any photos during this year's Halloween Movie Marathon. It was year seven and we switched it up a little by starting the fest in the morning rather than at night. Since the marathon has been officially running for 24 hours for the past few years, we thought this would make it less about endurance and more about just having a fun time. We also stuck to mostly classic films and included some that were not as scary. It was a great time.
I made the usual treats: caramel popcorn, sugar cookies and spinach artichoke dip. Shawn set up a hot dog bar as always. We kicked things off with fresh bagels and cream cheese for the morning crowd. There was late night cashew mac and cheese. At one point, our friend, Scott, showed up with two seitan meats jesus pizzas from Pizzanista. There was so much food we couldn't eat it all. I had made jackfruit carnitas for burritos but we never got to making them. There were secret donuts that we were all too stuffed to eat.
The one specialty thing I made on a whim were mini s'mores bars. Someone asked that I post the recipe so I will do my best, considering I just winged the whole thing. They were awesome though and really easy. For me, the perfect candy treat. Recipe below!
And of course, for posterity, our playlist for this event:
1. The Worst Witch
2. The Wicker Man
3. Psycho
4. Blue Velvet
5. An American Werewolf in London
6. The Lost Boys
7. Rosemary's Baby
8. The Orphanage
9. The Quiet Ones
10. Poltergeist
11. The Exorcist
12. The Brood
13. Halloween
Mini S'mores Bars

1 bag vegan chocolate chips
about 1/2 cup Dandies mini marshmallows
5 or 6 Speculoos cookies
chocolate mold – I used a chocolate cup mold, but you could probably just spoon these onto aluminum foil and be ok
Break up the speculoos cookies into small pieces and crumbs, making sure they're small enough to fit into your mold, but not all powder. If you can't find the Dandies minis, you can cut up some larger mallows into pieces. They'll get really sticky, so rolling them in powdered sugar will make them easier to handle.
Melt most of the chocolate chips in a double boiler on medium low heat (or in a bowl over a pot if you don't have a double boiler like me), setting a small amount aside for tempering. Once the chips have melted, remove from heat and stir in the remaining chips until they are also melted.
Mix in your marshmallows and cookies. Measurements above are approximate so you might want to do this a little at a time so that there the mixture is still sort of drippy and mostly chocolate. Spoon the chocolate into your mold and let cool in the fridge for 1/2 an hour to an hour. Pop out of the mold and store in a cool place, or refrigerate. Try not to eat them all at once, even though you'll probably want to.
*as if there were such a ridiculous thing