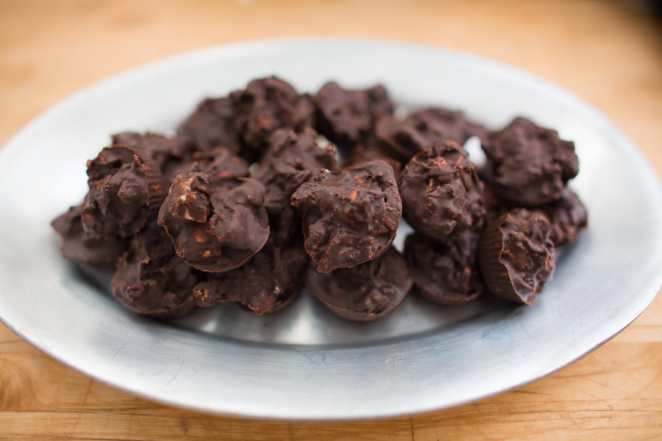 I may get my blogging credentials* revoked as I did not take any photos during this year's Halloween Movie Marathon. It was year seven and we switched it up a little by starting the fest in the morning rather than at night. Since the marathon has been officially running for 24 hours for the past few years, we thought this would make it less about endurance and more about just having a fun time. We also stuck to mostly classic films and included some that were not as scary. It was a great time.
I made the usual treats: caramel popcorn, sugar cookies and spinach artichoke dip. Shawn set up a hot dog bar as always. We kicked things off with fresh bagels and cream cheese for the morning crowd. There was late night cashew mac and cheese. At one point, our friend, Scott, showed up with two seitan meats jesus pizzas from Pizzanista. There was so much food we couldn't eat it all. I had made jackfruit carnitas for burritos but we never got to making them. There were secret donuts that we were all too stuffed to eat.
The one specialty thing I made on a whim were mini s'mores bars. Someone asked that I post the recipe so I will do my best, considering I just winged the whole thing. They were awesome though and really easy. For me, the perfect candy treat. Recipe below!
And of course, for posterity, our playlist for this event:
1. The Worst Witch
2. The Wicker Man
3. Psycho
4. Blue Velvet
5. An American Werewolf in London
6. The Lost Boys
7. Rosemary's Baby
8. The Orphanage
9. The Quiet Ones
10. Poltergeist
11. The Exorcist
12. The Brood
13. Halloween
Mini S'mores Bars

1 bag vegan chocolate chips
about 1/2 cup Dandies mini marshmallows
5 or 6 Speculoos cookies
chocolate mold – I used a chocolate cup mold, but you could probably just spoon these onto aluminum foil and be ok
Break up the speculoos cookies into small pieces and crumbs, making sure they're small enough to fit into your mold, but not all powder. If you can't find the Dandies minis, you can cut up some larger mallows into pieces. They'll get really sticky, so rolling them in powdered sugar will make them easier to handle.
Melt most of the chocolate chips in a double boiler on medium low heat (or in a bowl over a pot if you don't have a double boiler like me), setting a small amount aside for tempering. Once the chips have melted, remove from heat and stir in the remaining chips until they are also melted.
Mix in your marshmallows and cookies. Measurements above are approximate so you might want to do this a little at a time so that there the mixture is still sort of drippy and mostly chocolate. Spoon the chocolate into your mold and let cool in the fridge for 1/2 an hour to an hour. Pop out of the mold and store in a cool place, or refrigerate. Try not to eat them all at once, even though you'll probably want to.
*as if there were such a ridiculous thing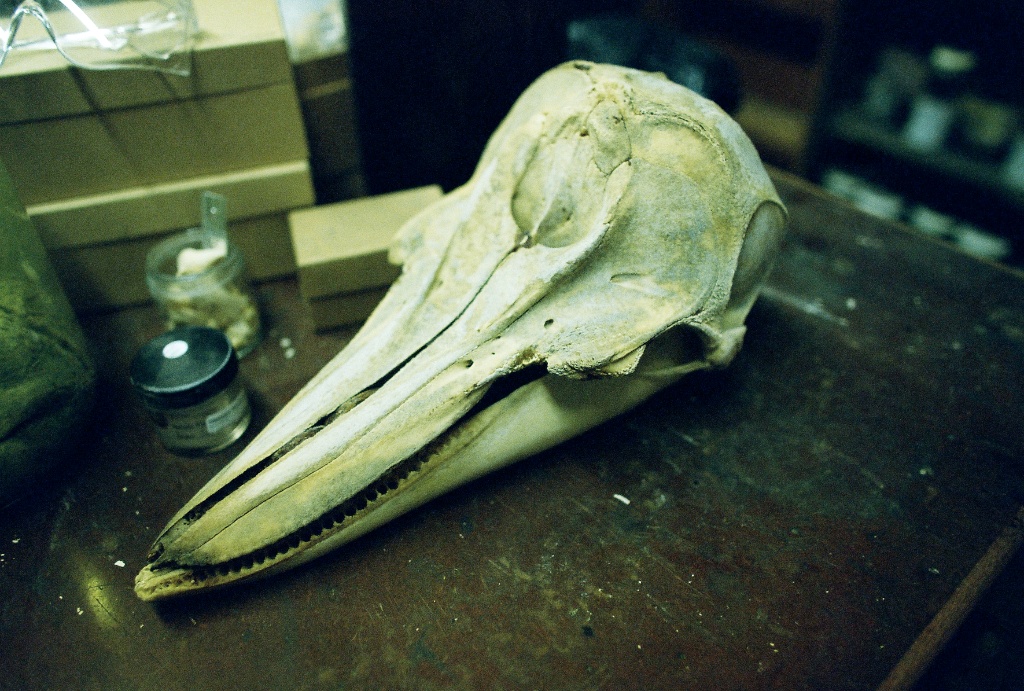 This weekend we had our 3rd Annual Halloween Movie Marathon. It wasn't as crazy as last year, where we went for two weekends in a row, but we still watched movies from Saturday night all the way through to Sunday night.
I made some pb cups & peppermint patties, because you have to have some Halloween candy. Some roasted pumpkin seeds for something salty. And of course, some pumpkin spice & espresso cupcakes, well, because I'm good at it. I didn't, on the other hand, take photos. Mainly because of our spooky Halloween lighting.
Shawn also made tofurky dogs for everyone to fuel us through the night. And lots of coffee. LOTS of coffee and popcorn.
Anyway…this is just a preface to say that my post today is neither cute nor delicious. In fact, it's creepy. Shawn and I have spent a good deal of time at the Natural History Museum lately. We are trying to take full advantage of our membership there. Not to mention they have amazingly cool stuff.
I thought this might be the only time of year when I could get away with sharing some of the awesome photos I've been able to get there at the museum and at special events. Get ready for a bunch of bones, insects and dead things. So if you're squeamish, you've been warned.
Antlers in storage.
A walrus skull. Massive.
Shawn and a blue whale skull at the museum's marine mammal warehouse. This whale was recovered after it was hit and killed by a commercial freight ship about 30 years ago.
The Natural History Museum is part of the network that collects dead animals that have been washed ashore for research.  They have the second largest collection of sea mammals, right after the Smithsonian.
Hippo skull. I'm pretty sure this is Bubbles, but now I'm not positive.
We ended our pre-Halloween weekend by going to the museum's haunted cave party. It was really a family thing, but it was lots of fun wandering around  after hours in costumes. I'm totally obsessed with all the taxidermy they have. I am really just obsessed with everything in the museum.
Oh and in case you were wondering what we watched this weekend…here is the playlist…
These days one of the main selling points of Halloween is candy. As if costumes and ghosts weren't awesome enough, people thought you should coerce children in to celebrating by giving them treats. This has now turned into a sugar free for all consisting of thousands of bags of individually wrapped bite sized candies, because god forbid anyone actually make anything for their neighbors. Everyone knows the razor blade in the apple thing never really happened.
Don't get me wrong, I'm all for trick or treating. In fact, as an adult, I still kind of wish I could go. But then I realize the majority of those candies aren't vegan so there isn't really a point. I wonder what vegans with children do. Do you take your kids trick or treating and take away the candy afterward or skip the event all together?
Luckily more and more vegan candies are coming onto the market so we aren't just stuck with licorice and suckers. Go Max Vegan candies are new on the scene and replicate some of the more popular non-vegan brands.  The Buccaneer, reminiscent of a Three Musketeers,  has creeped in as my favorite of the four. I highly recommend throwing a few in the fridge as they are even more tasty cold. The Twilight is my next choice, though I was a particular fan of Milky Ways as a non-vegan. There some flavor in the caramel that doesn't quite win me over. It's still really nice to have a vegan candy that's not just a pure chocolate bar.
It's easy to make some vegan candies yourself. I've successfully made peanut butter cups and peppermint patties that were even better than the mass produced ones. I'm still dying to make Your Vegan Mom's crunchy version of peanut butter cups. Can someone please figure out how to make a vegan Junior Mints? That would be awesome.