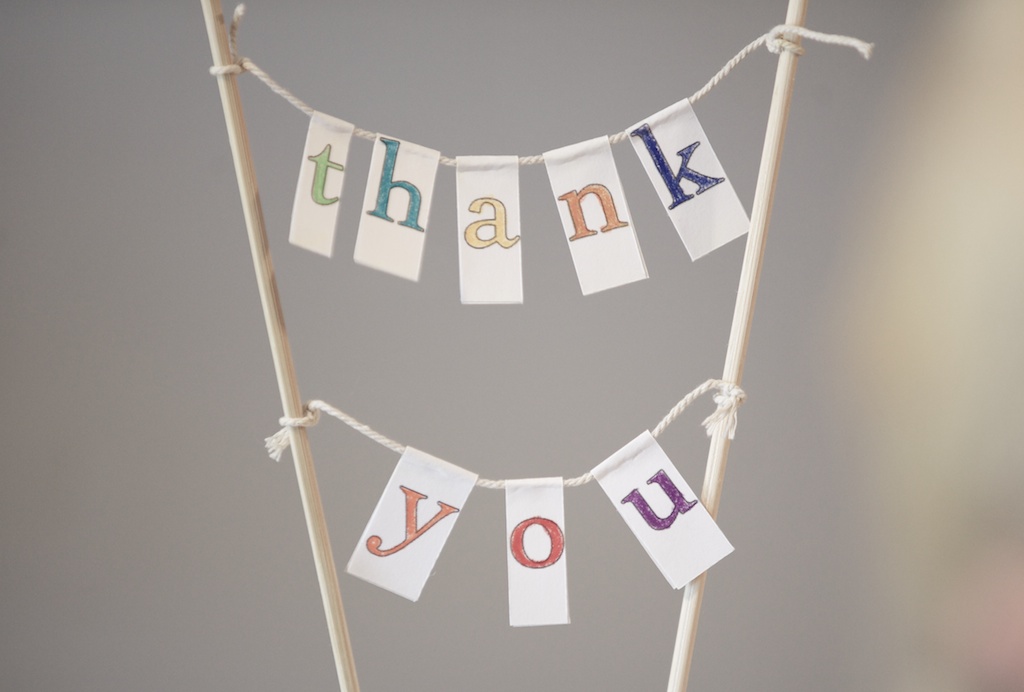 Sometimes you need to say thank you. For the times that people go way out of their way to help you. Or when someone works endlessly on a project. Sometimes you need more than a card or an email.
That's where these little cakes come in. Because nearly everyone loves a cake just for them.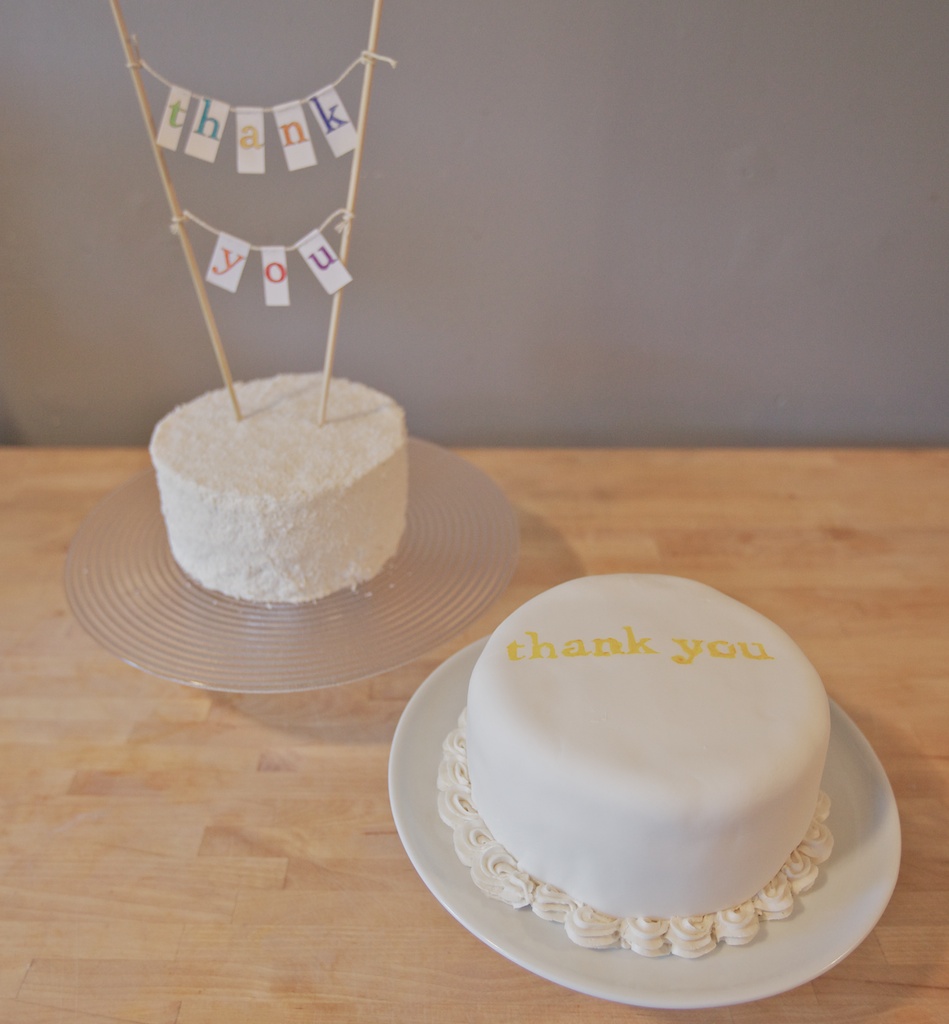 I wanted them to be a little more than just a cake though; to really communicate the message. Rather than just the typical butter cream writing on top, I thought I'd try something a little more fun.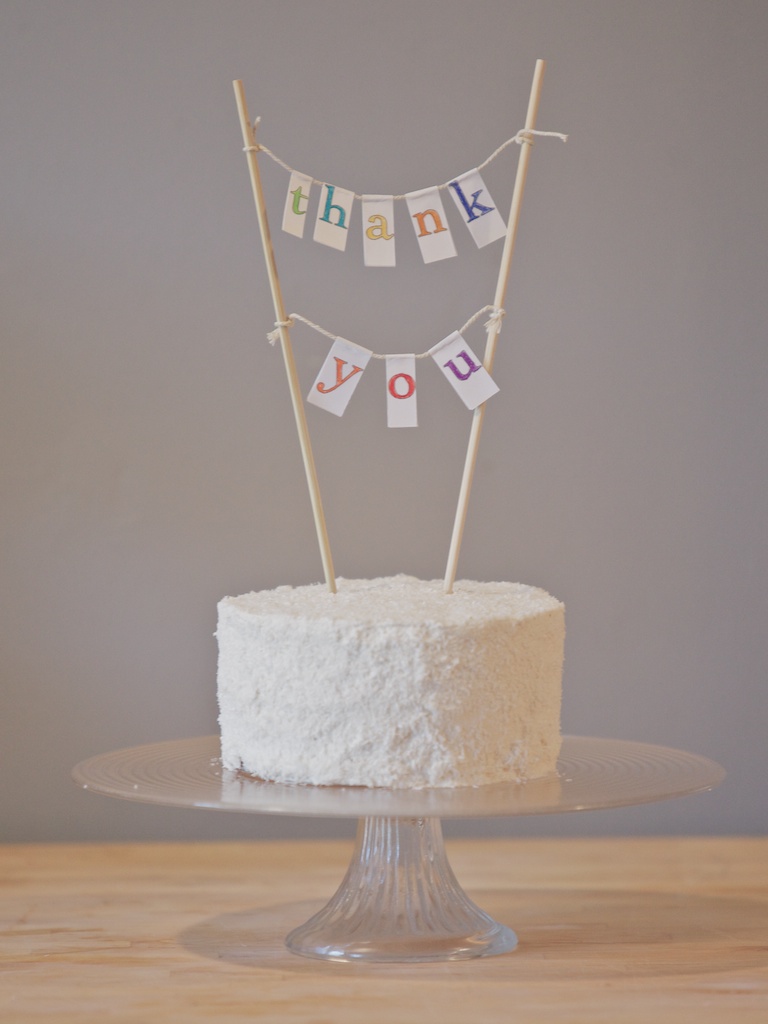 I made some simple, colorful bunting for a coconut cake for Shawn. He's been working endlessly putting the finishing touches on Brainwashed Love and I thought he needed a little reward. The bunting was perfect because it allowed me to completely cover the cake with coconut, which I've learned, makes the cake difficult to decorate on top.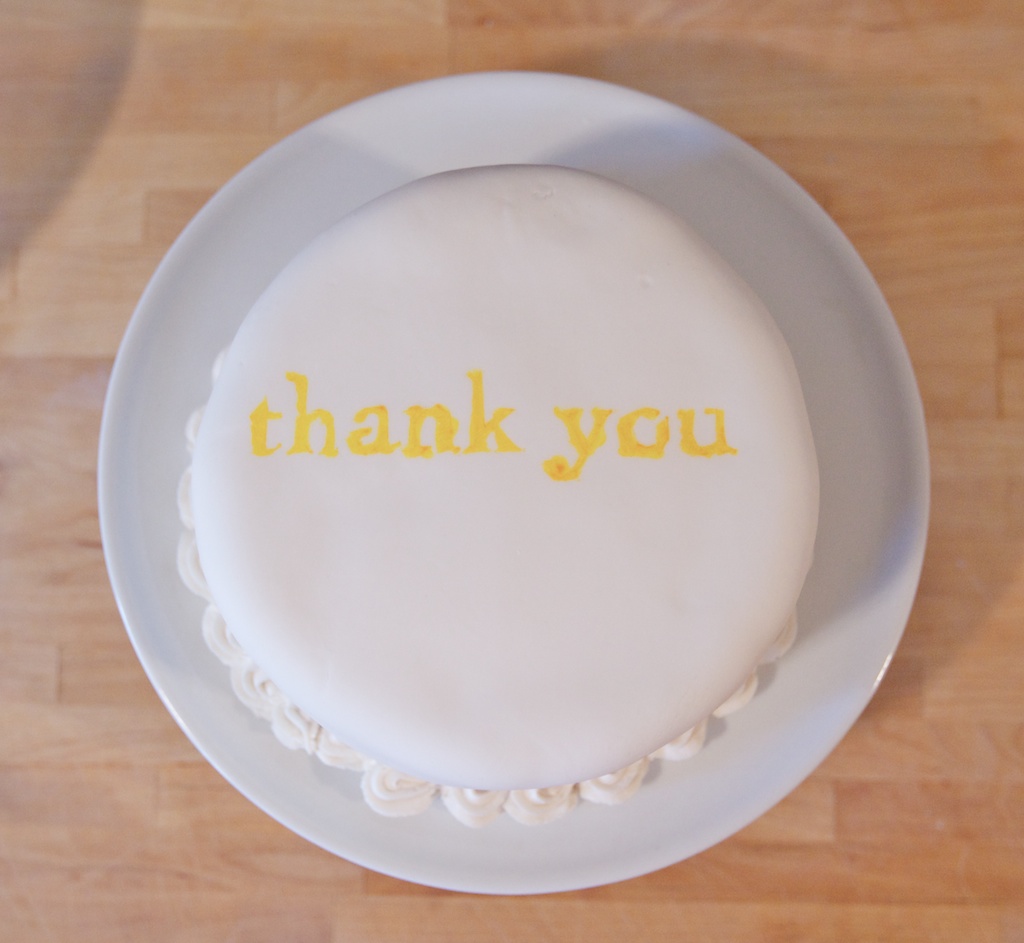 For the second cake, I tried my hand at creating a fondant covered red velvet cake. I've used fondant for flowers and such but had not yet covered a complete cake. I sure did need a lot of muscle power to roll it out but I'm pretty pleased with how it turned out, considering the horror stories I've heard. It wasn't perfect, but still adorable. I stenciled on the thank you, using just plain paper that I cut with an exacto and some yellow food coloring.
I did a test of my stencil on another piece of fondant, just to make sure. It turned out  perfectly, but caused my actual cake to look a little blobby. Still a success though, I think.
I'm gonna first put out the disclaimer that I'm not a fan of Easter. I'm not religious and most of the related celebrations just don't excite me. On the other hand, I am a fan of springtime and bunnies. I also like having an excuse to experiment and make new treats. Here's to trying to make something great out of something you're not into.
After having a taste of some vegan Cadbury creme eggs made by Vegyogini of Hugger Food, I couldn't stop thinking about making some of my own. I think this is a pretty strange obsession considering that I didn't even like Cadbury eggs when I wasn't vegan. While I tried to put the idea out of my head, I found myself reading all about the fondant filled eggs. When the topic of Easter baskets came up, I finally decided it had to be done, along with some peanut butter eggs.
I started out with the peanut butter eggs, as I've made peanut butter cups before and thought it would be easier to try out the egg molds on something I was familiar with. I melted some chocolate chips in a double boiler and thickly coated the insides of the mold. The mold I used was made of silicone and was super easy to just pop the hardened eggs out when they were done. Another option would be to use plastic eggs and line them with aluminum foil. The important thing is to make sure the top edges of the eggs are well coated in the mold as this is the area that will seal to the other half of the egg. I let the chocolate set in the fridge for about half an hour while I prepared the peanut butter filling.
Peanut Butter Filling
1 cup peanut butter
1/2 cup confectioners sugar
2 tsp vanilla
Simply mix the peanut butter, sugar and vanilla together to form a smooth sweet peanut butter filling. If your peanut butter has been sitting around for awhile, refrigerated or just otherwise dry, add peanut oil back into the mixture to soften it.
I filled the hardened chocolate shells with the peanut butter filling and refrigerated again for about half an hour until they were firm enough to handle easily. Next came the experimental part. I popped the eggs out of the mold onto a cookie tray. I then took a knife and heated it on the oven. I then melted the outer edge of the chocolate egg with the hot knife and pressed it together with another egg half. The key to this process is keeping your hands clean and the eggs cool.
For the creme eggs, I went with a basic poured fondant recipe. There are a number of different ways to go about this: cooked fondant, food processor fondant, quick fondant… Ultimately I went with the one I thought would have the right semi-liquid consistency. I prepared the chocolate shells as above, making them slightly thicker to accommodate the warm fondant filling.
Poured Fondant
3 cups confectioners sugar
1 Tbs corn syrup
1/4 cup water
1 tsp vanilla extract
Mix the sugar, corn syrup and water together in a small sauce pan over high heat, stirring constantly. Using a candy thermometer, heat the mixture just above 90 degrees but do not let it get to 100. The fondant should be smooth and pourable but not too thin. Remove from heat, add extract and stir to combine fully. Let cool slightly and spoon into the chocolate shells. Refrigerate to harden and assemble the same as the peanut butter cups.
The consistency of the fondant creme eggs came out surprisingly like the actual thing, but perhaps a touch firmer. They were sugary sweet chocolate treats, and if you like the original, you'll definitely like the veganized version. I personally liked the ones made by Vegyogini better as they didn't have a pure sugar taste because of the Earth Balance. The peanut butter cups came out wonderfully though. Next time I might make them half eggs as it's quite a lot of sweetness.
Despite my initial disclaimer, I really enjoyed making these and there may be some more Easter treats on the way. Happy springtime!