I can't believe our tiny Thanksgiving break is almost over. It flew by in what seemed like a matter of seconds. I suppose that's what happens when you have lots to do over a few days. We started off our celebrations at Madeleine Bistro for a four course Thanksgiving feast. We've been to Madeleine's for the past few years but this meal topped them all. I don't think I've ever had such a delicious Thanksgiving meal in my life. Everything was exquisite. Next year we plan to have Thanksgiving at our house and I hope we can make something even just a fraction of how good this meal was.
We spent the rest of the weekend with friends and family relaxing and eating lots. I did very little cooking considering. I made this wonderful green bean casserole and an apple pie. Yesterday Shawn was in a short film so I had the day to myself. I spent it watching British period dramas, knitting and sewing. It was pretty nice to not have to worry about work and projects for a whole day.
When I was a kid, after every school break I would make a list of all the cool things I did in my time off filled with movies I'd watched or things I'd made. This year if I made a list, the two biggest things would be finishing the binding on our wedding quilt (which took FOREVER) and hanging up some clothes that have been sitting in our bedroom for about a month. Pretty simple, but a major relief to have finished at the same time.
I hope everyone had a wonderful holiday. What would you put on your list?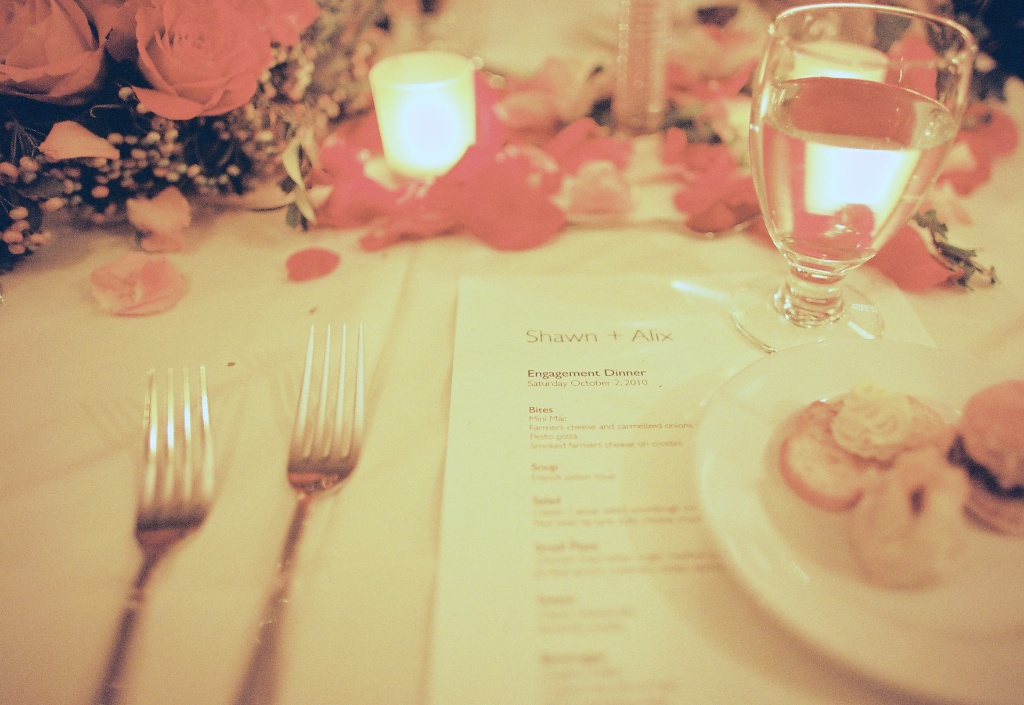 It's been a crazy weekend. The Brainwashed Love screening was Friday. It was such an amazing experience. The theater was packed and we got such good responses from everyone. So exciting! More about that later though…
Since most of Shawn's family lives out of state, we thought we'd make the weekend a double feature and have our engagement party on Saturday night. Oh the joy of throwing a bunch of people who don't know each other together in a room over food. Not to mention, hoping that the vegan meal you serve a bunch of non-vegans will convince them that the wedding food is going to be awesome as well.
Luckily, we had a secret weapon…Madeleine Bistro. We chose the most gourmet of vegan restaurants in Los Angeles as the venue for our dinner. It was outstanding and everyone was more than impressed.
We started with a selection of appetizers. I tried them all. They all were awesome. They included the mini mac, farmers cheese and caramelized onions in filo, pesto pizza and smoked farmers cheese on crostini. Oh man.
I just realized how hard to write this post is going to be. This food was so good. I'm salivating.
Each was a perfect little burst of flavor and taste of what was to come. I was particularly impressed with the farmers cheese, which was smoky, rich and left me wanting more and more.
I think the big hit of the bunch was the mini mac. A cute, bite sized burger with all the flavors of the full size version.
The next course was a french onion soup. One of my favorite soups that it so hard to find vegan. I loved the thick bread soaked in the savory soup.
We were lucky to have gorgeous flower arrangements made by Shawn's uncle, Gordon. He showed up to the restaurant and surprised us by decorating the tables with these lovely flowers and candle before we arrived. It looked amazing and really made the dinner just that much more special.
On to the next course. We had a choice of either the red beet tartare or a ceasar salad for our guests. Both Shawn and I had the red beet tartare. I can't believe I haven't ordered this off the menu before. It was SO good. The beets were sweet,  magically creamy and perfectly matched with the crispy croquette. Even the oil and vinegar drizzle on the plate was superb.
But wait…there's more! For the next course, we again had a choice of two items. Shawn ordered the chicken fried seitan with rustic mashed potatoes, pan gravy and vegetable medley. I'm pretty sure Madeleine bistro makes the best seitan ever. Especially the chicken fried seitan. It's simultaneously crunchy and moist. It's like the perfect southern meal, made vegan.
I went for something new to me, the grilled lemon rosemary seitan with a savory crepe and black kale. Again, the seitan was fantastic. It had a light sauce and was so juicy. The crepe was mind blowing. I'm not even kidding. Filled with asparagus and a sort of cheesy filling, it was unlike anything I've tried anywhere else.
Finally on to dessert. I was so full at this point (but pleasantly full, mind you). Shawn had the cheesecake.
I went for the brownie sundae. It was everything I could have dreamed for in a dessert. Chewy, chocolately brownie with sweet ice cream and a decadent fudge sauce and a touch of fruit sauce. Loved it. So much.
We made it! Stuffed and happy and families introduced! Success!
It was really a special night for us and I'm so glad that we were able to impress our guests with such wonderful food. A few family members admitted that they had backup plans if they didn't like the ominous vegan food, but in the same breath told us they loved everything they had. I love being able to show people that vegan food can really be wonderful and delicious and break through any misgivings they might have.