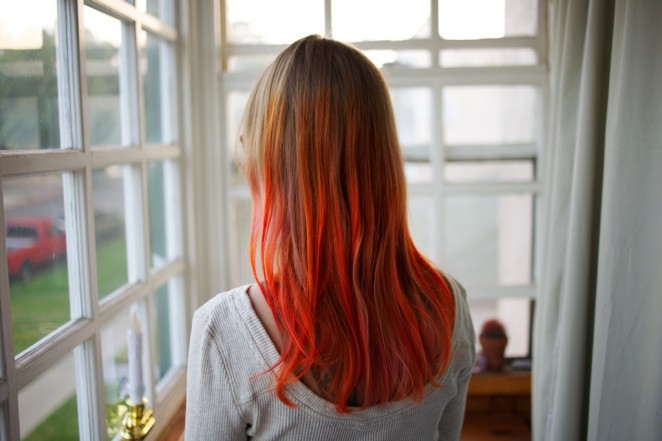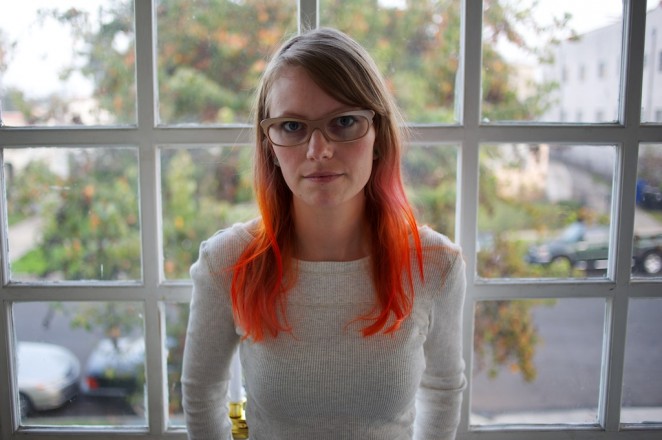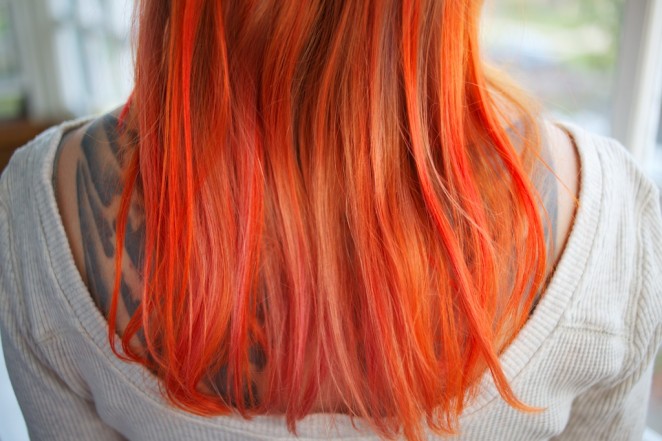 After much deliberation, I dyed my hair this weekend. Orange isn't new to me, but this time I added a little pink and just dyed the ends. Since I haven't bleached my hair in about a year and a half, I knew the ends would still take color but the top would turn out muddy, so I just skipped it. The orange is ultra bright, while the pink is not so much. I'm curious how it will all fade. Anyway, it's not at all permanent, just a fun little thing to do for the winter. I used Special Effects in Napalm Orange and Cupcake Pink.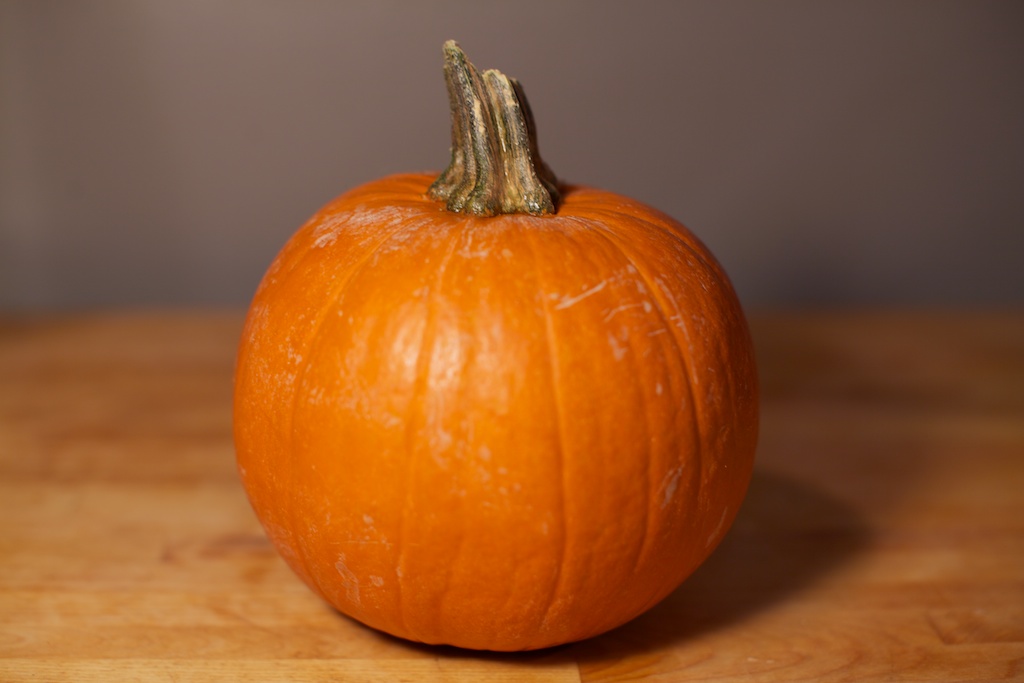 It's pumpkin season. Hooray!
This is the year I had to actually roast one, not just get the puree from a can.  I wanted to make something different than the usual pumpkin bread or the like.
I would like to introduce you to my version of pumpkin curry…also lovingly known as the orangest of orange curries.
So it started innocently with this little pumpkin. It was sliced in half, all it's guts removed and then placed face down on a baking sheet.
Baked in a preheated oven for about 45 minutes until it was tender and  left it to cool.
Then the fun part…peeling the skin off. Well, I thought it was fun.
Then this pumpkin got chopped up and ready to meet it's other orange friends…
Two sweet potatoes. (Also appropriately chopped for the occasion.)
Even an orange cauliflower showed up for the party.
Where was I going with this?
Sorry I was hypnotized by the swirl of coconut milk and curry paste.
There's all the orange veggies having a party in a pot. Making curry love. Ok, that's creepy.
Some carrots were supposed to come to this party too but they may have been eaten on the way there.
Oh dear. I think it's past my bedtime. I'm writing about vegetable parties.
Here comes the recipe!
Orangest of Orange Pumpkin Curry
1 roasted pumpkin innards
2 sweet potatoes chopped
1 head of orange cauliflower
2 Tbsp coconut oil
3 gloves of garlic, minced
2 cans of coconut milk
1/3 cup curry paste, or more if you like
1 cup vegetable broth
Heat oil in a stock pot over medium heat. Add garlic and curry paste and stir to combine for about a minute. Carefully add the coconut milk and then the vegetable broth and stir together. Add in the pumpkin. I decided to smoosh it in, but you could leave it as chunks if you preferred. Add in the remaining chopped vegetables.
Let simmer covered for about 30 minutes, stirring occasionally. When your veggies have softened, remove lid and simmer for 5 to 10 more minutes.
Serve over rice.
Yep, more muffins, coming right your way. I now go to the market and fantasize about what I can create in these little baked bites of joy. Today I went with an uncomplicated recipe…orange muffins. These muffins are deliciously fragrant and perfect for any time of day. The brown sugar glaze gives just a hint of sweetness but these would also be great with some Earth Balance and marmalade.
Orange muffins
2 cups flour
1 tsp baking soda
1 tsp baking powder
½ tsp salt
¾ cup orange juice
1/3 cup apple sauce
½ cup sugar
zest of one orange
Brown Sugar Glaze
½ cup brown sugar
½ tsp vanilla
2 Tbsp water
Preheat oven to 375° and grease muffin tin or fill with muffin liners.
Mix flour, baking soda, baking powder and salt in a medium bowl. In a separate bowl, combine orange juice, apple sauce, sugar and orange zest fully. Pour the wet into the flour and stir gently. Mix until barely combined allowing for a few lumps.
Scoop into the prepared muffin pan filling each cup about 3/4 full. Cook for about 20 minutes. The tops should spring back when touched.
While the muffins are cooking, mix the brown sugar, vanilla and water in a small sauce pan over medium heat, stirring until sugar is fully dissolved.
Allow muffins to cool slightly and remove from pan. Dip the tops of the muffins in the glaze and allow to soak for a second. Let dry for a second and enjoy warm.
Now wasn't that easy? Are you starting to enjoy muffins as much as I am? No? Ok, well I could go for some suggestions. I've got a few more up my sleeve, but what's your favorite muffin? Think about it and get back to me…I'll be here makin' muffins in the kitchen.