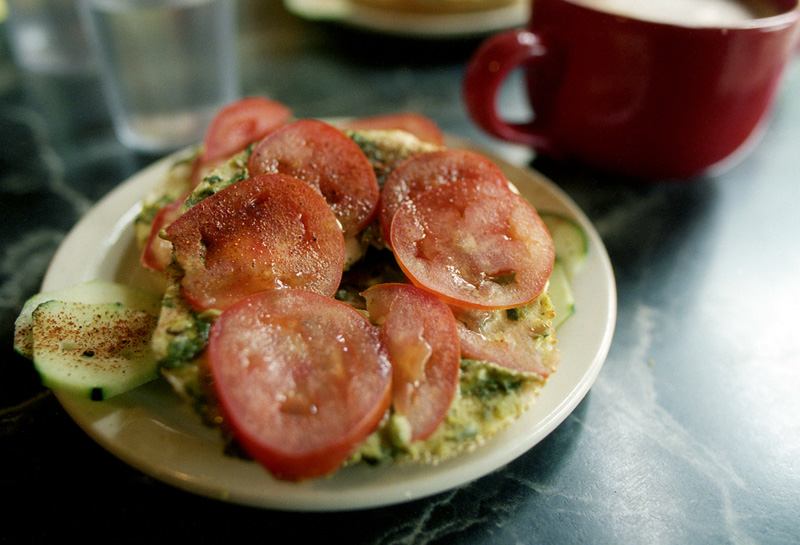 This is the bagel that started my recent bagel obsession. Sesame bagel with avocado, pesto, tomato, cucumber and spices made fresh at Red and Black Cafe in Portland. Perfect ingredients. Perfect breakfast. Plus a tasty latte to go along with it.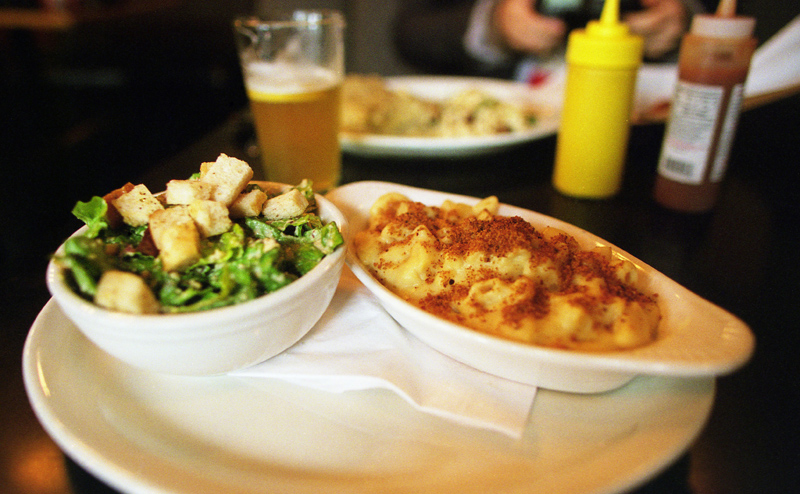 So let's talk about macaroni and cheese. I love it. It's been a favorite of mine forever. Isn't it a favorite of everyone's? As far as vegan mac and cheese, I've had some good ones but they're usually nothing spectacular. Don't get me wrong, there are some damn tasty mac & cheezes out there, but not usually something that I would order frequently. I'm a big fan of the plain old Shells and Chreese out of the box. This mac and cheese from Hungry Tiger Too was an exception to the rule. This was the perfect cheezy consistency with big soft noodles and wonderfully tasty breadcrumbs on top. The ceasar salad that came with it was pretty darn good too.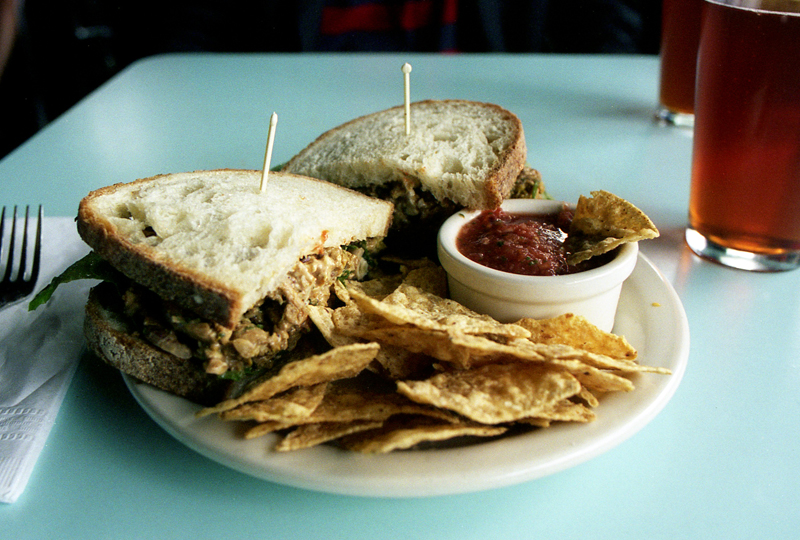 Last but certainly not least, this tasty "chicken" salad sandwich from the Bye and Bye hit the spot for a snack to go with our drinks. I've already mentioned how much I loved the Bye and Bye. It's awesome to order something that is outstandingly delicious while enjoying a beverage and their lovely atmosphere.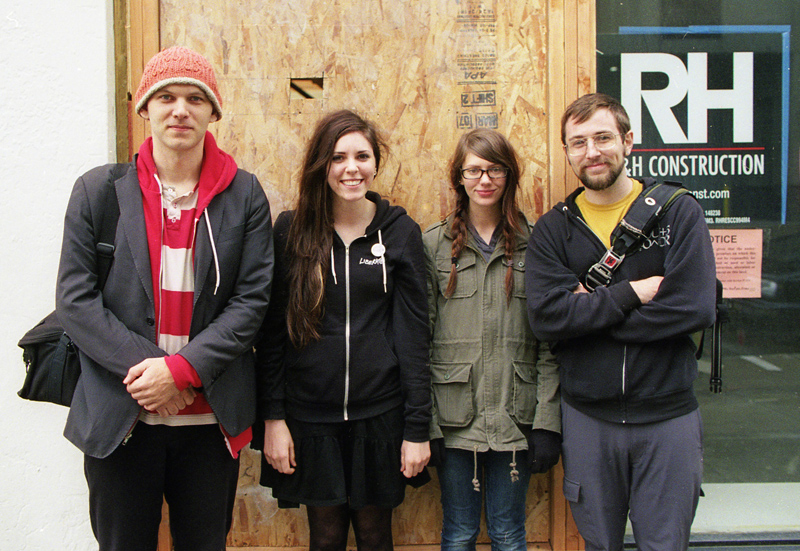 Ok this isn't food, but I wanted to give a little shout out to Julia, Angel and Austin who we ran into outside of Powell's books. When I say ran into, I mean, they started shouting "Little Vegan Planet" at us. Apparently they're readers of Shawn's blog and they recognized us. Honestly, I thought it was awesome. Not to mention they gave us the scoop on some vegan spots in Portland that we should try and were just super nice!
You should really check out Little Vegan Planet if you haven't already as Shawn has the scoop on everywhere we ate on our trip. And if you've seen it already, he'll be posting more in the next few days. Not to mention it's the cutest ever.
I realize August is not really the ideal time to be making scarves, but sometimes it's just nice to not have to follow a pattern. I bought this yarn a little while ago from Knit Cafe in West Hollywood. It is a organic dyed cotton from blue sky alpacas and it is amazingly soft and easy to work with. I absolutely adore it and will definitely use it again despite it's price. It was only $10 a skein but I have a habit of buying inexpensive yarn. I went with a simple moss stitch in alternating greens.
And because I cannot seem to stay out of the kitchen recently, I had quite a few different food experiments this weekend. Most of them, while edible, did not go as well as expected. In the end though, all my mistakes were completely overtaken by the fact that I made the best vegan pizza I've ever had. Now that is really saying a lot because I have a mild addiction to the pizza dough from Trader Joe's and have made countless variations from tons of fake meat to vegetable overload to barbecue and most things in between. This pizza was a simple pesto, tomato and vegan mozzarella on wheat crust. I'm usually not a fan of the wheat crust as it tends to come out a bit dry, but all the oil in the pesto seemed to counteract that. This thing was definitely greasy, but well worth it. The cheese even melted! This alone would excite any vegan. In any case, I ate almost the whole thing. I attempted to make this last weekend but had a minor disaster with the pesto. The adapted version of the recipe is as follows.

Vegan pesto
1 bunch fresh basil (about 2 cups)
3/4 cup olive oil
1/2 cup pine nuts
1 tsp salt
1 1/4 tsp lemon
2 cloves chopped garlic
Throw it all in a food processor and blend.