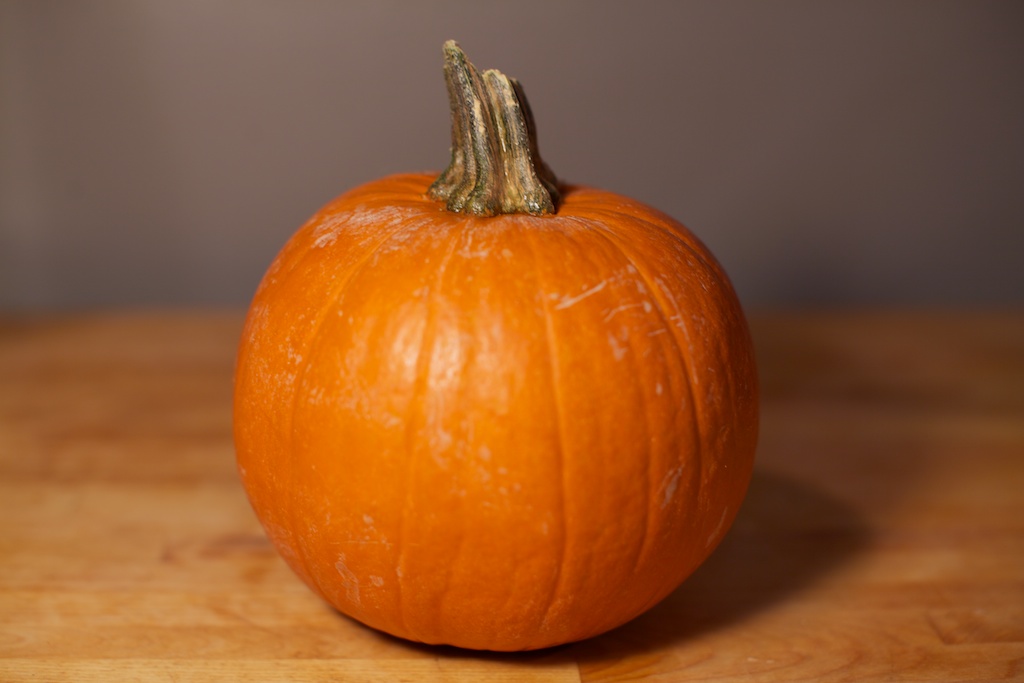 It's pumpkin season. Hooray!
This is the year I had to actually roast one, not just get the puree from a can.  I wanted to make something different than the usual pumpkin bread or the like.
I would like to introduce you to my version of pumpkin curry…also lovingly known as the orangest of orange curries.
So it started innocently with this little pumpkin. It was sliced in half, all it's guts removed and then placed face down on a baking sheet.
Baked in a preheated oven for about 45 minutes until it was tender and  left it to cool.
Then the fun part…peeling the skin off. Well, I thought it was fun.
Then this pumpkin got chopped up and ready to meet it's other orange friends…
Two sweet potatoes. (Also appropriately chopped for the occasion.)
Even an orange cauliflower showed up for the party.
Where was I going with this?
Sorry I was hypnotized by the swirl of coconut milk and curry paste.
There's all the orange veggies having a party in a pot. Making curry love. Ok, that's creepy.
Some carrots were supposed to come to this party too but they may have been eaten on the way there.
Oh dear. I think it's past my bedtime. I'm writing about vegetable parties.
Here comes the recipe!
Orangest of Orange Pumpkin Curry
1 roasted pumpkin innards
2 sweet potatoes chopped
1 head of orange cauliflower
2 Tbsp coconut oil
3 gloves of garlic, minced
2 cans of coconut milk
1/3 cup curry paste, or more if you like
1 cup vegetable broth
Heat oil in a stock pot over medium heat. Add garlic and curry paste and stir to combine for about a minute. Carefully add the coconut milk and then the vegetable broth and stir together. Add in the pumpkin. I decided to smoosh it in, but you could leave it as chunks if you preferred. Add in the remaining chopped vegetables.
Let simmer covered for about 30 minutes, stirring occasionally. When your veggies have softened, remove lid and simmer for 5 to 10 more minutes.
Serve over rice.
Los Angeles is burning. I just thought I'd start with that. Ok, Los Angeles itself is not burning, but there happens to be a number of huge fires burning right next door, filling our city with a thick layer of smoke. Air quality has actually reached hazardous. Let's not forget, the temperatures have repeatedly hit triple digits. Needless to say, this is not the part of summer that people relish in.
It also happens to be birthday season. You all know that everyone gets busy between Christmas and New Years so this happens to be a popular baby week. Guess what that means…birthday parties! My friend Jannatha's birthday was this week and we had a sushi party (which is probably one of the best parties you could possibly have). I think it's been about a year since I've made sushi myself, and though that was good, these veggie rolls were amazing.
Since there are tons of places to find instructions on how to make sushi yourself online, I'm going to just give a few hints to making your sushi even more awesome. First and foremost, I insist you try something new. Being that I'm an LA native, I've been eating sushi since I was two years old. Yet, somehow I've never had a sweet potato roll. How is it that I've missed out on such an awesome kind of sushi? It's so freaking good. Sauteed and sprinkled with a bit of brown sugar and hot sauce, it rivals my sushi favorite (avocado, is still the best though I think). So on your next sushi excursion, throw in a vegetable you haven't  yet tried wrapped in rice and seaweed.
My next suggestion perhaps goes a bit against conventional sushi wisdom. Put loads of veggies in your rolls. This can potentially make your rolls fall apart a bit easier, especially when dipping in soy sauce, but do it anyway. More veggies mean more great flavors. Try different combinations of crunchy and soft. Try different colors mixed together. Just make sure you press your rolls extra tight.
Don't forget the extras. One of the things that makes going out to a sushi dinner so special is not just the sushi itself, but all that comes along with it. Get some Japanese beer, perhaps some sake too. Whip up a little bit of miso soup. Many Japanese snacks are vegan too. I'm personally totally addicted to some seaweed crumble things that are sweet and salty and to die for. Definitely don't forget the wasabi. If you're afraid of wasabi, get some anyway. Mix a little in with your soy sauce and try it out. Even if you have too much, it stops being spicy after a second. Honestly, just try it.
Last but certainly not least, stuff your face with sushi! I guess you should save some room for dessert though. We had red velvet cake, as every birthday needs a good cake (or cupcakes). Despite the summer heat and fires and ash falling on us, the evening was cool enough that we could eat outdoors. The best part about sushi is that besides the rice, you don't have to cook anything if you don't want to. You end up with a cool summer meal that is much more filling than a salad, and generally speaking, way tastier. Now get to it, go make some sushi!
p.s. Thanks to Jannatha and Kyle for not only being awesome sushi party hosts, but also for letting me steal photos from them. 🙂