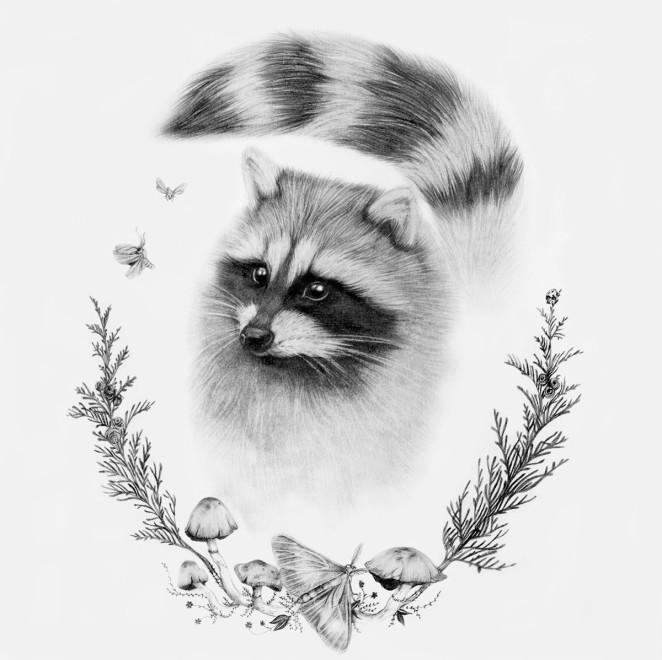 This year I settled on my Halloween costume early, and yet I still haven't made any progress in putting it together. If you haven't guessed already, I'm going to be a raccoon! One of my favorite costumes in recent history was being a deer and I think I'd like to make something equally low tech and comfortable.
The raccoon print you see above is from the BurrowingHome etsy shop. Not only does she have some beautiful drawings but there are also some amazing temporary tattoos made from her art.
I've been looking for some ideas for how all I'll construct the costume, even though I've got the basic idea in my head already. There are lots of cute kid's raccoon costumes but for some terrible reason all the adult costumes I've found so far have been in the "sexy" category. Seriously people, there is nothing sexy about raccoons.
With lots of projects on the slate this month I'm hoping to pull this costume together in an afternoon. Can it be done? I hope so. What are you going to be for Halloween?
This past week I came across this beautiful lace tattoo by Watson Atkinson and sort of fell in love with the idea. I don't often get tattoo ideas, even though I'm really attracted to the artistry of tattoos. When I do have an idea, I just sort of sit on it for years until I figure it out, decide if it really make sense for me. Other ideas floating around in my brain besides this one: a bright, colorful jellyfish and the Twin Peaks the log lady has.
There's something about the lace that just makes sense to me though for reasons that are not easy to explain. Something about turning blemishes into design. I know white tattoos don't stay so clear and I'm fine with that. I actually like how my tattoos have faded over time, which is weird I guess.
This tattoo would definitely be a big step though, as I would want it on my forearm. Despite having nearly my entire back tattooed, it's easy to cover with just a tee shirt. Since I was young I have thought of my skin as a canvas, but in some way I feel like tattoos as for myself and not necessarily for display.
Anyway, no real plans at the moment (don't worry mom & dad!). Like I said, I'll probably just ponder this for awhile.
I have so much to tell you! I've been completely consumed with crafting for holiday presents. I'm attempting to wrap all my gifts in reusable gift bags this year. That means that even for the gifts I'm not making, there's still a bit of work put in to each one. The worst part is, I can't even show off the gifts I've made yet in case any of the recipients read this blog. Don't worry though, I'll have some recaps after the holidays with some reviews and such.
Besides the hours devoted to sewing and the like, I do have some exciting news. Cupcakes from Vegan Bake Sale are now available at Meet Market in Silverlake. I just delivered the first order of Cookies & Cream, Peanut Butter and Pumpkin Spice cupcakes. Go get some! It will probably be your last chance before the holidays.
This year is going to be my cats' first Christmas living with us. They're loving all the boxes they get to play with (and a few catnip treats). It's like cardboard box heaven for them. We adopted Meeme and Mochi on January 3rd of this year and they make me happy every single day. Seriously. I love them so much. Part of the reason I want to bring this up is that LA animal services is offering 50% off adoption fees for the holidays. Not that the fees are even very high to begin with, but it's just that much more incentive to open your home and heart to one of these animals in need. If you're considering getting an animal this year, I urge you to turn to the public animal shelters as these are usually the animals at highest risk of being put down. Not to mention they make it extremely easy for you to adopt.
Oh there's so much more to say, but it will have to wait a little while still. Till then…