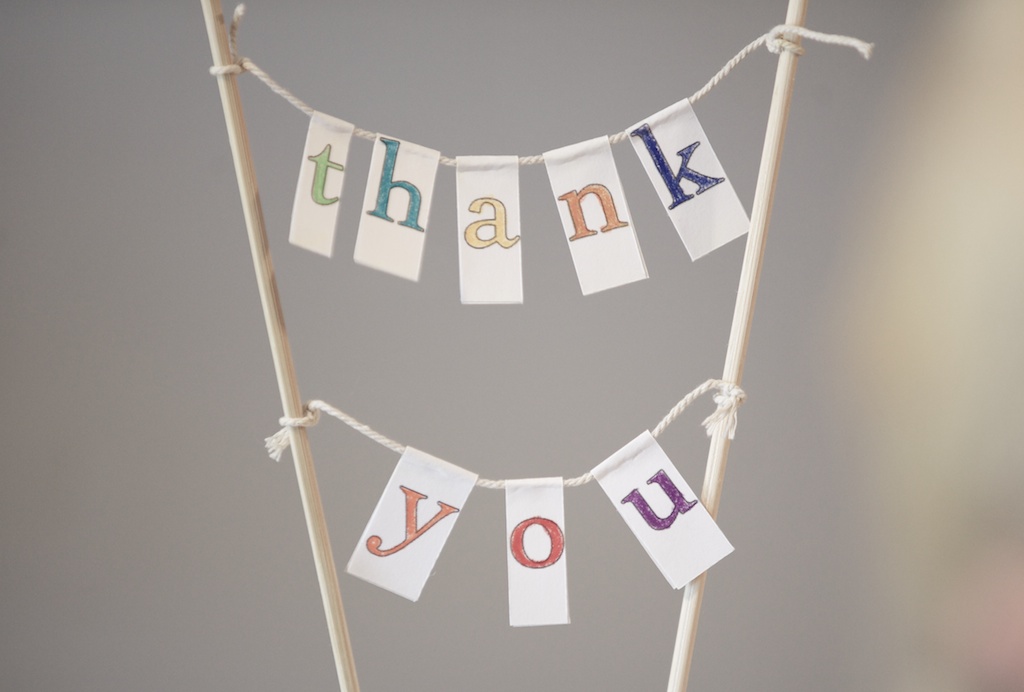 Sometimes you need to say thank you. For the times that people go way out of their way to help you. Or when someone works endlessly on a project. Sometimes you need more than a card or an email.
That's where these little cakes come in. Because nearly everyone loves a cake just for them.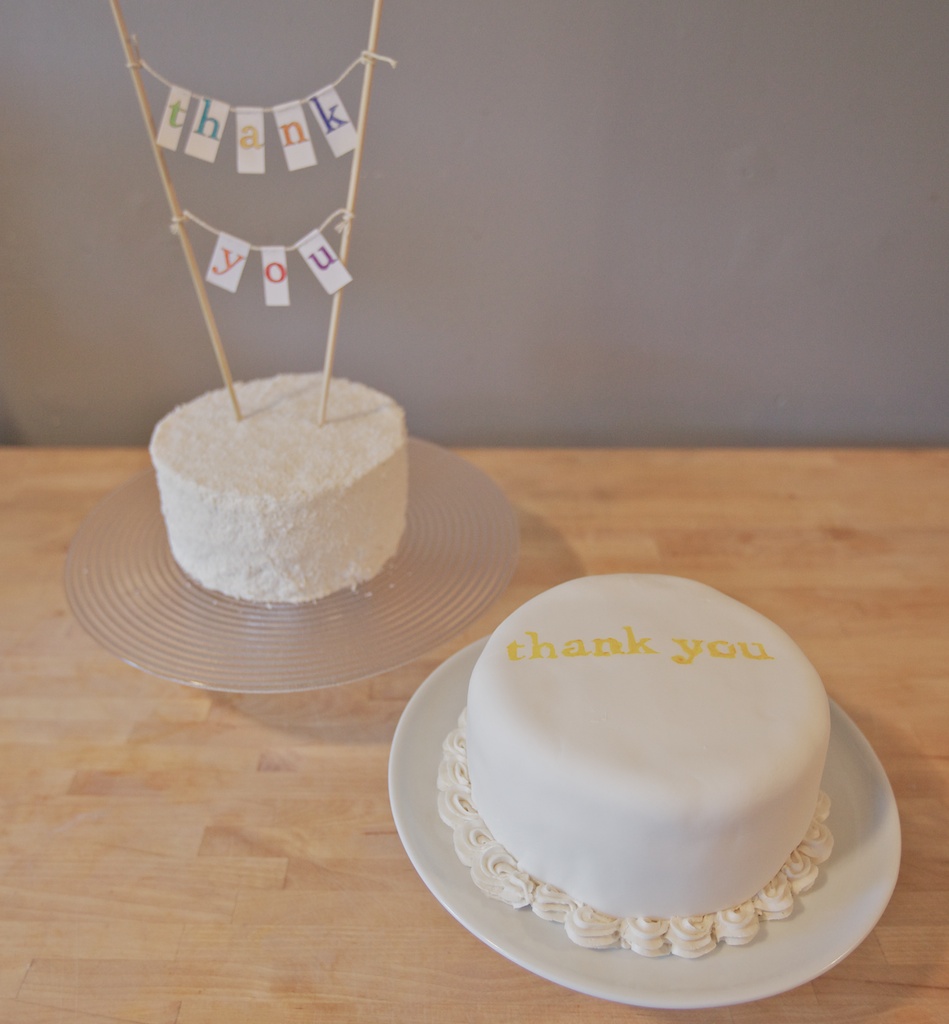 I wanted them to be a little more than just a cake though; to really communicate the message. Rather than just the typical butter cream writing on top, I thought I'd try something a little more fun.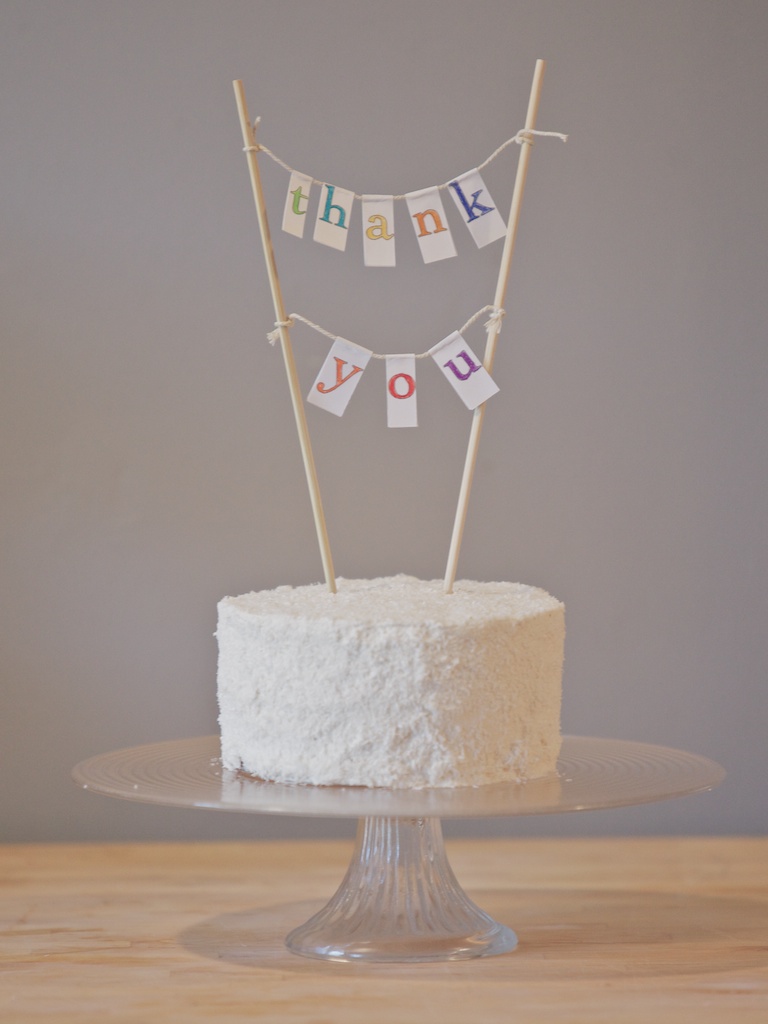 I made some simple, colorful bunting for a coconut cake for Shawn. He's been working endlessly putting the finishing touches on Brainwashed Love and I thought he needed a little reward. The bunting was perfect because it allowed me to completely cover the cake with coconut, which I've learned, makes the cake difficult to decorate on top.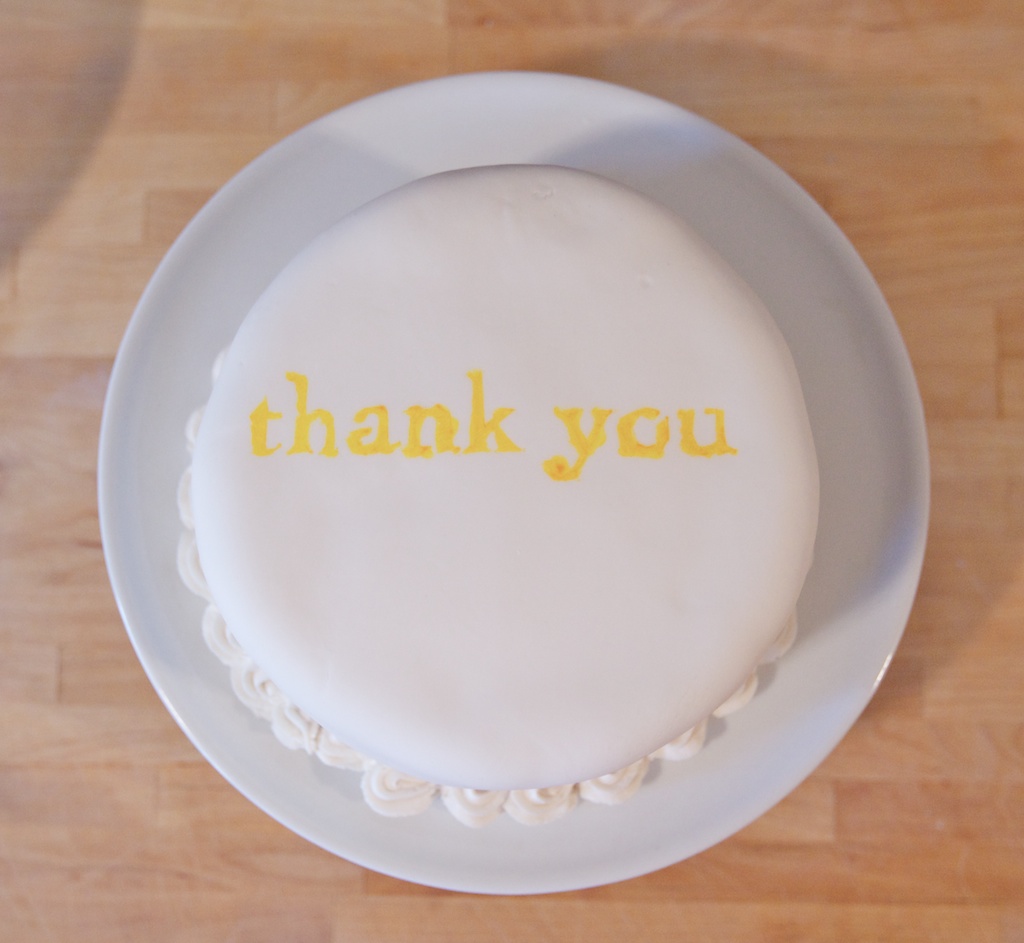 For the second cake, I tried my hand at creating a fondant covered red velvet cake. I've used fondant for flowers and such but had not yet covered a complete cake. I sure did need a lot of muscle power to roll it out but I'm pretty pleased with how it turned out, considering the horror stories I've heard. It wasn't perfect, but still adorable. I stenciled on the thank you, using just plain paper that I cut with an exacto and some yellow food coloring.
I did a test of my stencil on another piece of fondant, just to make sure. It turned out  perfectly, but caused my actual cake to look a little blobby. Still a success though, I think.
I wanted to say thank you. Thanks to everyone who reads this blog. Though I technically started it in 2007, it was only in August of last year that I was really inspired to post with some regular frequency as well as improve the quality of the blog itself. In the past year I have tried to work on the quality of every aspect of the blog, by improving the writing, photos and content itself. So thanks for coming back and commenting and inspiring me even more.
Thank you to all the bloggers out there who I am able to share a sense of camaraderie with. Thanks for writing thought out reviews, sharing your well crafted recipes and posting drool-worthy photos. Thanks especially to all of you in Los Angeles who I've been lucky enough to share a meal with and dork out on vegan food.
Thank you all for being vegan, and if you're not, for at least being interested enough that you might try it out. Thanks for being someone who I don't have to explain why I don't like bacon to or why I get plenty of protein and calcium without meat and dairy. Thanks for loving food as much as I do and caring about animals/your health/the earth/whatever your reason is to make the right choices about what you consume.
And and extra big thank you to Shawn (yeah that's Studiodrome in case you were confused) for being the most awesome boyfriend ever. Thanks for taking so many of my photos and teaching me how to be a better photographer and letting me borrow your camera even at really annoying times. Thanks for testing all my crazy recipes and letting me ask you detailed questions about every dessert instead of just letting you enjoy them. Thanks for telling me stories from your vegan journey and making me more confident. Thank you for getting excited about all the things I do. <3