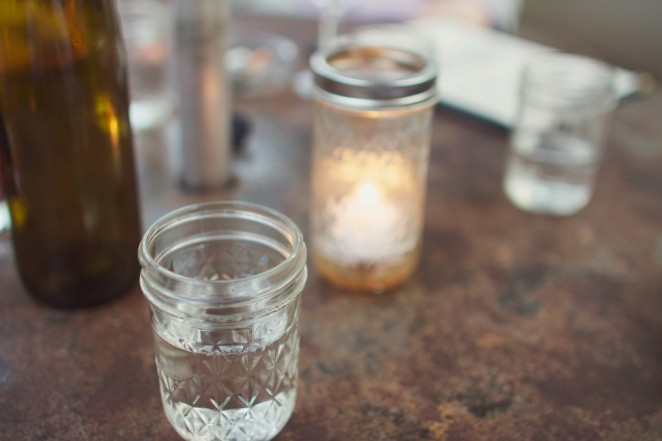 With a schedule full of film watching in Austin, I didn't expect to do a ton of restaurant sampling. Shawn, on the other hand, plotted out the best places to go based on everyone's recommendations. Thank goodness for a husband that balances out my movie madness, since some of the meals were not to be missed.
Possibly my favorite of the restaurants was Bouldin Creek where I had two of the most delicious breakfasts. The first, a vegan benedict, was so good I insisted we go back another day. I'm not sure exactly how they prepare their tofu, but it is amazing: seasoned and lightly coated in nutritional yeast. Their potato cakes are also worth a mention as they're far beyond any hash brown I've ever had.
I was also a big fan of Veggie Heaven. In particular the tangerine mushrooms were the kind of thing I crave often. It is the sort of dish I see on a menu in many places but never lives up to what I'm imagining in my head. Yet, these saucy & perfectly breaded mushrooms were everything I hoped they would be. The steamed buns were also very good. Let's not forget the bubble tea, it was the best.
We also happened upon this adorable place that had just opened called Hillside Farmacy. There were only a couple of vegan options on the menu, like the soup of the day, which happened to be carrot cardamom, but the interior is lovely and they have Stumptown coffee and a bar. It's definitely worth a visit just to check out the beautiful renovation they've done of the space, and of course, have some coffee. I wanted to live inside this shop.
Not only does Austin have some lovely vegan friendly restaurants, there are also some very nice bars with mixed drinks I love. The drink menu and atmosphere at the East Side Show Room was by far my favorite. And of course, as I mentioned before, Austin will now be known to me as the first place I ever tried boba and subsequently fell in love with it.
Even though we'd visited Austin before, it was great to go to a completely new set of restaurants and food trucks. Can't wait to go back and try some more.
Perhaps one of the best breakfasts I've had in as a vegan (perhaps in my life even) was at Madeline's Bistro. Though I'd heard about this little restaurant in Tarzana as being the only real gourmet vegan restaurants in the Los Angeles area, it took me ages to finally go there. Finally, one Saturday when Shawn and I had to make a trip out to the far reaches of the west valley, we made Madeline's our breakfast destination. The thing that enticed me the most was the promise of vegan beignets. Beignets are a rare treat on their own, but I'd never even heard of a vegan version. I had to have them. Of course I was not disappointed. The beignets were crunchy on the outside but fluffy on the inside. Instead of being covered in the standard powdered sugar, they came with a fruit compote. They were amazing. I could write this whole post just about those beignets. I wish I wasn't writing this right now because now I want to go eat them. Ok, moving on. We also got the donut which was equally as satisfying. Without a doubt the best vegan donut I've ever had, soft and fluffy and delicately sweet.
Shawn ordered the chicken and waffles. Luckily I got to sample some. The chicken was a breaded seitan that was to die for. Again, quite possibly the best seitan I've ever had in my life. It was perfectly seasoned and well matched with the potatoes and gravy. The Belgian waffles were thick and crunchy. They definitely had a healthier taste to them with a nutty, grainy flavor.
I ordered the porcini-crusted tofu benedict since I am obsessed with vegan benedict. This was a pure delicacy. The hollandaise was lightly flavored and the whole thing was perfectly seasoned. It was an amazing combination of vegetables and tofu with just enough sauce to compliment the dish without overwhelming it. In other words, it was amazing.
I really was so impressed with everything that we had. If you're going to try Madeline's, you must go for brunch. It's honestly not that far from where we live, but just far enough that we pretty much only go for special occasions, which is perfect.