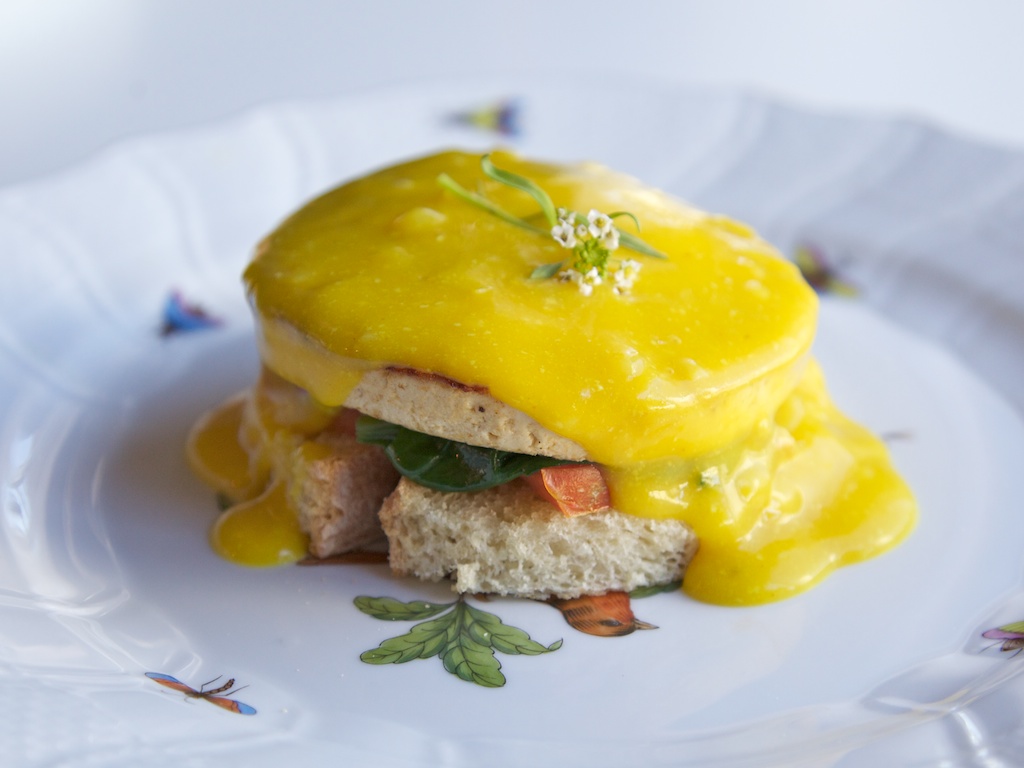 After seeing two awesome bloggers post scrumptious photos of the Tofu Benny from Vegan Brunch
I knew I had to make it. Not to mention I'm slightly obsessed with making tofu benedict.
I was super impressed with every detail of this recipe. It was all timed out so that you could serve it up without having to wait for one of the elements to be finished. It was particularly good for me at the moment as I am working on my mise en place in the kitchen
Mostly I was surprised at how much this sauce was like hollandaise made with real eggs. It had that stretchy elasticity of raw egg that is rare in a vegan dish. Honestly it was kind of freaky, but definitely cool.
I just happened to wake up particularly early this past Sunday and used the opportunity to marinate the tofu needed for the recipe so that it could all be prepared by the time everyone was awake.
I opted to use some thick toast instead of the home style potato option, mainly because I love toast. I also added in a bit of steamed spinach, just for fun. Spinach is fun, right?
The tofu was awesome, I was able to grill it up with breaking it or getting it stuck to the bottom of the pan (for once!). I had a nice light flavor that was complimented well by the hollandaise sauce and the hint of liquid smoke on the tomato.
I would say that this is probably the most authentic vegan tofu benedicts that I've had. I'd be interested to try it with some sort of vegan ham. I enjoyed the tomato, but perhaps would like to grill it up a bit. In fact, I think I'd just like to try a million different versions of vegan benedict and have it for brunch every weekend.