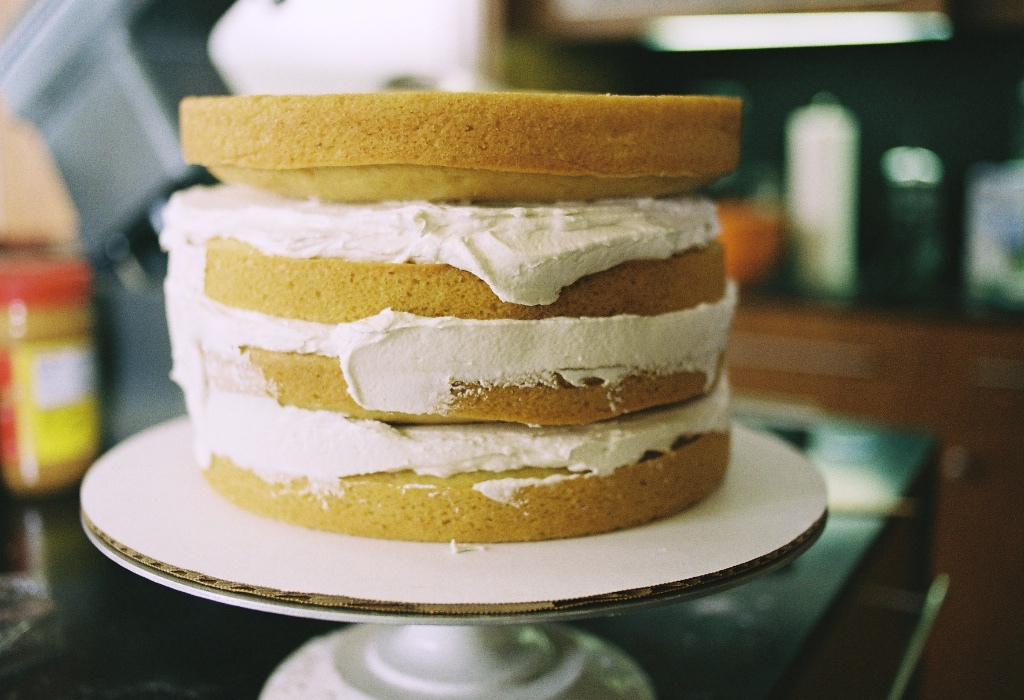 Hello dear friends! We're back from our honeymoon which means back to blogging for me. I hope you all enjoyed the guest posts while I was away.
With everything that happened in the past few weeks, I've got lots to share. There were many adventures on our honeymoon. There were many fun times with our visiting family and friends. And of course, there was the wedding. So I'll have lots of details and treats in the next few weeks for us all to nibble on while we wait for the official photos from the wonderful Liesl at Photo Pink (I've seen just one photo so far, and it's stunning and I can't wait for the rest).
I want to tell you all about everything, the food, the music, the rain, the craziness and all the fun, but it just won't be the same without photos I think, so I'm going to string you along a little bit longer. Not to worry though, the road to the finish will be highly entertaining and delicious.
Let's start with cake, shall we?
Perhaps you recall, I chose to make our wedding cakes. Yes cakes, plural. There were eight of them.  I took over my mom's kitchen for 2 days and made a huge mess. We spent one day baking and one frosting more or less.
When I say that I made eight cakes, I really mean I made about 24 (or 30, I lost count), since each cake was several layers. We made 10 chocolate cakes, in 3 different sizes alone.
Luckily, I had lots of help in the kitchen to get everything done. Robin, Agatha & Shiri, some of my oldest friends, came in from out of town for the wedding and spent their extra time preparing frosting and measuring ingredients for me. I would not have been able to do it without them. I put Robin to work as soon as she got off the plane. Shiri and Agatha were also kind enough to actually drive all the cakes across town to the wedding.
Many cakes were made, and even more frosting. Vanilla frosting, chocolate frosting, espresso frosting, peanut butter frosting. More than I needed it turned out.
I made a raspberry sauce for one of the cakes. It's one of my favorites, as it's sweet and tart, with only a few ingredients. I also made a chocolate ganache to top a few of the cakes, but something went terribly wrong along the way. This is the sort of thing that happens when you are making a ton of cakes at once, and also trying to organize the final details of a wedding. So there was no chocolate covered cake, though I wish there had been.
Here are the beginnings of a little coconut cake. With these cakes being a bit taller than usual, I reinforced them with some wooden dowels. A few were still a little wiggly though.
Despite everything being rushed, I was happy with all the cakes except for one. If only that chocolate ganache hadn't turned to chocolate fudge, it would have been lovely. Instead this cake was a chocolate raspberry mess. I couldn't leave it alone even with the reassurances of my friends. Alas, despite my best efforts, it remained a mess. It tasted awesome though.
So for the record, I have no regrets making the cakes. Even with all the time it took, I wouldn't have had it any other way. Nearly everyone told me that they tried a few flavors and loved all of them. Every single cake was completely eaten by the end of the night. I would say that's a wedding cake success.