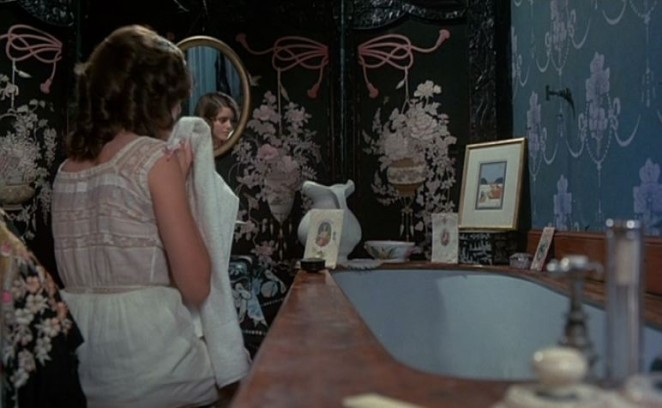 There are a few films that strike me on some level beyond just getting wrapped up in the story. Sometimes, films capture a time period with such cinematic beauty that I wish I could time travel to these fictional lands and spend the day there. Or longer, perhaps forever. Often, I'd like to leave the drama behind and just soak up the atmosphere and wardrobe, even though I know it is the story that makes these places so believable. So let's journey for a moment into a few of the films I wouldn't mind living in.
Picnic at Hanging Rock
What I wouldn't give to spend the day at Appleyard College for girls. It might be strict but I'm head over heels for all the beautiful Victorian decor. So much lace and ruffles and flowers. I adore the layers upon layers of detailed decoration, from the elaborate wallpaper to myriad of photos displayed in every room. The girlish romance tied with the worrisome darkness makes this film irresistible.
The Incredibles
The Parr family, aka the Incredibles, have the best furniture. That's the long and short of it. I love how the film created such an on point mid century style for their home even though the story itself is timeless. Of course, while the interiors are extreme, Edna's house on the hill has an utterly classic modern style. I guess you can have whatever you want in the world if you're animated.
Days of Heaven
There is almost too much I could say about Days of Heaven as it is such a stunningly cinematic film, and one I absolutely adore. The contrast of vast open fields with the remnants of turn of the century decor sets the scene for the characters' dilemma. Yet it is the starkness of the landscape mixed with the few ornate details of luxury that make this setting so appealing to me. Or perhaps I just want to live in the magic hour.
There are so many more films I want to live in, so there will be another edition on the way for sure. Are there any films you want to live in?