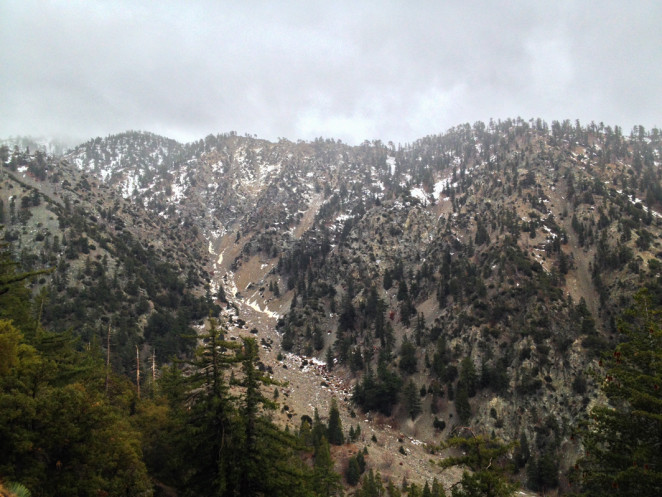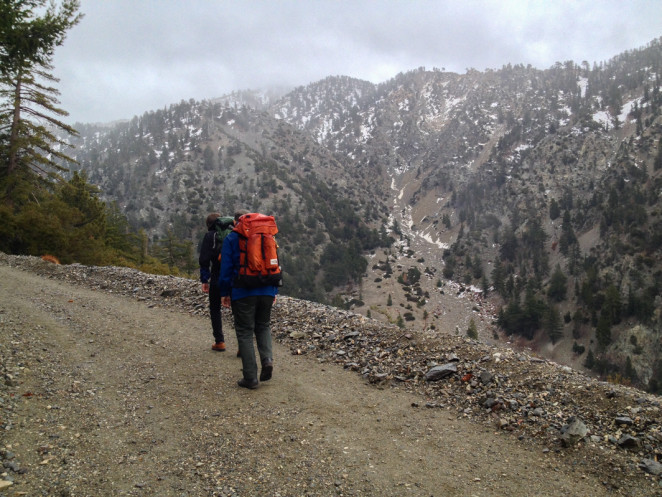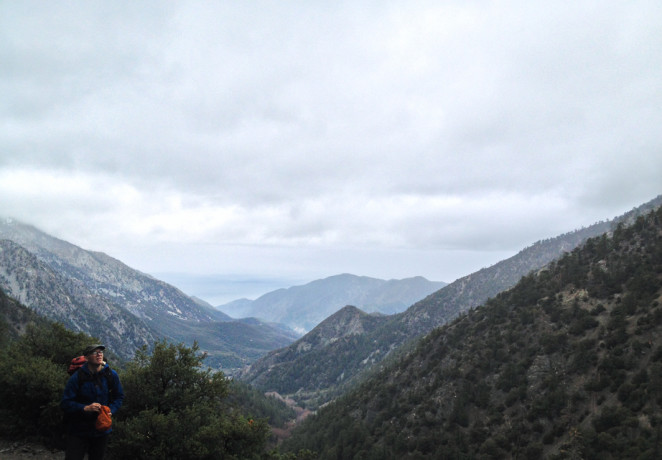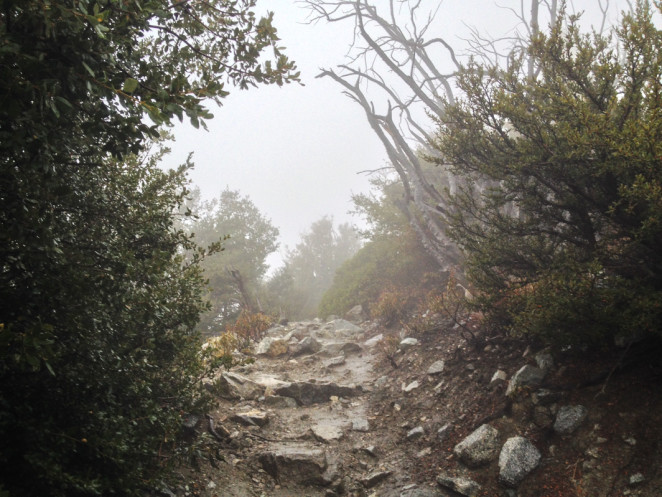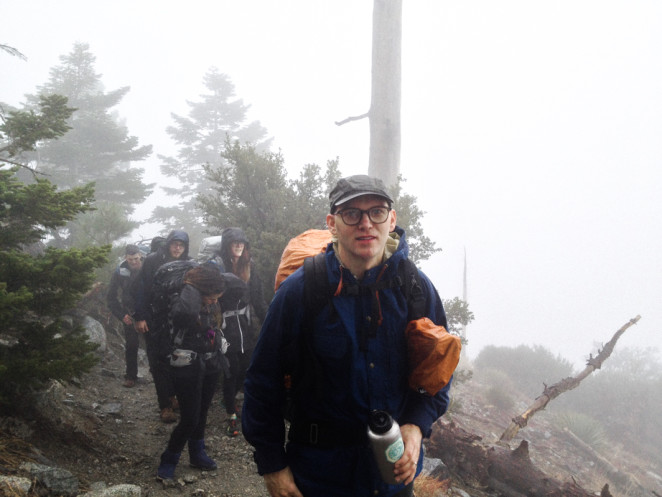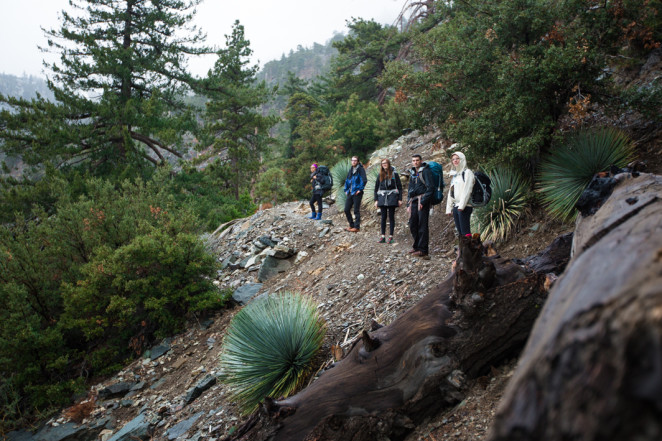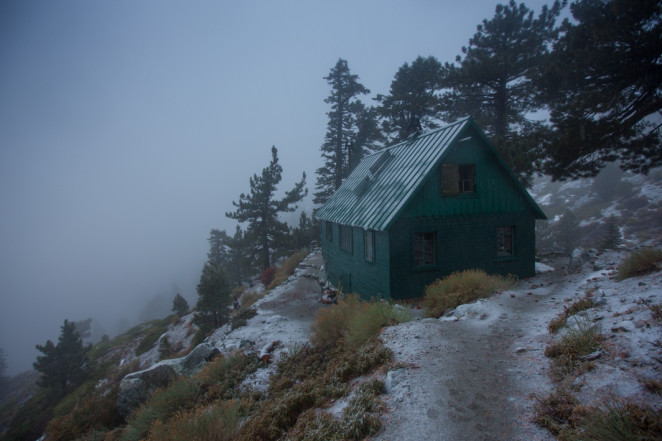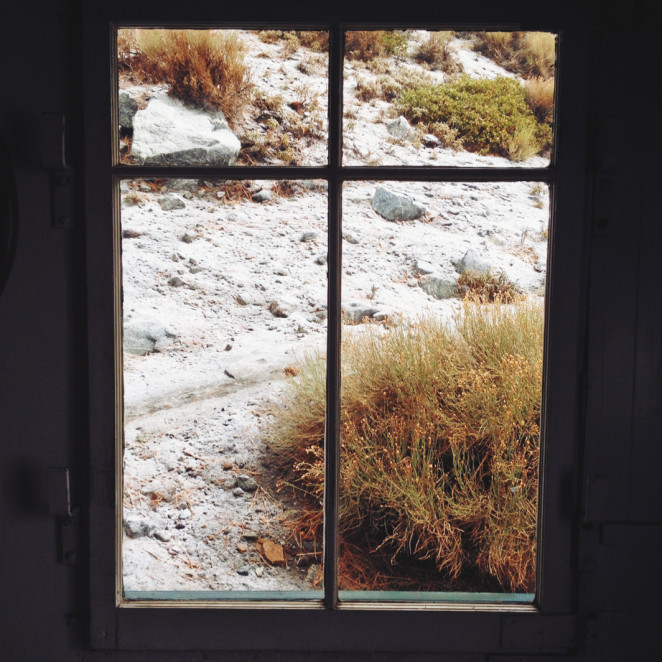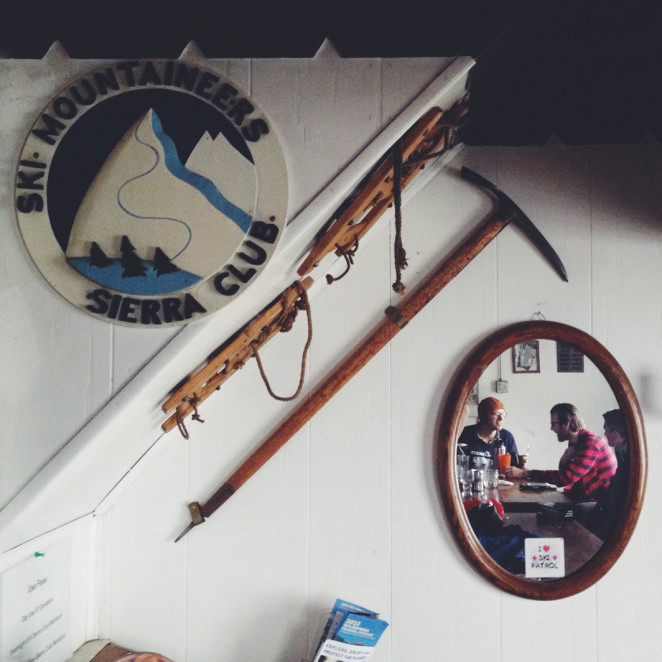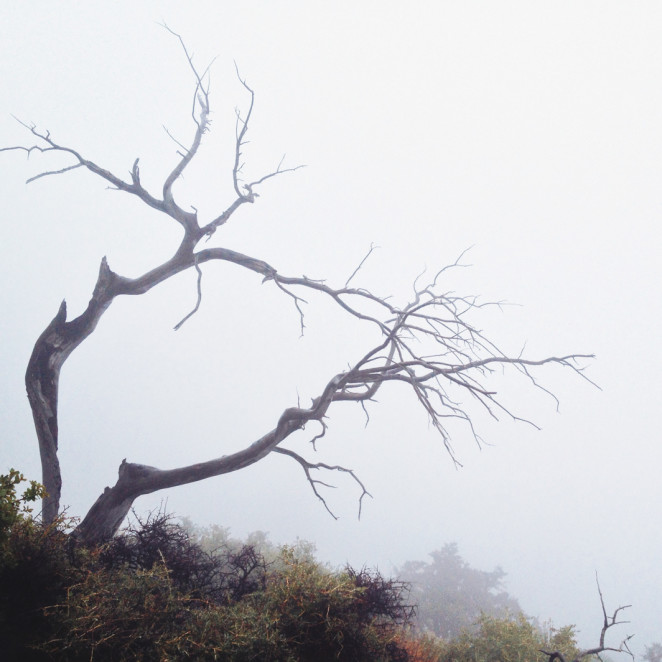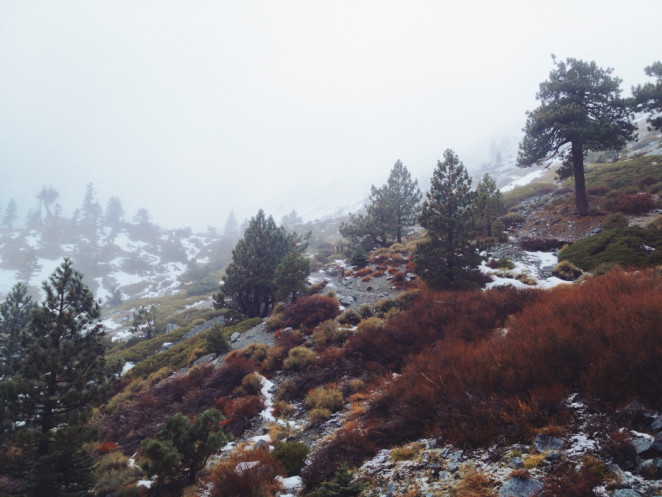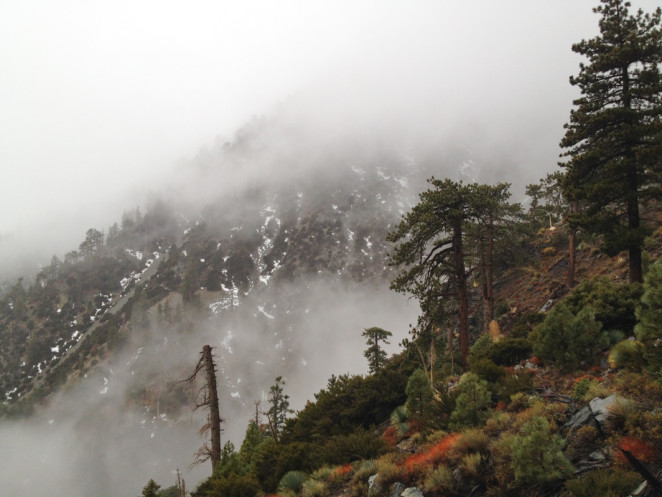 In keeping with our new tradition of going on adventures for any celebration we can, we recently went on an excursion to the Mt. Baldy Ski Hut for Shawn's birthday. Though we had hiked to the summit of Mt. Baldy over the summer, we thought staying at the hut would be a perfect winter trip. Mt. Baldy is fairly close to Los Angeles and though the hike is steep, it is relatively short (about 3.5 miles) giving us a lot of time to hang out in the cabin.
We set out on an early January weekend in the rain. After so many dry months it still feels novel to have any sort of precipitation here in Southern California. The air was cool and damp and perfect for hiking. I imagine many people don't like hiking in the rain and I can understand in certain circumstances it would be unpleasant or dangerous, but I personally found it particularly relaxing. It's much nicer to have a soft chill in the air when you're hiking up a mountain than the oppressive heat and sun that is the norm here. The clouds and mist moved up and around the mountain so we often found ourselves enveloped in fog while other times you could see far into the Inland Valley.
As we hiked up in the late afternoon, many of the other hikers were heading down and seemed excited that we were spending the night in the ski hut. The hut is run by the Sierra Club and is open most weekends for day visitors or overnight. You have to bring some regular backpacking supplies with you, such as a sleeping bag and food, but much less than you would need for a regular backpacking trip. When we arrived, we found several other hikers staying there along with the cabin hosts. It was a lively and festive crowd and though we kept mostly to ourselves, being the introvert crew that we are, it was was fun to be there with others.
I really fell in love with this little hut and the cabin lifestyle. There are two wood stoves, one in the living area and one in the kitchen, always burning, keeping the cabin toasty. Each had several kettles of water boiling and perfect for making tea or hot cocoa whenever you you might want. The water in the cabin is piped in from a spring and is continually flowing through the kitchen. While purifying water is easy, having a fresh flowing stream was a luxury. It took awhile to get used to the idea that the water was forever flowing through the sink as my instinct is to turn off any wasted water.
Now I have to say, I'm in the habit of going pretty simple with food when we go on adventures as to not have to carry additional weight or cook complicated meals. Some of the other guests really went the extra mile though, making chili with fresh cornbread and chocolate chip cookies. Knowing how easy it is to cook up there, coupled with a relatively short hike, I'd definitely bring more exciting fare next time. We did, on the other hand, bring a cookies and cream cake which we assembled on site. The whole cabin joined in singing happy birthday to Shawn. We passed the evening playing cards and games, while others played guitar or just chatted.
We slept in the bunk beds upstairs. Even with one of the windows open it got terribly warm until the early morning when the fires started to burn out. At 8,200 feet, I was a little worried about how the elevation would affect me as it can sometimes make me quite ill, but I didn't seem to have too much of a problem, I think mostly due to drinking lots of water and perhaps a midnight snack. When I woke in the morning, I looked outside to see that it was snowing. I went downstairs to find that even in the faint morning light, there were already a few hikers that had made it to the hut on their way to the summit. The snow lasted only awhile before turning back to rain, then to snow again. It was still terribly exciting.
Shawn cooked up his signature breakfast of tofu scramble and vegan maple sausages and we were off down the mountain. It was raining quite a bit more than the prior day and we only encountered a handful of hikers going up, mostly folks hoping to do some mountaineering at the summit. The descent was fast and it wasn't long before we were on our way home again. A perfect winter weekend adventure.