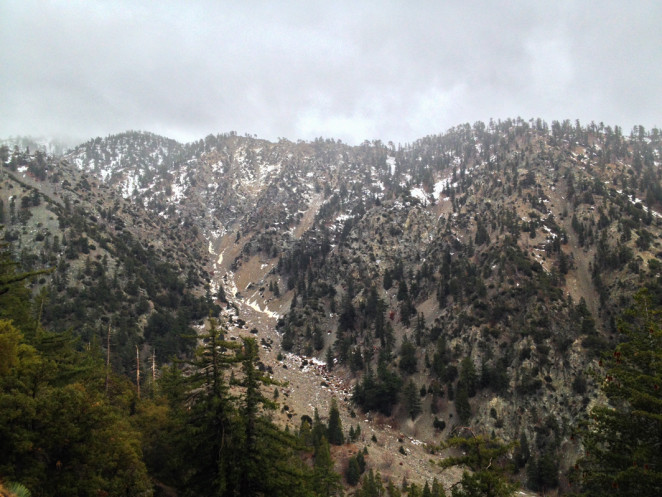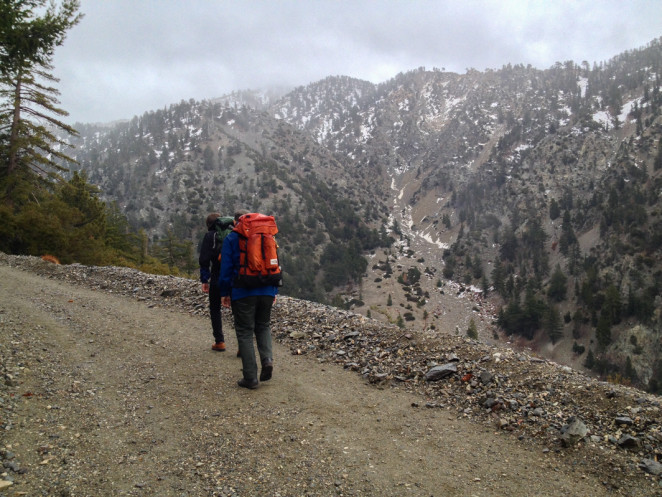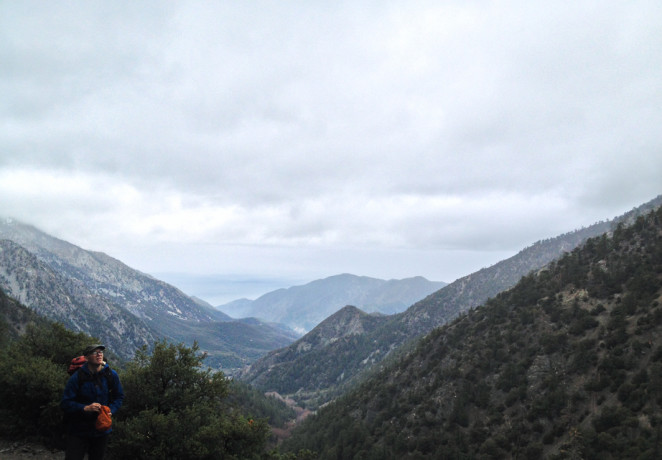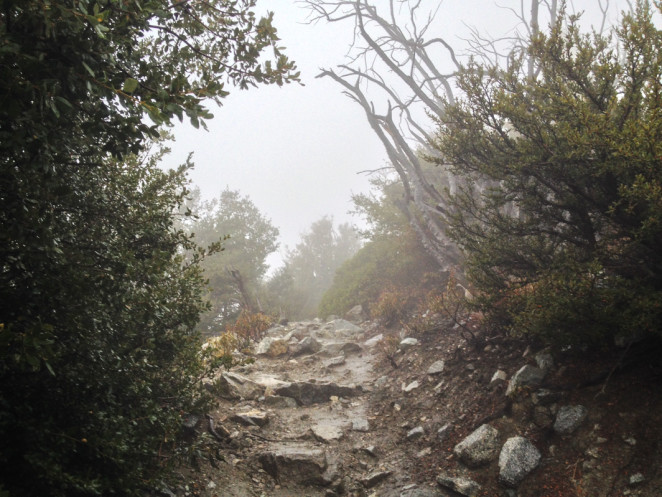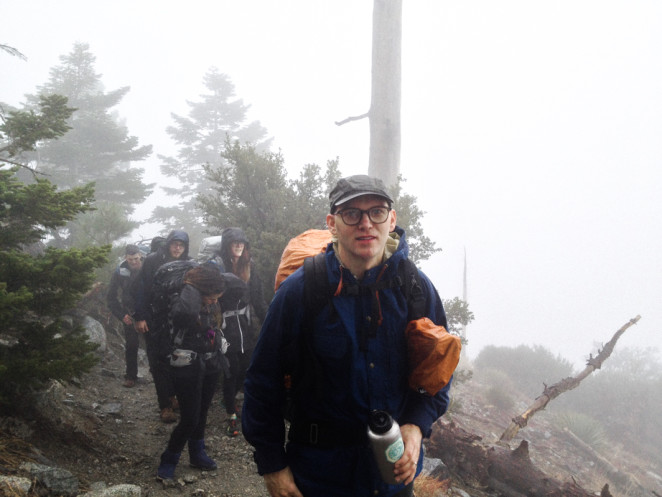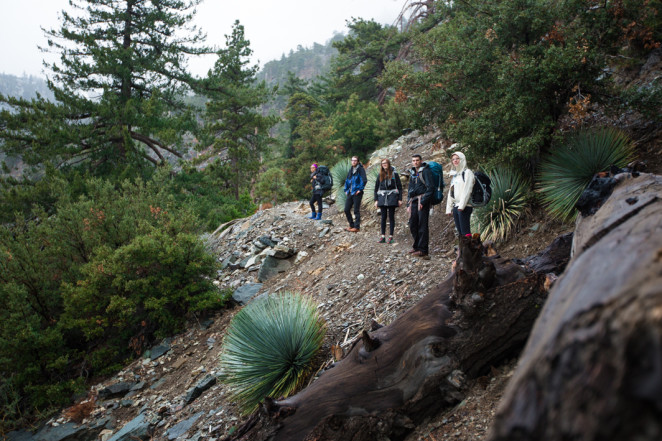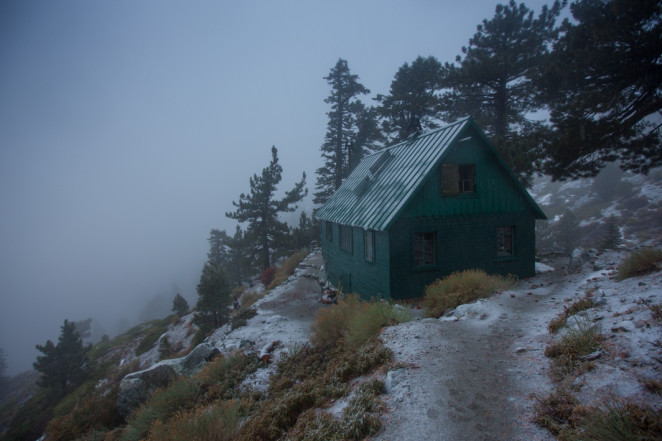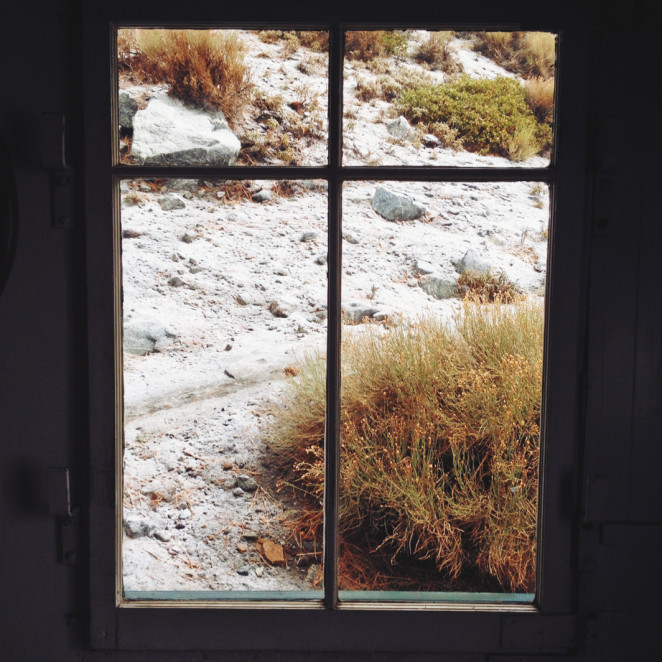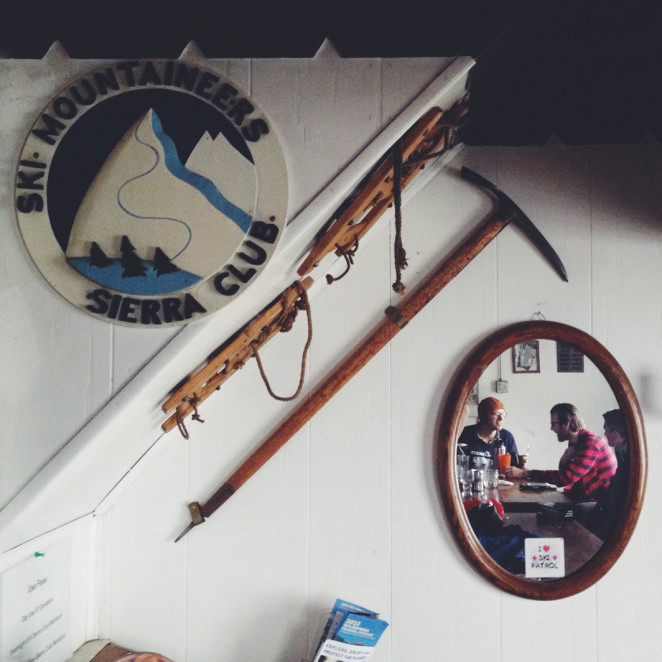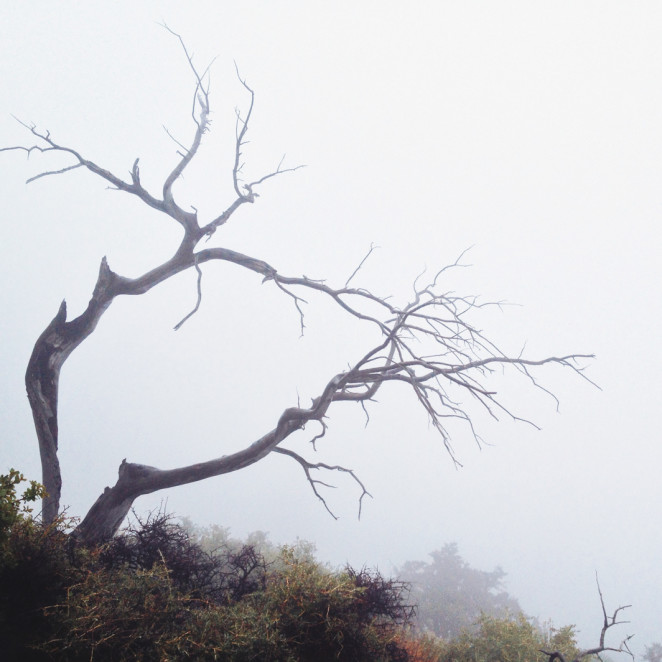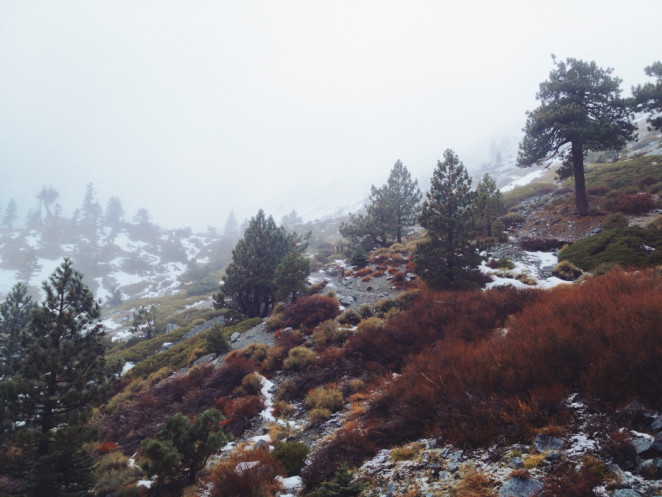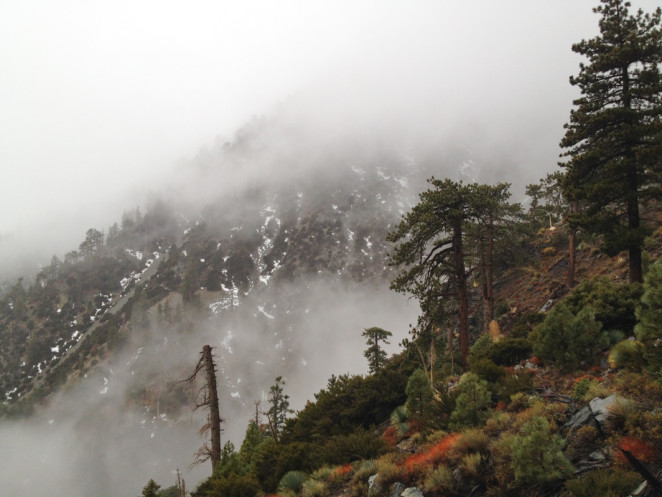 In keeping with our new tradition of going on adventures for any celebration we can, we recently went on an excursion to the Mt. Baldy Ski Hut for Shawn's birthday. Though we had hiked to the summit of Mt. Baldy over the summer, we thought staying at the hut would be a perfect winter trip. Mt. Baldy is fairly close to Los Angeles and though the hike is steep, it is relatively short (about 3.5 miles) giving us a lot of time to hang out in the cabin.
We set out on an early January weekend in the rain. After so many dry months it still feels novel to have any sort of precipitation here in Southern California. The air was cool and damp and perfect for hiking. I imagine many people don't like hiking in the rain and I can understand in certain circumstances it would be unpleasant or dangerous, but I personally found it particularly relaxing. It's much nicer to have a soft chill in the air when you're hiking up a mountain than the oppressive heat and sun that is the norm here. The clouds and mist moved up and around the mountain so we often found ourselves enveloped in fog while other times you could see far into the Inland Valley.
As we hiked up in the late afternoon, many of the other hikers were heading down and seemed excited that we were spending the night in the ski hut. The hut is run by the Sierra Club and is open most weekends for day visitors or overnight. You have to bring some regular backpacking supplies with you, such as a sleeping bag and food, but much less than you would need for a regular backpacking trip. When we arrived, we found several other hikers staying there along with the cabin hosts. It was a lively and festive crowd and though we kept mostly to ourselves, being the introvert crew that we are, it was was fun to be there with others.
I really fell in love with this little hut and the cabin lifestyle. There are two wood stoves, one in the living area and one in the kitchen, always burning, keeping the cabin toasty. Each had several kettles of water boiling and perfect for making tea or hot cocoa whenever you you might want. The water in the cabin is piped in from a spring and is continually flowing through the kitchen. While purifying water is easy, having a fresh flowing stream was a luxury. It took awhile to get used to the idea that the water was forever flowing through the sink as my instinct is to turn off any wasted water.
Now I have to say, I'm in the habit of going pretty simple with food when we go on adventures as to not have to carry additional weight or cook complicated meals. Some of the other guests really went the extra mile though, making chili with fresh cornbread and chocolate chip cookies. Knowing how easy it is to cook up there, coupled with a relatively short hike, I'd definitely bring more exciting fare next time. We did, on the other hand, bring a cookies and cream cake which we assembled on site. The whole cabin joined in singing happy birthday to Shawn. We passed the evening playing cards and games, while others played guitar or just chatted.
We slept in the bunk beds upstairs. Even with one of the windows open it got terribly warm until the early morning when the fires started to burn out. At 8,200 feet, I was a little worried about how the elevation would affect me as it can sometimes make me quite ill, but I didn't seem to have too much of a problem, I think mostly due to drinking lots of water and perhaps a midnight snack. When I woke in the morning, I looked outside to see that it was snowing. I went downstairs to find that even in the faint morning light, there were already a few hikers that had made it to the hut on their way to the summit. The snow lasted only awhile before turning back to rain, then to snow again. It was still terribly exciting.
Shawn cooked up his signature breakfast of tofu scramble and vegan maple sausages and we were off down the mountain. It was raining quite a bit more than the prior day and we only encountered a handful of hikers going up, mostly folks hoping to do some mountaineering at the summit. The descent was fast and it wasn't long before we were on our way home again. A perfect winter weekend adventure.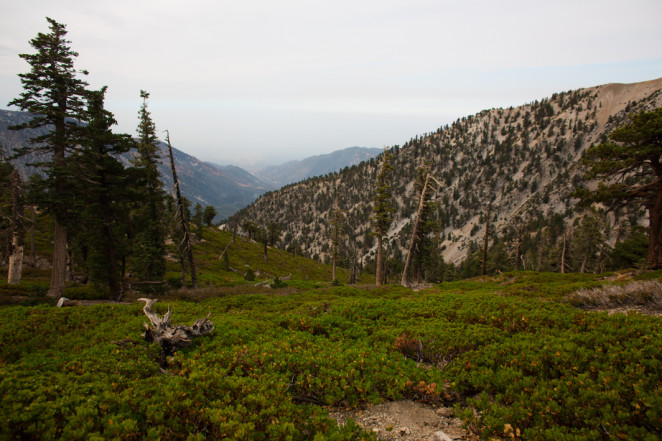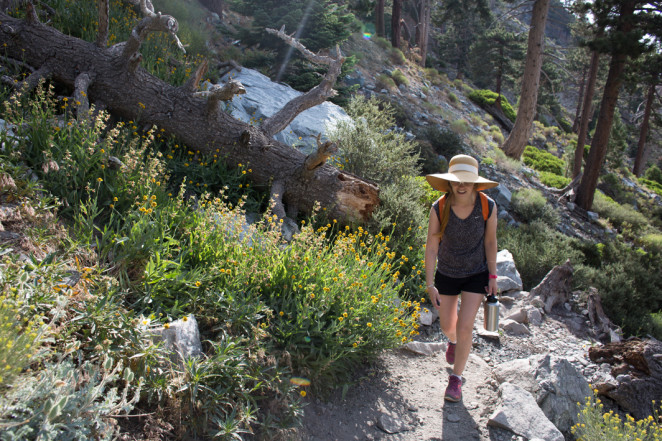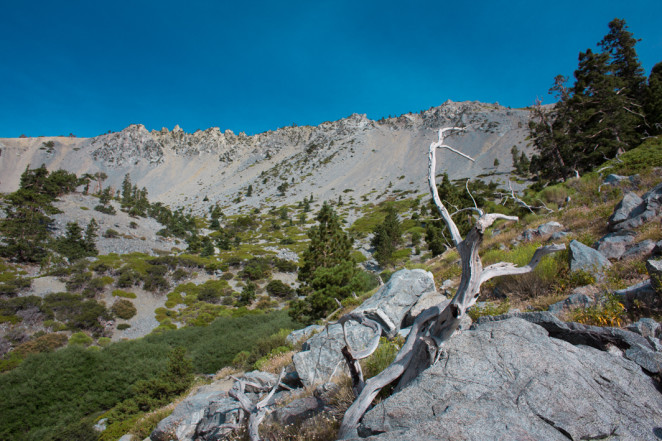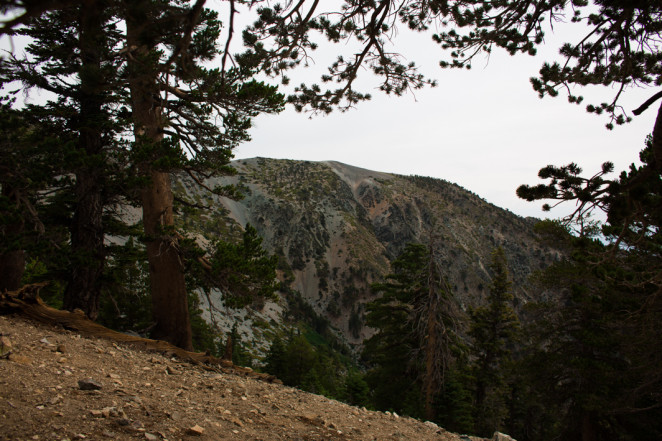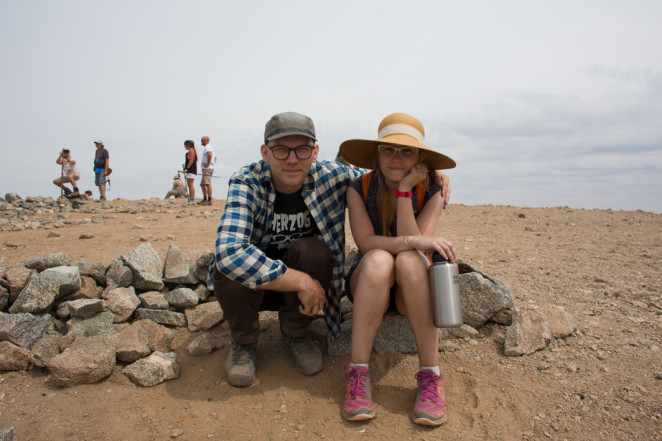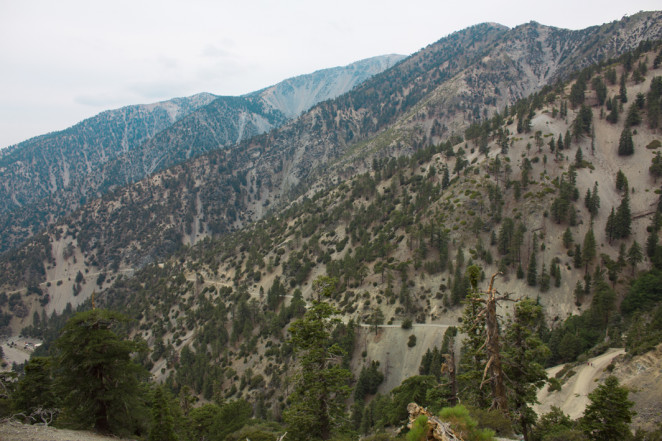 As you might be able to tell, I've been in love with hiking and backpacking all summer. In reality though, I'm not super athletic. I spend most days at sitting at a desk, letting my muscles atrophy. On our last few backpacking trips I've found myself rather exhausted when we arrive at camp. Hiking with a backpack is so much more difficult than just regular hiking. I've known for awhile that I need to start pushing myself if I want to go on longer expeditions.
A few weeks ago I got it stuck in my head that we should hike up Mt. Baldy, the highest peak in the San Gabriel Mountains. It would be a long hike (the loop trail is just over 11 miles) and also one that would challenge my fears about elevations as the peak rises above 10,000 feet. Shawn was shocked that I wanted to do the hike, particularly because he has been asking me for years to go up to the ski hut in the winter. I always firmly decline. It always sounded terribly strenuous, even though he often assured me the hut wasn't even at the top.
We started bright and early, trying to avoid hiking in the afternoon heat. Even at 7am there were numerous other hikers there, heading out onto the trail. I was nervous when we started but I psyched myself up for the day of hiking. As we started heading upward I saw the ski hut above us. I wasn't totally sure If I could make it to the top but I made it a goal to at least make it that far. It wasn't long before we had made it to the hut. There were lots of other hikers at this point. We stopped and had some snacks, then headed up the mountain. I still felt great and this propelled me forward up the mountain.
In the beginning of the hike, I had let others pass us since I am fairly slow. After leaving the hut, I felt energized and raced over the rocky path past groups. Though we were surrounded by people as we left the hut, everyone seemed to disperse as we made our way up. I kept repeating to myself onward and upward as a sort of incantation. We reached a section where people seemed to have cut trails in every direction. At one fork, we veered to the left and found ourselves curving around the side of the mountain. There was suddenly no one around.
We walked on but didn't seem to be going any higher. So of course, I was convinced we had gone the wrong way, knowing there are other trails in the area. My legs were starting to get seriously tired and the elevation was beginning to have an effect on me. I ate a fruit snack but it was so intensely sweet I couldn't eat more. It's strange how elevation can make things taste different. After walking for awhile more, we came upon the remains of an airplane crash. Finally we caught a glimpse of some hikers on a ridge above us and we cut up to meet them on the main trail.
Then it was just up and up and up. The trail was steep and I slowed down to a turtle's pace. Yet I pushed forward. At once point, we passed a few hikers coming down and a woman, I'm sure seeing how I was struggling, told me that we were only five minutes from the top. I couldn't even imagine the top at this point. My muscles felt like jello and my head like mush. I figured it was probably another 15 minutes and sure enough, five minutes later, another hiker heading down told us ten minutes more. The last five minutes felt like forever.
At the point where I could finally see the top, I sincerely felt like I could not make it that far. I also knew I had no choice so I just kept shuffling forward. Onward and upward. I wanted to cry (I didn't cry).
When we finally arrived at the peak I drifted around until I found a spot to sit. Everyone was relaxing, eating lunches, taking photos. I felt miserable. The elevation was hitting me hard. I wish I could say I felt triumphant at this point but I mostly felt like melting into the ground.
Not long after arriving we started our descent. I started to feel better as soon as we made it to a lower elevation. Unfortunately, the rocky trail down from the top was murder on my knee, particularly when my legs were already so exhausted. After awhile we stopped off to the side of the trail and ate burritos that we had brought with us. We were lucky in that the sky remained overcast so it was fairly cool for most of the day.
The descent over the devil's backbone trail was a beautiful one. In one section we walked along the ridge with views down to either side of us. Though my knee hurt significantly on the way down, my enthusiasm rose as we walked downhill. At one point, we saw the ski lodge off in the distance and it seemed so far away. Eventually the trail led us straight to it. We wandered around for awhile and I thought about previous visits to the lodge. I'd only ever been when everything was covered in snow and it was curious to be there in the dry summer. The restaurant was still full and many people were riding the ski lifts.
From there, we still had about another three miles to go. Three miles is nothing on a normal day, particularly walking on the wide flat fire road. Space seemed to expand, drifting on and on, and still I was ecstatic to be nearing the end. We sang songs that I could not remember the words to (singing in front of anyone, even just Shawn, is not something I do often, which just shows how elated I must have been) and walked and walked and walked. Luckily the smooth road was much easier on my poor aching knee.
As we closed in the on the end of the trail, we came upon a few hikers coming down from the other side playing Kraftwerk from a tiny speaker. We picked up our pace to catch them and then in no time we were at the bottom, the whole hike completed. I ran the last hundred feet to make it back to the start in under 8 hours (so slow!).
Afterwards I was quite tired and my knee hurt like hell, but I was also super excited to have completed something I wasn't sure I could finish. Despite being difficult and painful, I would do it again in a heartbeat. I know that besides the physical struggles, the hardest part for me is often in my own head. Knowing that I could accomplish something like this hike helps me combat some of the the things I often worry about. I did not feel well at the top, but I've certainly felt worse. I was able to climb nearly 4000′ in just 4.5 miles. I'm pretty happy with that alone.
I thought that after we finished the hike, we might relax for the rest of the weekend, lounge around and watch movies. Instead, we went on another, albeit much shorter and easier, hike the next day and it was great. If I could be hiking every day, I think that would be just fine with me.
photos by Shawn Bannon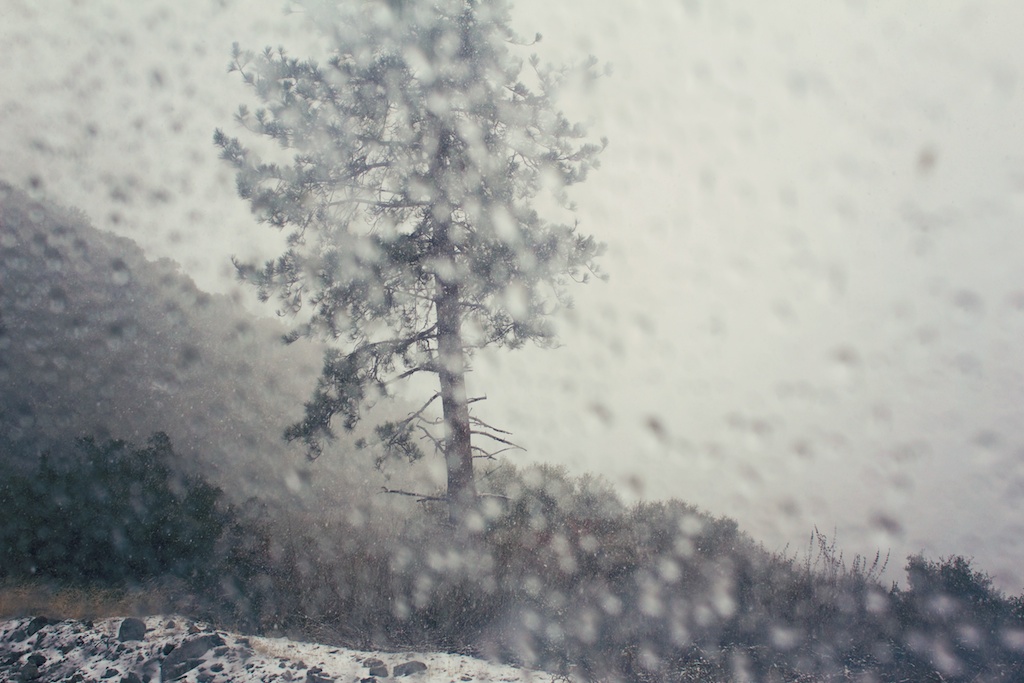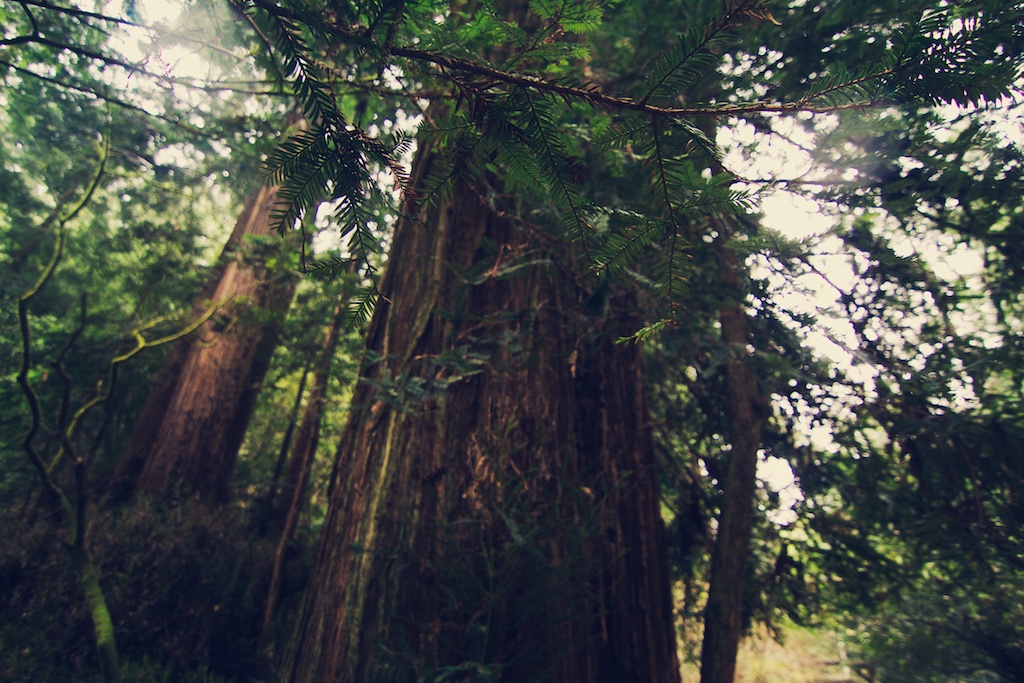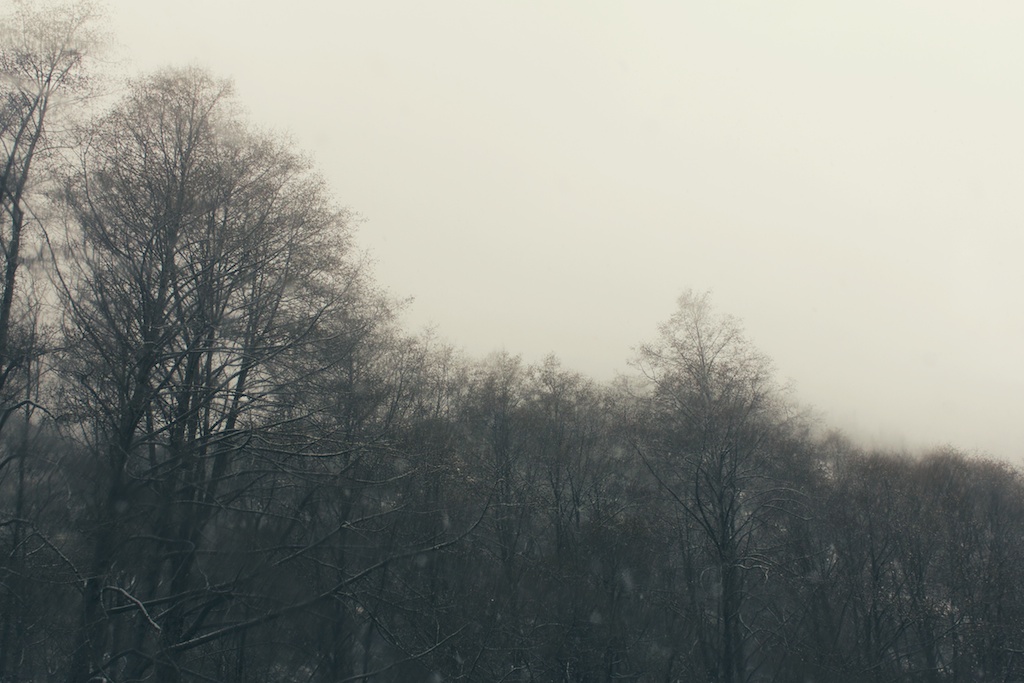 Two weekends in a row of tiny adventures. I supposed it's strange to want to spend most of the time outdoors when it's winter but I prefer cold to sweltering heat any day. (I never understand why people want to be out and about in the summer, I just want to hide in a cold, dark movie theater.)
We spent some time hiking in the snow at Mt. Baldy. It's still novel for me to be in snow, even though we see it a little more regularly with various holiday travels.
Then we trekked further up north to visit Muir Woods. Can you believe I've never been to a redwood forest before? It started raining as soon as we got there but it was beautiful and so nice to walk around anyway (until my fingers turned to icicles). We made a stop in San Jose and visited the Winchester Mystery House which was crazy and wonderful and I wish we could live there, even though not really. Somewhere in there we ate vegan cinnamon buns and had vegan ice cream shakes too.
I'm not usually one to take weekend trips, it always feels like you're losing valuable time, but I realized that there is real value in getting away from your familiar surroundings into someplace knew. Hopefully this year will be full of more little trips and adventures.